IPL 2021: Stay calm, keep steady mind, Kaif tells DC players ahead of KKR clash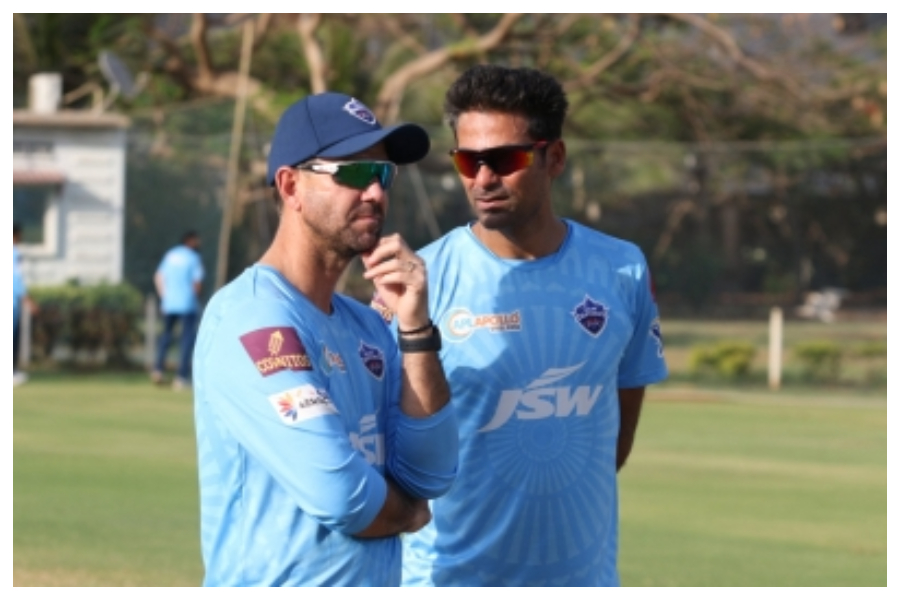 Ahead of the all-important Qualifier 2 match against the Kolkata Knight Riders on Wednesday, Delhi Capitals assistant coach Mohammad Kaif has said that the team will have to stay claim under pressure.
Delhi have suffered back-to-back losses including the loss to Chennai Super Kings in Qualifier 1. As they gear up for the clash with KKR at the Sharjah Cricket Stadium in Sharjah for a place in the IPL 2021 Final, Kaif said though every game in IPL is a pressure game, Wednesday's match will be a different challenge.
"It's a big day tomorrow. It's all about how we handle the pressure. Every game is a pressure game in the IPL, but this game is a different challenge for us. We have to stay calm and keep a steady mind under pressure. Clarity of mind will be very important for us," the Delhi Capitals quoted him as saying in a release on Tuesday.
Kaif said that the Delhi Capitals will have to rise from their four-wicket defeat to Chennai Super Kings in Qualifier 1 in Dubai on Sunday. "We have played well in this tournament. We finished at the top of the table in the league phase. We have played good cricket in this tournament. We have had back-to-back losses, but now it's all about coming back. We have to rise after defeat in our game against KKR. And we have players who can win matches. There's a lot of experienced and in-form players."
The former India star said the Delhi franchise will take confidence from its previous success against KKR.
"We have played all the KKR bowlers in the past and we have had success against the team. We defeated them in the first half of the tournament. We lost to KKR in the UAE phase of the tournament, but we were in control in some parts of that match as well. However, in the next match, both teams will be under the same pressure as both sides are playing for a spot in the Final," signed off Kaif.
Nadal says he is optimistic about competing at Wimbledon
Spanish tennis stalwart Rafael Nadal has raised hopes that he will compete at this year's Wimbledon, saying his left-foot injury is showing signs of improvement, and that he will head to the United Kingdom soon.
"I'm happy. I haven't limped for a week and the evolution of training is progressing," said the winner of 22 Grand Slams here.
"From day to day the pain has been different and that's progress. I have to wait a little. My intention is to try and play Wimbledon and this week has told me there is a chance," added the 36-year-old, who clinched his 14th title at Roland Garros recently.
Nadal plans to travel to London on Monday to prepare for the third Grand Slam of the year.
"I've had two treatment sessions, as was planned. At the moment the progress, as I see it, is satisfactory," Nadal was quoted as saying by atptour.com
Nadal had spoken about the foot troubles after winning the French Open, saying he had to periodically take injections to soothe the nerves of his injured foot.
Nadal has been nursing a foot injury for a long time, which flares up occasionally and has caused him to miss several tournaments in the last couple of years.
Speaking about the condition of his foot post the French Open title triumph, Nadal had said, "I was able to play during these two weeks with extreme conditions. I have been playing with injections on the nerves to sleep the foot, and that's why I was able to play during these two weeks. Because I have no feelings on my foot, because my doctor was able to put anaesthetic injections on the nerves. That takes out the feeling on my foot. But at the same time, it's a big risk in terms of less feelings, a little bit bigger risk of turning your ankle."
Soon there was speculation the Nadal might not compete at Wimbledon, but he expressed cautious optimism on Friday eveing, saying, "I'm prudent because I know that things change. At the moment, I've been able to train over these five days. That's progress and it allows me to return to Wimbledon after three years. I'm excited about it. It's a question of taking it day by day, but giving myself a chance to compete."
The Spaniard has not graced the lawns of Wimbledon since 2019, when he reached the semifinals losing to Roger Federer. "I haven't played on grass for three years, you have to be patient with the progress. Every day I've improved and there is one week left of training in London before starting the tournament. I hope I can use it to get competitive.
"It's true that playing well at Roland Garros gives you confidence, but grass is a very difficult surface. Any round is complicated. The start of the tournament will be vital for me because, if you manage to progress, later the opponents are more difficult, but then you have more confidence because you've found your rhythm on grass," he added.
IPL 2022: Umran Malik is a great find, can bowl even quicker with some technical improvements, believes Brett Lee
Former Australian fast bowler Brett Lee on Monday heaped huge praise on Umran Malik, saying that the youngster is a great find and can bowl even more quicker if he works on the few technical areas of his bowling in the future.
Many young Indian bowlers impressed the experts and fans with their sheer pace in the recently concluded IPL 2022 but Malik was the standout performer. The Sunrisers Hyderabad pacer had a breakout season as he picked 22 wickets in 14 matches and often clocked speeds in excess of 150 kmph. For his impressive performance in IPL 2022, Malik got the Emerging Player award.
"There have been many, who have been bowling some decent balls but I have been really impressed with Umran Mailk. I think he is a great find, a youngster hitting over 150 kph, so he has been very very impressive. And, I still believe he can go quicker, which is exciting not only for people like me but for many former cricketers who want to watch guys bowl fast, certainly for Indian cricket," Lee told IANS at the sidelines of the Phoenix Business Advisory event in the national capital.
The Jammu and Kashmir pacer is still very young, raw and can improve a lot going further. The 45-year old Lee suggested a few key areas, where Malik can improve to become faster.
"There is something in his run-up that he can improve on, action, pulling down harder different parts of the wrist positions. But, the great thing is that one's actions will never be perfect. My action was never perfect but I always tried to be the best version of me so up until the last ball I bowled before being retired, I was working on my action. So, one can keep improving every single day," he said.
The Australian feels batters have taken their game to different levels in the last one decade or so and the bowlers are lagging behind. However, he is pleased to see guys hitting the 150 kmph mark in the IPL 2022.
"Over the last sort of fifteen years, I have noticed that batsmen are getting and hitting bigger shots, hitting bigger sixes more often and different kinds of shots have been developed and we have also seen pace being dropped and now we think that 140 kmph is fast. Now, what we have seen through this IPL, a few guys have hit the 150 kmph barrier, which is exciting and so I am up for it," said Lee.
Asked about the advice for budding fast bowlers, the Australian said, "What makes a good fast bowler is a good sprinter. So, my advice to any young bowler, who wants to bowl on his bowling and become faster to become a good sprinter."
Lee, who was recognised as one of the fastest bowlers in the world, also praised Hardik Pandya's captaincy in the IPL, saying that the all-rounder led from the front. Skipper Hardik registered an impressive bowling figure of 3/17 with the ball and also played a crucial knock of 34 runs to guide Gujarat Titans to the IPL trophy in their debut season.
"I think he (Hardik) has been outstanding. His level of commitment to the team, I think with both bat and ball, has been brilliant and to see him take a couple of wickets last night to lead from the front was great," the former Australian cricketer said.
"You know what you want from a great captain is leadership of course, respect, that someone that stands up and actually delivers, scores runs, takes wickets that's what you want and Hardik has done. So, congratulations to him," he added.
Lee, who is also the brand ambassador of Phoenix Business Advisory — a business visa immigration consultancy, also spoke about the company's role in helping Indians increase their businesses in Australia.
"Phoenix Business Advisory is creating opportunities for high-net-worth individuals based here in India, to come out to Australia to further their business. I've been really lucky that every time I come to beautiful shows in India, I have been welcomed with open arms and we're saying now, the opportunity to trade is open and a free trade agreement has been passed in Australia," he said.
"There is a massive opportunity to invest and Phoenix just makes things so easy. It's seamless, right from the time that you apply for that one visa to the end," he concluded.
Women's T20 Challenge: Velocity qualify for final despite 16-run loss against Trailblazers
Velocity qualified for the final of the Women's T20 Challenge despite losing by 16 runs against defending champions Trailblazers in their second match of the tournament due to a better run rate, here on Thursday.
Chasing a target of 191 runs for victory, but Velocity were restricted to 174 for nine in 20 overs. Velocity will now face Supernovas in the final on Saturday.
Trailblazers (-0.825), Supernovas (+0.912) and Velocity (-0.022) ended with two points each but the top two teams made it to the final as they had better net run-rate than the defending champions.
Put into bat first, Sabbhineni Meghana and Jemimah Rodrigues slammed scintillating fifties to propel Trailblazers to 190-5 in 20 overs. Sabbhineni top-scored with 73 off 47 balls, while Jemimah made a 44-ball 66. On the other hand, Simran Bahadur (2/32) was the most successful bowler for Velocity.
The Trailblazers needed to restrict Velocity to 159 to become the second team to qualify for the final and they eventually did it. However, it was not easy for them as Kiran Prabhu Navgire played a sensational knock.
Batting at No 3, Navgire top-scored for Velocity with a 34-ball 69 but it was not enough to win the game for her side. Poonam Yadav (2/33) and Rajeshwari Gayakwad (2/44) picked up two wickets apiece for Trailblazers.
Brief scores: Trailblazers 190/5 (S Meghana 73, Jemimah Rodrigues 66; Simran Bahadur 2-31) beat Velocity 174/9 (Kiran Navgire 69, Shafali Verma 29; Poonam Yadav 2-33) by 16 runs