When Venkatesh Iyer didn't lose hope in his process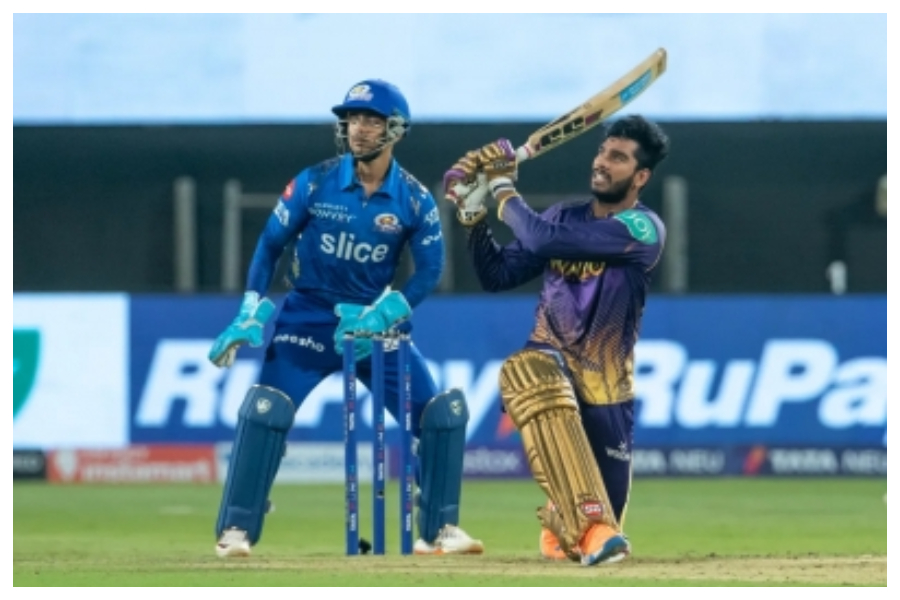 Kolkata Knight Riders opener Venkatesh Iyer didn't lose hope when he was passing through a lean patch in IPL 2022, and instead concentrated on his 'process', hoping to make a mark when he got the next opportunity to play for the franchise.
Iyer, who was in sublime form for KKR last season (he scored 370 runs in 10 matches during IPL 2021's UAE leg), suddenly found himself in the midst of a slump in IPL 2022, forcing head coach Brendon McCullum to drop him after the team's defeat to Delhi Capitals on April 28.
With just 132 runs in nine matches, the season seemed as good as lost for the 27-year-old, before he was given another opportunity to salvage his season on Monday night against Mumbai Indians.
He scored a 24-ball 43, helping Kolkata get a fast start after being pushed into batting first. Venkatesh made good use of his feet and crease to bring up KKR's fifty by getting an outer edge running through third man off Kumar Kartikeya Singh and then brought out his slow-sweep to hit a clean six over deep mid-wicket.
Though Kartikeya had the last laugh as a top-edge on slog went to cover-point, Venkatesh had done his job of getting a fast start in powerplay, which yielded 64 runs, making it the best powerplay score of Kolkata and the first time their opening stand went beyond fifty runs, with Ajinkya Rahane getting just nine runs in the first six overs.
Iyer conceded during an interaction with teammate Pat Cummins that he was finally relieved that he had played a decent knock in his team's victory.
"I just wanted to go out there and enjoy myself. It's been quite a tough period for me but I've been focusing on my process rather than result. I cannot control whatever happens there in the middle… the number of runs scored or the number of wickets taken. (But) I can just control my process and that's what I've been doing. (It) feels happy to contribute to the team's victory," said Iyer.
On him trying to imitating Andre Russell's celebratory jig after the West Indian dismissed Ramandeep Singh, Iyer said, "I was just going with the flow… when you don't know the move you just stand there and admire what the big man (Russell) is doing."
Bangladesh might have succumbed to pressure v India; not taking fake fielding issue any further: Sriram
Bangladesh coach Sridharan Sriram has conceded his team might have succumbed to pressure in the thrilling five-run loss to India in their Super 12 Group 2 match of the ICC T20 World Cup, and has also said he has no intention of taking the potential fake fielding incident involving Virat Kohli during the match any further.
Bangladesh were cruising along at 66 without loss in seven overs, with Litton Das coming out all guns blazing and snatching the advantage of making 184/6 from India through a breath-taking 59 not out off 26 balls — laced with seven fours and three sixes at a strike rate of 226.9 — when rain put a halt to his pyrotechnics.
Bangladesh's target was revised from 185 in 20 overs to 151 in 16 overs. They needed 85 more runs in nine overs to win the match, with all wickets in hand. India's bowling attack, which took a beating in the power-play, got the much-needed respite thanks to the rain break and they went on to win the match by five runs (D/L method).
Sriram agreed the rain delay and the revised target brought the pressure on his side and it crumbled.
"Well, it was quite frantic for that brief (last) 10-12 minutes (of the match), which is understandable. I think the boys, nine runs an over or 9.75 runs an over, definitely I think the pressure got to them a little bit. Yeah, it was a little bit of a frantic 15-20 minutes if I can put it, yes," said Sriram, the former Australia spin-bowling coach.
Bangladesh are scheduled to play their last Super 12 game against Pakistan on Sunday with a win not guaranteeing them a place in the last four, but the results of the remaining two Group 2 games — South Africa vs Netherlands and India vs Zimbabwe — could facilitate their semifinal entry.
Much heat has been generated over on-field umpires missing a potential fake fielding incident involving Kohli, which could have earned Bangladesh five runs in penalties and a victory against India, but Sriram said he is not here "to offer any excuses" for the defeat.
Wicketkeeper Nurul Hasan accused Kohli of fake fielding during the match, claiming that the umpires missed the incident and could have resulted in the opposition getting crucial five runs as penalty. The incident that Hasan talked about going unnoticed took place in the seventh over of Bangladesh's chase when Kohli feigned a throw while standing at point, as if he was relaying a throw coming from Arshdeep Singh from the deep off the bowling of Axar Patel.
Neither the on-field umpires, Marais Erasmus and Chris Brown, spotted it, nor did the two Bangladeshi batters, openers Litton Das and Najmul Hossain Shanto, out in the middle, pointed it out.
Law 41.5, pertaining to unfair play, prohibits the "deliberate distraction, deception or obstruction of (the) batter", and if an incident is deemed to be a breach, the umpire can declare that particular delivery as dead ball, and award the batting side five runs. But Hasan didn't mention if either of Das or Shanto spoke to him or to the team about distraction or deception from Kohli pretending to throw the ball to the keeper.
Shedding light on the controversy, Sriram said, "No, we are not here to offer any excuses. I did speak to the fourth umpire as soon as it happened, but I think it was the on-field umpire's call, and that's what we were told, but we're not here to offer any excuses."
Sriram said the focus now is to beat Pakistan and wait for the results of other matches to go in his team's favour.
"I've been very clear in all my press conferences. We're just taking it one game at a time, plan for one opposition at a time. Every game we want to go, we obviously want to win it, but we're aware of what challenges Pakistan present. We played them in New Zealand just recently (in the Tri-series), and we have high respect for that team, so we're going to turn up and be at our best on that day."
Adit, Nihaal lead a strong showing in third leg of US Kids Golf India; Five boys, two girls complete hat-trick of wins
Adit Veeramachaneni of Bengaluru landed three eagles in a superb winning effort of 7-under 65 in the third leg of the US Kids Golf India at the links-style Golden Greens.
Adit, winner of the first two legs of the India series, completed a treble in the U-9 category.
Veeramachaneni was one of the five players in the Boys section to complete a hat-trick of wins. Two other players in the Girls section also completed a similar feat of three wins in three starts.
Among the outstanding performances in the third leg was Nihaal Cheema in the Boys Under-6. He carded an incredible six birdies in his nine-hole competition for a 6-under 30 score.
Divjot Singh playing in Boys U-7 Category gave the US Kids Golf India Series a milestone moment by holing his second shot at the 275-yard Par-5 fifth hole for the Tour's first-ever albatross in India. Divjot's second shot from just over 100 yards disappeared into the hole sparking off a big celebration.
Divjot also avenged the defeat he had suffered earlier at the hands of Kabir Goyal, who finished second this time.
The excellent scores were indicative of the talent on view, as six winners and one second placed player shot under par scores and another two winners had even par rounds. It meant that the players with under par scores will have a chance to qualify for the US Kids Golf's World Championships in the US and the European events.
The six winners shooting under par at the Golden Greens included Nihaal Cheema (Boys U-6), Divjot Gupta (Boys U-7), Adit Veeramachaneni (Boys U-9) and Armin Paul Singh (Boys U-12) among boys and Amaira Gulati (Girls U-8) and Shambhavi Chaturvedi (Girls 11-12). Arnav Kumar (Boys U-9), runner-up in U-9, also shot 1-under.
The players completing a treble were: Nihaal Cheema (Boys U-6), Jot Sarup Singh (Boys U-8), Adit Veeramachaneni (Boys U-9), Chaitanya Pandey (Boys U-11) and Manyaveer Bhadoo (Boys 15-18).
Among the girls, Lucknow's Amaira Gulati (U-8) and Gurgaon's Mahreen Bhatia (Girls 13-14) made it three in a row.
Rajesh Srivastava, President of the US Kids Golf India, said, "It was a sensational day. Adit (Veeramachaneni) from Bengaluru and Nihaal Cheema carded brilliant scores of 7-under and 6-under. There was also the first-ever albatross in US Kids Golf India when Divjot Singh holed his second shot on the Par-5 in the U-7 category. The birdies and eagles also signalled the rising standards as the youngsters aim for berths at the World and European Championships, ahead of the Indian Championship later this month."
Amit Dube, the Tournament Director, a former pro and now a coach, added, "The standard shows that these youngsters are ready for big events and American Junior Golf Association (AJGA) events. We look forward to a high level of play and more youngsters coming out in future."
Fifty players teed up across the various age categories as they got ready for the Indian Championship, a three-day international event to be held from November 23-25, 2022. The Indian Championship, scheduled at the Classic Golf and Country Club, will have World Amateur Golf Ranking (WAGR) points.
Players shooting 72 and below in at least two Local Tour events will earn Level 11 status and will earn AJGA Performance Star.
The US Kids local Tour is the only tournament giving opportunity to Players to earn AJGA Stars. The youngsters are looking to accumulate Priority Level status for the US Kids Europe and World Championships and the AJGA stars, which helps them get into numerous international events.
West Indies U19 women's team to tour India ahead of U19 T20 World Cup 2023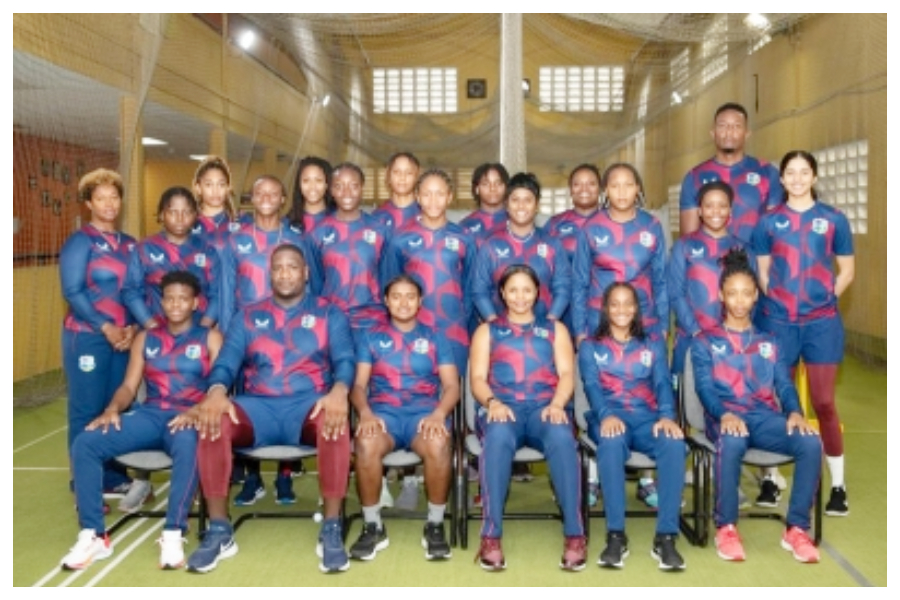 Ashmini Munisar has been named skipper, while Trishan Holder will be her deputy in the 15-member West Indies women's U-19 squad for the T20 tour of India beginning in Visakhapatnam on November 13.
The tour will feature matches against India-A Women U19, India-B Women U19 and Sri Lanka Women U19 at the Dr YS Rajasekhara Reddy International Stadium in Visakhapatnam. West Indies will then travel to Mumbai where they will play against New Zealand Women U19 at the DY Patil Stadium.
The team will be under the guidance of head coach Steve Liburd. Munisar is an allrounder who led the team when West Indies U19 played against USA Women's U19 in Fort Lauderdale in August. Vice-captain Holder is a top-order batter who was a member of the Barbados team at the Commonwealth Games playing matches against Pakistan, Australia and India.
The players for the T20 matches were selected after trial matches in Trinidad.
"As part of the preparation for the tour the squad was involved in some practice matches during a seven-day training camp in Trinidad. The final team selected contained some of the players who participated in the series in the USA and there are some new players who the panel would like to have a look at before a final team is selected for the World Cup," said lead selector, Ann Browne-John.
"The composition of the team is quite balanced with some strong batters and a good mix of spin and medium pacers. It will be their first experience against top international teams and these tour matches will give a better indication of where the team is at the moment," she added.
This series in the sub-continent will form a crucial part of the team's preparations for the inaugural ICC Under-19 Women's T20 World Cup 2023. The global event will feature 41 matches be played from January 14-29 in South Africa.
The official warm-up matches will be from January 9-11. The 16 participating teams will play in four groups in the preliminary round. West Indies have been drawn in Group C alongside New Zealand, Ireland and Indonesia.
Full squad: Ashmini Munisar (captain), Trishan Holder, Asabi Callendar, Kenika Cassar, Jahzara Claxton, Naijanni Cumberbatch, Jannillea Glasgow, Realeanna Grimmond, Zaida James, Djenaba Joseph, KDJazz Mitchell, Shalini Samaroo, Shunelle Sawh, Lena Scott, Kate Wilmott.