India's digital public infra solutions can improve lives globally: Modi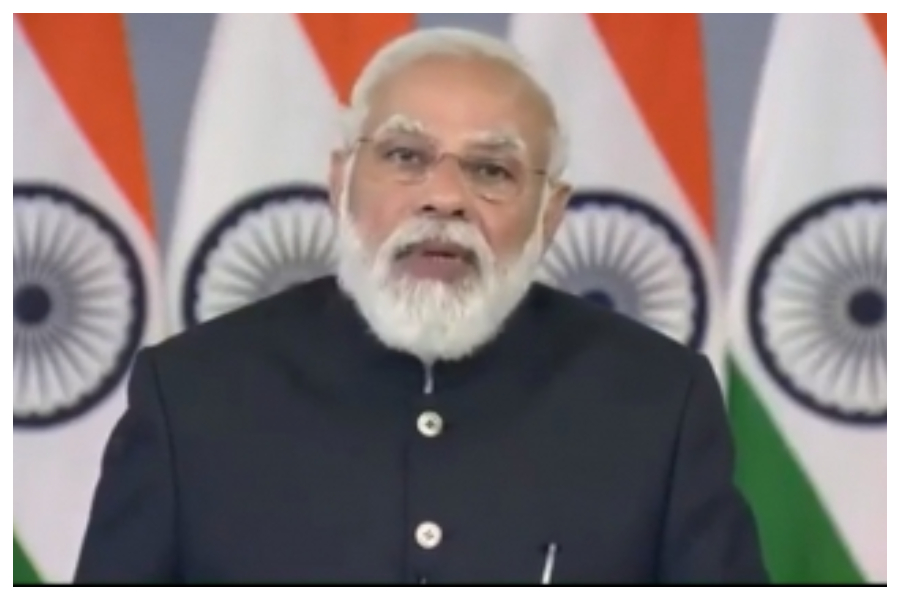 Prime Minister Narendra Modi on Friday said India's digital public infrastructure solutions can improve the lives of citizens around the world.
Speaking at the InFinity Forum organised by Bloomberg and IFSCA, he said via video link: "We believe in sharing our experiences and expertise with the world and learning from them as well."
"Tools like 'UPI' and 'RuPay' provide an unparalleled opportunity for every country. An opportunity to provide a low cost and reliable 'real time payment system' as well as a 'domestic card scheme' and 'fund remittance system'."
According to the Prime Minister, India has proved to the world that it is second to none when it comes to adopting technology or innovating around it.
"Transformational initiatives under Digital India have opened doors for innovative Fintech solutions to be applied in governance.a
PM Modi cited successes achieved with 'Jan Dhan' Accounts, 'Rupay', 'FastTag', and other such initiatives taken by the Centre.
He mentioned that last year, in India, mobile payments exceeded ATM cash withdrawals for the first time.
The Prime Minister said that fully digital banks, without any physical branch offices, are already a reality and may become commonplace in less than a decade.
Besides, he said the time has come to convert these "FinTech initiatives into a FinTech revolution".
"A revolution that helps to achieve financial empowerment of every single citizen of the country."
Furthermore, he emphasised on FinTech security.
"Common Indian has shown immense trust in our FinTech ecosystem by embracing digital payments and such technologies," he said.
"This trust is a responsibility. Trust means that you need to ensure that the interests of the people are secured."
In addition, PM Modi said that finance combined with technology would be an important part of India's future development.
"Our aim is to provide the best international financial services not just for Indians, but for the world," he added.
R-Day: PM wears cap from Uttarakhand, Manipur stole
Prime Minister Narendra Modi on Wednesday wore a cap from Uttarakhand and a stole from Manipur on the Republic Day function.
The Prime Minister wore a cap from Uttarakhand with Brahma kamal flower embossed on it. Brahma kamal is the state flower of Uttarakhand and Prime Minister Modi uses this flower whenever he does pooja at Kedarnath. Apart from white kurta with a jacket, PM Modi was seen wearing a Manipuri stole also.
Uttarakhand Chief Minister Pushkar Singh Dhami thanked PM Modi for representing the state's culture and tradition in front of the world. "Today, on the occasion of 73rd Republic Day, Prime Minister Narendra Modi has made the culture and tradition of our state proud by wearing the cap of Devbhoomi Uttarakhand, adorned with Brahma Kamal. On behalf of the 1.25 crore people of Uttarakhand, I express my heartfelt gratitude to the Prime Minister," Dhami tweeted.
Both Manipur and Uttarakhand are going to the polls in a few weeks.
Prime Minister Modi makes a statement by wearing a dress or accessories from different states on important occasions like Republic Day, Independence Day and other occasions.
While taking Covid vaccination shot last year, he wore a gamcha. Last year on Republic Day, Modi wore a red Gujarati headgear.
Earlier, Prime Minister Modi greeted people on the occasion of Republic Day. "Wishing you all a happy Republic Day. Jai Hind!," the Prime Minister tweeted.
Rajpath brims over with patriotic fervour as India celebrates R-Day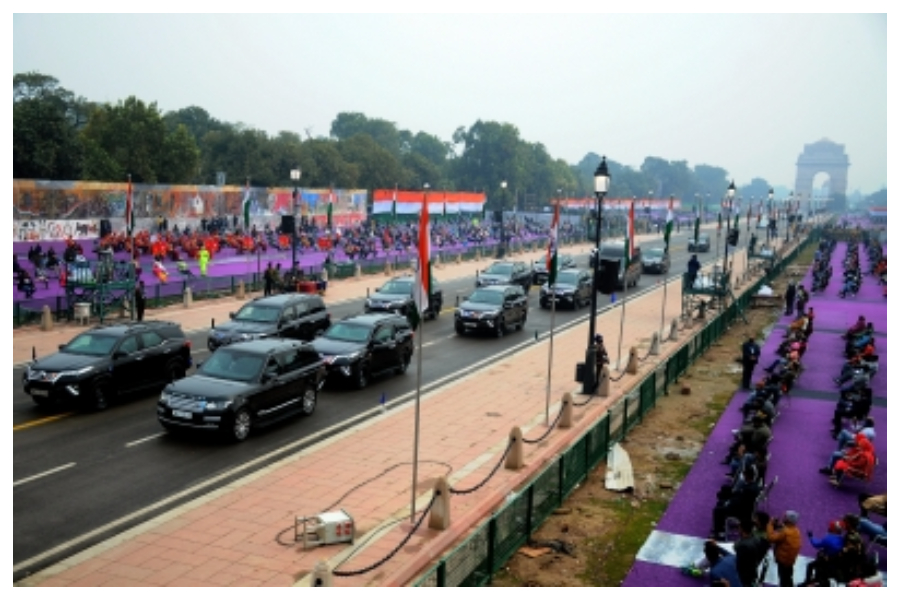 The teeth-chattering cold on Wednesday morning failed to dampen the spirits of the people coming to witness the Republic Day parade at the majestic Rajpath, here.
The people started arriving at the Rajpath as early as 5 a.m. in the morning, even as the parade begins at 10.30 a.m.
However, this year the rush compared to previous years was less, possibly owing to the fear of the latest Omicron variant of novel coronavirus. Notably this is the second time India is celebrating the Republic Day in a subdued manner.
Still almost every seat for the visitors at the Rajpath was occupied. It may be also mentioned that the seating arrangement was adhering to the Covid-induced protocol of keeping distance.
The security personnel were even checking the Covid vaccination certificates at the entrance of the Rajpath area.
People, who were standing in the queues, could be heard singing and chanting patriotic songs and slogans.
Amid chilly weather in the morning, the slogans "Bharat Mata Ki Jai" and "Vande Matram" injected the heat of patriotism in the veins of the people.
The parade was yet to start at the time of filing of this report.
War of Words: Dhankhar slams Bengal Speaker; latter hits back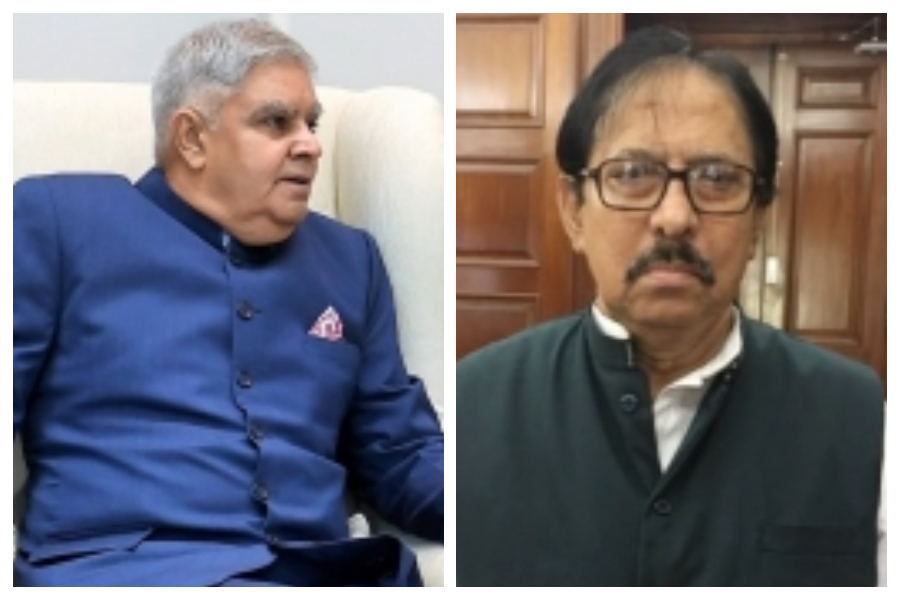 The ongoing row between West Bengal Governor Jagdeep Dhankhar and Assembly Speaker Biman Banerjee reached an unceremonious low on Tuesday when the former hammered Banerjee, alleging that the "Speaker has not only broken all the constitutional norms and protocols, but has also forgotten how to speak".

"The Speaker thinks he has the licence to speak anything about the Governor. Has he become a law unto himself? I will not tolerate such indiscretion. The Speaker should not henceforth blackout the address of the Governor. If he does it, he will face the music," Dhankhar said.

The Governor was referring to two previous incidents when his speech was 'blacked out' in the Assembly.

Dhankhar was speaking at the Assembly where he came to offer floral tributes to B.R. Ambedkar on the occasion of National Voters' Day on Tuesday.

"The Speaker cannot be allowed to be a law unto himself. He thinks he is above the Governor. Who is the Constitutional head? Does he not know Article 168 — Governor is number one in the legislature, second in the House, and I hope good sense prevails," Dhankhar said.

Banerjee, who was 'shocked' and 'dismayed' over the Governor's behaviour in the Assembly, told the media, "The Governor said he would pay floral tributes. But he held a press conference. I was stunned that the Governor made critical statements on several issues related to the Assembly while paying tribute to Ambedkar. I think this is extremely uncourteous. This goes beyond any kind of protocol and decorum."

Interestingly, while the ruling Trinamool Congress has claimed several times that the development of the state has been delayed because the Governor refused to sign many files, Dhankhar openly said that there is no file pending with the Raj Bhawan.

"No file is pending with me. I have raised questions (and sent back files to the state government). There has been no response from the government. Unless they respond to my questions, they will have a tough time. Before invoking my powers, I would want every answer well in advance," Dhankhar said.

When asked about it, the Speaker said, "We have written several letters on this issue and every word of the letters is true. He wants specific words to be included in the Bills without which he would not sign them. He is just delaying the Bills. He is not the only Governor. We have worked with several Governors but there has been no resistance. We had cordial relations and no Governor had made such statements. I do not understand who the Governor is representing."

Dhankhar didn't even spare the ruling party and its Chief Minister, Mamata Banerjee.

Hitting out at Banerjee and the bureaucracy, the Governor said, "For the last two years, the Chief Minister has not replied to any information sought. The bureaucracy has to be held accountable. The bureaucracy is politically committed. Are they to follow the diktat of an individual?"

Speaking on the National Voters' Day, the Governor said, "The voters should have the right to exercise the franchise freely and fearlessly, but unfortunately enough that is not the case in West Bengal. Here people don't have the freedom to exercise their franchise freely."

"We have seen post-poll violence of unprecedented level, those who dared to vote according to their own volition had to pay the price with their life," Dhankhar alleged.

Maintaining that a fact-finding committee appointed by the Chairman of the National Human Rights Commission, following order from the Calcutta High Court, had observed that rule of the ruler and not the law prevails in the state, the Governor said, "This is an understatement; West Bengal's situation is so horrible and frightening that there is horror about the ruler here."