India set for 5G spectrum auction, Reliance Jio, Bharti Airtel lead the race
With the mega 5G spectrum auction (worth Rs 1.9 lakh crore) beginning from Tuesday amid the tussle over captive private 5G networks, Reliance Jio and Bharti Airtel are set to boost their market share as India prepares for a 5G era.
The four big players in the race — Reliance Jio, Bharti Airtel, Vodafone Idea and Adani group — having submitted a combined Rs 21,400 core in earnest money deposit (EMD), are ready with their war chests and strategies for the mega bid, that is likely to be around Rs 1.5 lakh crore if the last two auctions are kept in mind.
Reliance Jio Infocomm has submitted an EMD of Rs 14,000 while Bharti Airtel has put in Rs 5,500 crore.
In the 2021 auctions for 4G spectrum, Reliance Jio used 77.9 per cent of their earnest money deposit while Airtel used 87.7 per cent.
The 5G era will open 10 times faster than 4G and 30 times faster than 3G, allowing millions to have an experience never seen before.
The 5G auction — entailing 72 GHz of the spectrum – will conclude by July-end and the rollout is expected by September this year.
The Department of Telecom has released a notice inviting applications (NIA) for the auction of spectrum in 600, 700, 800, 900, 1800, 2100, 2300, 2500, 3300 MHz and 26GHz bands.
The NIA provides explicit clarity on the subject of Captive Non-Public Networks (CNPN).
The telcos are allowed to surrender spectrum that will be auctioned after a minimum period of 10 years from the date of acquisition.
Last month, in a big relief to telecom companies, the DoT scrapped the 3 per cent floor rate on spectrum usage charge (SUC).
5G in India will empower tech companies, enterprises and ecosystem players to build private networks and bring next-generation digital transformation which is critical for the country to achieve the goal of becoming a $1 trillion digital economy, according to industry leaders and experts.
According to Broadband India Forum (BIF), this will lead to better efficiencies, productivity and output for the enterprises, accelerate digitisation, boost capabilities, propel indigenous manufacturing and eventually garner greater economic gains for the country.
"As we look to cement India's position as a global hub for manufacturing, supply chain and R&D, as well as one of the leading digital economies across the world, the advancement of enterprises through dedicated captive private 5G networks will help gain efficiencies in all vital industry verticals," BIF President T.V. Ramachandran said.
Private 5G networks are about the deployment of high speed, enhanced data capacity, and ultra-low latency applications inside a closed manufacturing unit, hospital, airport, shipping port, etc.
The Cellular Operators Association of India (COAI), the industry's apex body representing telcos, has urged the government not to allow Big Tech companies to enter the 5G spectrum auction via back door channels.
The COAI said that the 5G spectrum should not be provided on an administrative basis as it leads to no business case for the rollout of 5G networks in the country.
"If the independent entities set up private captive networks with direct 5G spectrum allotment by Department of Telecommunications (DoT), it will diminish the revenue so much that there will be no viable business case left for the telecom service providers (TSPs) and there will not remain any need for 5G networks rollout by TSPs," COAI Director General, Lt. Gen. Dr S.P. Kochhar, said.
With the 5G auctions, India is one step closer to realising a 5G-led future, with a strong base of 5G-capable devices already in place.
NASA, ESA congratulate India on Chandrayaan-3 spacecraft
The US space agency NASA and European Space agency (ESA) on Friday lauded India's Chandrayaan-3 spacecraft that was successfully launched on a historic mission to the far side of the moon.
The LVM-3, the country's heavy rocket, nicknamed 'Bahubali' carried the 3.8-tonne Chandrayaan-3 spacecraft and put the moon spacecraft into orbit on Friday afternoon.
The mission is a follow up of the failed Chandrayaan-2 mission in 2019 when the lander named Vikram crashed on to the moon surface.
"Congratulations to ISRO on the Chandrayaan-3 launch, wishing you safe travels to the Moon. We look forward to the scientific results to come from the mission, including NASA's laser retroreflector array. India is demonstrating leadership on #ArtemisAccords!" Bill Nelson, NASA administrator on Twitter.
"Congratulations ISRO on the launch of the #Chandrayaan3 #Moon mission! Our ESA ground station in Kourou will begin tracking the spacecraft as it rises above the horizon in French Guiana tomorrow morning (CEST). Speak to you soon!" ESA added. 
At 2.35 p.m. the LVM3 rocket rose into the sky from the second launch pad here at Satish Dhawan Space Centre. The 43.5 metre tall rocket, weighing about 642 tonnes, rushed upwards and 16-minutes into its flight, the rocket put Chandrayaan-3 into orbit.
The Chandrayaan-3 spacecraft comprises a propulsion module (weighing 2,148 kg), a lander (1,723.89 kg) and a rover (26 kg), the ISRO said. 
Industry experts called the successful launch has fortified India's position "as a global space power".
"The launch of Chandrayaan 3 represents yet another significant turning point in India's space research endeavours. Chandrayaan 3 has the potential to provide new light on the Moon, spark our interest, and open the door for additional explorations. This amazing project highlights India's expertise in space exploration and solidifies its status as a major participant on the international stage," Arjun Naik, Founder, and CEO of Scandron, a Drone start-up. 
"With Chandrayaan 3, we embark on a new chapter of lunar exploration, fueling our aspirations to unravel the Moon's secrets. This remarkable achievement reinforces India's position as a global space power and ignites a sense of unity and hope among every Indian, reminding us that our dreams have no bounds," added Sanjay Kaushik, Managing Partner, Netrika Consulting, an integrity management firm.
Meanwhile, the lander is expected to reach the moon's vicinity on August 17, and will descend to the moon from a height of about 100 km from the moon's surface.
The soft landing is a tricky issue as it involves a series of complex manoeuvres consisting of rough and fine braking.
Previously, in April, Japanese lunar exploration company ispace's Moon lander failed to make its historic touchdown on the lunar surface due to a software glitch.
In 2019, two attempted lunar landings, by India's Vikram lander and Israeli nonprofit SpaceIL's Beresheet both crashed.
In those landing attempts, the trajectory and speed data went awry before the signals were lost.
The success of Chandrayaan-3 mission will make India the fourth country in the world to land and ride on the Moon surface after the US, Russia, and China.
Chandrayaan-3 Launch: ISRO All Set To Launch Its Third Moon Mission At 2:35 p.m.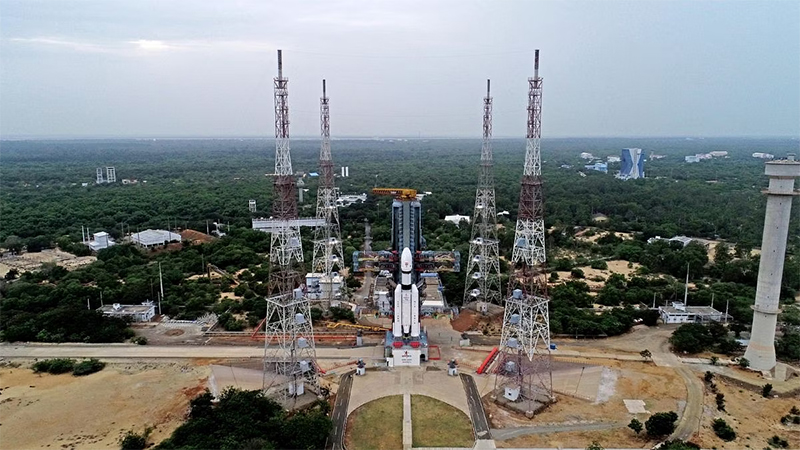 The countdown for the launch of Chandrayaan-3, India's third mission to the moon, began on Thursday at 1.05 pm at the Satish Dhawan Spaceport in Sriharikota. The board has authorised the launch at 2.35 pm on Friday and the weather conditions are expected to be favourable.
The critical 25 hours 30 minute countdown will be used to fill the rockets with cryogenic fuel and the Indian Space Research Organisation will be closely monitoring the process looking out for any fuel leak.
A successful mission would see India enter an elite club of nations that have achieved such a feat, the others being the United States, China and the former Soviet Union.
Chandrayaan-2 managed to land on the Moon but failed to manoeuvre a soft landing due to software and mechanical issues. Now they have worked on every aspect of it for four years and are hopeful of a soft landing, a former scientist was cited as saying.
ISRO Officials Seek Lord Venkateswara's Blessings Ahead Of Launch
As is customary, ISRO chairman S Somanath accompanied by senior officials visited Lord Venkateswara temple in Tirumala, Andhra Pradesh, ahead of the launch. Officials presented a miniature model of the rocket and spacecraft to the temple and sought blessings. It is an old ISRO tradition to seek the blessings of the deity ahead of satellite launches in Sriharikota. Sommanath told the media in Tirumala that the stage is set for the launch of Chandrayaan-3 and expressed confidence in the mission's success.
"It is a long journey. We will be ready for landing on the moon possibly by the last week of August. The landing date is decided when there is sunrise on the moon. When we are landing, sunlight must be there. So the landing will be on August 23 or 24," Somnath said.
The Chandrayaan-3, which will be India's third lunar mission, consists of an indigenous lander module (LM), propulsion module (PM), and a rover with an objective of developing and demonstrating new technologies required for inter-planetary missions.
Details On The Mission Route
According to ISRO, the lander has the capability to soft land at a specified lunar site, and deploy the rover, which will carry out in-situ chemical analysis of the lunar surface during the course of its mobility. The Lander and the Rover have scientific payloads to carry out experiments on the lunar surface.
The LVM3 will place Chandrayaan-3 in an apogee (farthest point from Earth) of 36,500km as against 45,475km during Chandrayaan-2. The perigee (closest point to Earth) will be around 170km, nearly the same as last time. "This is being done to get more stability," Somanath was quoted in the media.
Isro will then conduct multiple Earth-bound manoeuvres to increase Chandrayaan-3's orbit before commands for trans-lunar insertion (TLI) that will kick off the spacecraft's journey towards the Moon.
Chandryaan To Land On Moon On August 23
After Chandrayaan-3 reaches the moon's orbit, the lander module will separate from the propulsion module and be eventually brought to a 100km X 30km orbit, from where commands for de-boost and final descent is expected on August 23. The lander's legs have been further strengthened and new sensors and solar panels have been added. A key change is that ISRO has increased the size of the landing area.
"In Chandrayaan-2, the landing site was 500m X 500m and we wanted to land at the centre, which resulted in some limitations. Now, the landing site is 4km X 2. 5km. At nominal conditions, we'll attempt landing at the centre point, but otherwise, Vikram can land anywhere in this area, giving it greater flexibility," Somanath was quoted in the media.
New Apple software updates bring more power to Indian users across devices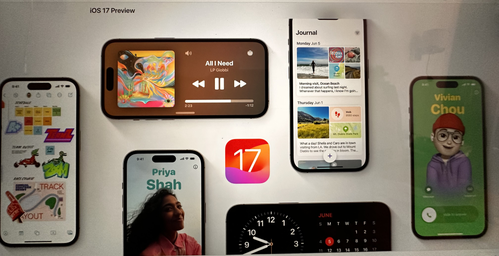 From bi-lingual Siri experience to more transliteration keyboards for major Indian languages, the latest Apple software updates across its platforms and devices have brought more power to millions of users in the country.
Apple has rolled out the public betas of its iOS 17, iPadOS 17, macOS Sonoma, watchOS 10, and tvOS 17.
iOS 17 is one of the best iPhone updates in years and there are several little tweaks that stands out, like StandBy mode. keyboard improvements, live voicemail and new stickers.
iOS 17 and iPadOS 17 offer a convenient bilingual Siri experience, so users can interact with Siri using a mix of English and Hindi for activities throughout the day.
Users can also combine English with Telegu, Punjabi, Kannada, or Marathi.
This experience includes asking Siri for help with setting an alarm or timer, sending messages, making calls, playing music, checking the weather, and looking up directions
iOS 17 also brings new transliteration keyboards across major Indian languages such as Tamil, Telugu, Kannada and Malayalam.
These keyboards can be great for bilingual users who move between English and another language while talking to family and friends.
The new features come at the heels of transliteration keyboards for Urdu, Punjabi, and Gujarati introduced in iOS 16.4, Bengali and Marathi introduced in iOS 16, and Hindi.

With this addition, iOS now supports transliteration keyboards for the top 10 languages in India.
With the built-in dictionary in Punjabi, you can easily get definitions of words and phrases from a variety of sources (available on iOS, iPadOS, macOS public betas).
With iOS 17, you can see Messages sorted by their primary as well as secondary SIM, to be able to easily sort personal messages from work messages.
Users can also set different ringtones for each SIM to understand if iPhone is ringing because someone is calling a work phone number or personal phone number.
If a user misses a call from a number that is not yet saved to their device, e.g. a new doctor's office, they can choose to call this number back from either SIM card.
One can sign into their Apple ID using a phone number instead of an email address (available on iOS, iPadOS, and macOS public betas).
You can also see a more extended call history in Recents within the Phone app, including phone and FaceTime calls, as well as calls received on WhatsApp (available on iOS and iPadOS).
When taking a screenshot of a full page in Safari, Mail, or Notes, users can choose whether to save it to iPhone and iPad as an image or a PDF (iOS, iPadOS).