India responds to Imran: Pak a 'supporter of terrorists, suppressor of minorities'
India has denounced Pakistan as a patron of terrorism and a suppressor of minorities in reply to Pakistan Prime Minister Imran Khan's tirade against the country.
"This is the country which is an arsonist disguising itself as a firefighter," Sneha Dubey, a First Secretary in India's UN Mission, said on Friday.
"Pakistan nurtures terrorists in their backyard in the hope that they will only harm their neighbours. Our region, in fact, the entire world has suffered because of their policies.
"Today, the minorities in Pakistan, the Sikhs, Hindus, Christians, live in constant fear and state-sponsored suppression of their rights. This is a regime where anti-Semitism is normalised by its leadership and even justified," she said.
Responding to Khan's claims about treatment of minorities in India, Dubey said: "Pluralism is a concept which is very difficult to understand for Pakistan which constitutionally prohibits its minorities from aspiring for high offices of the State. The least they could do is introspect before exposing themselves to ridicule on the world stage.
"Unlike Pakistan, India is a pluralistic democracy with a substantial population of minorities who have gone on to hold highest offices in the country including as President, Prime Minister, Chief Justices and Chiefs of Army staff. India is also a country with a free media and an independent judiciary that keeps a watch and protects our Constitution."
As for Khan's allegations of "war crimes" by India, Dubey recalled the genocide perpetrated in Bangladesh in 1971 during and before the War of Independence in which more than 300,000 people were killed by Pakistan and hundreds of thousand women raped.
Pakistan "still holds the despicable record in our region of having executed a religious and cultural genocide against the people of what is now Bangladesh. As we mark the 50th anniversary this year of that horrid event in history, there is not even an acknowledgement, much less accountability", she said.
Khan in his speech said that after the 9/11 terrorist attacks, "terrorism has been associated with Islam by some quarters" and "increased the tendency of right-wing, xenophobic and violent nationalists, extremists and terrorist groups to target Muslims".
He then went on to link this to the BJP and the RSS.
Dubey said: "We marked the solemn occasion of the 20th anniversary of the 9/11 terror attacks a few days back. The world has not forgotten that the mastermind behind that dastardly event, Osama Bin Laden, got shelter in Pakistan. Even today, Pakistan leadership glorify him as a 'martyr'.
"Regrettably, even today we heard the leader of Pakistan trying to justify acts of terror. Such defence of terrorism is unacceptable in the modern world."
Pakistan has made an annual ritual of using up most it time at the high-level General Assembly session to attack India, which it also does at all meetings, regardless of the topic.
Dubey said: "This is not the first time the leader of Pakistan has misused platforms provided by the UN to propagate false and malicious propaganda against my country, and seeking in vain to divert the world's attention from the sad state of his country where terrorists enjoy free pass while the lives of ordinary people, especially those belonging to the minority communities, are turned upside down.
"This is a country which has been globally recognized as one openly supporting, training, financing and arming terrorists as a matter of State policy. It holds the ignoble record of hosting the largest number of terrorists proscribed by the UN Security Council."
Khan said that Pakistan "desires peace with India" but it is "contingent upon resolution of the Jammu and Kashmir dispute, in accordance with the relevant UN Security Council resolutions, and the wishes of the Kashmiri people".
Pakistan, however, is in violation of Security Council Resolution 47 adopted in 1948 that requires it to withdraw all its personnel from Kashmir.
Dubey declared: "Let me reiterate here that the entire Union Territories of Jammu and Kashmir and Ladakh were, are and will always be an integral and inalienable part of India. This includes the areas that are under the illegal occupation of Pakistan. We call upon Pakistan to immediately vacate all areas under its illegal occupation."
On the conditions for peace, she said: "We desire normal relations with all our neighbours, including Pakistan. However, it is for Pakistan to work sincerely towards creating a conducive atmosphere, including by taking credible, verifiable and irreversible actions to not allow any territory under its control to be used for cross border terrorism against India in any manner."
Khan blamed the US for the developments in Afghanistan, recalling the support Washington under President Ronald Reagan gave mujahidin fighting the Soviet Union in the 1980s.
"We were left with sectarian militant groups which were never existed before," he said.
After 9/11, the US needed Pakistan's help to invade Afghanistan, he said.
As a result, the same Mujahidin also turned against Pakistan and the Taliban attacked his country, he claimed.
After Dubey gave the right of reply speech, a Counsellor in Pakistan's UN Mission, Saima Saleem, replied to the right of reply.
Saleem repeated many elements of Khan's speech, in addition to quoting Amnesty International, Human Rights Watch and UN human rights bodies, ignoring their scorching criticism of her country.
US: Apple, Lululemon, Foot Locker & Other Stores Looted After Riots In Philadelphia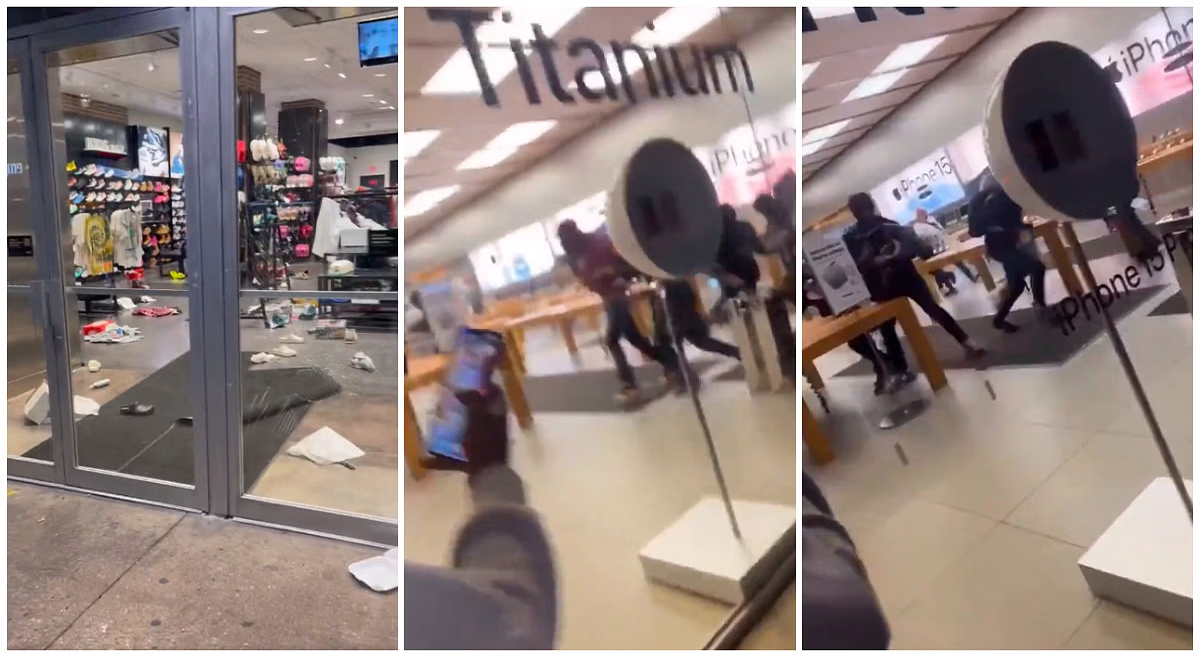 Philadelphia: In a shocking incident several stores including popular stores were looted by a crowd of juveniles on Tuesday (September 26) in Pennsylvania's largest city. Several videos of the loot are doing rounds on social media. It can be seen in the video that a large crowd of juveniles barge into the stores and loot expensive items from the stores. An Apple Store was also looted by the juveniles in Philadelphia's Center City.
The stores that were looted include famous stores like Apple, Lululemon and Footlocker
The stores that were looted include famous stores like Apple, Lululemon and Foot Locker. There are reports that the watchman at the Foot Locker store was assaulted by the mob. The Philadelphia Police have denied the claims that the robberies has any connection with the demonstrations and protests held over the death of Eddie Irizarry.
Crowd looting several stores one by one in Philadelphia
The videos that are going viral on social media shows crowd looting several stores one by one in Philadelphia. A video shows that youngsters barge into the Apple store and steal iPhones, iPads and other Apple devices from the store and flee from the store. There are videos that show that the stores are ransacked and the front glass of the Footlocker store is broken and all the accessories are lying on the floor after the crowd left the store after looting it.
Police said that it has activated Citywide Rapid Response
Police said that it has activated Citywide Rapid Response after the incident of riot and loot in the City Centre area. The police said that it had activated the Citywide Rapid Response after the large crowds of people were gathering and rioting and engaging in extensive looting. The Police further said that incidents of multiple stores have been broken into were reported. The Police have also advised people to refrain from going to the City Center area.
Indian Woman Anju Celebrates Pakistan's Independence Day With Husband Nasrullah, Cuts Cake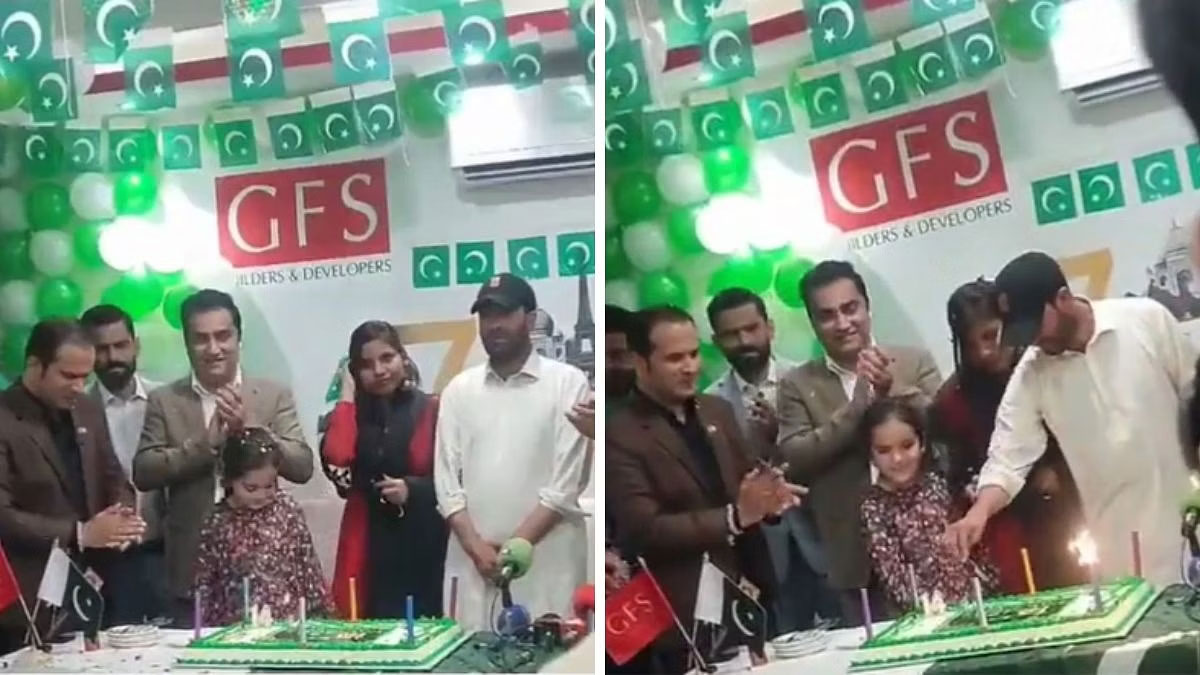 Indian woman Anju, who went to Pakistan to meet her Facebook friend Nasrullah, was seen celebrating Pakistan's independence day on Monday (August 14). Pakistan marks its independence day on August 14 every year, a day ahead of India's Independence Day. In a video shared on social media, Anju can be seen during the cake cutting along with Nasrullah to celebrate Pakistan's independence day.
Anju's story made headlines
Anju, a married woman with children, got to know Nasrullah of Pakistan on Facebook. As friendship grew between the two, Anju tried to get a visa for close to two years in India, said reports. Anju recently went to Pakistan after getting the visa. Reports claimed that she converted to Islam in Pakistan and also got married to Nasrullah. However, she denied the claims in a video she released and said she wanted to return to India.
Anju's father disowns her
Recently, Anju's father, fed up of constant media presence at this house had castigated Anju for her decision to cross borders for love and marrying Nasrullah, as reports claimed. Anju's father had said that he wished for her daughter not to return and said, 'Let her die there'.
Anju's husband in India was shocked when he learnt about Anju having gone to Pakistan to meet her Facebook friend Nasrullah. The husband had said that Anju had told her she was going to Jaipur and that she would return back in a few days. However, he was shocked when police came calling after reports that Anju had gone to Pakistan went viral.
Anju and Seema Haider, tale of two women
Anju's story emerged even as news about Pakistani woman Seema Haider's dramatic and suspicious entry into India along with her four children dominated news space. Seema Haider, a Pakistani woman, had entered India from Nepal and an investigation was carried out in the case. She married Sachin Meena who lives in Greater Noida.
Asains found guilty of smuggling migrants to UK
A 38-year-old Asian-origin man has been found guilty of being part of an organised crime group linked to the prolific smuggling of migrants, including minors, to the UK.
Najib Khan, 38, from Ilford was identified as being part of the network by the UK's National Crime Agency (NCA), following the arrest of his co-conspirator Waqas Ikram, 40, in March 2021.
Ikram, who was caught red-handed attempting to break into a heavy goods vehicle to put migrants inside, worked for a people smuggling organised crime group headed by Mokter Hossain.
An iPhone belonging to Ikram, seized following his arrest, contained numerous conversations with Khan outlining their involvement in a separate people smuggling network, charging migrants up to 7,000 pounds a head to bring them to the UK, the NCA said in a statement.
Phone evidence showed that Khan and Ikram had been involved in a successful crossing involving five migrants being transported into Harwich in March 2019, and two other attempts that had been foiled by border agents.
The first of these was in May 2019, when 15 Vietnamese and one Afghan migrant were found in a lorry at the Hook of Holland as it prepared to board a ferry to Harwich.
In the same year in August, 16 migrants including 11 minors, were rescued from a purpose built concealment in a lorry carrying 2,000 loose tyres.
The lorry was preparing to board a ferry from Dieppe to Newhaven, and officers reported the heat and the nature of the concealment made breathing difficult.
The lorry drivers involved in both would later be jailed in the Netherlands and France, but the NCA was able to prove Ikram's crime group had been involved in both attempts.
Further conversations between Khan and Ikram showed they were using GPS trackers to follow lorries that they had arranged to be broken into without drivers' knowledge to stow migrants.
One of the trackers was found at Khan's house when he was arrested by the NCA. In 2020, Khan and Ikram purchased a rigid hull inflatable boat for the purpose of smuggling migrants, and Ikram attended a course for piloting powerboats that June, the NCA said.
In July, the pair were encountered by Border Force off the coast of Suffolk in their RHIB.
They told officers they were scouting for scuba diving sites, and returned to Walton-on-the-Naze.
"Ikram and Khan had no regard for the safety and security of those they were transporting, they were only interested in making money from them," NCA branch commander Andy Noyes said in a statement.
"In at least one case it was only the fact that the migrants were discovered by border agents that prevented them being left in what could have been an incredibly dangerous, and potential fatal, situation," Noyes added.
Ikram was arrested by the NCA in 2021, charged with people smuggling offences and released on bail by the court. Both he and Khan were detained in connection with further offences by the NCA in July 2022 and charged with three counts of conspiring to facilitate illegal immigration.
While Ikram pleaded guilty to the charge, Khan went to trial, following which a jury at Reading Crown Court on Friday found him guilty on all three counts.
They will be sentenced on October 30.