I foiled attempts to burn Andhra: Suspended IPS officer
A day after he was suspended by the Andhra Pradesh government for the second time in less than two-and-a-half years, senior IPS officer A.B. Venkateswara Rao said on Wednesday that some individuals and forces were targeting him.
He told the mediapersons that some people are angry with him because as the then intelligence chief, he had foiled attempts to burn the state.
"Using Kodi Katti case as an excuse, they wanted to burn the state. Within a few hours, I effectively countered this. That's why some people are angry with me," he said without naming anyone.
'Kodi Katti' case refers to the knife attack on Chief Minister Y.S. Jagan Mohan Reddy by a youth at Visakhapatnam Airport in 2018.
Reddy, who was then the leader of opposition, sustained minor injury. The attacker used 'kodi katti' or a small knife which is used during cockfight.
A month after Rao's reinstatement following the Supreme Court order, the state government on Tuesday suspended him on charges of trying to influence witnesses pertaining to the criminal case against him.
Chief Secretary Sameer Sharma issued an order placing the former Intelligence chief under suspension under sub-rule (3) of the All India Services (Discipline and Appeal) Rules, 1969
The Indian Police Service (IPS) officer said he would challenge his suspension in a court of law and exuded confidence that it will not stand legal scrutiny. He argued that an officer can't be suspended twice on the same issue.
Rao claimed that there was no chargesheet filed against him and hence there was no question of influencing the witnesses. He said he had a lot of evidence to prove that every word in the FIR registered by the Anti-Corruption Bureau (ACB) is false.
The officer said there was no misappropriation of even one rupee. He said the Israeli company wrote to the government that it paid no commission.
In February 2020, the state government had placed Venkateswara Rao, the IPS officer of 1989 batch, under suspension for his alleged misconduct and irregularities in the purchase of security equipment.
The officer was working as Additional Director General of Police (Intelligence) during the previous government
Considered close to then chief minister N. Chandrababu Naidu, Rao was removed as the intelligence chief after Y.S. Jagan Mohan Reddy assumed office in May 2019. He was waiting for a posting.
The police officer had approached Andhra Pradesh High Court, which had set aside the suspension on May 22, 2020.
The Supreme Court on April 22, 2022 dismissed the Special Leave Petition (SLP) filed by the state government challenging Andhra Pradesh High Court order.
The Supreme Court made it clear that the suspension could be for a maximum of two years as per the All India Services (Discipline and Appeal) Amendments Rules, 2015. It said since the two year period was over, the suspension could no longer be in place.
In May, the state government issued orders revoking Rao's suspension with effect from February, 2022.
Though the officer had reported to the General Administration Department on May 19 for the posting, he was made to wait for nearly a month. He was finally appointed as commissioner, printing and stationery on June 15.
Rao said Indian Administrative Service (IAS) officer Srilakshmi has cases against her and chargesheets were filed against her but All India Service rules did not apply to her. "When the rules don't apply to her, how can they apply to me," he asked.
Srilakshmi is facing corruption charges in quid pro quo cases allegedly involving Chief Minister Jagan Mohan Reddy.
The IPS officer said several petitions and complaints were filed against him but during these three years there was no evidence that he did anything wrong.
Anti-hijack drill conducted at Jammu Airport
An anti-hijack drill was jointly conducted by different agencies at Jammu airport to validate the processes by inter agencies during such crisis, a defence spokesperson said in a statement on Saturday.
"A Full Fledged Anti Hijack Drill was conducted by NSG at Jammu airport on March 24 with activation of Anti Hijack committee at Air Force Station Jammu," the statement said.
"This exercise involved all key stakeholders from Indian Air Force, AAI, state government, JKP, CISF, IOC and other key players."
The drill involved entire spectrum of events including negotiations with hijackers followed by intervention and overpowering of hijackers by a potent team of NSG.
"The exercise gave a unique opportunity to validate processes by inter agencies during such crisis. An Air India aircraft which landed at Jammu in the afternoon was utilised for the realistic drill. The exercise was successfully conducted bringing valuable lessons and training for all stakeholders," the statement added.
Mumbai man goes on stabbing spree in residential building, kills 3, injures 2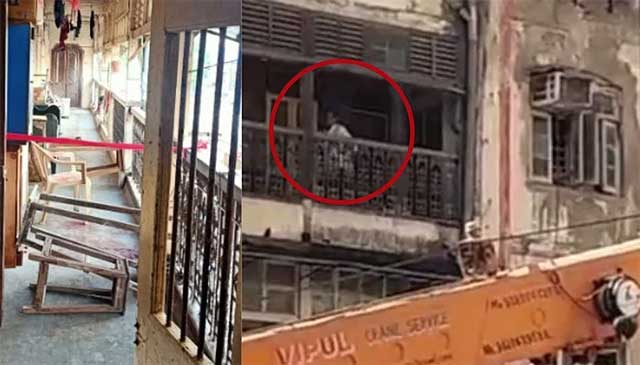 In a shocker, a middle-aged man went on a stabbing spree in a Mumbai residential building on Friday, attacking five persons, of which three have succumbed, and two others are seriously injured, police said here.
The attacker, identified as Chetan Gala, 54, has been arrested after the mayhem which occurred around 3.30 pm, sending panic waves in the locality.
According to officials of the Dr. D. B. Marg Police Station, the incident occurred at the Parvati Mansion, an old-style building with common passages in a residential neighbourhood of Grant Road
Locals who shot videos showed Gala rushing to another person on the second floor of the building and repeatedly stabbing him till he collapsed in a pool of blood.
Then he nonchalantly walked down to the first floor where another man was descending the stairs even as the crowds below warned him to run to safety as the attacker was coming behind him.
At least two other panicky residents could be seen running around with the people assembled below screaming at the attacker.
The exact motives behind the serial killing bout is not clear and the police have lodged a FIR and probing further.
The injured were rushed to the Sir H. N. Reliance Foundation Hospital and the BMC's Nair Hospital nearby where the condition of two is said to be serious.
Police said that the accused Gala suddenly stepped out brandishing a knife and started stabbing people at random around, targeting at least five, among them a husband-wife couple.
Horrified locals called up the police and a team rushed there to take control, and managed to overpower him soon.
Police are recording witnesses statements and checking the accused's relationship with his family, financial angles, and even mental health issues.
Bihar: 7-yr-old boy dies after brutal assault by teacher
A seven-year-old boy died in Bihar's Saharsa district on Friday after an alleged brutal assault by his teacher.
The victim, Aditya Kumar, was an LKG student at a private school in a village under the Sadar police station. He had been living in a hostel since the last 10 days.
His parents are residents of the adjoining Madhepura district.
According to the police, the school administration informed Aditya's parents that he became unconscious and was admitted to a private hospital.
By the time his parents arrived, the victim died.
"We sent our child to the school cum hostel in Saharsa district on March 14. We received a phone call on Friday that Aditya became unconscious and was admitted to a private hospital. When we reached the hospital, he was already dead," said Prakash Yadav, Aditya's father.
"We have sent the body for post-mortem to ascertain the actual cause of death. The family members alleged that he died due to the physical assault. We are also trying to arrest the owner of the school. He is absconding. We have lodged an FIR and efforts are on to nab him," said Brajesh Chauhan, Sub-inspector of Sadar police station.