I am not interested in the job: Eoin Morgan rules himself out from Test captaincy
England's 2019 World Cup winning captain Eoin Morgan on Friday has ruled himself out from the race of becoming the next men's Test captain and has instead backed all-rounder Ben Stokes to take up the job after Joe Root's resignation earlier in April.
Whoever becomes England's Test captain has got the tough job to get the side on track with collective performances in all departments of the game. In its last 17 Tests, England have emerged victorious just once and lost the Ashes 4-0 in Australia followed by 1-0 defeat in West Indies.
"Absolutely not, no. I'm very happy with the role that I play within the white-ball team and English cricket at the moment. It has been the part of my career that I'm most proud of. My career is firmly focused on World Cups, and hopefully sustaining what we've built over the last six years is probably going to be the most important part of what I leave behind eventually. I haven't played red-ball cricket for a long time. I wouldn't have any interest in the job. I would be no good at it," Morgan told Sky Sports.
Morgan, who played a Test match in February 2012 against Pakistan at Dubai, has backed Stokes to take the role of captaining England in the longest format of the game.
"Obviously Ben is a fantastic player, a brilliant leader, though he doesn't need to have the captain's armband on to lead like he does. The experience of the World Cup final here (at Lord's) really showed his true colours in the way that he led from start to finish – and throughout the whole tournament as well," he said.
"He'd certainly be a candidate. I think it would be hard to turn down the captaincy. It's a privileged position to be in. Obviously circumstances have to be right, but most people who want to take red-ball cricket forward would like to take it on."
Morgan revealed that he had a meeting with new ECB managing director of men's cricket, Rob Key and felt that splitting coaching roles on the basis of formats would be the road ahead as England gear up to appoint next coaches for the men's team. "Just the demands of the game as a whole now is huge, there is almost no break. It's such a big ask for one man to do the job."
Violent Clash Erupts Between Rival Supporters During Argentina vs Brazil 2026 FIFA World Cup Qualifiers
The 2026 FIFA World Cup qualifiers has been marred in controversy as the match between Brazil and Argentina saw violent clashes between rival supporters before the start of it. The high-profile fixture had to be delayed by 30 minutes as the Marcana Stadium in Rio de Janeiro witnessed ugly scenes, with disturbing visuals emerging on social media.
With the Brazilian and Argentinian players lining up for national anthems, the camera turned towards the stands as a section of rival fans exchanged blows. The local police officials could be seen beating up a section of Argentinian fans with batons and it did not go well with the tourists. By pointing at the violent scenes, Messi and co. decided to walk off the pitch.
PAK vs ENG, CWC 2023: 'Broke 25 Crore People's Hopes In 5 Seconds', Netizens Troll Pakistan As England Almost Kill The Game At Toss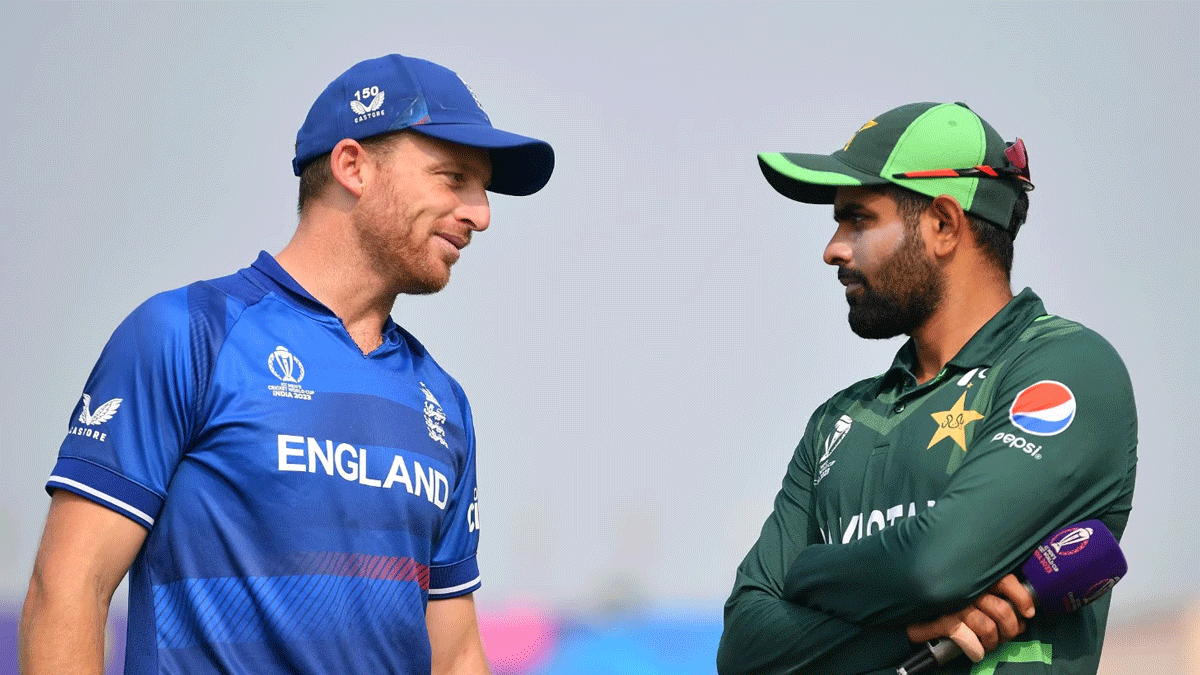 Pakistan cricket fans were left ruing their luck at the toss as it fell in England's favour at the Eden Gardens in Kolkata on Saturday. With Jos Buttler winning the toss marking the end of Pakistan's campaign at the showpiece event, netizens have relentlessly trolled Babar Azam and his men for losing the contest at the toss.
Coming into the game, Pakistan were facing a near impossible equation as winning the toss was the first priority. After winning the toss, Pakistan had to beat them by a massive 287-run margin. As things stand currently, Babar Azam and co. must do the unthinkable, bowling out for a mere 20 runs and getting those in only 1.3 overs, which would be their best-case scenario.
As things stand, the target for Pakistan will get bigger and the overs will keep diminishing. Pakistan fans were already irked as Babar was excluded among the list of captains during the light show at the Gateway of India in Mumbai on Thursday. It's worth noting that Pakistan haven't qualified for the 50-over World Cup semi-finals since the 2011 edition.
Pakistan have also made one change from their last match, benching Hassan Ali for an extra spinner in Shadab Khan. England have gone ahead with an unchanged line-up.
CWC 2023: South Africa vs Australia Semi-Final To Be Shifted To Mumbai If Pakistan Reach Knockouts, Confirm ICC Sources
The ODI World Cup semi-final between South Africa and Australia will be shifted to the Wankhede Stadium in Mumbai if Pakistan qualify for the knockouts, sources in the International Cricket Council confirmed to the Free Press Journal on Thursday.
If Pakistan manage to reach the semis then they will face arch-rivals India once again in this tournament. In that case, the semi-final will be played at the Eden Gardens in Kolkata on November 15.
But if Pakistan don't reach the semis then India will face either New Zealand or Afghanistan in Mumbai and South Africa will take on Australia in Kolkata as per the original schedule.India are scheduled to play their semifinal match in Mumbai only if they don't face Pakistan. The Men in Green have refused to play in Mumbai due to security reasons.
Pakistan qualification scenario explained
But Pakistan's qualification depends on the result of the match between New Zealand and Sri Lanka which is being played at the M Chinnaswamy stadium in Bengaluru.
If New Zealand manage to beat Sri Lanka by a comfortable margin then Pakistan's qualification will take a hit even if they defeat England in their last league game. A loss against the defending champions in Kolkata on November 11 will automatically knockout Pakistan from the race for the semis.