How ECHO India is building capacities via AWS Cloud to touch 400 million lives
With a goal to touch 400 million lives in India by end 2025, New Delhi-based non-profit organisation ECHO India is working towards building capacities across areas such as healthcare, education and other sustainable development goals.
ECHO India (Extension for Community Healthcare Outcomes), along with its partners, has launched over 200 hubs and rolled out more than 350 programmes covering more than 30 disease areas, which has led to the capacity building of over 700,000 healthcare providers across the country.
Kartik Dhar, Head Technology & Digital Platforms at ECHO India, told IANS in an interview that Cloud technology is at the heart of all that they do, as it enables them to connect their participants together.
The Covid pandemic created a great sense of urgency for the organisation and access to AWS infrastructure allowed them to build their platform much faster and with greater reliability.
Here are the excerpts from an interview:
Q. What is the vision behind ECHO India?
A: Established in 2008, ECHO India is a non-profit organisation focused on bringing equity primarily in the fields of healthcare and education through capacity building of healthcare practitioners and educators.
We follow the Societal Thinking approach, and are working towards building an open digital infrastructure for capacity building through a community-centred approach, powered by the ECHO's 'hub and spoke' Model of learning; Hub being a group of experts who regularly mentor the learners (spokes).
TeleECHO "clinics" are conducted by ECHO ahubs' through basic, widely available teleconferencing tools, and the sessions involve primary care clinicians and healthcare workers (HCWs) from multiple sites presenting patient cases to teams of specialists and each other. In this manner, ECHO creates ongoing learning communities to support primary care clinicians and helps them develop necessary skills.
With a goal to touch 400 million lives in India by end of 2025, ECHO India has partnered with the Ministry of Health and Family Welfare (MoHFW), Government of India, State NHMs (National Health Missions), Municipal Corporations, Nursing Councils as well as leading medical institutions across India including AIIMS (All India Institute of Medical Sciences), NIMHANS (National Institute of Mental Health & Neurological Sciences), NITRD (National Institute for Tuberculosis and Respiratory Diseases), NICPR (National Institute of Cancer Prevention & Research), Tata Memorial Hospital, and PGIMER (Post Graduate Institute for Medical Education & Research). ECHO India, along with its partners, has launched over 200 hubs and rolled out 350+ programmes covering more than 30 disease areas, which has led to the capacity building of over 700,000 providers across the country.
Q: What innovations has Echo brought into the non-profit space?
A: The ECHO Model is an innovative learning model that uses case-based learning, guided iterative practice, and tele-mentoring, instead of traditional online and unidirectional learning methodologies like Webinars, Lectures, MOOC (Massive Online Open Courses). Through this practical approach we are able to ensure that health workers have better knowledge retention and practical understanding that they can apply in the field.
We have also developed an innovative Digital Platform called iECHO, — developed in collaboration with Project ECHO USA — that serves as a shared digital infrastructure for the entire global movement. Through this digital platform, participants can connect with experts, take part in live learning sessions, access best practices, get digital certificates, and potentially connect and share knowledge freely and openly.
Q: Tell us about the reach of your work and elaborate on your plans for the next couple of years?
A: We launched more than 80 new hubs during 2021-22, representing a strong YoY growth of over 65 per cent, following on from a massive 160 per cent growth in the year before.
We signed a Memorandum of Understanding (MoU) with the Ministry of Health and Family Welfare to facilitate the use of ECHO Model in MoHFW-linked hospitals, central institutions and national-level programmes.
We also entered into formal partnerships with 25 state NHMs to enable capacity building at primary and secondary care. We expanded outreach to all the North-eastern states, strengthening ECHO's impact in the country's hinterland, thus reducing inequities in healthcare access.
In a recent programme, we mentored 5,500 nurses for infection prevention and control in partnership with the Nursing Councils, state NHMs and Municipal Corporations of Mumbai, Nagpur and Kolkata.
We see our role evolving from solving the problem to distributing the ability to solve to our "superhubs", hubs or sometimes even our participants. Our role is to ensure that in this capacity building and skilling of HCWs, there is fidelity to the ECHO Model, an enabling technology infrastructure, defined standards and proper guidance and support all the participants of the ECHO movement.
iECHO allows hubs to onboard themselves on the ECHO platform faster, helps them build and operate multiple programmes and onboard their spokes too. They can access all the programme data at one place with ways to manage multiple programmes, see details of attendance, get robust data analytics on participation, conduct assessments and issue certification to the participants.
Q: How do you go about addressing Sustainable Development Goals?
A: The ECHO model has proven efficient, effective, and scalable across several disciplines in empowering global change, especially in the fields of health and education. Going beyond health and education, the ECHO model can be leveraged to create lasting change across multiple sectors and achieve Sustainable Development Goals (SDGs) — extending even to Gender Equity and Climate — by empowering stakeholders from relevant fields to think and expand their horizons to achieve a better and more sustainable future for all.
Q. What types of challenges do you face while working and how do you solve them?
A: As a technology enabled non-profit, we are constantly challenged with ensuring our systems are resilient, scalable, and accessible to all. In a resource constrained environment like India, access to fast internet has been challenging, especially as we work in remote areas.
Our goal is to ensure equitable access to all our community participants, and we have taken various initiatives to ensure the ECHO platform is accessible to the last mile.
A constant challenge in software development is the balance of speed and quality. Given that we are trying to solve a massive challenge of touching 1 billion lives, we need to operate at speed, while ensuring that the solutions we develop are robust and scalable to meet the growing needs of the movement.
Q. What are some of the emerging technologies that will further reshape healthcare, education, and livelihood over the next 4-5 years?
A: The upcoming Ayushman Bharat Digital Mission (ABDM) platform by the Ministry of Health & Family Welfare, Government of India, can be a game changer in ensuring equitable access to healthcare for the last mile. By enabling interoperability and digitization, it could potentially transform healthcare in the same way that UPI (Unified Payments Interface) has transformed micropayments in India.
We also are optimistic about the potential of Artificial Intelligence (AI) and Machine Learning (ML) technologies to impact the last mile. We have seen deep learning language models like GPT-3 transform the way humans can interact with computer systems, and we are collaborating with the Societal Platform team towards building platform capabilities that will allow the ECHO community to discover and access knowledge resources seamlessly.
AI-based voice assistant and translation technologies in regional languages of India can also be a game changer towards democratizing access to specialized medical knowledge and expertise to health workers in remote areas who are not comfortable with English.
Q: What has cloud technology and AWS helped you to do that you couldn't do before?
The ECHO movement is a model which relies on personal touch, mutual respect and connection between the mentor and mentee. The challenge has been not to lose the heart of the model while constructing a digital platform which will enable a huge force-multiplication to the initiative. Cloud technology is now at the heart of all how we propose to expand it exponentially, as it connects our participants together while retaining fidelity to the Model.
Amazon has been a critical part of our journey and a key partner. We are using a whole host of AWS services such as the Elastic Kubernetes Service, Pinpoint for messaging, DynamoDB for a highly scalable NoSQL database, and much more.
The pandemic created a great sense of urgency for us and we needed to develop our platform at rapid speed. Having access to AWS infrastructure has allowed us to build our platform much faster and with greater reliability. This has been critical in the journey of ECHO.
Q. In terms of business outcomes, what benefits have you experienced because of running on AWS?
By leveraging containerization and microservices architecture, specifically through Amazon Elastic Container Registry (ECR) and Amazon CloudWatch, we have improved our infrastructure pipelines dramatically. Through ECR we are able to automate our deployment and ensure we can reliably deploy functionality to our users seamlessly. CloudWatch has given us improved insights into infrastructure telemetry data and has reduced the time for issue resolution significantly.
Amazon Simple Email Service (SES) has provided us with a highly cost effective and scalable solution for sending email communications and notifications to our users. It has provided a low cost and high reliability solution as compared to other vendors.
Having a managed suite of services, especially the database and container registry has allowed us to achieve a lot with a small and lean team.
Not having to hire dedicated Database Administrators or system administrators to manage and maintain the database has allowed us to focus our efforts on maximizing value for our users.
Implementing DynamoDB with auto-scaling and in-memory caching has given us a highly scalable database with zero downtime, while being able to handle millions of requests.
Through our microservice architecture implemented on AWS Cloud we are able to ensure a highly available system with failover protection and auto-scaling to handle high traffic spikes.
Amazon Pinpoint has enabled us to send SMS notifications, One-time passwords (OTP), and other communications very easily, thus allowing our users to easily sign up, get updates, and interact with the ECHO platform using mobile devices.
Having dedicated technical support and communication from our relationship manager has been highly appreciated, and gives us added efficiency, and an extra peace of mind.
Ensuring Cybersecurity and compliance best practices around Identity and Access Management (IAM), separation of development, testing and production environments, while maintaining a highly agile and responsive development workflow has been enabled by AWS.
The "mission" of ECHO India is not to generate revenue. It is to bring equity in Healthcare using this ECHO model. I am very happy that the use of AWS in our digital platform iECHO is enabling us to do that.
Pakistan: At Least 52 killed, More Than 50 Injured In Bomb Blast In Balochistan; Visuals Of Destruction Surface
At least 52 people were killed and over 50 injured in a suicide blast near a mosque in Pakistan's restive Balochistan province on Friday as they gathered to celebrate Prophet Muhammad's birthday, authorities said.
The explosion occurred near Madina Mosque on Al Falah Road in the Mastung district. No group has claimed responsibility for the attack.
Mastung's Deputy Superintendent of Police (DSP) Nawaz Gashkori, who was on duty for the rally, was among the deceased.
The explosion took place when people were gathering to mark Eid Miladun Nabi, the birth anniversary of Prophet Muhammad.
City Station House Officer (SHO) Mohammad Javed Lehri said the explosion was a "suicide blast" and that the bomber exploded himself next to DSP's car.
Lehri said that the wounded are being shifted to a medical facility while an emergency has been imposed in the hospitals.
At least 52 people were killed and over 50 injured in the blast, District Health Officer Mastung Rashid Muhammad Saeed said.
Some of the injured were in critical condition.
Balochistan interim Information Minister Jan Achakzai said rescue teams have been dispatched to Mastung. He added the critically injured persons are being transferred to Quetta and that an emergency has been imposed in all the hospitals.
"The enemy wants to destroy religious tolerance and peace in Balochistan…," Achakzai said."The explosion is unbearable." Caretaker Chief Minister Ali Mardan Domki has directed authorities to arrest those responsible for the blast.
"The perpetrators of the destruction do not deserve any leniency," he said. "Those who target peaceful processions will be dealt with firmly." Chief Minister Domki urged the people to unite against terrorism, adding that Islam was a religion of peace and "those who commit such heinous acts cannot be called Muslims".
The caretaker CM also announced three days of mourning throughout the province over the tragic incident.
Interim Interior Minister Sarfraz Ahmed Bugti also strongly condemned the blast.
Stating that "terrorists have no faith or religion", Bugti asserted that all resources were being put to use during the rescue operation. He added that no effort would be spared in treating the injured and that terrorist elements did not deserve any concession.
Soon after the explosion, the Punjab police also said that its "diligent officials" were performing security duties for Friday prayers at mosques across the province.
Meanwhile, the Karachi police said that Additional Inspector General Khadim Husain Rind has directed the police to remain "completely on high alert" in view of the Mastung blast.
He directed the policemen to tighten security arrangements regarding Eid-i-Miladun Nabi processions and Friday prayers across the city, as well as to monitor any unusual activities.
Second major blast in Mastung over last 15 days
This is the second major blast that has terrorised Mastung over the last 15 days, Geo News reported.
Earlier this month, at least 11 people were injured in a blast in the same district.
Mastung has remained a target of terror attacks for the past several years with a major attack in July 2018 being one of the deadliest in the district's history during which at least 128 people were killed, The Tehrik-i-Taliban Pakistan, which set up as an umbrella group of several terrorist outfits in 2007, called off a ceasefire with the federal government and ordered its terrorists to stage terrorist attacks across the country.
Past attacks
The group, which is believed to be close to al-Qaeda, has been blamed for several deadly attacks across Pakistan, including an attack on army headquarters in 2009, assaults on military bases, and the 2008 bombing of the Marriott Hotel in Islamabad.
In January, a Taliban suicide bomber blew himself up in a mosque packed with worshippers during afternoon prayers in Pakistan's restive northwestern Peshawar city, killing over 100 people.
Last year, a similar attack inside a Shia mosque in the Kocha Risaldar area in the city killed 63 people.
UP: CCTV Footage Shows Drunk Rail Staffer Busy On Video Call, Places Bag On MEMU Throttle Causing Collision At Mathura Platform; 5 Suspended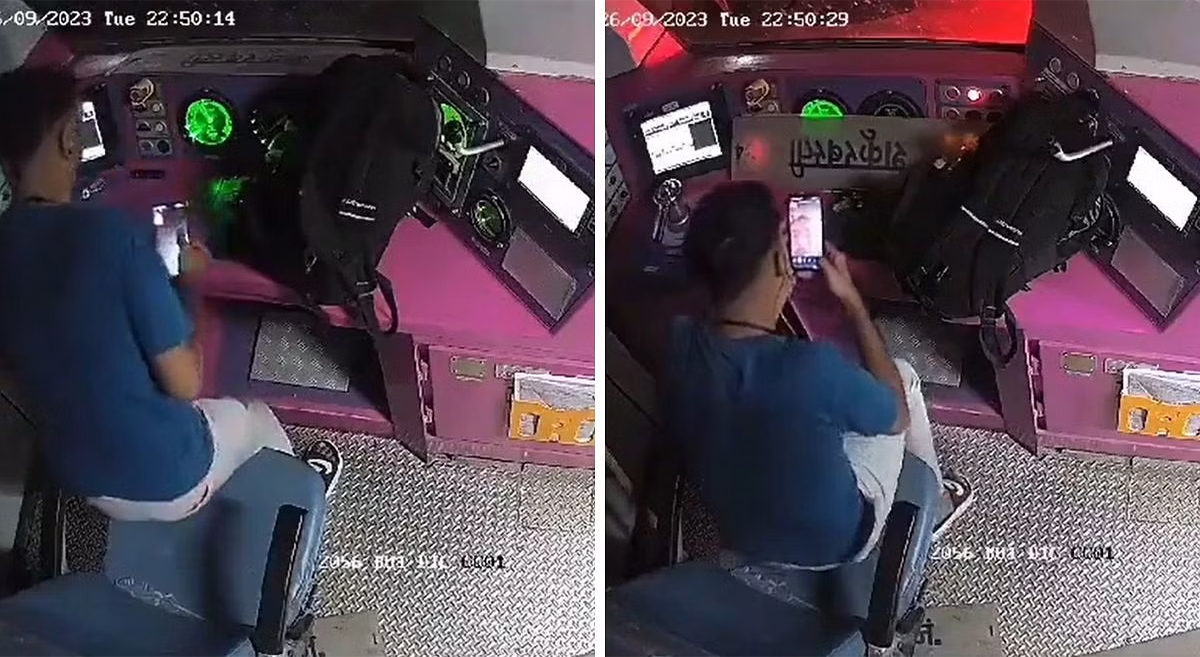 UP: A joint report in the Tuesday Mathura train incident, in which an electric multiple unit (EMU) train broke the buffer dead end and entered platform number 2, has found that the staffer was watching his mobile phone while handling the train and was mildly drunk, sources have said.
The report, according to the sources, while narrating the prima facie reason of the incident, said that according to the Crew Voice & Video Recording System (CVVRS), after the train arrived at the platform, a staffer named Sachin entered the DTC cab (engine) while watching his mobile phone.
It said that while carelessly putting his bag on the throttle of the engine, he again got busy on his mobile.
Drunk Employee Puts Bag On Train's Throttle
The throttle, due to the pressure of the bag, went into forward position and let the EMU move towards the platform. "It broke the dead end of the platform and half of the coach climbed onto the elevated portion of platform number 2, leading to breakdown of OHE (overhead wire)." The report also said that a breathalyzer test conducted on Sachin showed a reading of 47 mg/100 ml which is considered to be mildly drunk.
"He has been sent for a medical test in which his blood sample will be taken to find out the exact level of alcohol consumption," a source from the Agra Railway Division, said.
Divisional Railway Manager Tej Prakash Agrawal has suspended five persons including Sachin in connection with the incident. Of the other four, Harbhajan Singh, Brajesh Kumar, and Kuljeet are technical staff and Govid Hari Sharma is a loco pilot.
"We have suspended five persons and further detailed investigation is on," Agarwal said.
In one of its observations, the joint report said that generally technicians receive the DTC cab (engine) key, however, in this case, the technician sent Sachin to receive the key.
Details On The Incident
Giving the brief history of the incident, the report said that the train arrived at Mathura station at 10.49 pm. After the loco pilot got relieved from his duty and came out of the cab, Sachin entered the cab to take the keys. Within a minute of his entering the cab, it started moving, broke the dead end and half of its portion climbed onto the platform.
Sachin in a written statement said that as per the instruction of his duty in-charge, he asked for the key of the cab from the loco pilot who told him that it was inside the cab.
According to his statement, when he entered the cab and put his bag inside there, the train started moving on its own. He said that he got scared and by the time he applied the emergency brake, it had entered the platform.
He said that he informed his in-charge about it and when he tried to find out the reason why the train started moving, he found that the throttle was in forward position and key was also in position.
Blame Game Over Collision
In his statement, he blamed the loco pilot for keeping the train functions in "switched on" position. However, the loco pilot in his statement said that he had handed over the key to Sachin before the latter entered the cab.
The joint report has mentioned Sachin as ETL staff whereas in his statement, Sachin has mentioned his designation as helper.
The EMU starts from Delhi and covers various local stations before terminating in Mathura. The platform number 2 starts from the train's terminating point where a buffer dead end has been created.
UP Shocker: Cop Tied To Pole Naked, Thrashed After Being Caught Molesting Girl In Agra; Suspended After Video Goes Viral
Agra: In a shocking incident, a police sub-inspector was tied to pole and beaten in Uttar Pradesh's Agra. The video of the incident is doing rounds on social media. It can be seen in the video that a Uttar Pradesh Police officer is being beaten after being tied naked to a pole in the village. The police sub-inspector was allegedly beaten by the villagers after he was caught in a compromising position with a woman. The family of the woman alleged that the police officer was molesting the woman.
He jumped through the roof and sneaked into the house in an inebriated condition
As per reports, the UP Police sub-inspector who was beaten by the villagers has been identified as Sandeep Kumar. Sandeep Kumar allegedly jumped through the roof and sneaked into the house in an inebriated condition and started to molest the girl present in the house.
The girl raised an alarm after which the family of the girl came
The girl raised an alarm after which the family of the girl came and caught the police officer red-handed in an objectionable position inside their house in Tihaiya village in Barhan Police Station limits. They then called the villagers and the angry villagers then stripped Sandeep Kumar naked and tied him to a pole. The villagers also thrashed the police officer for his act. The accused was rescued by the police that reached the spot and took the culprit with them.
Sandeep Kumar has been suspended
Uttar Pradesh Police Sub-Inspector Sandeep Kumar has been suspended and a departmental inquiry has been initiated against him after the video of the locals beating the police officer after tying him naked to the pole has gone viral on social media. A case of rape has been registered against the police officer. The incident occurred late night on Sunday (September 17) when the police officer sneaked into the house of the woman and was caught by her family in a compromising position with the woman.
The police have initiated an inquiry in connection with the matter
The police have initiated an inquiry in connection with the matter. They are also scanning the video that is going viral on social media. Etmadpur ACP said, "In the case of a sub-inspector being caught with a girl under police station Barhan area, the sub-inspector is being suspended with immediate effect, strictest departmental action is being taken and after receiving the complaint, legal action will be taken against the SI."