Gold, silver prices rise on May 5; Check prices in Mumbai, Delhi, Chennai, Kolkata
Gold and silver prices continue to rise on the Multi Commodity Exchange for the third consecutive day on Friday after it fell on Tuesday.
The June Gold futures on Wednesday was up by Rs 87 at Rs 61,580 per 10 grams, whereas silver futures expiring in July were at Rs 78,160 per kilogram, with a gain of Rs 122.
The price of gold and silver on May 5 was at Rs 57,200 per 10 grams and Rs 7,710 per kg respectively, according to GoodReturns.
Gold price today
In Mumbai, Kolkata and Hyderabad 10 grams of 22-carat gold is at Rs 57,200 and 24-carat gold at Rs 62,400.
In Delhi, Bengaluru, and Chennai, 10 grams of 22-carat gold is at Rs 57,350, Rs 57,250, and Rs 57,650, respectively.
In Delhi, Bengaluru, and Chennai, 10 grams of 24-carat gold is at Rs 62,550, Rs 62,450, and Rs 62,890, respectively.
Silver price today
In Mumbai, Delhi, and Kolkata, the price of 1 kg of silver is Rs 77,100.
In Chennai, Bengaluru and Hyderabad, the price of 1 kg of silver is Rs 82,800.
Ganesh Visarjan 2023: Famous Pandals Across City See Last-Minute Rush
Mumbai: Scores of devotees on Wednesday queued at the city's famous pandals to catch a glimpse of Lord Ganesh as the deity bids adieu today. Fondly known as Bappa, the elephant-headed god is immensely adulated during the 10-day Ganeshotsav. Anant Chaturdashi, which marks the end of the spirited festival, and Ganpati idols are immersed on this date, falls today.
On Wednesday, Akshay Kokate came all the way from Diva in Thane district to give a devotional farewell to Lalbaugcha Raja. Summing up his experience, an elated Kokate said that he felt twice as lucky because he got 'mukh darshan' (face glimpse), but was also present during 'aarti'. "This is the second time I managed to get 'mukh darshan' during 'aarti'. Last year, too, this had happened. I also got 'darshan' within 20-40 minutes as there was not much rush," he said.
'Last minute rush is less this year'
Another devotee Prathamesh Harer, who accompanied his mother to Lalbaug, said, "This year, people seem to have come on the first few days to take 'darshan' hence last minute rush is less." His mother Sangeeta makes it a point to visit prominent Ganpatis in Chinchpokli-Lalbaug belt every year. She fondly remembers her wish being fulfilled when her husband returned home safely from service in Kashmir. "He was in Kashmir for two years during the 2000s as part of the civil defense service. I had stood in the 'navas' (wish-fulfilling) queue, praying that he would come home safely and he did," recalled a barefooted Sangeeta.
Devotees walking barefoot and their forehead smeared with 'gulaal' (coloured powder) was a common sight on Wednesday at the Chinchpokli-Lalbaug belt which has famous pandals like Lalbaugcha Raja, Ganesh Galli Ganpati, Chintamani Ganpati and Tejukaya Ganpati. "We have been to Chintamani and now will be heading to Lalbaug. If we are lucky, we should be able to get 'darshan'," said Khushi Rai,18, who had come along with her friends.
Lalbaughcha Raja idol immersion
Talking about the idol immersion, Lalbaugcha Raja Sarvajanik Ganeshutsav Mandal President Balasaheb Kamble said, "We will be having a morning aarti and leave by 11am or so (today)." While the Ganpati will leave tomorrow, it will reach the immersion point at Girgaon Chowpatty on Friday morning. Andhericha Raja is one of those Ganpati idols that doesn't go for immersion on Thursday. "Our Ganpati was of mill workers whose mill had shut down. They had a wish that if their mills restarted, they would keep Ganpati till 'Sankasthi', which happened. Hence, the trend of going later for immersion continues," explained Azad Nagar Sarvajanik Utsav Samiti spokesperson Uday Salian.
Anant Chaturdashi 2023: Visarjan Procession Of Lalbaugcha Raja Begins; Mumbaikars Gathered In Huge Numbers To Bid Farewell To Bappa 
Mumbai, known for its grandeur and fervour during the Ganesh Chaturthi festival, witnessed a spectacular culmination of the 10-day celebration as devotees and Ganesh mandals came together for idol immersion. Amidst the rhythmic beating of drums and the jubilant chants of 'Ganpati Bappa Morya,' the city came alive with processions marking the farewell of Lord Ganesh.
The Lalbaugcha Raja Procession
One of the most iconic moments of the festival was the commencement of the procession of the famous Lalbaugcha Raja Ganpati, which began around 11:30 am. This revered idol draws the maximum number of devotees during the festivities and a vast crowd eagerly awaited the final 'darshan' of the deity.
Devotees Flock In Large Numbers
Across the city, devotees flocked to various procession routes to witness the idols of Lord Ganesh being taken out of pandals for their final journey into the Arabian Sea and other water bodies. The idols, adorned in various forms and sizes, are accompanied by music, dance and heartfelt prayers.
The Ganesh Chaturthi festival, which commenced on September 19, was set to conclude on 'Anant Chaturdashi.' Thousands of people gathered on the streets of Lalbaug and other major procession routes, showering the deities with heartfelt prayers. Vibrant processions were filled with music, dance, and the joyful sprinkling of 'gulal' (vermillion powder).
Special Moments
Notable moments included the 'pushpavrusti' (showering of flowers) on the Ganesh idols at Lalbaug's Shroff building. Crowds also thronged the main road leading to Girgaon in south Mumbai, where numerous processions, including those from Fort, Girgaon, Byculla and other areas, passed by.
When Will Ganpatis Reach For Visarjan?
In Lalbaug, known for its distinctive celebrations, the Tejukaya and Ganesh Gully mandals along with the Chinchpokali cha Chintamani mandal initiated their processions today in the morning with chants of 'Ganapati Bappa Morya, Pudhchya Varshi Lavkar Ya' (come soon next year, Lord).
Ganesh Gully Ganpati reaches Girgaon Chowpatty by late evening, Chinchpokali cha Chintamani by late night, Tejukaya reaches by evening again, and Lalbaug Cha Raja reaches the next morning for the visarjan ritual.
According to the Brihanmumbai Municipal Corporation, a staggering 1,65,964 idols, including household and public ones, along with idols of Goddess Gauri, were immersed in various water bodies and artificial ponds across the city until the seventh day of the festival.
Anant Chaturdashi 2023: Mumbai Police's Khaki Studio Gives Musical Treat To Ganpati Bappa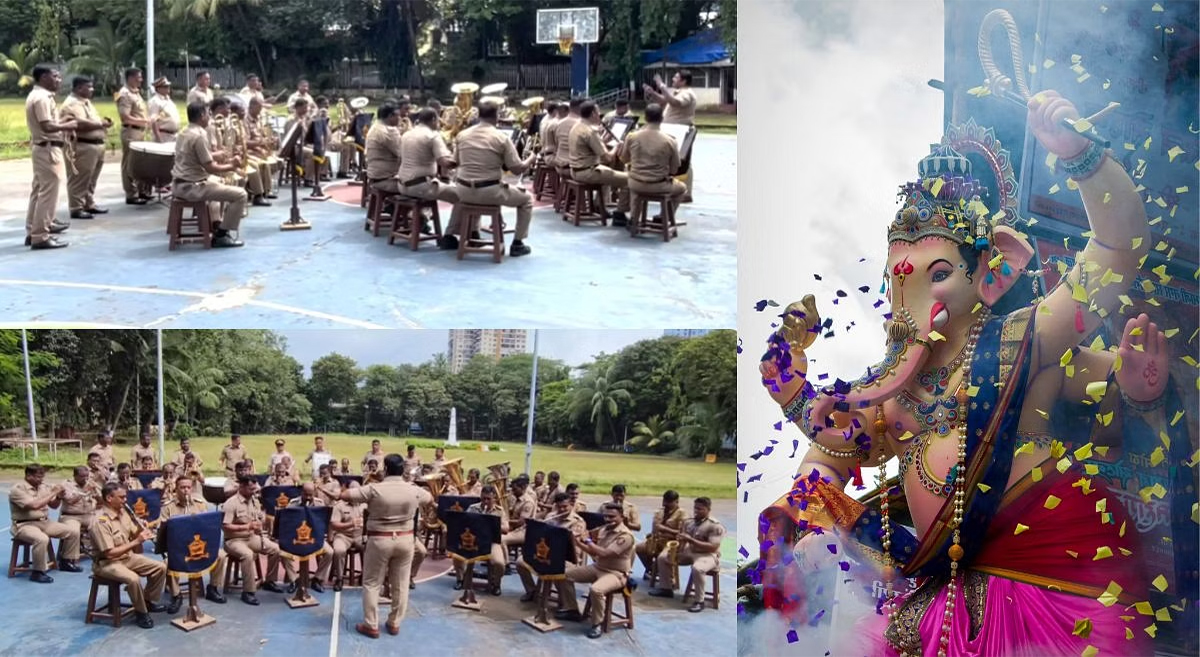 Mumbai Police extended a musical tribute to Lord Ganesha this festival season as their Khaki Studio performed one of the popular songs dedicated to Him. Any guesses on the song played by the cops to mark the occasion and offer a special tribute to beloved Ganpati Bappa? You get it right if you said it to be "Deva Shree Ganesha."
Video goes viral; netizens react
Ahead of Anant Chaturdashi 2023, a day of biding farewell to Lord Ganesha with a Visarjan in a local water body, the Khaki Studio gave a special musical treat to the Lord. The Police Band beautifully recreated the film song dedicated to Lord Ganesha. They shared the clip online to win praise from citizens. "When music meets devotion," read the post caption. The video shared during this Ganesh Utsav attracted more than 90,000 views on Instagram accompanied by several likes and comments.
Netizens took to the comments section to appreciate the musical rendition by the police officials. Heart emojis were shared to express feedback towards the music reel. "Wow," said an Instagram user, while another added, "Very well played." The reactions echoed with the chant: "Ganpati Bappa Morya."