Fumio Kishida wins LDP leadership race, set to become Japan's next PM
Fumio Kishida on Wednesday won the presidential election of Japan's ruling Liberal Democratic Party (LDP) to succeed Prime Minister Yoshihide Suga.
Kishida, former Japanese foreign minister, secured 257 votes in a runoff to win over his contender Taro Kono who received 170 votes, Xinhua news agency reported.
As the LDP-led coalition constitutes a majority in both chambers of the parliament in Japan, the new party president is almost certain to be elected Prime Minister in the extraordinary Diet session scheduled to be held on October 4, succeeding the incumbent Suga.
In the first round of voting, LDP parliamentarians cast 382 votes and another 382 votes were allotted to rank-and-file members.
Kishida, winning 256 votes, entered the runoff vote round with Kono trailing at 255 votes.
In the runoff voting, the LDP lawmakers cast the same number of votes, but the rank-and-file members' votes were reduced to one for each of the LDP's 47 prefectural chapters.
With a dominant advantage in the votes from LDP parliamentarians, Kishida was elected as the new party leader.
Two female candidates, Sanae Takaichi, former communications minister, and Seiko Noda, LDP executive acting secretary general, lost out in the four-way race in the first round of voting earlier in the afternoon.
UN chief condemns terror attack on UN-affiliated convoy in Somalia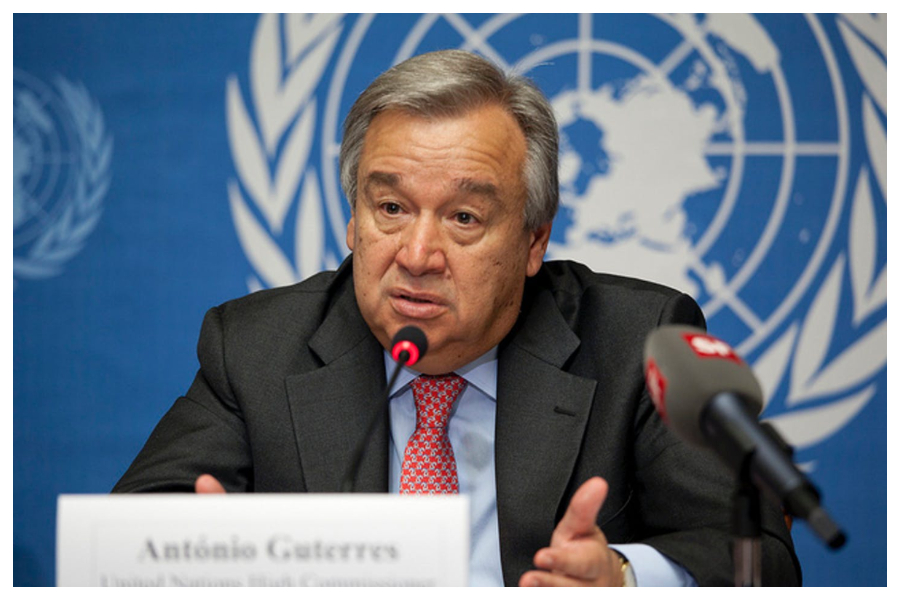 UN Secretary-General Antonio Guterres has strongly condemned Thursday's deadly terrorist attack on a UN-affiliated convoy in front of a school in Mogadishu, Somalia, said his deputy spokesman.
The secretary-general on Friday extended his deepest condolences to the families of the victims and wished a swift recovery to those injured. He called upon the Somali authorities to bring those responsible to justice, said Farhan Haq, the deputy spokesman, in a statement, Xinhua news agency reported.
The secretary-general expressed the full solidarity and support of the UN with the government and the people of Somalia in their fight against terrorism and violent extremism, said the statement.
At least eight people were confirmed dead and 17 others wounded in the suicide car bombing early on Thursday. The police said the target was a convoy belonging to a security firm that guards UN personnel. Al-Shabab militants have claimed responsibility for the attack.
The two Congressmen who paid the political price of 26/11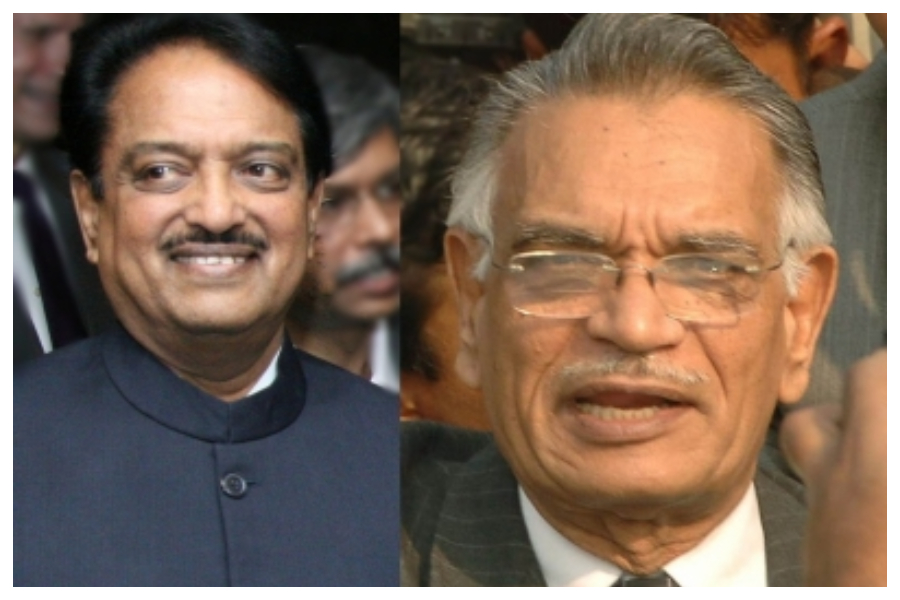 As the nation mourns the bravehearts and civilians who lost their lives in the 26/11 Mumbai attacks, and a controversy rages on Congress leader Manish Tewari's new book, '10 Flashpoints; 20 Years', where he has targeted the Manmohan Singh-led UPA government for not taking any decisive action, two names of two Maharashtra Congressmen — Shivraj Patil and Vilasrao Deshmukh — stand out as the first political heads to roll in the aftermath of the tragedy.
The mild-mannered Patil, who was known for more for his sartorial sensibilities than for his administrative capabilities had to resign as Union Home Minister a day after the NSG's Operation Tornado brought an end to the three-day siege on India's commercial capital by Pakistani terrorists.
In secret U.S. Embassy cables exposed by Wikileaks, the then American ambassador, David Mulford, had described Patil as "spectacularly inept" and reported to the State Department that in his last four years as Union Home Minister, "he has been asleep on the watch" and each time there were calls to remove him, "Sonia Gandhi has protected him".
But no one could stop Patil from being singed by the 26/11 attacks. The joke doing the rounds about him was that he was getting a change of clothes ironed for television appearances even as Mumbai was in the grip of terror. He was promptly replaced by the then Union Finance Minister, P. Chidambaram.
Interestingly, Patil, who represented Latur (Maharashtra) in the Lok Sabha and held ministerial positions in New Delhi off and on since 1980, airbrushed the 26/11 attacks from his autobiography, 'Odyssey of My Life', although he wrote at length about the 1999 hijacking of the Indian Airlines flight IC-814.
In 2010, Patil was rehabilitated and appointed the Governor of Punjab and Administrator of the Union Territory of Chandigarh, an office he demitted after completing his term in 2015. For a man who was Lok Sabha Speaker and Union Home Minister, it was evidently a demotion. And he has not been able to make a political comeback since then.
Following Patil, another politician from Latur, the late Vilasrao Deshmukh, who had become Maharashtra's chief minister for the second time in November 1, 2004 (his first term was cut short by factionalism in the party and he to make way for Sushilkumar Shinde in January 2003).
Deshmukh lost his job on December 6, 2008, along with the state's then home minister, R.R. Patil. He was succeeded by another Congressman, Ashok Chavan, who is at present Maharashtra's PWD Minister in the Maha Aghadi government.
The then chief minister was under fire, but no action was taken against him immediately after the terror attacks. What tilted the scales against him was the "conducted tour" he gave to the noted film director Ram Gopal Verma around the devastated Taj Mahal Palace hotel in Mumbai. Deshmukh's architect son, Riteish, is a well-known Bollywood actor known for playing comic roles.
Verma went on to make a film titled 'The Attacks of 26/11' (2013), starring Nana Patekar, who played Rakesh Maria, Mumbai's former top cop who was given the charge of investigating the event and interrogating the Pakistani terrorist Ajmal Kasab.
The Congress gave Deshmukh a Rajya Sabha ticket and he moved to New Delhi in May 2009 as a minister in Manmohan Singh's second UPA government. He died in harness in Chennai in 2012.
Thirteen years after 26/11, its repercussions are still felt within the Congress as the BJP has found a new issue to flog after the sensational observations of Manish Tewari in his new book, which is to be officially released on December 2.
"For a state that has no compunctions in brutally slaughtering hundreds of innocent people, restraint is not a sign of strength; it is perceived as a symbol of weakness," Tewari writes in his book. "There comes a time when actions must speak louder than words. 26/11 was one such time when it just should have been done. It, therefore, is my considered opinion that India should have actioned a kinetic response in the days following India's 9/11."
These words will haunt the Congress for some time, but they offer little solace to the families and friends of the more than 160 people killed by terrorists from Pakistan on November 26, 2008.
In US crackdown on 26/11 terrorism, Rana awaits extradition ruling, 4 on wanted list
As 13th anniversary of the 26/11 Mumbai terrorist attack rolls around, Tahawwur Hussain Rana, a Pakistani Canadian, is in detention awaiting a ruling on extradition to India, and four others, who have been charged in a US court, are on a wanted list of the US government in its attempts to crackdown on the alleged collaborators.
Prisoner Number 22829-424 Rana is being held at the Los Angeles Metropolitan Detention Centre, a check on the Bureau of Prisons database on Wednesday showed.
Rana's childhood friend, Pakistani American Daood Sayed Gilani who goes by the Western-sounding name David Coleman Headley, is serving a 35-year sentence after a federal judge convicted him on charges of helping carry out the Mumbai attacks.
He turned approver to avoid getting the maximum sentence of life in prison and testified against Rana.
He was also declared an approver in India and a Mumbai sessions court pardoned him in 2015 and accepted him as a prosecution witness.
With the alleged help of Rana, he got a business visa for India and conducted surveillance for the terror attacks that killed more than 170 people, including six Americans.
Sajid Mir of the Lashkar-e-Tayyiba (LeT), who was charged in a federal court in Chicago in connection with the 2008 attack, is a fugitive on the FBI's Most Wanted Terrorist list with a $5 million bounty on his head.
The State Department's Rewards for Justice (RfJ) counter-terrorism programme that offers a bounty for information leading to his capture says that he "served as a 'handler' for David Headley and others who were directed to carry out actions relating to planning, preparing for, and carrying out terrorist attacks on behalf of LeT."
Along with him, three others who were also charged in the case, are on the RfJ list.
They are Major Iqbal, who allegedly funded and planned the 26/11 attack; Abu Qahafa the alleged trainer of the attackers, and Mazhar Iqbal alias Abu al-Qama, who is a commander of the LeT, according to the RfJ.
The four are residents of Pakistan, it said.
Rana was acquitted in a federal trial in Chicago on a charge of providing material support for the 26/11 attack, but convicted of helping the LeT and participating in a terrorist plot against a Danish newspaper and sentenced in 2013 to 14 years in prison.
He was temporarily released on compassionate grounds because of the Covid-19 pandemic, but was arrested immediately on a federal court warrant in June last year in connection with the extradition request from India and is still in custody.
Federal Magistrate Judge Jacqueline Chooljian in Los Angeles ordered the government and the defence to file documents supporting their respective pleas before July 15.
In their filing, Rana's lawyers maintained that Headley's testimony against him implicating him in the Mumbai attack was not reliable because he was an approver and that since he has been acquitted on the charges relating to 26/11 by the Chicago court he could not be extradited to face similar charges under their interpretation of the extradition treaty.
The government said in its filing that Rana and his partner in the immigration and travel business filed fake documents for an Indian visa making Gilani "regional manager supervising and consulting our operation in the Asian region" to enable him to operate in India.
Gilani used that cover to gather intelligence for the LeT to carry out the attacks in Mumbai.
Gilani kept Rana aware of his activities and he "became aware of how the terrorists were going to attack targets in Mumbai, that people would likely die" but did not distance himself from the conspirators, the government said.
As the case now stands, the last filing was by the government lawyers was on July 21 making technical arguments about a point made in the defence document that it said was "beyond the scope" laid down by the court.
The Covid-19 pandemic has hampered the progress of the extradition case by limiting direct hearings.
According to court documents from the government, Rana and Gilani shared quarters at the Cadet College Hasan Abdal "and remained friends throughout their lives".
Rana became a Pakistani Army doctor reaching the rank of captain, but immigrated to Canada. After becoming a Canadian citizen, he moved to Chicago and ran a travel and immigration business.
When Gilani was arrested on drug trafficking charges, Rana put up his house as surety for Gilani's bail.
Gilani was attacked in a Chicago area federal prison in 2018 and had to be hospitalised, according to media reports.