Fadnavis rakes up stalled Nanar mega-refinery issue, embarrasses MVA
Under a vicious onslaught from opposition parties over the Vedanta Group-Foxconn loss, the Maharashtra government on Thursday attempted to corner the Maha Vikas Aghadi by raking up the stalled Nanar oil refinery mega-project.
As Chief Minister Eknath Shinde and his team attempted to hit out at the MVA, Deputy Chief Minister Devendra Fadnavis fired a missile from Russia questioning the proposed mega-oil refinery project in Maharashtra which has been stuck for over three years.
"It is disappointing that negative, false, and baseless claims are being spread to gain political mileage (on the Vedanta-Foxconn project shift to Gujarat). This is only to hide their own incompetence," said Fadnavis, hitting out at the MVA.
"I want to ask the Opposition leaders, who sent back the Rs 3.5 lakh crore refinery project from Maharashtra?… My advice to these leaders is to focus on becoming competent and efficient, not negative and desperate," he added.
The oblique reference was to the Ratnagiri Refinery & Petrochemical Ltd (RRPCL) which was planned to be set up at Nanar (Ratnagiri) in 2015, as a joint venture between the Saudi Arabian oil company, Saudi Aramco and India's consortium of oil majors like Hindustan Petroleum (HPCL), Bharat Petroleum (BPCL) and Indian Oil (IOCL).
Former MVA CM and Shiv Sena President Uddhav Thackeray was opposed to the proposed super-refinery project on 15,000 acres land at Nanar in Ratnagiri owing to stiff resistance from the local farmers and fishers.
In March 2021, Thackeray had announced that in view of strong local sentiments, the mega-oil refinery would be shifted out of Nanar to an alternative site somewhere in Maharashtra.
With a capacity of 60 million tonnes, and 20,000 direct jobs in the complex, the RRPL plant would have been the world's single largest oil refinery complex, but it was plagued by massive opposition from the local communities with several agitations carried out against it in the past.
Commenting on the Shinde-Fadnavis government's charge, Leader of Opposition Ajit Pawar said that they have never opposed any projects including RRPCL, that are in the interest of the state's progress.
As the Vedanta-Foxconn issue boiled, unconfirmed reports suggested that the RRPCL has reportedly issued a deadline to Maharashtra government to take a final call on it or they could scout some other state, but state officials have denied any such development.
Maharashtra: Locomotive Detaches From Borivali-Ahmedabad Express At Vaitarna Station
Palghar: A locomotive attached to the tail end of a long-distance train decoupled when it departed after halting at the Vaitarna station on Saturday. A mishap was averted as the train hadn't attained speed, but the episode resulted in one-hour delay.
The incident took place at around 2.15 pm when the 19417 Borivali-Ahmedabad Express stopped at the Western Railway's (WR) Vaitarna station. As it started to pull out, the locomotive detached and skidded 20 metres away from the train.
The passengers experienced a strong jerk and heard a loud noise due to decoupling, said Jitu Mehta who was onboard at the time of incident. The shocked travellers converged at the tracks and platform. Passenger activist Shilpa Jain said, "Although most passenger trains have been upgraded to express category, the standard of coaches and locomotives remains the same. Despite paying extra fares, passengers are deprived of express train facilities. The condition is same with the Valsad Express which is a lifeline for thousands of daily passengers commuting from Gujarat to Mumbai."
However, WR chief spokesperson was unavailable for comments.
Goods Train Derails In Raigad District; Operations On Panvel-Vasai Route Hit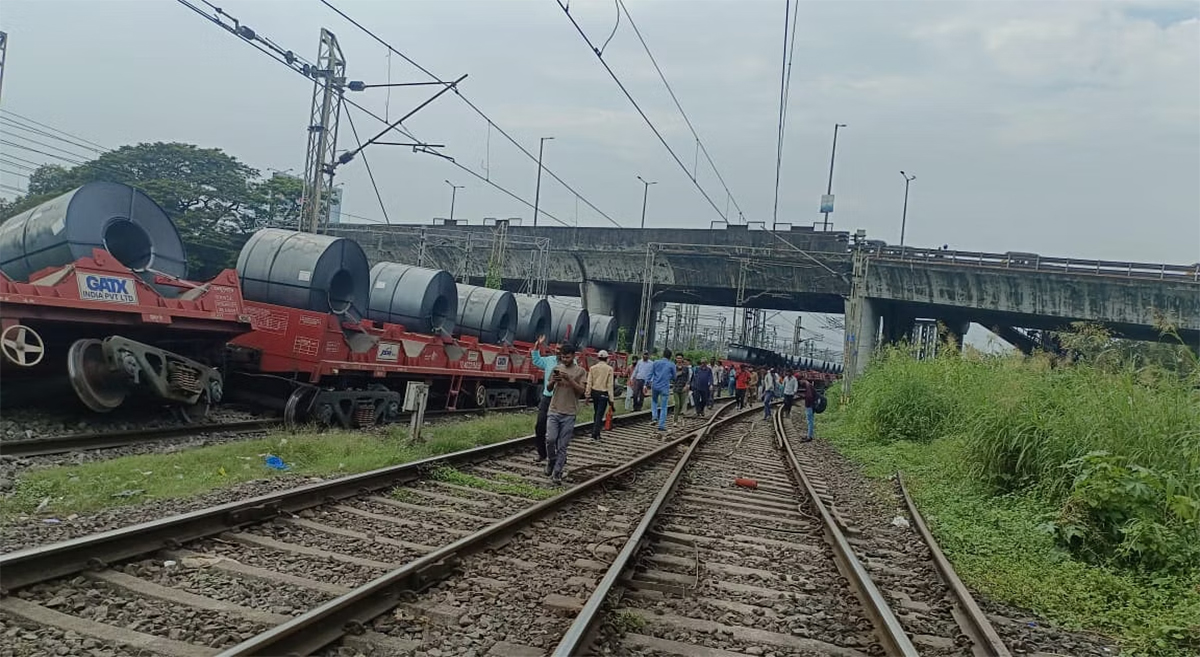 Raigad: A goods train derailed on Saturday afternoon in Maharashtra's Raigad district, disrupting operations on the Panvel-Vasai route, the Central Railway said.
Nobody was injured in the incident, as per the preliminary information.
Central Railway Chief Public Relations Office (CPRO) Shivraj Manaspure said four wagons, including a brake van, of the freight train, headed to Vasai (in Palghar district) from Panvel (in Raigad district), derailed on the Panvel-Kalamboli section at around 3.05 pm.
Restoration work to start soon
"ART (Accident relief train) from Kalyan and Kurla stations is being sent to the accident site," Manaspure said, adding that a Road ART has been sent from Panvel to the accident site.
He said the restoration work will start soon. 
After the incident, at least five passenger trains were detained at various spots on the Konkan-Mumbai route. 
However, Navi Mumbai suburban services between the Panvel-CSMT section were unaffected as the incident occurred on the Panvel-Kalamboli railway line, which further leads to Mumbai and Vasai.
Notably, Railway authorities have planned a 38-hour mega block between Panvel and Belapur stations of Harbour and Trans-Harbour corridors beginning Saturday night for laying two new lines under the Dedicated Freight Corridor.
Mumbai News: BMC To Spend ₹315 Cr For Underground Tunnels Of GMLR Project For 10 Years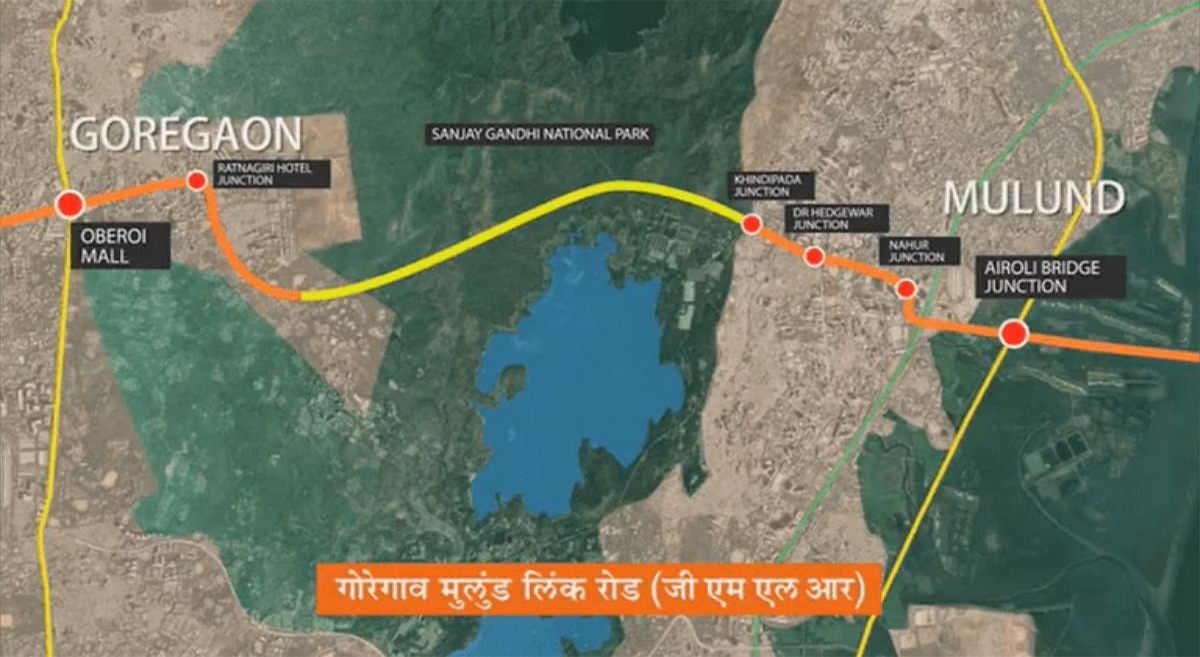 Mumbai: The BMC will be spending Rs 315 crore on the repair and maintenance of underground tunnels of the Goregaon Mulund Link Road (GMLR) for 10 years. A contract of Rs 6,301 crore has been allotted to construct 4.7km long twin tunnels in July. The tunnel is expected to be completed in five years.
The 12.2km road – connecting the Western Express Highway at Goregaon to the Eastern Express Highway at Mulund – will be crucial in decongesting other prominent pathways like the Santacruz-Chembur Link Road, Andheri-Ghatkopar Link Road and Jogeshwari-Vikhroli Link Road. The total cost of GMLR is around Rs 12,013 crore including all taxes.
Details On The Project
As part of the GMLR project, the civic body will be constructing a twin tunnel and a box tunnel under Sanjay Gandhi National Park (SGNP) and Film City. Each tunnel will be 4.7km in length, while the box tunnel will measure 1.6km. It will have a diameter of around 13 metre and the distance between both tunnels is 15 metre and they will be connected via cross passages every 300 metre.
The BMC appointed a joint venture comprising J Kumar Infra Project and Nagarjuna Construction Company as the contractors. The contract includes maintenance of the tunnels for 10 years. "The twin tunnels will be constructed with state-of-the-art systems and regular maintenance will be required. Annually Rs 32 crore will be spent on the maintenance of ventilation, fire fighting, CCTV, communication system in the tunnel," said a civic official.