DY Patil T20 Cup: Prabhsimran's brilliant ton, Karthik brisk effort steal the show
Prabhsimran Singh and India international Dinesh Karthik stole the show on the final day of the league matches of the 17th DY Patil T20 Cup with their batting performances at the DY Patil Sports Complex, here on Tuesday.
CAG's Prabhsimran Singh slammed a massive 161 off just 55 balls with nine boundaries and 17 sixes as his side beat Income Tax by 115 runs at the University Ground. In the other game at the Stadium, Dinesh Karthik hit 75 off just 38 balls with five boundaries and six sixes as DY Patil Group B beat RBI by 25 runs.
Prabhsimran shared 117 run opening stand with R Sanjay and then shared crucial stands with other batters too before he fell in the 16th over. CAG posted a massive 267 for six in their 20 overs. In their response Income Tax were never in the chase as they lost wickets at regular intervals. Income Tax was restricted to 152 for nine in their 20 overs. Himanshu Joshi top-scored with 50 off 44 balls but it was in vain. For CAG the best bowlers were Manu Krishnan (4-25) and J Suchith (3-22).
Karthik arrived at a critical stage for DY Patil Group B as they were struggling at 66 for three. But from thereon Karthik took off as he smashed the RBI bowlers at will. Karthik finished unbeaten on 75 off just 38 balls with five boundaries and six sixes. DY Patil Group B finished on 186 for six in their 20 overs. The chase for RBI was difficult as they lost wickets at regular intervals. Baltej Singh (3-33) and Vineet Sinha (3-34) combined to break the back of RBI as they finished on 161 for seven in their 20 overs.
The quarter-finals will be played on Thursday.
Brief scores:
Group C: CAG 267-6 in 20 overs (Prabhsimran Singh 161, R Sanjay 35; Dhanit Raut 3-37) bt Income Tax 152-9 in 20 overs (Himanshu Joshi 50, Abhimanyu Chavan 42; Manu Krishnan 4-25, J Suchith 3-22)-by 115 runs
Group B: DY Patil Group B 186-6 in 20 overs (Dinesh Karthik 75, Yash Dhull 29, Hardik Tamore 28; Ali Murtuza 2-20) bt RBI 161-7 in 20 overs (Sumit Ghadigaonkar 49, Jyot Chhaya 35, Rajesh Bishnoi 33; Baltej Singh 3-33, Vineet Singa 3-34)-by 25 runs
Doctors in Jaipur take out rally against Right to Heath Bill
The doctors protesting against the Right to Health Bill passed by the Ashok Gehlot-led Congress government in the Rajasthan Assembly last week took out a massive rally here on Monday due to which the medical services across the city remained affected.
As per the provisions of the Right to Health Bill, every resident of the state gets the right to avail free Out Patient Department services and In Patient Department services in all public healthcare facilities apart from getting similar healthcare services free of cost at select private facilities.
The bill was passed last week despite protests by the opposition BJP, besides an agitation by a section of doctors seeking the legislation's withdrawal.
On Monday, the doctors took out a foot march from SMS Medical College at around 11 a.m. The rally passed through several areas of the city to eventually culminate at the medical college, covering a distance of 4.5 km.
Earlier on Sunday, a meeting of the doctors' delegation was held with Chief Secretary Usha Sharma but it ended without any conclusion.
Meanwhile, people continued running from pillar to post to seek medical services.
Resident doctors are still on strike in hospitals attached to government medical colleges in Jaipur and other cities of the state.
As resident doctors have been on strike for more than 7 days, the problems of the patients in Jaipur's SMS and other hospitals are continuously increasing.
Meanwhile, the Health Department has sought information from all districts regarding the status of the hospitals' operations.
The Police Commissionerate in Jaipur has also sought similar details about the hospitals operating in the area.
Further, fear of action has started troubling the doctors who came out on the streets to protest the Right to Health Bill.
There is a fear that the government may harass them through a police case.
Secretary of Private Hospital and Nursing Society Dr. Vijay Kapoor said that the government should not put any kind of pressure on the resident doctors and other doctors who are supporting the doctors' agitation.
"If the government takes any action against these doctors, the protest will intensify," he said.
Why Atiq Ahmad's family is most 'wanted' in UP?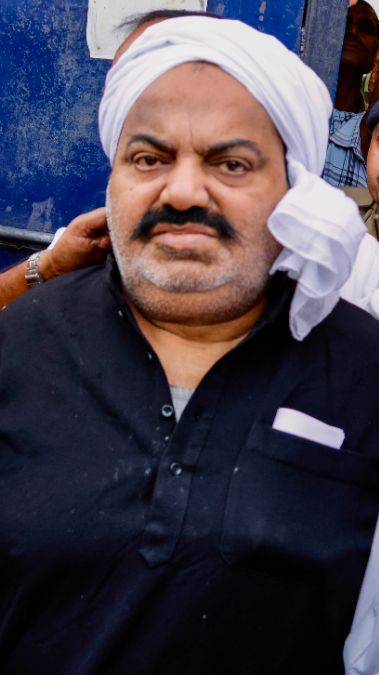 The family of mafia-turned-politician, Atiq Ahmed, is undoubtedly the most wanted and 'decorated' one in Uttar Pradesh.
Among themselves, the family members have 165 criminal cases registered against them in various police stations in Prayagraj.
Atiq Ahmad has 100 cases registered in his name – a record that is matched by SP leader Mohd Azam Khan.
Of these, 50 cases are under trial, in 12 others, he has got acquittal, while the then Samajwadi Party government had withdrawn two cases in 2004.
A senior police officer said that in other cases, cross-examination of witnesses is awaited.
Atiq's brother Ashraf has 53 cases in his name. He has been acquitted in one while others are under trial.
Atiq's sons have eight cases against them — seven of them are under trial while one is still being probed by the police.
Atiq's wife Shaista has four cases against her.
Additional DG (prosecution) Ashutosh Pandey said that in 12 cases against Atiq Ahmed, charges are to be framed. For this, the joint director of prosecution has been asked to expedite such cases.
The two cases were withdrawn by the then SP government in June 2004.
A senior prosecution officer said that both the cases were registered in Prayagraj – one of dacoity, robbery in Civil Lines police station under the Gangsters Act while the other case was registered in Shahganj police station under the charges of rioting and the Gangsters Act.
Atiq's brother Ashraf was acquitted in one case of 1992 rioting on January 4, 2000, while other 52 cases are under trial.
Three cases are under trial in which Atiq's wife Shaista is yet to make an appearance while in one case, investigation by the police is pending.
Charges have been framed in two cases of Atiq's son Ali Ahmed, who has five cases in all – one is under investigation, while two others are under trial.
Similarly, a case against Atiq's other son Umar Ahmed is pending in a CBI court, and one is under investigation by the police.
Atiq's other son Asad has one case which is pending investigation by the police.
Jammu and Kashmir: World's highest railway bridge, taller than Eiffel Tower, to open soon
Taller than the Eiffel Tower in Paris, Jammu and Kashmir will soon get a 1.315-km long bridge built at a dizzying height of 359 metres. The first track mounted vehicle (trolley) run was successfully conducted on Sunday in the presence of Ashwini Vaishanaw, minister of railways
Worlds highest railway bridge over Chenab river in Jammu, almost ready, Track linking activity over the Chenab Bridge has been completed.
Some track and overhead wire-related works remain, which will be likely to complete by end of this year. The bridge is part of Udhampur – Srinagar – Baramulla Rail Link Project (USBRL). Railway minister also travelled on the track mounted trally with railway officials and inspected the iconic bridge  having the height of 359 meters from the bed of river Chenab.
Foundation of hte bridge equal to half of a football field
Vaishnaw said that the decision has been taken to set up Vande Bharat Express train maintenance facility at Badgam in Kashmir Vally and in the first go Vande Bharat Metro will be run between Jammu-Shringar cities once this important railway link, which will connect Kashmir Vally with railway network, in the rest of the country will be completed
Vaishnaw said that the iconic bridge having foundation equal to half of the football field is a "subject of pride" and it was "difficult challenge of engineering", while over 28,000 metric tons of steal used for the bridge structure that is built in highly active seismic zone.
Construction of the bridge started in 2005
According to Northern railway officials, the arch bridge was constructed at a cost of ₹1,486 crores. Construction work of the bridge was started in 2005. Its consumes over 13 million man work hours till the date.
The deck height of the bridge is 359 meters, while the length of it is 1.315 km. The arch bridge has 17 spans and the linear length of main arch span is 460 meters and curvilinear, they said. The codal life of the bridge is 120 years and the bridge can withstand the wind speed of 266 kmph, but the train can cross the bridge at the speed of 100 kmph.
Overarch of the deck completd with golden joint in August 2022
Prior to the construction of the Bridge, 260 meter approach roads and 400 meters long tunnel was built to reach the site. Cable crane was commissioned in 31st August 2013 for erection of steel arch, trestle and piers. Incremental launching over 2.74 degree circular and transition curve of 268 meter length was successfully done for the first time in Indian Railways in November 2017.
The overarch deck of the bridge was completed with a 'Golden Joint' in August last year, marking the bridge's major achievemnet and further making way for the laying of the track. The construction of this highest railway bridge of the world was one of the biggest civil-engineering challenge faced by any railway project in India in the recent past.