BMC's Commitment to a Secure Mumbai
Mumbai, known as the financial capital of India, the provenance of the Bollywood, and a hub of aspirations for millions of Indians, has emerged as a distinctive metropolis. Its exceptional features are the result of well-planned infrastructure in terms of basic amenities, industries, transportation, healthcare, education, tourism, and more. Amidst this diversity, Mumbai's geographical composition is also uniquely remarkable. Surrounded by the sea on two sides and a creek on another side, this metropolis has witnessed challenges throughout its history. Apart from providing civic services and amenities, the parent organisation of Mumbai, the Brihanmumbai Municipal Corporation (BMC) also takes on the significant responsibility of formulating contingency plans for natural and man-made crises and managing such situations too.
BMC has always prepared to address various disasters and crises that may arise, to ensure the safety and well-being of the citizens of Mumbai. While continuously striving to provide excellent basic amenities for the residents of Mumbai, BMC takes proactive measures to plan appropriate solutions in challenging circumstances. A vital component of this proactive approach is the Disaster Management Department of BMC. Mumbai has faced numerous challenges in the past, such as heavy rainfall, floods, landslides, terrorist attacks, building collapses, fire incidents, and other disasters. The catastrophic flood in 2005 and the terrorist attack in 2008 are the major crises that have occurred in Mumbai until now. In both these crises, the well-organized and planned disaster management mechanism implemented by BMC played a crucial role in mitigating the situation and bringing Mumbai back to normalcy within the shortest possible time.
However, despite such achievements, the need for coordination, well-equipped infrastructure, and skilled manpower in all areas of disaster management has been brought to the fore by these two incidents. Hence, the journey of the BMC's Disaster Management Department has now reached a phase where it is embracing artificial intelligence, machine learning, and other forms of advanced knowledge to enhance its preparedness. This transformative journey aims to augment human intelligence and expertise with technological advancements, thereby ensuring a multi-pronged and experiential approach to crisis management.
In 1993, Maharashtra witnessed a devastating earthquake centered in the Killari region of Latur district. As a result, the Government of Maharashtra decided to establish disaster control rooms in each district and municipal corporation to coordinate and facilitate effective communication among the administration during times of disasters. In 1999, BMC established a disaster management control room in the basement of its expanded headquarters building. Initially, this control room had limited manpower and resources but served the purpose of communication and coordination during emergencies. At that time, there was not much awareness or development of scientific perspectives for identifying potential threats. In such circumstances, BMC began work on disaster management measures.
Furthermore, in 2005, Mumbai faced a catastrophic flood due to unprecedented rainfall. This unexpected celestial crisis brought Mumbai to a standstill. However, BMC and the Disaster Management Department made relentless efforts with all available resources and played a crucial role in restoring normalcy to the lives of Mumbai's residents within 48 hours. Despite being confined to a small area of about 500 square feet, the Disaster Management Department efficiently coordinated with various agencies and carried out its tasks with utmost dedication.
However, this incident highlighted the need to further strengthen the preparedness of the Disaster Management Department.
Under BMC, the expansion of the Disaster Management Department took place in 2006. Accordingly, the manpower in the Emergency Operation Center (EOC) was increased and they were given the latest training. In 2016, with the aim of making this department more effective, the number of hotlines was increased, and the Maharashtra government provided over 5,000 CCTV cameras under the Mumbai Surveillance Project for direct deployment to enhance video surveillance capability.
Additionally, various state-of-the-art equipment were made available. In 2008, BMC began utilizing IT resources to deal with incidents such as terrorist attacks, bomb blasts, landslides, fires, and building collapses that pose a threat to public safety. Through the use of information technology, the foundation of essential information databases for prohibition, mitigation, and preparedness was established. Geographic Information Systems (GIS) became the basis for this information system.
GIS made possible the availability of information on various tools, resources, and manpower for handling disasters that occur in specific locations. As a result, it became possible to make effective decisions, plan measures, and implement them during emergencies.
Considering past incidents and potential future crises, the decision has now been made to use Artificial Intelligence (AI) to manage disasters. Through this medium, the city of Mumbai will be able to plan disaster management based on an assessment of various potential threats. The estimation of various disasters will be done in advance through AI and machine learning. The analysis of these estimates using scientific methods will allow timely decision-making and reduce the risk of potential disasters.
To manage various disasters and implement preparedness and mitigation plans, the municipal corporation plays a coordinating role as the nodal agency under the Disaster Management Act 2005. A systematic approach has been adopted to ensure a reliable methodology, making it easier to engage with all related systems. Focus is not only on the systems. Public awareness, training, and public participation have also been given due attention by the municipal corporation. Initiatives have been continuously undertaken to educate citizens and students about disasters. In this regard, under BMC, the City Disaster Management Training Center has been established in Parel. This four-story building houses a 150-capacity 3D theater, training rooms, state-of-the-art simulation facilities, and other amenities.
Currently, several important development projects such as the Coastal Road, are underway in Mumbai, focusing on essential infrastructure. These projects aim to ensure sustainable development and minimize potential risks by adhering to all regulations of the Indian Standard 1893 about earthquake resistant structures.
The city of Mumbai is expanding not only horizontally but also vertically. Therefore, fire safety measures, including the installation of fire suppression systems, have been made mandatory in tall buildings to prevent incidents such as loss of life and financial damage. Additionally, every six months, each building must undergo a fire safety inspection and the self-declaration must be submitted on the BMC portal. To enforce these measures, all buildings are required to comply with the Maharashtra Fire Prevention and Life Safety Measures Act of 2009.
Considering the heavy monsoon rain and high tide situations there is a need for proper planning to address the issue. Consequently, initiatives have been taken to drain flood water and implement solutions based on geographical considerations. BMC is always prepared for such situations.
BMC has taken initiatives to rejuvenate all rivers flowing in Mumbai. Protection walls have been constructed to ensure the safety of citizens residing along the banks of rivers and nallas. Regular maintenance of these water bodies are carried out to maintain cleanliness by removing silt, garbage, and waste. In certain areas, underground water storage tanks have been built to increase the capacity of storing water, allowing the collection of millions of liters of flood water. Pumping stations have been built in different parts of Mumbai to facilitate quick drainage of excess rainwater into the sea.
In terms of disaster management, BMC has implemented various measures to ensure preparedness. Regardless of the severity of any emergency situation, our duty is to safeguard the lives and financial well-being of the residents of Mumbai. I take great pride in the fact that BMC is always ready to fulfill this responsibility, even in times of crisis.
Jawaharlal Nehru Death Anniversary: PM Modi, Rahul Gandhi, Kharge & others pay tribute to the former prime minister of India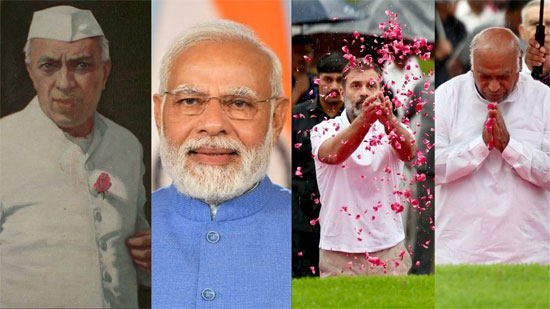 On May 27 in 1964, India's first prime minister Jawaharlal Nehru, fondly known as 'Chacha Nehru' breathed his last after suffering a cardiac arrest. On his death anniversary, several leaders paid their tributes to Nehru and offered their respects to him. While Congress leaders Rahul Gandhi and Mallikarjun Kharge offered flowers and prayed at the Shanti Van memorial in New Delhi on Saturday. Meanwhile, present PM Narendra Modi shared tweet marking the day.
PM Modi on Nehru's death anniversary
"On his death anniversary, I pay tributes to our former PM Pandit Jawaharlal Nehru," PM Modi tweeted in memory of the former leader on his 59th death anniversary.
Congress pays floral tribute
Congress President Mallikarjun Kharge and former party leader Rahul Gandhi paid floral tributes along with party treasurer Pawan Bansal, and others at the Shanti Van memorial in the national capital.
The party shared several tweets to remember Nehru on his death anniversary. After sharing visuals from the memorial, Congress on Twitter shared quote-based greetings to mark the significant day.
About the first PM of India
Nehru played a prominent role in India's freedom struggle. He also went on to become India's first Prime Minister after Independence in 1947. He was among the key leaders of the Indian National Congress (INC).
On May 27, 1964, the first Prime Minister of India took his last breath. He served for over 16 years from 1947 to 1964 till he died at the age of 74.
He had a great fondness for kids, and children use to call him Chacha Nehru and his birthday is celebrated as Children's Day every year.
CM Shinde inaugurates 2nd phase of Mumbai-Nagpur Samruddhi Expressway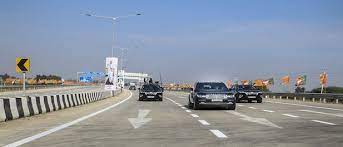 Shirdi: The second phase of Mumbai – Nagpur Expressway, between Shirdi and Bharvir (17 kms off Igatpuri) was inaugurated on Friday by Chief Minister Eknath Shinde. The stretch opened on Friday spans 80 km, of the 701 km of overall Expressway between Mumbai and Nagpur. Now, only 100 km of portion between Bharvir and Mumbai remains to be completed. The first phase was inaugurated by Prime Minister Narendra Modi in December 2022.
Cost of the 2nd phase of 80 km Rs 3,200 crore
The second phase of the Expressway has 7 major bridges, 18 minor bridges, 53 underpasses, 3 interchanges, 56 toll booths, 6 weigh bridges among others.
The cost of the second phase of 80 km is Rs 3,200 crore.
Touted as a game changer project as it connects 24 districts of Maharashtra from the regions of North Maharashtra, Marathwada and Vidarbha. This green field alignment passes through 392 villages in 26 talukas of 10 districts.
With the opening of the second phase, the travel time taken between Shirdi and Nashik will come down by half to five to six hours instead of over 12 hours, so far.
"It is proposed to set up 18 agricultural development centres along the entire Expressway stretch," said a Maharashtra State Road Development Corporation (MSRDC) official.
RRR on Wheels: NMMC launches initiative to encourage 'Reduce, Recycle & Reuse'
The Navi Mumbai Municipal Corporation (NMMC) launched its campaign named "RRR on Wheels" as part of the "Meri Life, Mera Swachh Shahar" initiative directed by the Swachh Bharat Mission.
The NMMC's recent move was hosted on the vehicles of Skrap Nest, an e-commerce site to facilitate the buying and selling of old and used products.
It is noted that ScrapNest's vehicles will come to the doorstep of citizens and collect waste from their homes, and in return would be paid according to rates fixed on the basis of the weight of the waste.
Recycle Mart, another initiative by NMMC
The civic body is taking a number of initiatives including 'Recycle Mart' that has been set up at D'Mart in Belapur under the '21 Days Challenge' of the central government.
Zero waste campaign
While launching the service, NMMC Chief Rajesh Narvekar praised the concept of "Three R on Wheels" and mentioned that through this facility the citizens of Navi Mumbai would be helped in waste management. "People of Navi Mumbai would be getting the facility to dispose off various types of dry waste right from their homes. This will speed up the zero waste campaign in the region," he said.