BMC's Commitment to a Secure Mumbai
Mumbai, known as the financial capital of India, the provenance of the Bollywood, and a hub of aspirations for millions of Indians, has emerged as a distinctive metropolis. Its exceptional features are the result of well-planned infrastructure in terms of basic amenities, industries, transportation, healthcare, education, tourism, and more. Amidst this diversity, Mumbai's geographical composition is also uniquely remarkable. Surrounded by the sea on two sides and a creek on another side, this metropolis has witnessed challenges throughout its history. Apart from providing civic services and amenities, the parent organisation of Mumbai, the Brihanmumbai Municipal Corporation (BMC) also takes on the significant responsibility of formulating contingency plans for natural and man-made crises and managing such situations too.
BMC has always prepared to address various disasters and crises that may arise, to ensure the safety and well-being of the citizens of Mumbai. While continuously striving to provide excellent basic amenities for the residents of Mumbai, BMC takes proactive measures to plan appropriate solutions in challenging circumstances. A vital component of this proactive approach is the Disaster Management Department of BMC. Mumbai has faced numerous challenges in the past, such as heavy rainfall, floods, landslides, terrorist attacks, building collapses, fire incidents, and other disasters. The catastrophic flood in 2005 and the terrorist attack in 2008 are the major crises that have occurred in Mumbai until now. In both these crises, the well-organized and planned disaster management mechanism implemented by BMC played a crucial role in mitigating the situation and bringing Mumbai back to normalcy within the shortest possible time.
However, despite such achievements, the need for coordination, well-equipped infrastructure, and skilled manpower in all areas of disaster management has been brought to the fore by these two incidents. Hence, the journey of the BMC's Disaster Management Department has now reached a phase where it is embracing artificial intelligence, machine learning, and other forms of advanced knowledge to enhance its preparedness. This transformative journey aims to augment human intelligence and expertise with technological advancements, thereby ensuring a multi-pronged and experiential approach to crisis management.
In 1993, Maharashtra witnessed a devastating earthquake centered in the Killari region of Latur district. As a result, the Government of Maharashtra decided to establish disaster control rooms in each district and municipal corporation to coordinate and facilitate effective communication among the administration during times of disasters. In 1999, BMC established a disaster management control room in the basement of its expanded headquarters building. Initially, this control room had limited manpower and resources but served the purpose of communication and coordination during emergencies. At that time, there was not much awareness or development of scientific perspectives for identifying potential threats. In such circumstances, BMC began work on disaster management measures.
Furthermore, in 2005, Mumbai faced a catastrophic flood due to unprecedented rainfall. This unexpected celestial crisis brought Mumbai to a standstill. However, BMC and the Disaster Management Department made relentless efforts with all available resources and played a crucial role in restoring normalcy to the lives of Mumbai's residents within 48 hours. Despite being confined to a small area of about 500 square feet, the Disaster Management Department efficiently coordinated with various agencies and carried out its tasks with utmost dedication.
However, this incident highlighted the need to further strengthen the preparedness of the Disaster Management Department.
Under BMC, the expansion of the Disaster Management Department took place in 2006. Accordingly, the manpower in the Emergency Operation Center (EOC) was increased and they were given the latest training. In 2016, with the aim of making this department more effective, the number of hotlines was increased, and the Maharashtra government provided over 5,000 CCTV cameras under the Mumbai Surveillance Project for direct deployment to enhance video surveillance capability.
Additionally, various state-of-the-art equipment were made available. In 2008, BMC began utilizing IT resources to deal with incidents such as terrorist attacks, bomb blasts, landslides, fires, and building collapses that pose a threat to public safety. Through the use of information technology, the foundation of essential information databases for prohibition, mitigation, and preparedness was established. Geographic Information Systems (GIS) became the basis for this information system.
GIS made possible the availability of information on various tools, resources, and manpower for handling disasters that occur in specific locations. As a result, it became possible to make effective decisions, plan measures, and implement them during emergencies.
Considering past incidents and potential future crises, the decision has now been made to use Artificial Intelligence (AI) to manage disasters. Through this medium, the city of Mumbai will be able to plan disaster management based on an assessment of various potential threats. The estimation of various disasters will be done in advance through AI and machine learning. The analysis of these estimates using scientific methods will allow timely decision-making and reduce the risk of potential disasters.
To manage various disasters and implement preparedness and mitigation plans, the municipal corporation plays a coordinating role as the nodal agency under the Disaster Management Act 2005. A systematic approach has been adopted to ensure a reliable methodology, making it easier to engage with all related systems. Focus is not only on the systems. Public awareness, training, and public participation have also been given due attention by the municipal corporation. Initiatives have been continuously undertaken to educate citizens and students about disasters. In this regard, under BMC, the City Disaster Management Training Center has been established in Parel. This four-story building houses a 150-capacity 3D theater, training rooms, state-of-the-art simulation facilities, and other amenities.
Currently, several important development projects such as the Coastal Road, are underway in Mumbai, focusing on essential infrastructure. These projects aim to ensure sustainable development and minimize potential risks by adhering to all regulations of the Indian Standard 1893 about earthquake resistant structures.
The city of Mumbai is expanding not only horizontally but also vertically. Therefore, fire safety measures, including the installation of fire suppression systems, have been made mandatory in tall buildings to prevent incidents such as loss of life and financial damage. Additionally, every six months, each building must undergo a fire safety inspection and the self-declaration must be submitted on the BMC portal. To enforce these measures, all buildings are required to comply with the Maharashtra Fire Prevention and Life Safety Measures Act of 2009.
Considering the heavy monsoon rain and high tide situations there is a need for proper planning to address the issue. Consequently, initiatives have been taken to drain flood water and implement solutions based on geographical considerations. BMC is always prepared for such situations.
BMC has taken initiatives to rejuvenate all rivers flowing in Mumbai. Protection walls have been constructed to ensure the safety of citizens residing along the banks of rivers and nallas. Regular maintenance of these water bodies are carried out to maintain cleanliness by removing silt, garbage, and waste. In certain areas, underground water storage tanks have been built to increase the capacity of storing water, allowing the collection of millions of liters of flood water. Pumping stations have been built in different parts of Mumbai to facilitate quick drainage of excess rainwater into the sea.
In terms of disaster management, BMC has implemented various measures to ensure preparedness. Regardless of the severity of any emergency situation, our duty is to safeguard the lives and financial well-being of the residents of Mumbai. I take great pride in the fact that BMC is always ready to fulfill this responsibility, even in times of crisis.
BR Ambedkar Mahaparinirvan Diwas: Mumbai Traffic Police Announces Diversions & Closure At Dadar Till Dec 7; Details Inside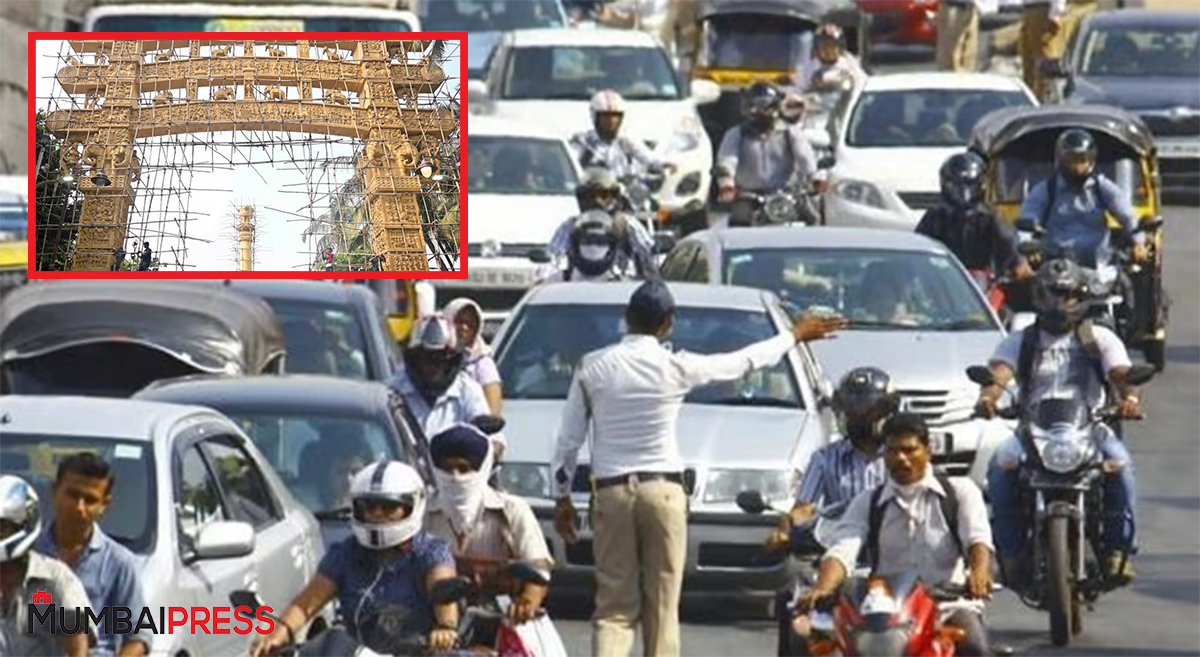 The Mumbai Traffic Police has announced new traffic diversions for Dadar starting Tuesday till December 7, for the 67th death anniversary of Dr. Babasaheb Ambedkar, which will be observed on December 6 at Dadar's Chaitya Bhoomi as "Mahaparinirvan Divas".
According to the notification, a large number of followers of Ambedkar is expected to visit Dadar from various parts of the state which will in-turn cause traffic congestion, at and around the Shivaji Park area.
Several roads will be closed for vehicular traffic, or be made into a one-way road. The ones closed are Swatantryaveer Savarkar Road – from Siddhivinayak Temple Junction to Hinduja Hospital. Ranade Road, Dnyaneshwar Mandir Road, Jambhekar Maharaj Road, Keluskar Road (both bonds), M.B Raut Road will all be closed for vehicular traffic. TH Katariya Road shall be closed from LJ Road Shobha Hotel Junction to Aasavari Junction. The north bound of S.K Bole Road will be closed from Siddhivinayak Temple junction to Portuguese Church junction.
The roads which will be a 'no-entry' for heavy vehicles are S.V.S Road from Mahim to Hardikar Junction, L.J Road from Mahim junction to Gadkari junction, Gokhale Road from Gadhkari junction to Dhanmil Naka, Senapati Bapat Road from Mahim railway station to Vadacha Naka, and Tilak Bridge from Dadar TT Circle to Veer Kotwal Udyan to all of the N.C Kelkar Road.
Way of Traffic
South Bound Traffic – Vehicles coming from Western Express Highway are to take left turn from Kalanagar Junction, proceed towards Dharavi T Junction to Sion Railway station or 60 feet road via Kumbharwada to Sion Hospital – and turn right to Dr. BA Road or use Bandra-Worli Sea Link to reach through L.J Road or Senapati Bapat Road.
North Bound Traffic – Vehicles coming from Colaba and CST through B.A Road or Annie Besant Road shall use P D'Mello Road, Barrister Nath Pai Road, Zakaria Bunder Road, R.A.K Marg up to Matunga, take right under Arora Bridge and proceed along Dr. B.A Road further via Sion Hospital or the Worli-Bandra Sea Link towards north Mumbai.
North Bound vehicular traffic coming from Mahalaxmi Railway station via Dr E Moses Road, are to proceed via Rakhangi Chowk, take right towards Senapati Bapat Road and proceed to their destination.
Eastern Express Highway = Vehicles coming from EEH on way to south shall use Wadala bridge, Barkat Ali Naka, BPT Colony and Eastern Freeway for their further destination.
The pre-declared no-parking zones are as follows:
Swatantra Veer Savarkar Road, Dnyaneshwar Mandir Road
Jambhekar Maharaj Road
Ranade Road
Keluskar Road (south and north)
M.B Raut Road
Pandurang Naik Road
N.C Kelkar Road
Dr. Vasantrao J Raath Road from SVS Road up to Amego Hotel
S.H Palarkar Road from S.S Road to Millerniyam Building
D.S Babrekar Road from Suryavanshi Hall junction to Vision Crest Building
Kirti College lane from Kirti College signal to Miramar Society
Kashinath Dhuru Road – from it's junction to Aagar Bazar Circle
L.J Road from Shobha Hotel to Gadkari junction
Karariya Road from Gangavihar junction to Shobha Hotel and Aasavari Junction
Hindu Colony Road No. 1 to 5 along Rajgruha Premises
Lakhamshi Nappu Road Shubham Hotel to Ruia College up to Dadkar Ground
Khareghat Road no. 05 to Patkar Guruji Chowk
Lady Jehangir Road – from Ruia College junction to Five Gardens to St. Joseph School
RA Kidwai Road from Arora Junction to Lijjat Papad Junction
Nathala Parekh Road from St. Joseph School to Khalsa College
Swami Gyan Jivandas Road from Swami Narayan Temple to Pritam Hotel
Parking Places Available
Senapati Bapat Marg, Mahim and Dadar West
Kamagar Stadium
India Bull International Center, Senapati Bapat Road, Elphinstone
India Bills 1 Center, Jupiter Mill Compound, Elphinstone West
Kohinoor Square, Kohinoor Mill Compound
Lodha, Kamala Mill Compound, Senapati Bapat Road, Lower Parel
Five Garden Lady Jehangir Road, Matunga East
Adenwala Road, Matunga East
Nathalal Parekh Road, Matunga East
RAK CHaar Road Wadala West
Reserve lanes will be made available for emergency vehicles on the south bound from Siddhivinayak Junction to Kapad Bazar Junction.
Nagaland State Lottery Result 05-12-2023, 1 PM Live: Watch Streaming Of Winners List Of Dear Godavari Sambad Morning Tuesday Lucky Draw
The Nagaland State Lottery results for today's draws, Dear Godavari Morning at 1 PM, Dear Desert Evening at 6 PM and Dear Pelican Night at 8 PM will be announced on Monday, December 04, 2023. The top prize for each of these lotteries is a whopping Rs 1 Crore.If you have bought a lottery ticket and want to know the winners, you can find the list here.
You can view the results for the Dear Godavari Nagaland State Lottery Sambad Live for Tuesday, December 05, 2023, here:
Playing lottery is legal in only 13 states in India
Lottery is legal in 13 states in the country. These countries consists of Kerala, Goa, Maharashtra, Madhya Pradesh, Punjab, West Bengal, Assam, Arunachal Pradesh, Meghalaya, Manipur, Sikkim, Nagaland and Mizoram. Among these states, the lotteries of West Bengal State Lottery and Nagaland State Lottery are highly reputed as the prize money in these state lotteries are high. The first prize in the Nagaland State Lottery and West Bengal State Lottery amounts to Rs 1 crore. The poor can also afford to buy the tickets of Sikkim State Lottery, Nagaland State Lottery and West Bengal State Lottery as the prize of the ticket is as low as Rs 6 and the winning prize is huge.
Official websites to check the lucky draw
The users can also check the results on the official website of the Nagaland State Lottery on www.nagalandlotteries.com, www.lotterysambad.com and www.nagalandlotterysambad.com and follow the steps.
The prizes of the Nagaland State Lottery are as follows:
1st Prize: Rs 1 Crore
2nd Prize: Rs 9,000
3rd Prize: Rs 450
4th Prize: Rs 250
5th Prize: Rs 120
Cons Prize: Rs 1,000
How to claim the prize money
The winners of the lottery can claim the prize money by logging in on the official website and download the claim form. The winners should also be aware about the tax policy on the winning amount before claiming the prize money.
Disclaimer:
FPJ does not support or encourage playing the lottery. It's important to be careful because playing lotteries too much can be addictive and this involves financial risk. The information provided here is just to share updates and should not be seen as advice or encouragement to play.
Maharashtra: PM Modi To Witness Navy Day 2023 In Sindhudurg, Unveil Chhatrapati Shivaji Maharaj Statue
Maharashtra: Prime Minister Narendra Modi will reach Sindhudurg this afternoon to participate in the 'Navy Day-2023' celebrations being held off the picturesque Tarkarli Beach, officials said here on Monday.
The Prime Minister is expected to land at the Chipi Airport here around 3.45 p.m. and then proceed to the Rajkot Fort where he will inaugurate an equestrian statue of the legendary Maratha warrior-king, Chhatrapati Shivaji Maharaj.
Then he will proceed to the Sindhudurg Fort and pay respects at the sole temple of Chhatrapati there before moving to Tarkarli Beach.
PM Modi To Attend Navy Celebrations
He will attend the display of the Indian Navy's muscles and readiness as part of the 'Navy Day-2023' celebrations, including live demonstration by naval ships, aircraft, submarines with the men and women in dazzling whites.
The Maharashtra and Sindhudurg Police have made elaborate security arrangements for the PM's visit here with major markets in Tarkarli, Malvan and surroundings remaining closed for the day.
Traffic restrictions have been implemented on the route from Chipi Airport to Tarkarli Beach and other places which have been given a facelift and other necessary amenities created.
Various Dignitaries To Attend Event
Governor Ramesh Bais, Chief Minister Eknath Shinde, the Deputy CMs and other ministers, local elected representatives, top brass of Indian Navy and other dignitaries will be present for the events.