Bhajan Samrat Anup Jalota's maiden English song 'Love Grows' is trending! 
Padmashri Anup Jalota is primarily known for his outstanding bhajans. He also sings Gazals, film songs etc with ease. Basically he's a versatile personality because apart from singing he has been acting in films and web series and now is directing a film too. So, this multifaceted celebrity has recently recorded his first English song. 'Love Grows' is a maiden English song sung by Anup Jalota which was released on this Valentine's day and is trending. A lot of congratulatory messages, including the likes of Sonu Nigam, pouring in which shows that the first english song sung by Anup Jalota has been received well by the music industry too.
There's a story behind Anup Jalota's foraying into English language singing.Dr. Paramita Mukherjee Mullick is an Internationally acclaimed award-winning poetess and authoress who has so far written eight books.She has started and is the President of the Mumbai Chapter of the Intercultural Poetry and Performance Library(IPPL). Anup Jalota has released many books of hers and really likes her poetry. Many of her poems have been translated into 39 Indian as well as International languages including, Spanish, Italian,Bulgarian, Romanian, French, Uzbek, Turkish,Nepali etc. ,
She voiced her desire to Anup Jalota that she wanted one of her poems to be made into a song by him. So they zeroed in on 'Love Grows', which coincidentally is a favourite of both, and a new song was born. Anup jalota has sung, so far, in 10 languages and 'Love Grows' is his first English song. It's also a first song of Dr.Paramita Mukherjee Mullick to be made into a video and her recitation has added more substance to the music video.
Composed by Anup jalota,' Love Grows' music has been arranged by a notable background music expert Jolly Mukherjee. In the music video Paramita has recited the poem and after each stanza Anup Jalota has sung it. A beautifully captured video also features a young contemporary dancer Manya Agarwal who has danced lyrically on the lilting music. Amarbir Singh has shot the video.The song talks about Love which is deep rooted and grows more intense as time progresses. The music video is released on Tips Music's OTT Volume and has been garnering a lot of support.
Pregnant Ileana D'Cruz enjoys 'babymoon' with mystery man; Is it Katrina Kaif's brother Sebastian Laurent Michel?
Actress Ileana D'Cruz is currently enjoying the best phase of her life as she is all set to welcome her first child. While the actress has been flaunting her baby bump on her social media, the mystery around who her partner and the father of her child is continues to remain a mystery.
At present, Ileana is enjoying her babymoon at some undisclosed location with her partner while the eagerly wait for the arrival of their little one.
For those unversed, Ileana is rumoured to be dating Sebastian Laurent Michel, who happens to be the brother of Bollywood diva Katrina Kaif.
Ileana's beachside babymoon
On Friday, the 'Barfi!' actress took to her Instagram to share a series of pictures from her babymoon, and also gave glimpses of her partner, but did not reveal his face or identity.
The actress shared a picture of the blue sea and wrote, "Babymoon". In the next picture, she can be seen enjoying a date night with her partner, and added the song, the lyrics of which said, "I wanna be alone, alone with you… Does that make sense?"
She also dropped another picture in which she can be seen holding her partner's hand while he ate. "My idea of romance clearly can't let him eat in peace".
Who is Sebastian Laurent Michel?
Ileana is reportedly in a steady relationship with Sebastian and the two have been dating for almost a year now.
Reports of the two dating went viral after the actress was seen accompanying him and other close friends and family members of Vicky Kaushal and Katrina to Maldives. The duo posed with the rest of the group for several pictures.
They were later also spotted together at the Mumbai airport, however, both of them have remained tightlipped about their equation.
Sebastian is a model based out of London.
Ileana was earlier in a relationship with photographer Andrew Kneebone, but the two went their separate ways after dating for about two years.
Ayushmann Khurrana's Wife Tahira Kashyap Redes Out Hard-Hitting Poem Supporting Wrestlers' Protest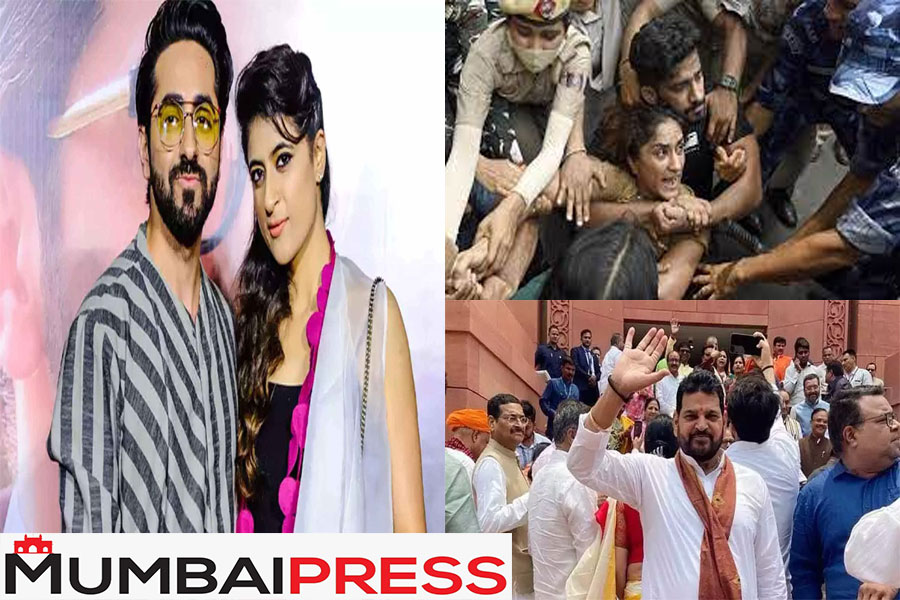 Tahira Kashyap, the wife of actor Ayushmann Khurrana, read out a powerful and hardhitting poem on Thursday morning, in support of the ongoing wrestlers' protest in Delhi. She is among the first ones from the film industry to break her silence on the raging debate that has gripped the nation.
Celebrities from Bollywood, who are otherwise quite vocal on issues of national interest, have remained tightlipped about the ongoing wrestlers' protest in the country.
Several Olympic and other world championship-winning wrestlers, including Sakshi Malik, Vinesh Phogat and Bajrang Punia, have taken to the streets of Delhi demanding the arrest of former Wrestling Federation of India chief Brij Bhushan Sharan Singh, who has been accused of sexual harassment by nearly 10 women.
Tahira Kashyap voices her support for protesting wrestlers
On Thursday morning, Tahira penned down a poem on the wrestlers' protest and read it out in a video which she shared on her social media handle.
"Handing over the papers and then snatching back in shame, the headlines of our women wrestlers struggling to be heard just changed the game," a part of her poem stated.
In the poem, she also said how she never differentiated between her daughter and son, and that they look up to the wrestlers, whom she addressed as "national heroes".
Speaking of her daughter, she said, "She too has an aspiration to win medals for the nation. I snatched and clenched the papers hard for I never want her to know what awaits is a warped situation."
"The women whom my son also looks up to, have been mistreated and told 'shut up you'," she added.
Celebs slammed for staying mum
Meanwhile, celebs are being slammed on the internet for not voicing out their opinion over the wrestlers' protest. Netizens pointed out that while the celebs put out posts when the same wrestlers had won medals for the country, they have now decided to remain tightlipped when they actually need support.
A few celebs, however, condemned the Delhi Police's brutal action on the wrestlers on the day of the new Parliament building's innauguration.
Swara Bhasker shared a video and wrote, "Shameful that our top International athletes are forced to protest on streets against sexual harassment but accused BJP MP is being consistently shielded by the govt. Sack & investigate #BrijBhushanSharanSingh."
Tovino Thomas, Kamal Haasan, Prakash Raj and Sonu Sood too condemned the police action.
Simplicity or Publicity? Aamir Khan's daughter Ira Khan gets mixed reactions over her auto ride in Mumbai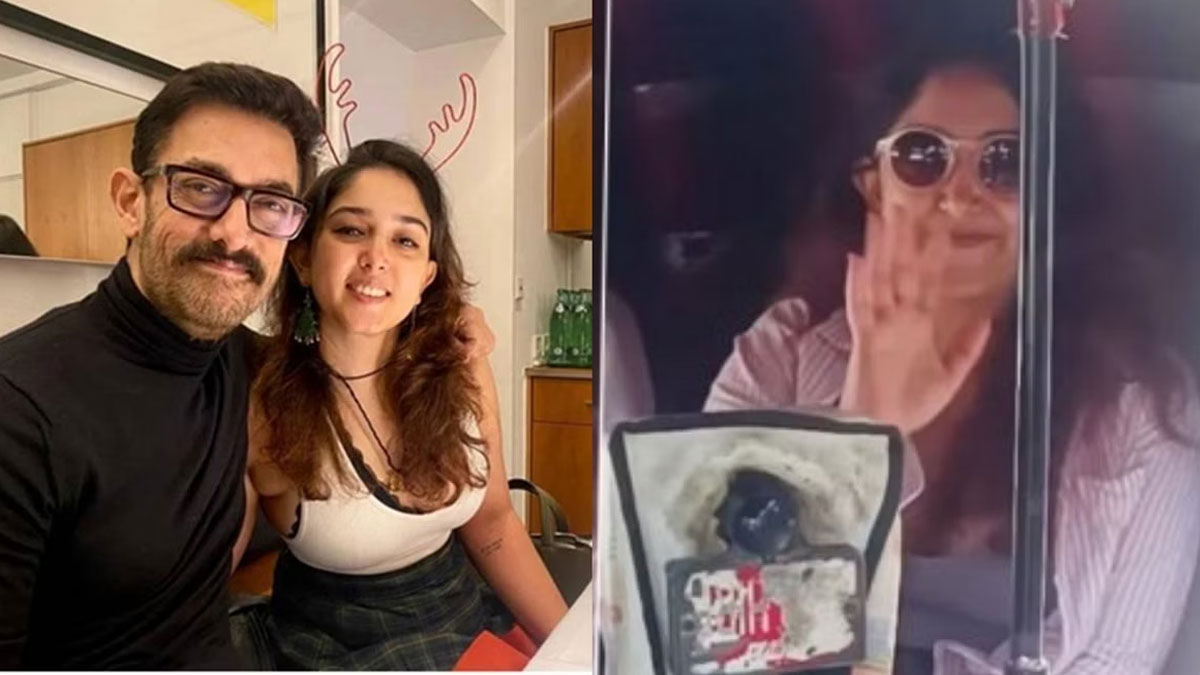 Ira Khan, the daughter of Bollywood superstar Aamir Khan and his first wife Reena Dutta, has captured media attention and made headlines, this time by being spotted travelling in an auto-rickshaw.
The star kid has always chosen to carve her own path instead of following in her father's footsteps as an actor. With a strong presence on social media, particularly Instagram, she keeps her followers engaged by sharing glimpses of her life through photos and videos.
Despite staying away from the acting world, Ira manages to stay in the limelight due to her personal life.
Ira Khan travels in an auto-rickshaw
Recently, Ira Khan decided to forgo a luxurious car and opt for a fun auto-rickshaw ride in the bustling city of Mumbai.
Accompanied by a friend, she was captured on camera by a paparazzo, who later shared the video on Instagram.
Throughout the clip, Ira can be seen wearing a charming smile as she waves to the onlookers and expresses her gratitude with a heartfelt "Thank You." Her casual attire consisted of a white and pink striped shirt layered over a grey top, paired effortlessly with olive shorts. She completed the look with a stylish pair of sunglasses.
Netizens have mixed reaction
The video quickly caught the attention of netizens, resulting in a flurry of reactions across social media platforms. Many fans praised Ira for her down-to-earth nature, describing her as the "one and only simple star kid" and showering her with clapping emojis.
Others echoed the sentiment, referring to her as a genuinely sweet and unpretentious person. However, not everyone shared the same viewpoint. Some sceptics dismissed her auto-rickshaw ride as a mere publicity stunt, calling her the "talentless kid" of Bollywood and their alleged thirst for attention. A particularly disillusioned user claimed that such tactics were deployed when no one paid attention, suggesting a decline in the industry.
About Ira Khan
Earlier this month, Ira Khan celebrated her 25th birthday in a unique and personalized manner. She hosted a delightful Ted Lasso-themed party at her home, which was attended by her father Aamir Khan's ex-wife Kiran Rao, her brother Azad, and her fiancé Nupur Shikhare.
The event also saw the presence of Aamir's cousin Imran Khan and actress Mithila Palkar. Notably, Ira got engaged to Nupur Shikhare, a professional gym trainer, last year, further adding to the excitement surrounding her personal life.