'Aryan Khan started smoking Ganja as student in the US', statement to NCB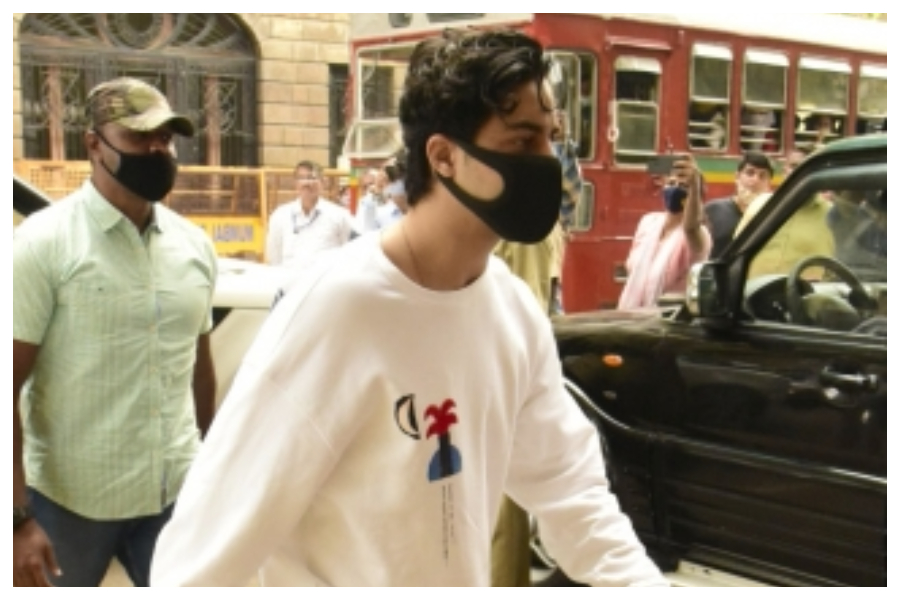 Aryan Khan, 23, the son of Bollywood mega-star Shah Rukh Khan and producer Gauri Khan, admitted to the Narcotics Control Bureau (NCB) that he started smoking Ganja (cannabis) in 2018 while studying for graduation in the US.
The 'voluntary statement' of Aryan, made under NDPS Act, 1985, Sec 67, before Ashish Ranjan, IO, is part of the final complaint lodged before the Special NDPS Court by the NCB on Friday (May 27), and came to light hours after the superstar-son was exonerated from the case.
He claimed that at that time, he was suffering from certain sleep disorders and he had read articles on the Internet informing Ganja (also known as bhaang, pot, grass, etc) could help.
Unaware of what lay in store for him ahead, Aryan revealed that he was friends with another co-accused Arbaaz Merchant since the past seven-eight years and even the latter smoked Ganja and Hashish.
At Arbaaz's coaxing, Aryan admitted he occasionally tried smoking Hashish (Charas) but did not relish it much.
Aryan, along with his friends Pratik, Manav and Arbaaz had gone to the Mumbai International Cruise Terminal (ICT) in his Mercedes car around 15.30 (on Oct 2, 2021) to board the Cordelia Cruise, and Arbaaz had promised to bring Hashish for that party.
While crossing the check-in point at the ICT, Aryan said he was intercepted by NCB's IO Ashish Ranjan Prasad and even introduced to the then Mumbai Zonal Director Sameer Wankhede as a Gazetted Officer, subjected to a personal search after explaining his rights.
During that physical search, no drugs were recovered from Aryan and he gave up his mobile phone when demanded by the NCB.
After checking some messages, the officer asked Aryan whether he knew Arbaaz Merchant, to which he said yes – and with whom he was to share a cabin in the Cordelia Cruise ship.
When the IO asked Aryan whether he deals with narcotic drugs, he replied that he was into consumption of only natural drugs like Ganja or Hashish.
Aryan also revealed that Arbaaz had taken out and handed over a small quantity of Charas to the NCB IO Ashish Ranjan Prasad, and said whatever was recovered (from Arbaaz) was for consumption only and probably procured by him from Bandra, after which the NCB team tested the Charas with some kit and sealed it in a pouch.
Later, the NCB team thoroughly searched all the cabins allotted to Aryan and his friends, and served with a notice to appear immediately before the NCB Mumbai Office to give his voluntary statement.
In the questioning, Aryan confessed to making the 'incriminating WhatsApp drug chats' on his mobile phone and signed on the chats transcript.
The conversation with his friend Archit pertaining to a poker game and procurement of Weed from him in return for a Rs 80,000 loan which he (Archit) was unable to repay, through some supplier he knew in Powai and Bandra.
After all this, the stunned Aryan was arrested by NCB Mumbai Superintendent V.V. Singh on October 3, 2021, at 2 p.m. under NDPS Act, 1985, Sec 8A, 22(b), 27 and 35 – triggering one of the biggest news events of the year after the Covid-19 pandemic.
The bewildered Aryan was enlightened on the arrest charges through his Memo of Arrest which he countersigned as a receipt and the information was related to Shah Rukh Khan and his family members.
After completing the medico-legal formalities he was produced before the Sessions Court which remanded him to NCB custody and later in judicial custody, totally spending around 28 nights in the dank cell of Arthur Road Central Jail.
After he was given a 'clean chit' by the NCB's Special Investigation Team on Friday, there is a huge clamour to take action against the ex-NCB Mumbai head Wankhede and his team along with certain Bharatiya Janata Party activists, who allegedly conspired to trap the unsuspecting Aryan and others in the sensational case.
Mumbai News: 'Won't return to JJ hospital,' say senior doctors who resigned following protest of resident doctors
"We will not resume work at Sir Jamshetji Jeejeebhoy Hospital even if all the issues are resolved," said Dr Tatayrao Lahane, the former dean of the hospital and Dr Ragini Parekh, head of the ophthalmology department, and the other honorary doctors who resigned on Thursday. Further, they have also demanded an enquiry against the hospital dean and strict action against her.
The hospital dean, Dr Pallavi Saple, has sought an explanation from Dr Parekh, on the appointment of Dr Sumeet Lahane, the son of Dr Lahane, who was allowed to perform surgeries in the department.
This comes after a three-member committee headed by Dr Sanjay Surase, medical superintendent, submitted its investigative report against Dr Sumeet Lahane.
"The report submitted to the dean reveals that the committee has sought an explanation from Dr Ragini Parekh, HoD, on the appointment of Dr Sumeet Lahane and also asked her to clarify three points, based on documents submitted by resident doctors as proof," said Dr Saple.
Report submitted by the investigative committee is biased: Dr Lahane
"We have been serving J J Hospital and patients for the last 36 years and have done more than lakhs of surgeries and operations. But we did not expect to be humiliated by resident doctors and the hospital dean. All of us have resigned and will not be part of J J Hospital any further. The report submitted by the investigative committee is biased, as they have not asked for our version and we have the right to tell our side of the issue," Dr Tatyarao Lahane said.
Meanwhile, the deadlock between resident and senior doctors entered the third day on Friday. The Maharashtra State Resident Doctors Association (MARD) is threatening to go on a state-wide indefinite strike if their demands are not met.
According to Dr Shubham Soni, MARD president, J J Hospital, resident doctors have alleged that Dr Lahane and Dr Parekh had been running the ophthalmology department 'dictatorially' and in a way that clearly violated the guidelines issued by the National Medical Commission at multiple levels.
Resident doctors' protest
Resident doctors in the ophthalmology department say that they have been dealing with several issues, such as not getting hands-on experience with surgery, minimal academic and research activity.
The report of the investigative committee said that Dr Sumeet Lahane was performing cataract surgeries and was also looking at routine OPD. If a government letter or order had been issued, asking him to perform surgeries and examine patients, a photocopy of the order had to be submitted. The third point raised by the committee was that a criminal case could be filed against Drs Sumeet Lahane and Ragini Parekh, as it was a legal offence for outsiders to perform patient examinations, surgeries, and other patient care work, without an order.
"We have raised these points with Dr Parekh and sought a detailed explanation and asked why no case should be registered against Dr Sumeet Lahane," Dr Saple added.
Bill to allow Sikhs to ride without bike helmets in California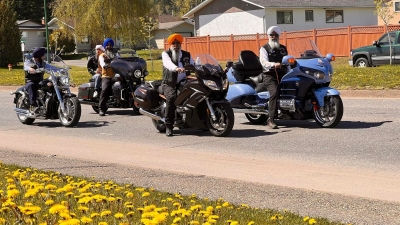 Senators in California voted in favour of a bill that exempts Sikhs from wearing a safety helmet when riding a motorcycle.
The Senate Bill 847, authored by Senator Brian Dahle cleared the state senate this week with a 21-8 vote margin, and will now move to the Assembly.
"Freedom of religion is a core foundation of this country. We, as Americans, have the right to freely express our religion and I believe that right should equally extend to everyone. Any law that limits the ability to express one's religion, goes against what this country is all about," Dahle said in a statement after presenting the bill on the senate floor.
"Exempting those who wear turbans or patkas from wearing helmets is a simple way to ensure that everyone's religious freedoms are protected," he added.
According to 2021 American Community Survey estimates, 211,000 Sikhs live in California, which is nearly half of all Sikhs living in the US.
The State Senate was told that as of now, no helmet exists in the market that will accommodate a turban or a patka, but according to members of the Sikh community, a turban is a good enough protection.
Currently, 18 states and Washington D.C. have a universal helmet law for all riders. 29 states require helmets for specified riders, generally riders under a certain age (usually 18 or 21).
Only Illinois, Iowa, and New Hampshire have no motorcycle helmet laws.
"Although other countries and our own military make accommodations for Sikhs' deep beliefs, out of the US states that require helmets, none has exemptions for Sikhs or any other group based on religious practice," a statement from Dahle's office read.
This question of helmets for Sikhs has also been debated and considered in other countries, like Canada and the UK.
In Canada, Sikhs are exempt from motorcycle helmet laws in several provinces including Alberta, British Columbia, Manitoba, and Ontario.
Among the supporters of the bill were the Legendary Sikh Riders, the Sikh Legends of America and the Sikh Saints Motorcycle Club.
According to the Center for Disease Control, more than 5,500 motorcyclists died in 2020, and more than 180,000 were treated in emergency departments for crash injuries.
BIZARRE! Pune student scores the perfect 35 in all subjects at Class 10 board exam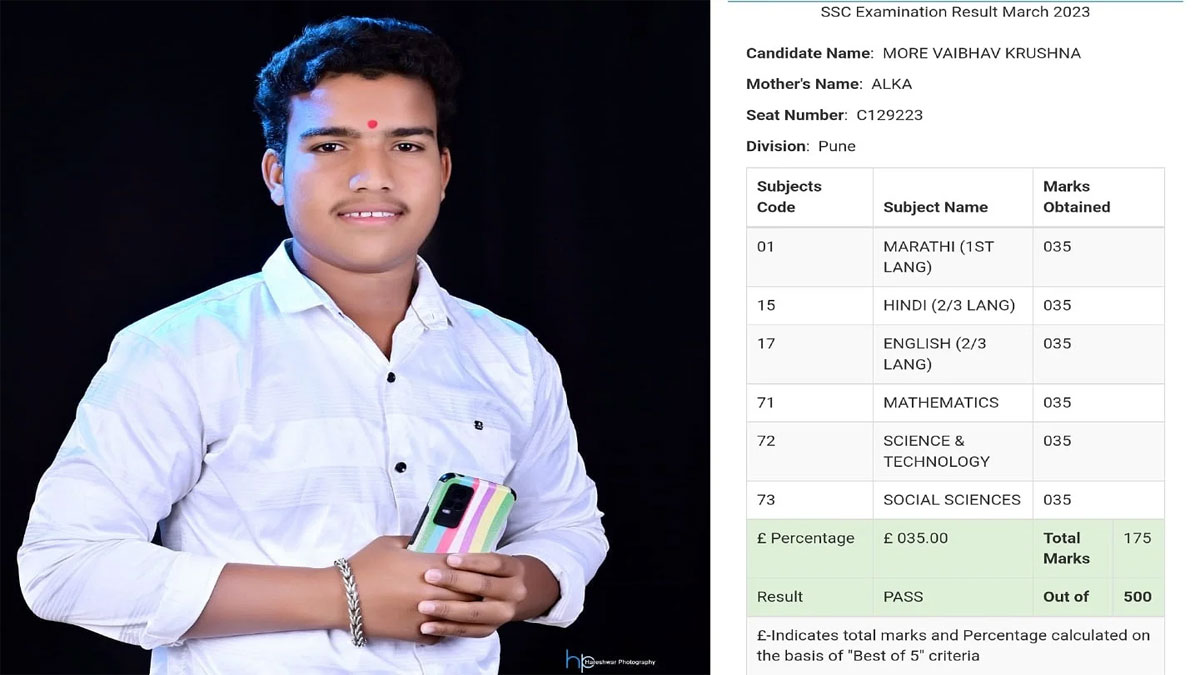 Mumbai: There are those who get more than 90% in the board exams and still crib about not scoring high enough. Then there are those who are just happy to have scored enough marks to get passed. But what if someone scores the exact marks needed to clear the exam, not a point less not a point more? They would consider themselves to be the luckiest person on the planet. Vaibhav More, a student from Junnar taluka in Pune, is one of them.
As the state education board declared the Class 10 exam results on Friday, Vaibhav got the most peculiar marksheet – one with 35 marks in each of the subjects, the bare minimum required for passing the exam. He couldn't believe it, and neither could anyone else. "Bhari, na (Awesome, isn't it)" is his reaction when asked about the amusing scorecard.
Son of a farm labourer couple at the tiny Bori Khurd village situated 93 km north of Pune, Vaibhav doesn't really like to study and was expecting to fail the test. "I did prepare for the exam but didn't have much expectations. I was astonished to see 35 in each of the subjects. I haven't seen anyone with such a mark sheet. My friends, too, are surprised," says the delighted student.
The 16-year-old says that his teacher and mother were both relieved as they didn't have much hope. His father, on the other hand, was far from amused. "He yelled at me as he wanted me to score more," said Vaibhav.
When asked about his son's bizarre feat, Krushna More, the father, shot a rather probing question. "Did he actually get those marks, or was he passed through condonation?"
While the condonation or grace marks, awarded to students who miss the passing score by a few points, seems to be the most likely explanation behind the improbably neat result, it must take special skill, or luck, to muster just enough marks to benefit from this provision in as many as six subjects.
Vaibhav said that he never had much affinity for education as he struggled to understand what was taught in the classroom. He particularly abhorred Mathematics. To make matters worse, his school was shut for more than a year due to the Covid-induced lockdown. He credits his elder sister, a Bachelor of Computer Science (BCS), to help him study for the exam and get across the line.
While he doesn't spend much much time studying, Vaibhav helps his parents with farm work and plays Cricket and Kabaddi in his spare time. He is fascinated by electronic equipments and often fasten and unfasten them and he is now planning to pursue some vocational course at the nearby Industrial Training Institute (ITI), though he isn't very sure about it.