Amitabh Bachchan posts throwback pics from his modelling days
Megastar Amitabh Bachchan has shared throwback pictures from his modelling days on his social media.
Big B took his fans down memory lane with pictures from his modelling days on his Instagram.
In his nostagia trip post, he expressed the desire to go back to those days.
Amitabh looked dapper in two pictures, where he is seen dressed in a formal black and grey outfit and another one in multi-coloured trousers and a black T-shirt carrying a duffle bag.
"…would be so nice to be back to such days..but..," he wrote.
Big B's Instagram got flooded with comments from Bollywood and fans.
Actor Rohit Roy commented, "My life is centered around those days Amit ji..my existence is a sum total of THOSE days," with a heart emoji.
Raveena Tandon: Have always had this fascination for the dark side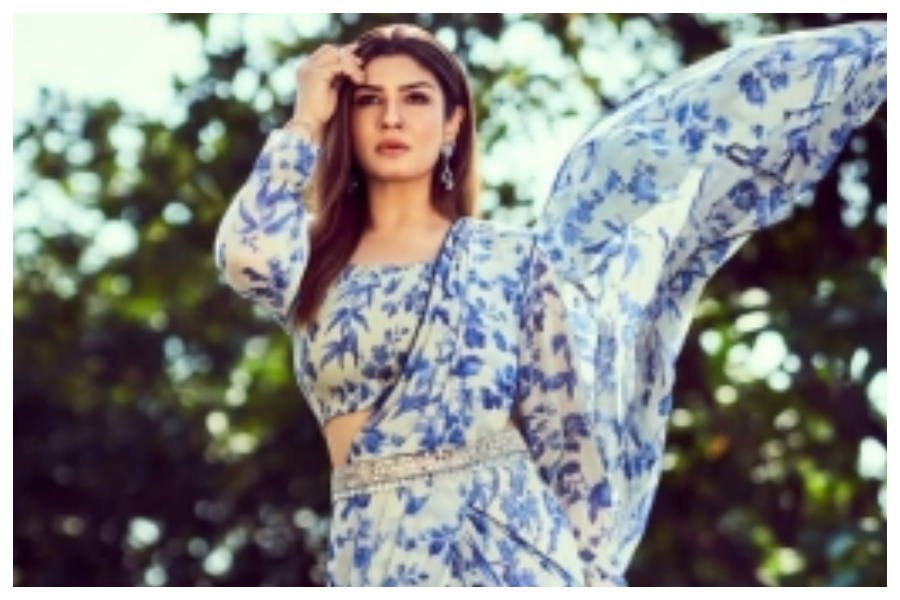 Actress Raveena Tandon, who is gearing up for the release of her series 'Aranyak' on Netflix, says she has always had a fascination for the dark side.
Talking about the growing popularity and demand for thrillers on the OTT platforms, Raveena in a conversation with IANS said: "I don't know why it is so popular but I am a big fan of this genre. I think it just makes you hook and binge watch, so that is something which I have loved and I have always had this fascination for the dark side as well."
The actress, who ruled the roost in the 1990s, says she is not a big fan of horror as a genre, but it is the nail-biting genre of suspense and thrillers, which keeps her hooked on to the television screens.
"I am not a huge fan of horror but suspense, thriller and maybe crime thrillers as well and the unraveling of it all… I am a huge fan. So I think there are many like me… I do like romance once in a while," she added.
'Aranyak' spotlights the hardships and prejudices female officers face as they try to strike a balance between their work and personal lives.
Set in the dense forest, Raveena plays a local cop, who all her life waits for a "big case" and one fine day a news of a teenage tourist's murder shakes her up and joins forces with her city-bred replacement Angad played by Parambrata Chatterjee to solve the case. As the two struggle to find the serial killing entity, a forgotten folklore is revived.
Preity Zinta is loving 'burp cloths, diapers and babies'
Bollywood actress Preity Zinta Goodenough is enjoying being a mother to her newborns Gia and Jai. She even shared a picture holding one of her twins.
Preity posted the picture on Instagram, where she is seen holding her baby and smiling at the camera. The face of the baby wasn't visible as the little bundle of joy was wrapped in a baby blanket. Preity also had a burp cloth on her shoulder.
"Burp cloths, diapers & babies… I'm loving it all #ting," Preity captioned the image.
It was last month when Preity announced that she and her husband Gene Goodenough became parents to twins.
The actress, who made the announcement on social media with a picture of herself posing with Gene, opted for surrogacy.
The actress currently resides in Los Angeles with husband Gene Goodenough, whom she tied the knot in February 29, 2016.
Jennifer Lawrence had 'a ton of sex' during acting hiatus
Actress Jennifer Lawrence joked she had a "ton of sex" while on a three-year acting hiatus.
The 'Don't Look Up' star, who is expecting her first child with art gallery director husband Cooke Maroney, was very open about how she spent her time away from the film industry, reports femalefirst.co.uk.
During an appearance on 'The Late Show with Stephen Colbert' this week, the 31-year-old actress was asked what she did "for the last three years", and the actress, while looking at her baby bump, quipped: "I just had a ton of sex."
The host replied: "Good for you. Good for you."
Lawrence quickly said that she was "joking" before opening up on her more innocent ways of passing the time.
The 'Hunger Games' actress added: "I'm joking. Um, I cooked a little. The pandemic happened and then I cooked and I cleaned a lot."
After the host pondered what the 'Silver Linings Playbook' star would do if she retired from show business, she revealed she has an ideal occupation in mind.
She said: "I think I would be a really good housekeeper. No, I really do. I make a mess, but I'm really good at cleaning it up. I can attack a mess."
The 'Joy' star also gave some insight into filming her new dark satire movie 'Don't Look Up', which also stars Leonardo DiCaprio, Jonah Hill, Mark Rylance and Cate Blanchett, with Covid protocols and even dental mishaps after losing a veneer, which put a "fang" on display, but thanks to special effects was able to edit it out.
She said: "I lost that and I couldn't go to the dentist because of COVID. Thank god for Netflix money."
The actress revealed that the crew would call co-star Meryl Streep "the GOAT" during shooting, and the big screen icon didn't know what it meant.
She added: "We were doing a photoshoot and I said, something like 'GOAT' and Meryl kind of said, 'Yeah, that's right just tell the old goat where to go'."
"And I was like, 'Meryl, you know GOAT means Greatest Of All Time?' And she was like, 'Oh!' I said, 'We haven't just been calling you goat'."