2 killed, 4 missing as rains continue to pound Telangana
Two persons were killed and four were missing in separate incidents in Telangana as heavy rains continue to lash parts of Telangana.
The Hyderabad Meteorological Centre has forecast heavy rains at few places in the state on Monday and Tuesday.
Heavy to very heavy rain very likely to occur at isolated places in Adilabad, Kumaram Bheem Asifabad, Mancherial, Nirmal, Nizamabad, Jagtiyal, Nalgonda, Suryapet, Janagaon, Ydadari Bhuvanagiri, Rangareddy, Hyderabad, Medchal, Malkajigiri, Vikarabad, Sangareddy, Mahabubnagar and Nagarkurnool district, it said.
Incessant rains for last two-three days have paralysed normal life in some areas. Overflowing rivulets, lakes, streams, tanks and other water bodies led to inundation of low-lying areas and disrupted vehicular traffic.
Two persons were killed and four went missing in separate incidents since Sunday. A 23-year-old youth was washed away in a stream while taking selfie in Mahabubnagar district. Shivaprasad was taking selfie while standing on the bund of Dondubi Vagu. According to police, he accidentally fell into the stream which was in spate and drowned. His body was recovered some distance away.
Shivaprasad was accompanied by his cousin Geeta Madhu. Though she raised an alarm, people near the stream could not rescue him despite their best efforts.
A drum beater was drowned in an overflowing stream in Vikarabad district. Goraiah (35) along with seven other drum beaters were trying to cross the stream on return to their village Dornal after beating drum (dappu) at a local festival. Two of them Goraiah and Krishna were washed away while crossing check dam. While Krishna was saved by one of them, Goraiah was washed away. After six-hour-long search operation, divers recovered his body.
Four persons went missing in different parts of the state and feared killed. A 30-year-old was washed in flood water along with his motor bike in Sangareddy district.
In Siddipet district, two persons were washed away in a flooded stream. A group of 10 people belonging to a family had gone to the stream. Four of them got into the water for a bath. While two persons were rescued by a local resident, the other two were washed away. Search was on for them.
Continued rains inundated low-lying areas in several towns and villages. Water entered the houses in few colonies in Karimnagar.
42 students at Telangana residential school test positive for Covid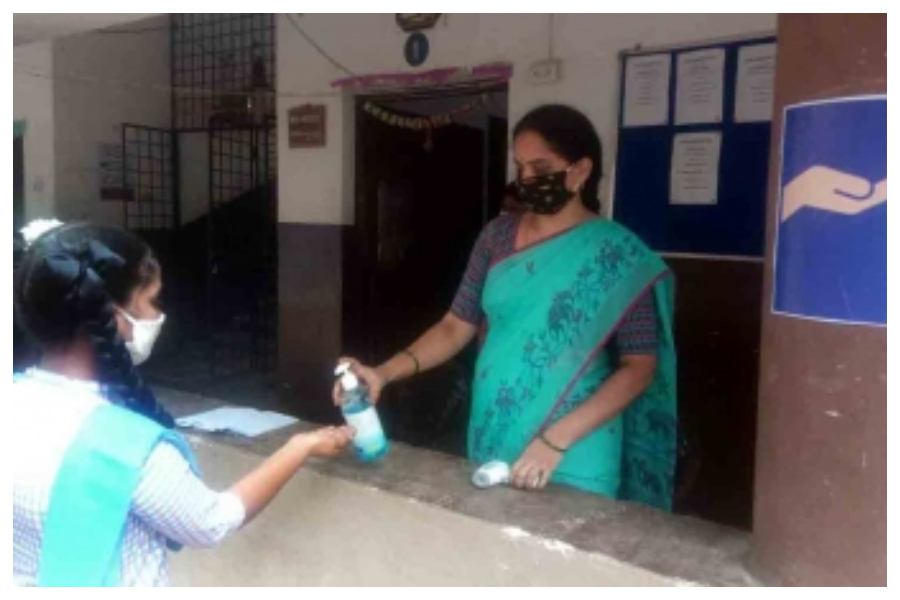 As many as 42 students and one teacher of a government-run residential school for girls in Telangana's Sangareddy district have tested positive for Covid-19.
The cases have come to light at Mahatma Jyotiba Phule Gurukul school at Muthangi village in Sangareddy district, about 50 km from Hyderabad.
Of the 491 students at the school, Covid test was conducted on Sunday on 261 students. A total of 42 students were found infected.
Health authorities were conducting tests on remaining students on Monday. A health official said all 27 teachers and staff members were screened and one teacher was found positive.
The samples of the students who tested positive were sent to Hyderabad for genome sequencing. The official said the infected students were kept in isolation at the hostel in school premises and they were all stable.
A student had taken ill three days ago. Since she was showing suspected symptoms of Covid, the school authorities decided to conduct tests on all students.
This is the third incident of students testing positive in large numbers at any educational institution in Telangana during the last 10 days. Last week, Mahindra University near Hyderabad was shut down after 25 students and five staff members tested positive for the virus.
The authorities conducted Covid tests for 1,700 students and staff members. A total of 25 students, one faculty member and four support staff were tested positive. The university declared a holiday for 15 days and began online classes from Monday.
Earlier, 29 students of a government-run residential school and junior college for girls in Khammam district had tested positive for the Coronavirus.
The cases were reported at the school and junior college in Wyra town. The school authorities conducted tests for all 550 students after a couple of students showed suspected symptoms.
This was the first time since reopening of residential schools in the state last month that such a large number of students were found positive.
Educational institutions in Telangana reopened from September 1. However, the High Court allowed reopening of residential schools in the last week of October after the education department gave an assurance that all preventive measures will be taken.
UP youth held for tweeting misleading photo
The Deoria police have arrested a youth for posting a misleading picture on his social media profile showing Uttar Pradesh Teacher's Eligibility Test (UPTET) aspirants resting on a platform.
The accused, Prince Yadav, was arrested on Sunday night.
Superintendent of Police, Deoria, Shripati Mishra, said Prince had posted a misleading photo on his social media profile handle despite warnings and tweet by 'UPPOLICE FACT CHECK' which is operated by the DGP headquarters in Lucknow.
Mishra said that Prince was spreading rumours and was booked under the charges of the Information and Technology Act.
Shripati Mishra said that the above photo shared by Prince Yadav was of another examination held in Rajasthan.
Police also said that despite repeated appeals and messages to the accused, he did not remove the photo from his social media account.
Soon after UPTET examination was cancelled following a paper leak, netizens had posted on social media a photograph showing scores of aspirants sleeping on a platform.
The Uttar Pradesh Police tweeted a message saying that it was a photograph of Rajasthan.
Dead bodies of 2 Covid patients found in mortuary 15 months later
In a shocking incident, the dead bodies of two Covid patients were found 15 months after they died at the ESI hospital mortuary in Rajajinagar in Bengaluru.
The authorities were planning to cremate the bodies on Monday as the family and relatives of one of the deceased did not show any interest in taking the body for final rites. And, the police were not able to trace another deceased person's whereabouts and family.
The bodies were recovered three days ago at the cold storage when the workers went there for cleaning. The negligence of the staff and doctors is said to be the reason for the dead bodies remaining at the cold storage without disposal.
The bodies were identified with the help of tags as Durga (40), a resident of Chamarajpet and Muniraju (35), a resident of K.P. Agrahara in Bengaluru. Both were admitted to the ESI hospital for the treatment of Corona infection in July, 2020.
However, as they succumbed to the deadly virus, their bodies were shifted to an old mortuary to be handed over to the BBMP for disposal. As the Covid protocol, the BBMP, the civic agency, was to cremate the dead bodies of the Corona victims and the bodies were not given to the families.
The ESI hospital's old mortuary has six cold storages for keeping the dead bodies. However, during the spike in the Covid deaths, it had become difficult for the hospital authorities to keep the dead bodies at the mortuary.
The government had constructed a new mortuary, which was inaugurated in December, 2020. As the new mortuary started functioning, due to negligence these two bodies remained in freezers.
The cleaning staff, who went to clean the old mortuary, noticed foul smell emanating from freezers and found bodies. The Rajajinagar police have taken up the case and tried to track relatives. Durga's husband is dead and her family has not shown interest in taking her body. The police were trying to find out the address of Muniraju's family members.
The development has drawn sharp reactions from the public against the ESI hospital staff and doctors for utter negligence in handling of dead bodies.