Yuvraj Singh feels India didn't plan well for 2019 World Cup
Former India all-rounder Yuvraj Singh feels that the team was unable to plan well for the 2019 Men's Cricket World Cup in England.
Citing the swap between Vijay Shankar and Rishabh Pant for the number four position, Yuvraj pointed out that India could have done better in the tournament if they had an experienced batter at that spot in the batting order.
In the run-up to the mega event, India's lack of stability in the middle order, especially at number four slot, was highlighted as one of the major concern areas with experienced batter Ambati Rayudu dropped from the 15-member squad.
In the tournament, KL Rahul began batting at number four before Shikhar Dhawan's thumb injury happened against Australia and was subsequently ruled out of the tournament.
With Rahul filling in as an opener, Shankar was then brought into the eleven and slotted at four till he got a toe injury and was out of World Cup. Pant, who had played just four ODIs till then and arrived in the tournament as Dhawan's replacement, batted at four till India lost in the semi-finals to New Zealand by 18 runs at Old Trafford, Manchester.
"When we won the World Cup (2011), we all had a set position to bat. I felt 2019 World Cup; they didn't plan it well. They got Vijay Shankar to bat at 4 with just 5-7 ODIs, then they replaced him with Rishabh Pant, who had played 4 ODIs. When we played the 2003 World Cup, Mohd. Kaif, (Dinesh) Mongia and I had already played 50-odd ODIs," said Yuvraj in an interview to Sanjay Manjrekar on 'Home of Heroes' show on Sports18 to be aired on May 7.
Yuvraj, who won the 'Player of the Tournament' award when India won 2011 World Cup on home soil, highlighted that India's middle-order problem is present even in T20I format, pointing towards the early exit in Men's T20 World Cup last year in the UAE. "Our middle-order (batsmen) in T20 bats higher in franchise cricket. That is where we lacked in the last T20 World Cup."
Yuvraj then revealed his thoughts on future of cricket, saying that the popularity of T20 cricket in present times has forced players to rethink about their priorities. "Test cricket is dying. People want to watch T20 cricket; people want to play T20 cricket. Why would someone play five-day cricket and get five lakh rupees and today play T20 cricket and get 50 lakh? Players who have not made it to international cricket are getting 7-10 crores."
Yuvraj signed off by saying that 50-over cricket will struggle for popularity due to T20 cricket being the dominant format of the game. "You watch a T20 game and then watch a 50-over game – it looks like a Test match now. After 20 overs, they are like, 'There are 30 overs to bat!'. So, definitely T20 is taking over everything."
With Bumrah sidelined, a pace-for-pace swap or naming a batting-heavy XI are India's best options
With the BCCI confirming Jasprit Bumrah has been ruled out of the ICC T20 World Cup in Australia this month, the team has been dealt a major blow and speculation has begun who will lead the pace attack as India aim to regain the title they won in 2007.
In a straight pace-for-pace swap, veteran quick Mohammad Shami and Deepak Chahar in the reserves and Mohammed Siraj as a third option outside the two could replace the 28-year-old Bumrah in the squad. With the kind of experience Shami has == he last played a T20I in 2021 at the T20 World Cup in the UAE — experts believe India shouldn't look beyond the stalwart, though his career economy rate of 9.54 goes against him.
Siraj is another potential candidate to replace Bumrah given his powerplay and death-overs expertise and the Royal Challengers Bangalore player is probably one of the quicker bowlers around in the country. Also, while Chahar might lack the pace that Shami and Siraj possess, he is a much-improved bowler in recent times and also contributes to batting depth, according to ICC.
Another option for India could be to name a batting-heavy XI to negate the shortcoming in the bowling department. With Hardik Pandya emerging as a more-than-reliable all-round option, India could go batting heavy and bank on just the five bowlers to cover for Bumrah's absence. Having Harshal Patel, Bhuvneshwar Kumar, Axar Patel and Ravichandran Ashwin — all bowlers capable of wielding the bat as well — give India the options to bat deep, according to ICC.
Setting larger totals by going batting heavy could help reduce the onus on the bowling attack to maintain the kind of economy rate Bumrah gave in his quota of overs.
Besides, having wicket-taking spin or high-pace options in the middle overs could also be looked at to reduce the chances of the opponents' best batters being out there in the death overs.
Former Australia all-rounder Shane Watson says he would likely go with a pace-for-pace swap and bring someone like Mohammad Siraj to replace Bumrah, though he added no one in the world can replace the 28-year-old quick. Watson feels Siraj's firepower with the new ball is comparable with Bumrah's, which would be "vital" on Australian wickets.
"The player I would put in if Jasprit's not available is Mohammad Siraj, because of the firepower he presents," Watson said on The ICC Review. "Without Bumrah, that's the one thing India won't necessarily have, which is vital on Australian wickets on the bigger grounds with the pace and bounce. Siraj is great with the brand new ball. He is fast, he swings the ball away but also his defensive skills are pretty good," added Watson.
Watson felt Siraj had learnt quite a few tricks of the trade playing in the Indian Premier League (IPL).
"And he's got better over the last couple of years, with what we've seen in the IPL. So, for me he's probably going to be the one who is going to have the most impact," added Watson.
Dhawan named captain for India's upcoming ODI series against South Africa, maiden call-ups for Patidar, Mukesh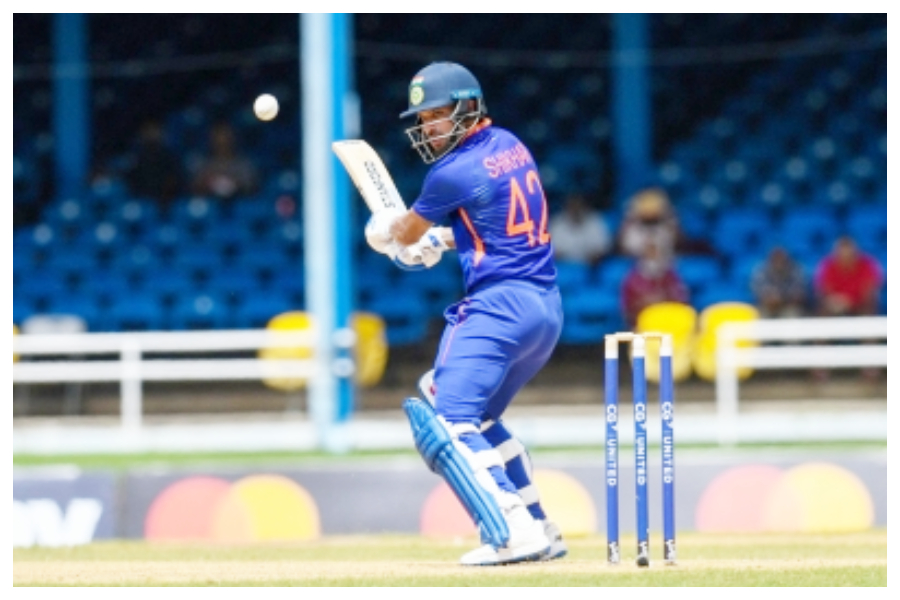 Senior left-handed opener Shikhar Dhawan on Sunday was named captain of India's squad which will play three ODIs against South Africa on October 6, 9 and 11 in Lucknow, Ranchi and New Delhi respectively.
The All-India Senior Selection Committee has also given maiden ODI call-ups to middle-order batter Rajat Patidar and pacer Mukesh Kumar. Patidar's career has been on an upswing since making a breathtaking 112 for Royal Challengers Bangalore in IPL 2022 Eliminator against the Lucknow Super Giants at Kolkata.
Patidar went on to score 122 and 30 not out in Madhya Pradesh's Ranji Trophy final win over Mumbai at Bengaluru. Recently, he scored two centuries, one of which was a mammoth 176, in four innings of India A's multi-day series against New Zealand A to be the top run-scorer for the hosts with 319 runs at an average of 106.33. He also made 45 not out and 20 in one-day matches against New Zealand A in Chennai.
Mukesh, the right-arm medium pacer who represents Bengal in domestic cricket, picked up nine wickets at an average of 21.78 in the multi-day series against New Zealand A, including taking 5/86 on day one of the series. More recently, he rattled a famed Saurashtra batting line-up with his deadly spell of 4/23 for the Rest of India in the ongoing Irani Cup final in Rajkot.
Interestingly, batter Shreyas Iyer, pace all-rounder Deepak Chahar and leg-spinner Ravi Bishnoi, who are travelling reserves in India's squad for the Men's T20 World Cup to be held later in Australia, have been included in the ODI squad with no member of the main squad to take part in the series as they depart for Australia on October 6.
Left-arm spin all-rounder Shahbaz Ahmed, who had been called in as a replacement for the injured Washington Sundar in the 3-0 ODI series triumph in Zimbabwe but didn't get a game, retains his place in the squad, and so does right-handed batter, Rahul Tripathi. Pacer Avesh Khan also comes back into the ODI fold after missing the last few matches of the T20 Asia Cup 2022 due to illness.
India's ODI squad: Shikhar Dhawan (captain), Ruturaj Gaikwad, Shubman Gill, Shreyas Iyer (vice-captain), Rajat Patidar, Rahul Tripathi, Ishan Kishan (wicket-keeper), Sanju Samson (wicket-keeper), Shahbaz Ahmed, Shardul Thakur, Kuldeep Yadav, Ravi Bishnoi, Mukesh Kumar, Avesh Khan, Mohammed Siraj, Deepak Chahar
Stampede at football match in Indonesia, death toll reaches 174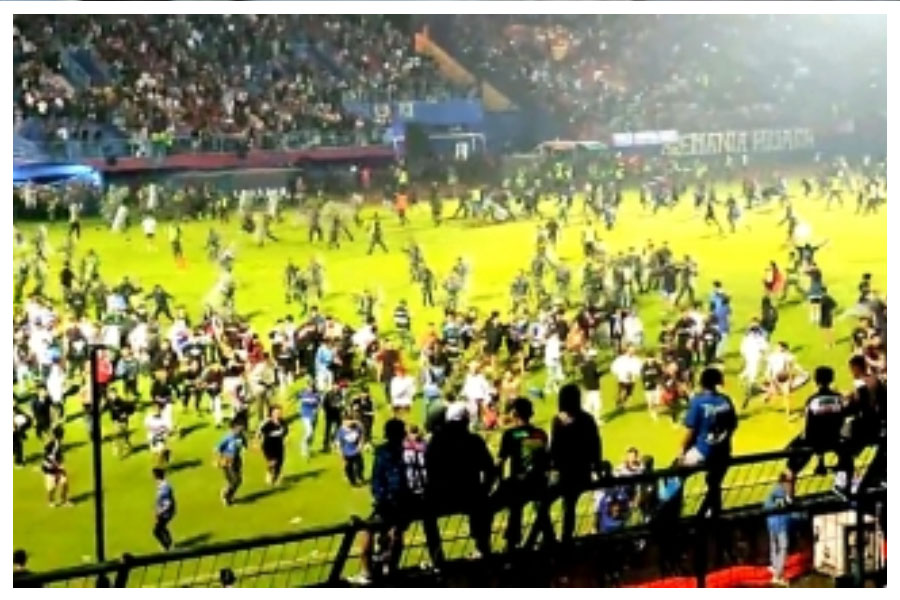 At least 174 people have died and 180 others are injured in a stampede at a football match in Indonesia's Malang in East Java province, Indonesian Police said on Sunday.
The incident took place after police tear-gassed supporters who invaded the pitch late on Saturday evening, BBC reported.
It is one of the world's worst stadium disasters after local team Arema FC lost 2-3 to bitter rivals Persebaya Surabaya in East Java.
The country's Chief Security Minister said that spectators exceeded the stadium's 38,000 capacity by around 4,000, BBC reported.
President Joko Widodo has ordered that all matches in Indonesia's top league must be stopped until an investigation is done.
Videos show fans running on to the pitch after the final whistle.
Police then fired tear gas, leading to a crowd stampede and cases of suffocation, said Nico Afinta, Police Chief in East Java.
"It had gotten anarchic. They started attacking officers, they damaged cars," he said, adding that two police officers were among the deceased.
"We would like to convey that not all of them were anarchic. Only about 3,000 who entered the pitch," he said.
Fleeing fans "went out to one point at the exit. Then there was a build-up, in the process of accumulation, there was shortness of breath, lack of oxygen", he added.
Videos on social media show fans clambering over fences to escape. Separate videos appear to show lifeless bodies on the floor.
FIFA, the world's governing football body, states that no "crowd control gas" should be carried or used by stewards or police at matches.
The Indonesian football association (PSSI) said it had launched an investigation, adding that the incident had "tarnished the face of Indonesian football".
Violence at football matches is not new in Indonesia, and Arema FC and Persebaya Surabaya are long-time rivals.
Persebaya Surabaya fans were banned from buying tickets for the game because of fears of clashes.
But Chief Security Minister Mahfud MD posted on Instagram that 42,000 tickets had been sold for the match at the Kanjuruhan stadium.
President Widodo called for this to be the "last soccer tragedy in the nation" after ordering that all Liga 1 games should be paused pending an investigation.
The stampede is the latest in a long line of disasters at stadiums.
In 1964, a total of 320 people were killed and more than 1,000 injured during a stampede at a Peru-Argentina Olympic qualifier in Lima.
In 1985, 39 people died and 600 were hurt at the Heysel stadium in Brussels, Belgium, when fans were crushed against a wall that then collapsed during the European Cup final between Liverpool (England) and Juventus (Italy).
In the UK, a crush developed at the Hillsborough stadium in Sheffield, resulting in the deaths of 97 Liverpool fans attending the club's FA Cup semi-final against Nottingham Forest.