West uses human rights as 'tool' to pressure others: Iran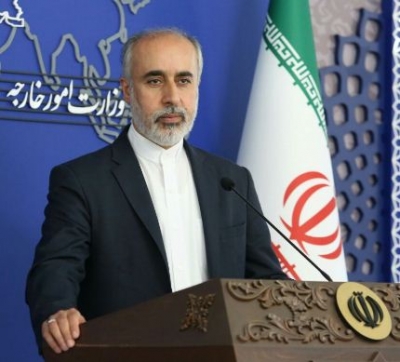 Iranian Foreign Ministry spokesman Nasser Kanaani has criticized Western countries for what he called their use of human rights as a "tool" to exert pressure on other countries.
"When human rights are turned into a plaything and a tool to apply political pressure on others, the media empire of the hegemonic system also helps to replace the accused with the plaintiff in the case of systematic human rights violations," Kanaani wrote in an Instagram post on Thursday.
The spokesman's comments followed Western media's reports about recent protests in Iran, which were triggered by the death of 22-year-old Iranian girl Mahsa Amini, who died while in the custody of Iran's morality police.
Following the recent protests in the country, the Canadian government has slapped sanctions on Iranian institutions and individuals for alleged "rights violations," Xinhua news agency reported.
Kanaani referred to the reports of the separation of thousands of indigenous children from their families in the past decades in Canada and the discovery of children's mass graves in Canada's residential schools, saying that the people of the world have not forgotten "the sad saga".
"Blurting out words about other countries and hiding behind accusations against others will not change the fact that behind the window of human rights in one of the American government's closest allies, child-killing and disregard for humanity is showing off," he added.
16 wounded as blast rocks Afghan city
At least 16 people have been confirmed wounded after a blast rocked Pul-e-Khumri city, the capital of Afghanistan's northern Baghlan province, local media reported.
Quoting an anonymous source, private media outlet the Salam Watandar reported that at least 16 people had been taken to a hospital for medical treatment on Friday, news agency reported.
Eyewitnesses who declined to give their names told the news agency that security forces had cordoned off the area and ambulances were seen running around the city to transport the wounded.
The Taliban administration has yet to make a comment. No group or individual has claimed responsibility.
Saudi Arabia restores diplomatic ties with Canada
Saudi Arabia and Canada have agreed to restore diplomatic relations and appoint ambassadors, the Saudi foreign ministry announced.
The Ministry said on Wednesday in a statement that the decision was made based on the two sides' wishes to restore ties on the basis of mutual respect and common interests, news agency reported.
"Canada has appointed a new ambassador to the Kingdom of Saudi Arabia, Jean-Philippe Linteau," the Canadian Foreign Ministry said in a statement while announcing the decision.
The move follows discussions between Saudi Arabian Crown Prince Mohammed bin Salman bin Abdulaziz Al Saud and Canadian Prime Minister Justin Trudeau during the APEC summit in the Thai capital of Bangkok in November 2022, the Ministry added.
Saudi Arabia recalled its ambassador from Canada in 2018 after a dispute over Canada's demand for Saudi Arabia to release detained activists.
Age is just a number: 98-year-old Chicago man works full-time, 7 days a week
Joe Grier, a dedicated Chicago resident, recently marked his 98th birthday while continuing his lifelong commitment to working seven days a week. Grier, believed to be one of the oldest full-time employees in the country, spoke to Fox 32 Chicago about his enduring work ethic.
Grier is employed by Victory, a manufacturing company based in Chicago, where he specialises in creating molds for trophies and awards. His story has garnered attention online, captivating internet users who are eager to learn more about this remarkable individual.
In his interview with Fox 32, Grier expressed his happiness and connection to his work, attributing his longevity to a positive attitude. He emphasized the importance of one's perspective in dealing with life's challenges and remarked on finding humor in most situations, drawing from his wealth of life experiences.
Every day, he creates moulds for various trophies and awards. "It makes me happy. I'm able to link myself with things that I've previously associated myself with. It's a habit," he informed Fox 32 Chicago.
Eric Priceman, the president of Victory, commended Grier for his unwavering dedication and described him as a valued mentor who has imparted invaluable knowledge to the company over the years.
Despite the challenges posed by the COVID-19 pandemic, Grier continued to visit the Victory plant to train new employees, showcasing his resilience and commitment. His tenure with the company spans several machinery upgrades, further underscoring his enduring presence in the workplace.