UP Minister visits families of dead BJP workers in Lakhimpur Kheri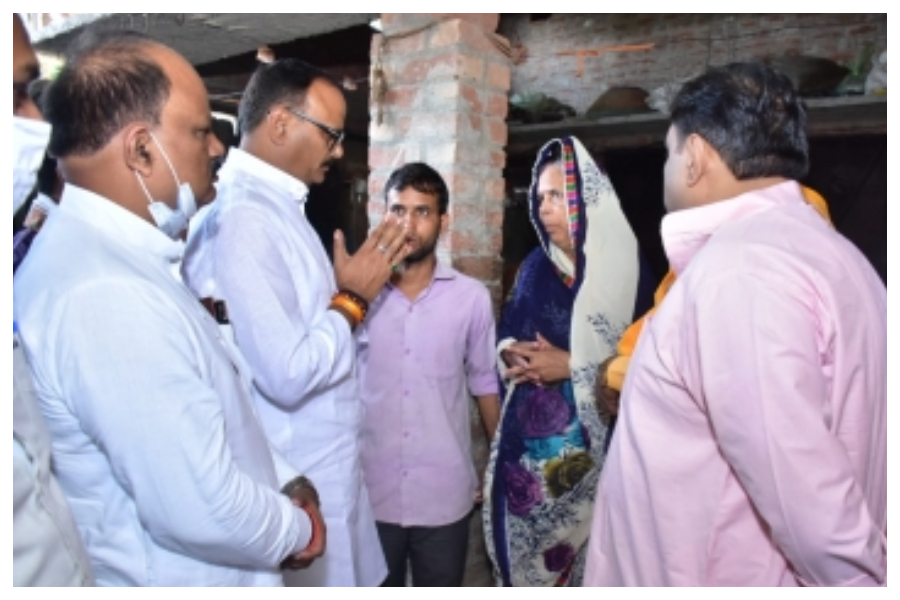 Uttar Pradesh Minister Brajesh Pathak on Wednesday went to meet the families of Hariom and Shubham Mishra, the two BJP workers who had died in the October 3 violence in Lakhimpur Kheri.
Pathak is the first BJP leader to visit the families that had complained that no one from their party had bothered to visit them to offer condolences.
The minister spent time with the families, offered his condolences and assured them that he would take care of them in future too.
It may be recalled that two BJP workers were allegedly killed in the violence that followed after an SUV mowed down farmers in the Tikunia village in Lakhimpur Kheri.
A driver and a journalist were also killed in the violence though the journalist's family claimed that he also had been mowed down by the SUV.
Faizabad junction to be renamed as Ayodhya Cantt
The Yogi Adityanath government on Saturday decided to rechristen Faizabad junction as Ayodhya Cantt, as per a tweet shared by the Chief Minister's office.
Earlier, the government had renamed Faizabad district as Ayodhya and Allahabad as Prayagraj.
After becoming Chief Minister of the state in 2017, Yogi Adityanath renamed Mughalsarai Junction railway station.
Adityanath's proposal to change the name of the station was approved by the Central government and in 2018, it was rechristened as Pandit Deen Dayal Upadhyay Junction.
The Yogi Cabinet also renamed Mughalsarai tehsil as Pandit Deen Dayal Upadhyay Tehsil.
95% people do not need BJP: Akhilesh
Samajwadi Party president Akhilesh Yadav on Friday took a swipe at Uttar Pradesh Minister Upendra Tiwari for saying that 95 per cent people do not need petrol, and said 'the truth is that those people do not need the BJP'.
Upendra Tiwari had said that prices of petrol and diesel were not increased much considering per capita income and added that 95 per cent people do not need the petrol.
"The BJP minister said that expensive petrol does not bother the general public because 95 per cent of the people do not need petrol. Now, even the minister will not need it as the people will soon put him out of power. The truth is that 95 per cent of the people do not need the BJP," Yadav said in a tweet in Hindi.
The SP president also asked, "Does Thar need diesel?"
The obvious reference was to the recent Lakhimpur Kheri incident where four farmers were allegedly mowed down by a jeep (Mahindra Thar) owned by Union Minister Ajay Misra.
Priyanka to flag off 'Pratigya Yatra' on Saturday
Congress General secretary Priyanka Gandhi Vadra will flag-off the three 'Pratigya Yatras' from Barabanki on Saturday.
The yatras will be taken out from October 23 to November 1.
According to the Congress press release, the 'Pratigya Yatra' will commence from Barabanki in the Bundelkhand region and will end at Jhansi via Lucknow, Unnao, Fatehpur, Chitrakoot, Banda, Hamirpur and Jalaun.
Similarly, in the western Uttar Pradesh region, the yatra will start from Saharanpur and will move through Muzaffarnagar, Bijnor, Moradabad, Rampur, Bareilly, Badaun, Aligarh, Hathras, Agra and Mathura.
In Avadh region, the yatra will start from Varanasi and will end at Rae Bareli via Chandauli, Sonbhadra, Mirzapur, Prayagraj, Pratapgarh and Amethi.
During these 'Pratigya Yatras', Priyanka will hold several meetings.
Priyanka, according to party sources, is likely to make announcements like women's reservation in education and jobs, free education for women, farmer's loan waiver and rebate in electricity rates during the yatras.
She has earlier announced that the Congress will give 40 per cent of the total election tickets to women in the state.
Apart from this, she has also promised to give mobile phones and scooty to the girl students.
The Congress is also especially eyeing women voters and is making a conscious effort to neutralize caste-based politics.