Turkey plans to produce flour from Russian wheat to supply poor nations: Erdogan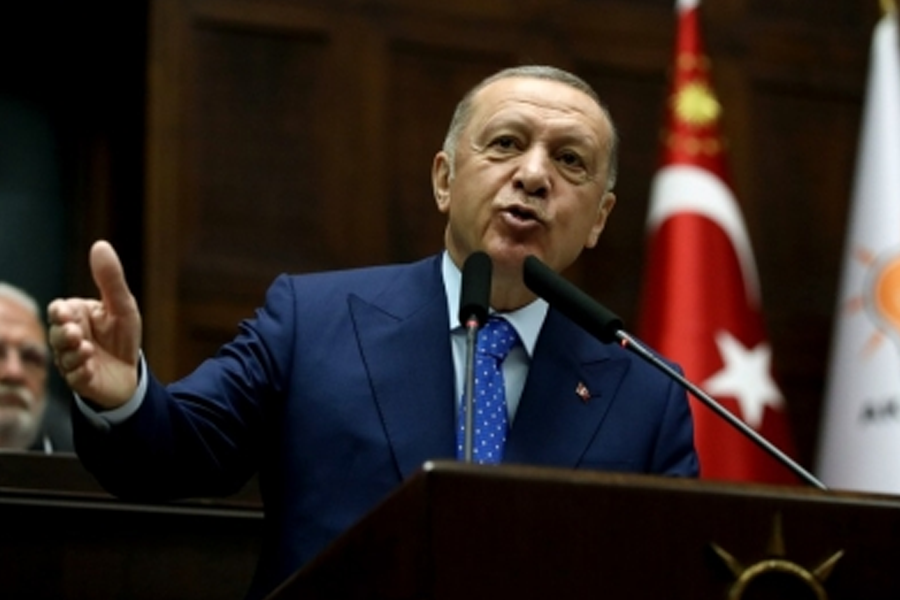 Turkish President Recep Tayyip Erdogan said that his country planned to produce flour from Russian wheat for free delivery to the least developed countries.
Erdogan said he had agreed with his Russian counterpart Vladimir Putin on such a plan, in an effort to tackle the global food crisis, Xinhua news agency reported.
"Putin made the following offer to me, 'Let's send this grain to the least developed countries, that is, to the poor countries for free'. We agreed too," the President was quoted as saying on Monday on his flight back from Qatar.
"We even made such a plan that we will buy the wheat if necessary, make it flour in Turkey, and then send it to the least developed countries," he added.
On July 22, Russia and Ukraine separately signed a document in Istanbul with Turkey and the US to ensure grain and fertilizer supplies to the global market amid Moscow's ongoing invasion of Kiev.
The deal was extended last week for another 120 days.
Since July, nearly 11.2 million tonnes of essential foodstuffs have been shipped.
However, 300,000 tonnes of Russian fertilizer remain stranded in various European ports, according to UN Conference on Trade and Development Secretary-General Rebeca Grynspan.
Ankara says it has been making efforts to pave the way for the resumption of Russian grain and fertilizer export to world markets as well.
Opening bell: Markets open in green amid positive global cues; Sensex at 62,889.90, Nifty at 18,609.90
The markets on Monday opened higher with Sensex at 62,889.90, up by 388.21 points and Nifty was at 18,609.90 with a gain of 110.55 points. Mahindra and Mahindra, TCS, HDFC, IndusInd Bank and Wipro were the top gainers in the morning session.
The stocks of Adani Transmission, Rail Vikas Nigam, IRCTC, Torrent Power and NHPC will be in focus as the companies are announcing the results for the last quarter today.
Markets on Friday
Thanks to increased buying by Foreign Institutional Investors, Sensex surged 623 points to end the week at 62,496. Nifty also went up by 0.94 per cent to hit 18,495 points at close, buoyed by a rebound for global markets and gains made by US stocks.
Global markets
Wall Street shares on Friday after being on the lower end rose sharply as the US debt ceiling progressed and chip stocks gained for a second straight day due to optimism surrounding AI. The Nasdaq Composite rose by 2.19 per cent to 12,975.69, S&P 500 closed higher at 4,205.45 and the Dow Jones Industrial Average rose to 33,093.34.
With the US debt negotiations reaching closer to a deal the Asian markets on Monday were in green. Singapore's SGX Nifty saw a gain of 159 points at 18,707, South Korea's KOSPI was comparatively flat with a gain of 4.12 points at 2,558.81 and Japan's Nikkei 225 was in the green with a gain of 159 points at 31,330.63. However, Hong Kong's Hang Seng was at 18,723.72 with a drop of 23.20 points.
Oil prices
Oil prices on Monday were were higher after as United States leaders reached a tentative decision to avoid debt default. Brent crude futures went up by 39 cents to $77.34 per barrel and US West Texas Intermediate crude was at $73.12 per barrel with a gain of 45 cents.
Rupee
Indian rupee on Monday opened flat at 82.58 per dollar against Friday's close of 82.57.
16 wounded as blast rocks Afghan city
At least 16 people have been confirmed wounded after a blast rocked Pul-e-Khumri city, the capital of Afghanistan's northern Baghlan province, local media reported.
Quoting an anonymous source, private media outlet the Salam Watandar reported that at least 16 people had been taken to a hospital for medical treatment on Friday, news agency reported.
Eyewitnesses who declined to give their names told the news agency that security forces had cordoned off the area and ambulances were seen running around the city to transport the wounded.
The Taliban administration has yet to make a comment. No group or individual has claimed responsibility.
Saudi Arabia restores diplomatic ties with Canada
Saudi Arabia and Canada have agreed to restore diplomatic relations and appoint ambassadors, the Saudi foreign ministry announced.
The Ministry said on Wednesday in a statement that the decision was made based on the two sides' wishes to restore ties on the basis of mutual respect and common interests, news agency reported.
"Canada has appointed a new ambassador to the Kingdom of Saudi Arabia, Jean-Philippe Linteau," the Canadian Foreign Ministry said in a statement while announcing the decision.
The move follows discussions between Saudi Arabian Crown Prince Mohammed bin Salman bin Abdulaziz Al Saud and Canadian Prime Minister Justin Trudeau during the APEC summit in the Thai capital of Bangkok in November 2022, the Ministry added.
Saudi Arabia recalled its ambassador from Canada in 2018 after a dispute over Canada's demand for Saudi Arabia to release detained activists.