Richa Chadha: OTT is the present and the future
COVID-19: Richa Chadha takes to donating food.
Richa Chadha has been very selective with regards to her projects on OTT but despite her choice of limited appearances, the actress is a favourite of OTT platforms.
Over the years, she has given several amazing performances and been appreciated by both the audience and the critics. In her opinion, OTT has given the much needed recognition to new talent and has diversified the content.
A lot was said about the medium of OTT in its nascent stage. Majority of the people in the content industry were not confident about the scale of OTT and whether screening films on digital platforms would prove to be a profitable method. But, the past few years have seen a meteoric rise of the medium akin to the rise of television in the '90s.
Talking about monumental developments in the OTT arena, Richa said, "All those who said that OTT can't replace films are now scouting and running around to make OTT projects and expedite. OTT is the present and the future and it will keep evolving and expanding. With the entry of global giants into India, I think the overall standard of series will only improve."
She feels that the medium has given us remarkable performances and prominent talents who were earlier not getting the right opportunity to exhibit their prowess. The actress adds, "It has brought a lot of amazing talent – like Prateik Gandhi, Jaideep Ahlawat and, (has) given the audience a chance to view their favourite actors like Shefali Shah and Manisha Koirala in newer roles. This is not to say that the cinema experience is now a thing of the past. No. I believe both will co-exist."
Richa, who was last seen in 'Candy', a Voot series, is currently gearing up for a string of projects in the pipeline that include 'Six Suspects' and 'Inside Edge'. She will also be seen donning the producer's hat for her maiden project titled 'Girls will be Girls'.
Salman Khan HUGS Vicky Kaushal at IIFA 2023 day after snub, latter says 'There is no point…'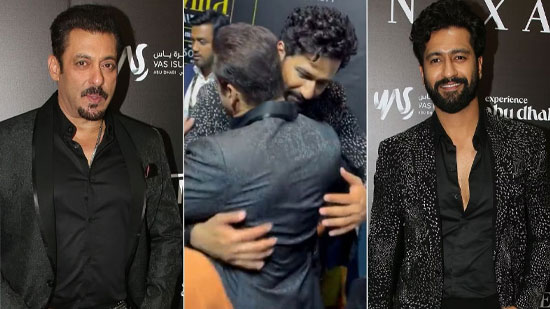 Bollywood superstar Salman Khan grabbed eyeballs and invited criticism after his guards were recently seen pushing actor Vicky Kaushal aside while he was speaking at the International Indian Film Academy (IIFA) Awards 2023. Netizens even claimed that the star ignored Vicky and walked away and labelled him as "rude and arrogant".
Within no time, the video of Vicky being shoved aside by Salman's guards went viral on the internet, and fans of the former rallied by his side.
However, Salman made sure to put the controversy to rest after he was seen hugging Vicky only a day after allegedly snubbing him.
Salman Khan hugs Vicky Kaushal
As the IIFA Awards 2023 kickstarted in Abu Dhabi, celebs made sure to put their best feet forward as they arrived for the Day 1 of the gala event.
They also tried to interact with the media for a bit, and while Vicky was doing the same, he was spotted by none other than Salman.
In another video which has gone viral, Salman can be seen himself approaching Vicky while he was busy speaking to the media, and greeted him cordially. Not just that, but he even hugged Vicky and exchanged pleasantries before proceeding for the event.
Vicky Kaushal reacts to video of him being pushed away
While interacting with the media, Vicky was obviously questioned about the video of him being pushed aside by Salman's guards which was pasted all over the internet.
However, the 'Uri' actor seemed to be unbothered by it and instead said that the entire incident was just blown out of proportion.
"A lot of times it happens that things are just blown out of proportion and a lot gets written about it. There is unnecessary chatter about many things. Things are not actually as they seem sometimes in the video. There is no point talking about that," Vicky told.
Vicky-Abhishek turn hosts for IIFA 2023
Meanwhile, the IIFA Awards 2023 will be hosted by none other than Vicky Kaushal and Abhishek Bachchan.
Salman, who has been a regular at the gala event, made sure to accommodate it in his busy schedule this year as well. In the past, he had been seen hosting the event numerous times, but this time, he decided to hand it over to Vicky and Abhishek.
Among the other celebs who attended IIFA 2023 were Rajkummar Rao, Rakul Preet Singh, Varun Dhawan, Nora Fatehi, Badshah, Nushrratt Bharuccha, Sunny Singh, Radhika Madan, Urvashi Rautela, and others.
Who is Rupali Barua? The entrepreneur who married actor Ashish Vidyarthi
Rupali Barua is a 50-year-old entrepreneur. She belongs to Guwahati, Assam and is associated with a handloom fashion store in Kolkata, NAMEG.
Unlike Ashish, Rupali isn't an avid social media user. Her Instagram profile has only 1124 followers while she follows 991 accounts back. Going by her reels, she enjoys dancing and spending time with her family members.
How did Ashish Vidyarthi and Rupali Barua meet?
While Rupali stays in Kolkata, Ashish is often seen visiting the city in his travel vlogs. Talking about how they met, the actor, "Oh, that's a long story. Will share it some other time." Rupali, on the other hand, said, "We met some time ago and decided to take it forward. But both of us wanted our wedding to be a small family affair." She also commented about Ashish, "He is a beautiful human being and a great soul to be with."
For the wedding day, Ashish, 60, was seen dressed up as a groom in a Mundu from Kerala. His bride, Rupali looked refreshing in a white and golden Mekhela Chador from Assam, as a tribute to her roots. She finished off her look with some golden jewellery inspired by South Indian temple art, as per her makeup artist. Seemingly, their wedding was attended by close family members and friends only in Kolkata.
Ashish Vidyarthi's first wife
Ashish Vidyarthi was previously married to Rajoshi Barua who is the daughter of actor Shakuntala Barua. Ashish and Rajoshi have a son, Arth Vidyarthi. Rajoshi is an actor, writer and singer.
Ashish was last seen in Trail by Fire and Kuttey, both released earlier this year. He has Netflix's Khufiya in the pipeline. The neo-noir spy thriller film is slated to release next year.
Ashish Vidyarthi shares new photos from wedding with Rupali Barua, his ex-wife Rajoshi writes 'been strong long enough' in cryptic post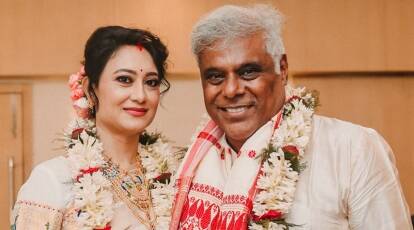 Actor Ashish Vidyarthi has shared new photos from his intimate wedding with fashion entrepreneur Rupali Barua. The 60-year-old actor can be seen dancing and taking part in rituals in the photos with the bride. They are also seen posing with family members. "Rupali and Ashish married yesterday at the Tolly club Kolkata in an intimate ceremony amidst music dance and loved ones," the actor's rep said in a statement.
The actor earlier said, "At this stage of my life, getting married to Rupali is an extraordinary feeling. We had a court marriage in the morning, followed by a get-together in the evening."
Meanwhile, the actor's first wife Rajoshi aka Piloo Vidyarthi took to her social media and shared a few quotes about the "right one" and "overthinking". Rajoshi shared two Instagram stories, which were reposts from other handles.
One of her Instagram stories read, "The right one will not make you question what you mean to them. They will not do what they know hurts you. Remember that." She shared another Instagram story that read, "May the overthinking, and the doubt exit your mind right now. May the clarity replace confusion. May peace and calmness fill your life. You've been strong long enough, it's time to start receiving your blessings. You deserve it."
A few hours before sharing the Instagram stories, Rajoshi had shared a selfie with the caption, "Do not get Puzzled in the puzzle called life."
Ashish recently got married to Rupali Barua. The 60-year-old actor previously told, "At this stage of my life, getting married to Rupali is an extraordinary feeling. We had a court marriage in the morning, followed by a get-together in the evening." Barua told the publication, "He is a beautiful human being and a great soul to be with."
The actor has an active social media following on his YouTube channel and Instagram but he is yet to share any details about his wedding on his social media.