Richa Chadha opens up on her character of a sex worker in audio show 'Baby Doll'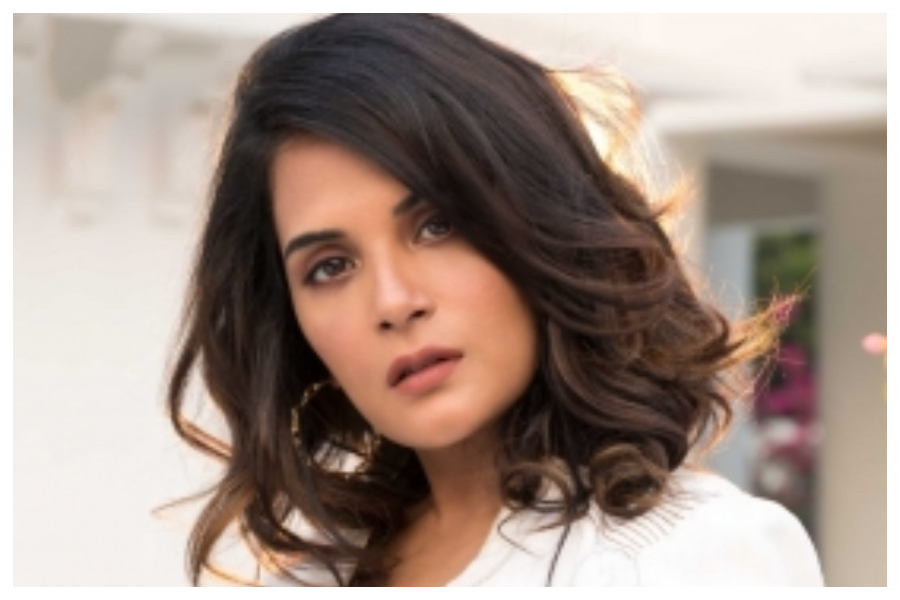 Bollywood actress Richa Chadha shares her experience of working in the audio show, 'Baby Doll' opposite Jaideep Ahlawat. The story revolves around a sex worker, Baby (Richa), her pain and revenge.
Richa says: "I play a character called Baby whose actual name is Babita Rani, and she is somebody who probably got trafficked when she was a child, and has been in this sort of trade against her will. She's a commercial sex worker so she's been in this trade for a while and she's not happy.
"But she learned to live with her reality. And there's still an assemblance of like, niceness and morality in her, even though she's in one of the most looked down upon professions and as a character also."
While talking about the USP of this audio show, the 'Gangs of Wasseypur' actress shares: "I think the USP of the show will definitely be the story and the characters. The directors work very hard on creating this show. And I think that it's got a cliffhanger approach across the whole 14-15 episodes.
"Even in the end it is kind of like, it ends on a note where you wonder whether there'll be a season two or if this is the end of this character, and it's kind of like the story of the underdog."
On sharing about the challenges of narration and preparation for it, she says: "We did a lot of readings Ato get the character right because you know, this is how I normally talk and sound but when we have to do this like a hinterland Hindi character then it has to be real. She has to have a little crassness or little bit of course language also, she's a sex worker. We have used words which typically you will not hear on camera or on radio. We've said words, and we've done things which typically you don't get to see in a podcast or even on camera."
You've played different roles. How you found this different from previous ones, she adds: "I've played a sex worker before, never for a podcast. It is very different in terms of this character's throwing caution to the wind kind of attitude is what makes her a winner in my book. And that's what will make the show on Audible also something that you can relate to you where you will feel funny, like after a few episodes that you are rooting for this character, even though you know, she doesn't really fit the moral compass of most of the audience."
The actress calls her overall experience of working in the podcast fulfilling, as she comments: "My experience of working on this was really quite incredible. We had good producers, both from Audible and the people who are handling it on their behalf from sound and vision. This is an original story. It's really about, like the hinterland, and I really hope that people can, like enjoy it for what it is. It's one of those pulpy novels, but now narrated through the voice of the female lead. And I think that's what makes it really interesting."
Richa, after debuting in a small role in the comedy film 'Oye Lucky! Lucky Oye!', got a breakthrough with a supporting role in 'Gangs of Wasseypur'.
How she looks at her journey in the entertainment industry, the actress replies: "I feel like I'm just like, at the first quarter of my journey, to be honest. I've seen everything change so rapidly in the last 10 years since I've been active. And I think that it's only going to get better. For true artists to actors, it's a good time. And now that I'm entering into production and writing, it's a very fulfilling phase because you can use more than just your face and your body, you know, you can see things in the world with the work you put out."
About her upcoming projects, she reveals: "There's 'Fukrey 3', which is a hugely successful franchise, which is what we're currently shooting for. There are basically three films. I wish I could announce them right now but I can't. I mean, I'm shooting one in July one after that, there's one film on mental health and then there's a crossover film in the UK. These are the confirmed projects. There's of course S2 'A Great Indian Murder' and things like that. So it's going to be a full full full year."
Like many celebs, she is keen on doing reality shows, the actress says: "What kind of reality show if it's a reality show where you know like these two people go on highways and eat local street food Yeah, I'm game for that. But the reality show consists of me being in like captivity, like a house with other people and forcibly fighting with them or being locked up somewhere, that never, ever, ever!"
Written by Pravesh Bhardwaj, the audio show 'Baby Doll' is available on Audible.
Salman Khan HUGS Vicky Kaushal at IIFA 2023 day after snub, latter says 'There is no point…'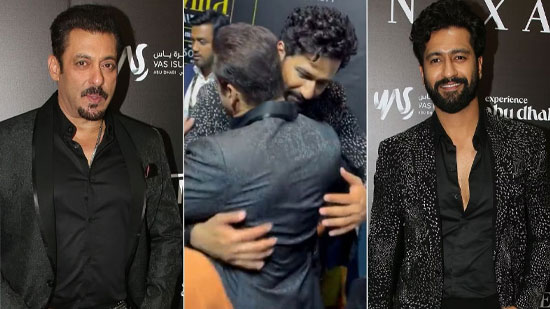 Bollywood superstar Salman Khan grabbed eyeballs and invited criticism after his guards were recently seen pushing actor Vicky Kaushal aside while he was speaking at the International Indian Film Academy (IIFA) Awards 2023. Netizens even claimed that the star ignored Vicky and walked away and labelled him as "rude and arrogant".
Within no time, the video of Vicky being shoved aside by Salman's guards went viral on the internet, and fans of the former rallied by his side.
However, Salman made sure to put the controversy to rest after he was seen hugging Vicky only a day after allegedly snubbing him.
Salman Khan hugs Vicky Kaushal
As the IIFA Awards 2023 kickstarted in Abu Dhabi, celebs made sure to put their best feet forward as they arrived for the Day 1 of the gala event.
They also tried to interact with the media for a bit, and while Vicky was doing the same, he was spotted by none other than Salman.
In another video which has gone viral, Salman can be seen himself approaching Vicky while he was busy speaking to the media, and greeted him cordially. Not just that, but he even hugged Vicky and exchanged pleasantries before proceeding for the event.
Vicky Kaushal reacts to video of him being pushed away
While interacting with the media, Vicky was obviously questioned about the video of him being pushed aside by Salman's guards which was pasted all over the internet.
However, the 'Uri' actor seemed to be unbothered by it and instead said that the entire incident was just blown out of proportion.
"A lot of times it happens that things are just blown out of proportion and a lot gets written about it. There is unnecessary chatter about many things. Things are not actually as they seem sometimes in the video. There is no point talking about that," Vicky told.
Vicky-Abhishek turn hosts for IIFA 2023
Meanwhile, the IIFA Awards 2023 will be hosted by none other than Vicky Kaushal and Abhishek Bachchan.
Salman, who has been a regular at the gala event, made sure to accommodate it in his busy schedule this year as well. In the past, he had been seen hosting the event numerous times, but this time, he decided to hand it over to Vicky and Abhishek.
Among the other celebs who attended IIFA 2023 were Rajkummar Rao, Rakul Preet Singh, Varun Dhawan, Nora Fatehi, Badshah, Nushrratt Bharuccha, Sunny Singh, Radhika Madan, Urvashi Rautela, and others.
Who is Rupali Barua? The entrepreneur who married actor Ashish Vidyarthi
Rupali Barua is a 50-year-old entrepreneur. She belongs to Guwahati, Assam and is associated with a handloom fashion store in Kolkata, NAMEG.
Unlike Ashish, Rupali isn't an avid social media user. Her Instagram profile has only 1124 followers while she follows 991 accounts back. Going by her reels, she enjoys dancing and spending time with her family members.
How did Ashish Vidyarthi and Rupali Barua meet?
While Rupali stays in Kolkata, Ashish is often seen visiting the city in his travel vlogs. Talking about how they met, the actor, "Oh, that's a long story. Will share it some other time." Rupali, on the other hand, said, "We met some time ago and decided to take it forward. But both of us wanted our wedding to be a small family affair." She also commented about Ashish, "He is a beautiful human being and a great soul to be with."
For the wedding day, Ashish, 60, was seen dressed up as a groom in a Mundu from Kerala. His bride, Rupali looked refreshing in a white and golden Mekhela Chador from Assam, as a tribute to her roots. She finished off her look with some golden jewellery inspired by South Indian temple art, as per her makeup artist. Seemingly, their wedding was attended by close family members and friends only in Kolkata.
Ashish Vidyarthi's first wife
Ashish Vidyarthi was previously married to Rajoshi Barua who is the daughter of actor Shakuntala Barua. Ashish and Rajoshi have a son, Arth Vidyarthi. Rajoshi is an actor, writer and singer.
Ashish was last seen in Trail by Fire and Kuttey, both released earlier this year. He has Netflix's Khufiya in the pipeline. The neo-noir spy thriller film is slated to release next year.
Ashish Vidyarthi shares new photos from wedding with Rupali Barua, his ex-wife Rajoshi writes 'been strong long enough' in cryptic post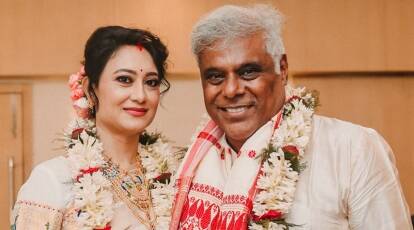 Actor Ashish Vidyarthi has shared new photos from his intimate wedding with fashion entrepreneur Rupali Barua. The 60-year-old actor can be seen dancing and taking part in rituals in the photos with the bride. They are also seen posing with family members. "Rupali and Ashish married yesterday at the Tolly club Kolkata in an intimate ceremony amidst music dance and loved ones," the actor's rep said in a statement.
The actor earlier said, "At this stage of my life, getting married to Rupali is an extraordinary feeling. We had a court marriage in the morning, followed by a get-together in the evening."
Meanwhile, the actor's first wife Rajoshi aka Piloo Vidyarthi took to her social media and shared a few quotes about the "right one" and "overthinking". Rajoshi shared two Instagram stories, which were reposts from other handles.
One of her Instagram stories read, "The right one will not make you question what you mean to them. They will not do what they know hurts you. Remember that." She shared another Instagram story that read, "May the overthinking, and the doubt exit your mind right now. May the clarity replace confusion. May peace and calmness fill your life. You've been strong long enough, it's time to start receiving your blessings. You deserve it."
A few hours before sharing the Instagram stories, Rajoshi had shared a selfie with the caption, "Do not get Puzzled in the puzzle called life."
Ashish recently got married to Rupali Barua. The 60-year-old actor previously told, "At this stage of my life, getting married to Rupali is an extraordinary feeling. We had a court marriage in the morning, followed by a get-together in the evening." Barua told the publication, "He is a beautiful human being and a great soul to be with."
The actor has an active social media following on his YouTube channel and Instagram but he is yet to share any details about his wedding on his social media.