Raj govt on mission mode to check spreading lumpy skin disease among cattle
Rajasthan government has gone on an alert mode in view of the rising number of cattle stock falling prey to the lumpy skin disease and has directed the officers to work on a mission mode for the prevention of the disease.
As per officials, over 4,000 cows in the state have died due to the disease and thousands have been infected.
Animal Husbandry Minister Lalchand Kataria said that funds worth Rs 8-12 lakh have been disbursed at the division level offices in Ajmer, Bikaner and Jodhpur to buy emergency essential medicines. An amount of Rs 2 to 8 lakh has also been disbursed for other affected districts. In view of the emergency situation, the medicines available in the drug stores of other districts have been sent to the affected districts. Permission has been given to buy essential medicines under the brand name if the generic name is not available.
The minister said that the state medical teams and teams from neighbouring districts have been sent to the more affected districts. For the affected districts, 29 veterinary doctors and 93 livestock assistants have been deployed from other districts. Approval of 30 additional vehicles has been issued for effective monitoring and treatment of sick animals. Nodal officers sent from the directorate are visiting the affected areas and monitoring them continuously. More staff will be sent from other districts if required. A control room has been set up in the affected districts as well as at the Jaipur Headquarters for continuous monitoring of the disease spreading among livestock.
Giving instructions to control the lumpy skin disease completely in 15 days, secretary P.C. Kishan said that close monitoring is being done in Barmer, Jalore, Jaisalmer, Jodhpur and Sirohi districts due to high infection. He said that vigilance is also being done in other districts, including Dungarpur, Banswara, Udaipur, Rajsamand adjoining Gujarat. He said that teams from Indian Council of Agricultural Research, New Delhi and National Institute of High Security Animal Diseases, Bhopal have collected samples of sick animals from Jodhpur and Nagaur districts.
Kishan informed that the districts have been given full powers to deal with this disaster of disease outbreak. He instructed the officers to keep the sick animals separate from the healthy animals. Along with this, instructions were given to dispose of the dead animals through scientific methods.
"The outbreak of this disease is high in Jodhpur division, although the death rate is not high. One to 1.5 per cent of the animals that get sick are dying, which are very weak and have low immunity. Veterinarians are doing symptomatic treatment to prevent the disease. In order to protect healthy animals from the disease, animal owners have been advised to keep the infected animal completely separated, if symptoms like fever and lump, etc., are detected," said the officials.
Kataria was reviewing measures being taken for the prevention of the disease with the officials of the affected districts through video conferencing at Pant Shi Bhawan here on Wednesday.
He directed the officers to immediately reach the spot on getting information about the infection and make the people aware of the preventive measures.
Chief Secretary Usha Sharma also had a meeting with ten district collectors and district level officers of the Animal Husbandry Department through video conferencing to review the status of lumpy skin disease spreading in the state and the efforts being made to prevent it. She informed that the state government was taking all the necessary steps with alertness and sensitivity regarding the spreading of lumpy skin disease in cattle in the state.
Jawaharlal Nehru Death Anniversary: PM Modi, Rahul Gandhi, Kharge & others pay tribute to the former prime minister of India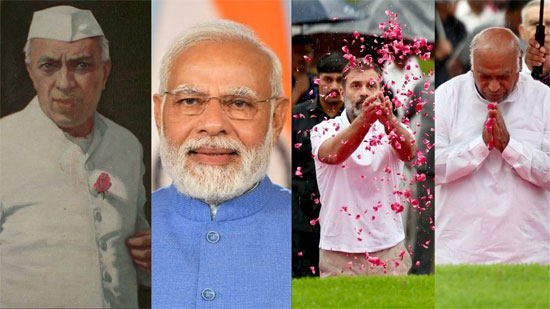 On May 27 in 1964, India's first prime minister Jawaharlal Nehru, fondly known as 'Chacha Nehru' breathed his last after suffering a cardiac arrest. On his death anniversary, several leaders paid their tributes to Nehru and offered their respects to him. While Congress leaders Rahul Gandhi and Mallikarjun Kharge offered flowers and prayed at the Shanti Van memorial in New Delhi on Saturday. Meanwhile, present PM Narendra Modi shared tweet marking the day.
PM Modi on Nehru's death anniversary
"On his death anniversary, I pay tributes to our former PM Pandit Jawaharlal Nehru," PM Modi tweeted in memory of the former leader on his 59th death anniversary.
Congress pays floral tribute
Congress President Mallikarjun Kharge and former party leader Rahul Gandhi paid floral tributes along with party treasurer Pawan Bansal, and others at the Shanti Van memorial in the national capital.
The party shared several tweets to remember Nehru on his death anniversary. After sharing visuals from the memorial, Congress on Twitter shared quote-based greetings to mark the significant day.
About the first PM of India
Nehru played a prominent role in India's freedom struggle. He also went on to become India's first Prime Minister after Independence in 1947. He was among the key leaders of the Indian National Congress (INC).
On May 27, 1964, the first Prime Minister of India took his last breath. He served for over 16 years from 1947 to 1964 till he died at the age of 74.
He had a great fondness for kids, and children use to call him Chacha Nehru and his birthday is celebrated as Children's Day every year.
CM Shinde inaugurates 2nd phase of Mumbai-Nagpur Samruddhi Expressway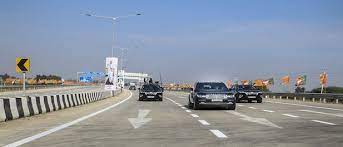 Shirdi: The second phase of Mumbai – Nagpur Expressway, between Shirdi and Bharvir (17 kms off Igatpuri) was inaugurated on Friday by Chief Minister Eknath Shinde. The stretch opened on Friday spans 80 km, of the 701 km of overall Expressway between Mumbai and Nagpur. Now, only 100 km of portion between Bharvir and Mumbai remains to be completed. The first phase was inaugurated by Prime Minister Narendra Modi in December 2022.
Cost of the 2nd phase of 80 km Rs 3,200 crore
The second phase of the Expressway has 7 major bridges, 18 minor bridges, 53 underpasses, 3 interchanges, 56 toll booths, 6 weigh bridges among others.
The cost of the second phase of 80 km is Rs 3,200 crore.
Touted as a game changer project as it connects 24 districts of Maharashtra from the regions of North Maharashtra, Marathwada and Vidarbha. This green field alignment passes through 392 villages in 26 talukas of 10 districts.
With the opening of the second phase, the travel time taken between Shirdi and Nashik will come down by half to five to six hours instead of over 12 hours, so far.
"It is proposed to set up 18 agricultural development centres along the entire Expressway stretch," said a Maharashtra State Road Development Corporation (MSRDC) official.
Weather update: India to witness normal monsoon rains in 2023, reports IMD
India Meteorological Department (IMD) on Friday predicted that the country need not worry about severe or unlikely monsoons this year. The weather agency noted that India would witness normal monsoon rains in 2023 in most regions, and thus no major warnings or alerts were issued for the upcoming rainy season.
What is El Nino?
Noting the monsoon period across Indian states and UTs, IMD stated in a release that "Normal monsoon rains are likely in 2023 despite the likely emergence of the El Nino weather phenomenon."
El Nino typically means trouble for the Pacific and a break for the Atlantic coast and the Caribbean. This climate phenomenon is highly likely to form this year.
Monsoon across India
IMD has predicted a below-normal rainfall in Northwest India i.e. less than 92% LPA whereas normal rainfall in North east India, Central India, and South Peninsular India.
Reportedly, the southwest monsoon over the Indian mainland is marked by monsoon onset over Kerala and is an important indicator characterizing the transition from a hot and dry season to a rainy season. The southwest monsoon was expected from June to September with a normal rainfall i.e. 96 to 104 percent of Long period average (LPA).
"Once the monsoon will get established strong, we are expecting the monsoon to arrive in Kerala around June 4. Before June 1, we are not expecting monsoon to arrive," the weather agency stated.