Presidential Poll: After Sharad Pawar's firm 'no', NCP thanks all Oppn parties
After a firm 'no' by Nationalist Congress Party (NCP) President Sharad Pawar, the NCP on Wednesday officially expressed its gratitude to all the 17 major Opposition parties for unanimously recommending his name as the candidate for the upcoming Presidential election.
"I sincerely appreciate the leaders of Opposition parties for suggesting my name as a candidate for the election of the President of India at the meeting held in Delhi. However, I would like to state that I have humbly declined the proposal of my candidature," Pawar tweeted on Wednesday evening.
He has also requested all the Opposition leaders to consider more names as potential candidates for the country's top post when they converge again in Delhi on June 21.
"A joint meeting of the united Opposition was called by West Bengal Chief Minister Mamta Banerjee to discuss and unitedly recommend one name as the Opposition's candidate for the post of the President of India. NCP thanks all the 17 political parties who unanimously recommended the name of NCP supremo Sharad Pawar as the Opposition's candidate," NCP's chief spokesperson Mahesh Tapase said in Mumbai.
He said it was gratifying that all the Opposition parties felt that Pawar's candidature was the "most suited for the President's post owing to his long political experience and unshakable faith in the Indian Constitution".
The leaders were also optimistic that Pawar's name would find favour with many other political parties who are currently with the BJP, said Tapase, reiterating the NCP's known official stance on the issue since the past few months.
Nevertheless, Maha Vikas Aghadi ally Shiv Sena remains a strong proponent for the NCP supremo as a united Opposition nominee for the top Constitutional office with Sena MP Sanjay Raut even saying "Pawar will not be a rubber-stamp President".
26/11 Mumbai Attack: Crime Branch's Probe Reveals That Tahawwur Rana Visited Crowded Places Across City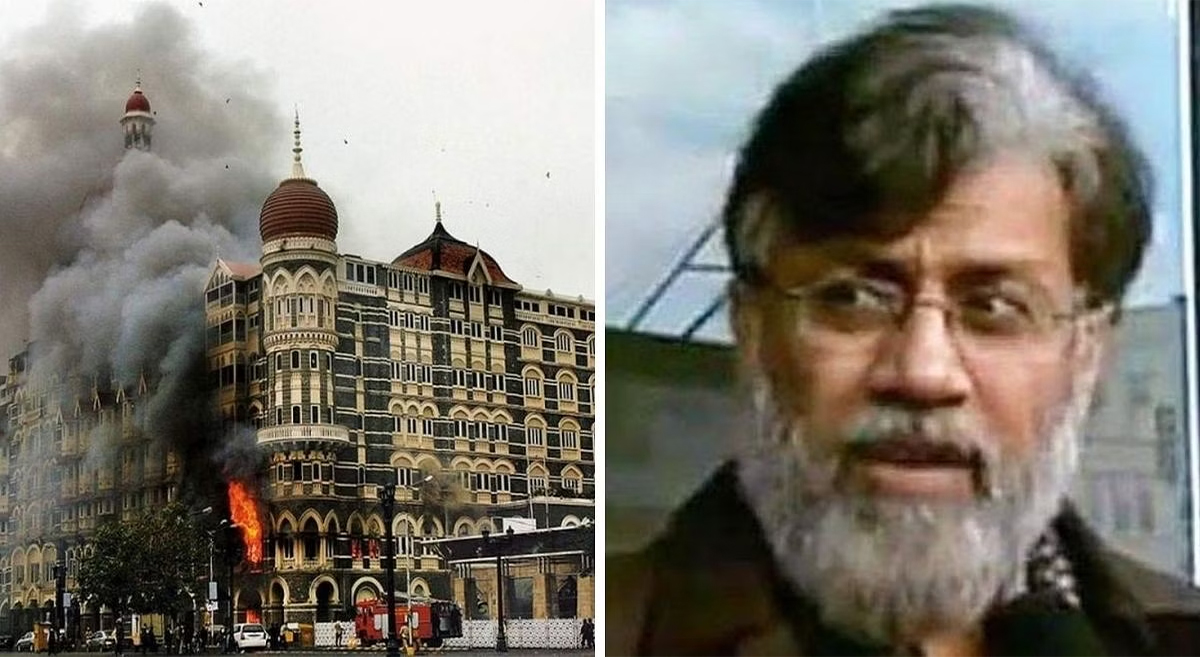 Mumbai: The Crime Branch on Tuesday submitted an application in the Mumbai Special Court for issuance of a non-bailable warrant (NBW) against Tahawwur Rana, who is currently lodged in a California jail and has been found eligible for extradition to India. Rana has already challenged the order in a higher court, further delaying the extradition process.
According to the 405-page supplementary charge sheet filed against the 26/11 co-conspirator, Rana has revealed that he had discussed crowded places in south Mumbai with the staff of a hotel in Powai. The charge sheet states that Rana visited some of those places, where later attacks took place.
Rana Stayed In A Powai Hotel
According to the charge sheet, police found that he had stayed in a hotel in Powai in November 2008. He had deposited a copy of his passport and visa at the hotel. An official said the statement of a hotel employee was recorded and "we found that he discussed crowded places in the city and some of them were targeted by the attackers, including CSMT."
Thane Crime: Man Held For Strangling His Mentally-Challenged Daughter To Death In Dombivli
Thane, September 25: A 35-year-old man has been arrested for allegedly strangling his 10-year-old mentally-challenged daughter to death in their house in Thane district of Maharashtra a day before, police said on Monday. The couple has four daughters, aged between 5 to 14, and the youngest of them lives with her grandparents in their native village, a police official said.
Agrahari is an alcoholic and used to beat his wife
The accused Manoj Agrahari allegedly strangled his daughter, Lovely, at their home in Dombivli when other members had gone out, an official said quoting the FIR. Agrahari is an alcoholic and used to beat his wife, he said.
The accused works at a grocery shop while his wife is employed at a company
The accused works at a grocery shop while his wife is employed at a company in the MIDC area of Dombivli. The victim, Lovely, has been mentally challenged and also speech and hearing impaired since her birth.
When the girl rushed home she saw her sister lying dead on bed and alerted her mother
According to the complaint, Agrahari went to the scrap shop where his 14-year-old daughter was working on Sunday and told her that Lovely was dead. When the girl rushed home she saw her sister lying dead on bed and alerted her mother, the official said. Police have registered a case of murder under the Indian Penal Code and conducting further investigation.
Bombay HC To Hear Fresh Plea Challenging Renaming Of Aurangabad, Osmanabad; Case Listed On Sept 29
Mumbai: Bombay High Court has agreed to hear a fresh petition challenging the renaming of Aurangabad, Osmanabad districts, revenue areas. The hearing for the same has been scheduled on September 29. Earlier, a plea was withdrawn as the Maharashtra government said it had not issued final notifications for their renaming.
This is a breaking news. More details are awaited.