Petrol, diesel prices static as global oil situation under watch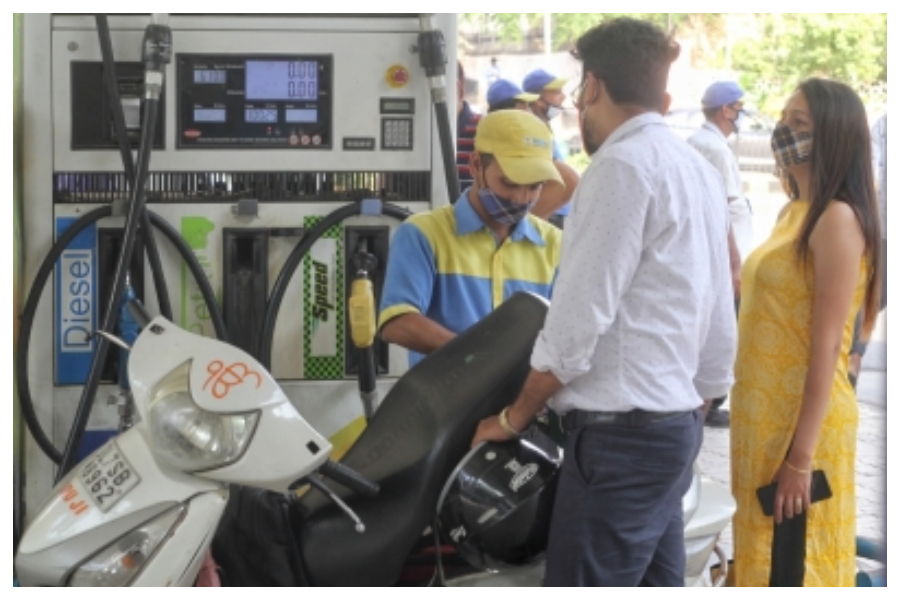 Oil marketing companies have continued to provide relief to consumers from rising fuel prices post revision of duties by the central and state governments on Diwali eve.

Accordingly, petrol and diesel prices remained static for the 20th consecutive day on Wednesday under the daily price revision mechanism followed by oil marketing companies.

So, the pump price of petrol in Delhi, which fell to Rs 103.97 a litre at 6 a.m. on the Diwali day on November 4 from the previous day's level of Rs 110.04 a litre, remained at the same level on Wednesday. The diesel price also remained unchanged in the capital at Rs 86.67 a litre.

Even with lower fuel prices, petrol continues to be the most expensive in Delhi among all the NCR cities as the state government has not revised VAT on the petroleum products so far.

In the financial capital Mumbai, petrol continues to be priced at Rs 109.98 a litre and diesel Rs 94.14 a litre.

Prices also remained static on Wednesday in Kolkata where the price of petrol reduced by Rs 5.82 to Rs 104.67 per litre and that of diesel by Rs 11.77 to Rs 89.79 per litre in the first week of November.

Petrol price in Chennai also remained at Rs 101.40 per litre and diesel Rs 91.43 per litre.

Across the country as well, the price of the fuel largely remained unchanged on Wednesday, but the retail rates varied depending on the level of local taxes.

The global crude prices, which has touched a three-year high level of over $85 a barrel on several occasions in the past one month, has softened a bit now to around $ 82 a barrel. Rise in the US inventory and release of strategic oil by few countries has pushed down crude prices, but OPEC+ decision on only gradual increase in production in December could raise crude prices further.

Before price cuts and pause, diesel prices have increased 30 out of the last 61 days taking up its retail price by Rs 9.90 per litre in Delhi.

Petrol prices have also risen 28 of the previous 57 days taking up its pump price by Rs 8.85 per litre.

Since January 1, 2021, petrol and diesel prices have risen by more than Rs 26 a litre before the duty cuts.

The excise duty cut by the Centre on November 3 was the first such exercise since the onset of Covid pandemic. In fact, the government had revised excise duty on petrol and diesel sharply in March and again in May last year to mobilise additional resources for Covid relief measures.

The excise duty was raised by Rs 13 and Rs 16 per litre on petrol and diesel between March 2020 and May 2020 and was standing high at Rs 31.8 on diesel and Rs 32.9 per litre on petrol before finally the Centre decided on duty cut .


Unheard of Rs 3.3 lakh Cr bank deposit bulge in Diwali week slumped in a fortnight
State Bank of India's Economic Research Department has highlighted the curious case of Rs 3.3 lakh crore deposit bulge and the Rs 2.7 lakh crore deposit slump in alternate fortnights.
As per the provisional data released by RBI for the fortnight ended November 19, ASCB's aggregate deposits have slumped by Rs 2.7 lakh crore during the fortnight. The slump in deposits follows an abrupt increase by Rs 3.3 lakh crore during the previous fortnight ended November 5. Interestingly, such growth in deposits was around 36 per cent of the incremental deposit growth at that point of time. This increase in deposits and subsequent slump is quite a contrarian trend, says Soumya Kanti Ghosh, Group Chief Economic Adviser, State Bank of India.
While it may be exactly difficult to decipher the increase and subsequent decline, it does pose questions on liquidity management/financial stability or a shift in behavioural trend in customer payment habits through digitisation and hence lower currency leakage and concomitant deposit bulge or both.
First, the fortnightly increase of Rs 3.3 lakh crore. This has never happened during a Diwali week as there is always a currency leakage and concomitant deposit decline. This is also the fifth largest increase in any fortnight in the last 24 years. Such huge incremental addition has happened only a few times, with higher deposits accretion (than the current year's fortnight) occurring during the fortnight ended November 25, 2016 (Rs 4.16 lakh crore), September 30, 2016 (Rs 3.55 lakh crore), March 29, 2019 (Rs 3.46 lakh crore) and April 1, 2016 (Rs 3.41 lakh crore). However, the increase in November 2016 was because of demonetisation and the March and April fortnightly increases could be attributed to seasonal year-end bulge. In this respect, the current deposit bulge requires a detailed explanation, the report said.
Next, the fortnightly deposit slump in the subsequent fortnight. 'We believe that it is possible that there was a large influx of deposits into the banking system for the fortnight ended November 5, 2021 in anticipation of a build up in rally in stock markets post primary issuances of new age companies and others. However, when such a rally did not materialise, the bulge in banking deposits slumped and almost 80 per cent of deposit bulge was withdrawn, the report said.
Interestingly, the amount of money parked in fixed reverse repo window jumped from Rs 0.45 lakh crore on October 19 to Rs 2.4 lakh crore on November 17, 2021 and has remained at such level till December 1. However, it must be noted that the significant jump in digital transactions has also resulted in lower usage of cash in the current fiscal and ideally could also have resulted in a surge in deposits for the Diwali week.
Meanwhile, if we look at the quarterly ASCB data, though the deposits growth remains same in Q2 (2.6 per cent) as compared to Q1 (2.5 per cent), sequentially at all-India level, apart from Metro regions, the deposits growth has decelerated in Q2 as compared to Q1, particularly in rural areas indicating that the current economic recovery is mostly urban led and rural economy is still recouping. Meanwhile, ASCB's credit has increased by Rs 1.18 lakh crore (7.1 per cent YoY) during the fortnight ended November 5, which may be due to festive demands.
Oil marketing companies keep diesel, petrol prices unchanged
Oil marketing companies kept diesel and petrol prices unchanged across major Indian cities on Friday.
Accordingly, diesel and petrol prices in Delhi stood at Rs 86.67 per litre and Rs 95.41 per litre, respectively.
In the financial capital Mumbai, the prices remained unchanged at Rs 94.14 and Rs 109.98 respectively.
Prices also remained static in Kolkata at Rs 89.79 and Rs 104.67 respectively.
In Chennai too, it remained at Rs 91.43 and Rs 101.40 respectively.
Across the country as well, the price of the fuel largely remained unchanged on Friday, but the retail rates varied depending on the level of local taxes.
Equity indices rise for third consecutive day
The 30-scrip Sensitive Index (Sensex) rose in the early trade on Friday. Indices have been gaining for the past three consecutive sessions.

At 9.15 a.m., the S&P BSE Sensex traded at 58,671 points, up 0.37 per cent.

It opened at 58,555 points from the previous close of 58,461 points.

Till now it has touched a low of 58,512 points.

Besides, the broader 50-scrip Nifty at the National Stock Exchange (NSE) opened at 17,424 points after closing at 17,401 on Thursday.

It traded at 17,475 points, up 0.39 per cent during the early-morning trade session.

Hindustan Zinc, Infosys, NMDC, L&T and BPCL were some of the top gainers during the early trade, exchange data showed.