Petrol, diesel prices hiked for 12th time in 14 days
The State-run oil marketing companies on Monday raised key transport fuel prices for the 12th time in the last 14 days.
Consequently, in the past 14 days, petrol prices have increased by Rs 8.40 per litre in the national capital.
These prices were revised for the very first time on March 22 after a gap of more than four months.
On Monday, the price of petrol and diesel in New Delhi were increased again by 40 paise per litre.
As per pump prices, petrol now costs Rs 103.81 per litre and diesel Rs 95.07 per litre in the national capital.
In the financial capital Mumbai, prices were hiked to Rs 118.83 per litre for petrol and diesel to Rs 103.07 per litre.
Besides, the prices of both the transport fuels were raised in Kolkata. The petrol prices rose to Rs 113.45 and diesel to Rs 98.22 per litre.
In Chennai too, they were increased and petrol there now costs Rs 109.34 and diesel Rs 99.42 per litre.
Till last Tuesday, fuel prices were steady since November 2021 when the Centre reduced excise duty on petrol and diesel by Rs 5 and Rs 10 per litre, respectively.
The OMCs revised the transportation fuel cost based on various factors such as rupee to US dollar exchange rate, cost of crude oil and demand of fuel amongst others.
Resultantly, the final price includes excise duty, value added tax and dealer's commission.
It was widely expected that the OMCs will revise the current prices due to high crude oil cost.
Lately, crude oil prices have been volatile on fears of tight supplies due to sanctions against Russia.
The crude oil price range is a cause of concern for India as it may ultimately add Rs 10-15 in petrol and diesel selling prices.
At present, India imports nearly 85 per cent of its crude oil requirements.
Centre asks Vodafone Idea to convert Rs 16,000 dues into equity
Financially-stressed telecom company Vodafone Idea said on Friday that the government has directed it to convert a portion of its dues worth Rs 16,000 crore it owes to the exchequer into equity in the government's favour.
"It is hereby informed that the Ministry of Communications has [directed] the company to convert the NPV of the interest related to deferment of spectrum auction instalments and AGR dues into equity shares to be issued to the government of India," the company said in a filing.
The government will take 33 per cent equity in Vodafone Idea after converting all interest related to payments for spectrum and other dues into equity.
This will make the government the largest shareholder in the telecom company.
Vodafone Idea will convert dues of Rs 16,133 crore into equity and issue shares for Rs 10 each, the company informed.
"We had sought a firm commitment that the Aditya Birla Group would run the company and bring necessary investments. The Birlas have agreed and hence we have agreed to convert. We want India to be a three-player market plus BSNL and ensure healthy competition for consumers," Telecom Minister Ashwini Vaishnaw said in a statement.
I-T dept raids over 30 locations of five builder groups across Jaipur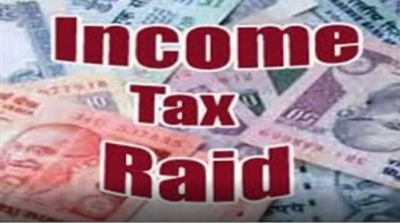 The Income Tax department on Thursday raided over 30 locations of five builder groups across Jaipur. The teams also conducted search operations at two locations of a builder group in Gurugram.
Officials said that the I-T department had received a tip-off that these builders were engaged in making cash deals while selling flats in multi-storey buildings, plots and commercial properties in Jaipur.
After verification, 40 teams of the investigating branch of the I-T department raided their locations on Thursday morning. Raids have been conducted at the premises of Manglam Group, Sanjivani, R-Tech, Jugal Derewala and Haridutt, including their offices, corporate offices and residential premises.
The I-T teams have raided places in Jaipur including Tonk Road, Mansarovar, Rajapark, Jagatpura, C-Scheme, Civil Lines, Ajmer Road, Delhi Road, Agra Road and Sanganer.
Sources said that the department had received complaints of undisclosed income running into crores of rupees. All the five builders were using cash to buy and sell land. So the I-T teams raided around 38 targets simultaneously. According to the information received so far, huge amount of cash, and documents of land purchase and sale have been found from their premises.
Reliance Retail begins accepting govt's digital rupee for sales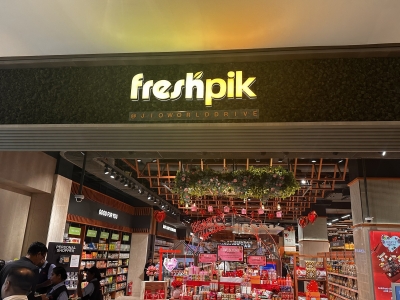 Reliance Retail on Thursday announced it has begun accepting retail payments via the Indian government's Digital Rupee across its stores in the country.
Reliance Retail launched the first in-store acceptance of the RBI-created and Blockchain-based Central Bank Digital Currency (CBDC) at its gourmet food store Freshpik here.
The CBDC is the a digital version of fiat money that will co-exist will hard cash.
"This historic initiative of pioneering the digital currency acceptance at our stores is in line with the company's strategic vision of offering the power of choice to Indian consumers," said V. Subramaniam, Director, Reliance Retail.
"With more Indians willing to transact digitally, this initiative will help us provide yet another efficient and secure alternative payment method to customers at our stores," he added in a statement.
Reliance Retail has collaborated with ICICI Bank, Kotak Mahindra Bank and fintech Innoviti Technologies to launch the in-store support for the digital rupee.
"Digital Rupee fulfils the need of consumers who still prefer the trust, safety and settlement finality of physical currency," said Rajeev Agrawal, Founder and CEO of Innoviti Technologies.
The RBI kicked off the first phase of a retail CBDC pilot in four cities and involving four key banks late last year.
A CBDC can play a key role in providing access to digital payments without the requirement of a bank account and the access would be facilitated by a central bank-issued digital wallet.
Use of e-rupee is expected to make the inter-bank market more efficient.
Settlement in central bank money would reduce transaction costs by pre-empting the need for settlement guarantee infrastructure or for collateral to mitigate settlement risk.
Going forward, other wholesale transactions, and cross-border payments will be the focus of future pilots, based on the learnings from this pilot project.