Patna's AQI deteriorates post Diwali
The Air Quality Index (AQI) in Patna deteriorated on Tuesday after Diwali festivities the previous night.
As per the AQI index board installed at the Patna Secretariat, a reading of 282 was recorded in Danapur, 268 in Muradpur, 262 in Samanpura and 258 in Vidhan Sabha.
These figures are considered very unhealthy for humans.
An official said that the current AQI level is 80 points higher than normal days, adding that the smoke and gases generated due to bursting of crackers are responsible for the deterioration of the air quality.
Ashok Kumar Ghosh, chairman of the Bihar State Pollution Control Board (BSPCB), said: "We have taken some initiatives including sprinkling water on roads apart from removal of dust. Besides, we have also imposed a ban on open construction of buildings.
"As the temperature of the city is also dipping, many people are burning wood and other materials to keep themselves warm. We have been monitoring this on roads and trying to prevent it. Separate BSPCB teams are also deployed to keep an eye on burning solid waste."
An AQI from 0 to 50 is considered "good"; from 51 to 100 "moderate"; from 101 to 150 "unhealthy" for sensitive groups; from 151 to 200 "unhealthy" for all groups; from 201 to 300 "very unhealthy"; and from 301 to 500 "hazardous" for human health.
Massive Storm Of Dust As Two Multi-Storied Buildings Come Crashing Down In Controlled Demolition At Hyderabad IT Park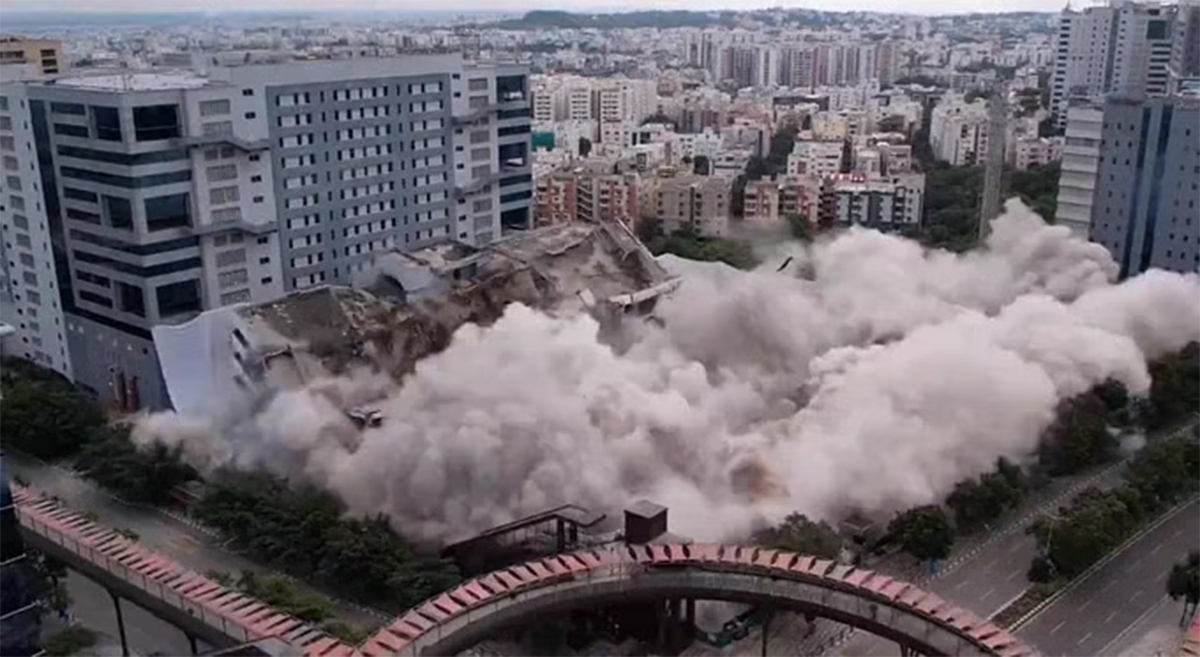 Hyderabad: Two multi-storied buildings in a leading IT park in Hyderabad were demolished on Saturday. Buildings 7 and 8 in Raheja Mindspace IT Park in Madhapur were demolished to construct new buildings in their place.
Huge storm of dust
Video clips of controlled demolitions were widely circulated on social media. The demolitions raised a huge storm of dust. It took all precautions to protect other multi-storied structures in the IT Park from any damage.
Controlled demolitions
Latest technology was used to raze G+4 buildings early in the morning. Edifice and Jet Demolition carried out controlled demolitions.
The IT Park is located at the heart of Hyderabad Information Technology and Engineering Consultancy (Hitec) City, the IT hub. The park houses several IT giants and a five-star hotel.
The buildings were reportedly demolished due to some technical issues. The developer plans to construct new structures which are likely to be completed in three-four years.
Complaint about lapse in safety & security of women & small children devotees in Lalbagh Raja's pandal was lodged with Mumbai Police Commissioner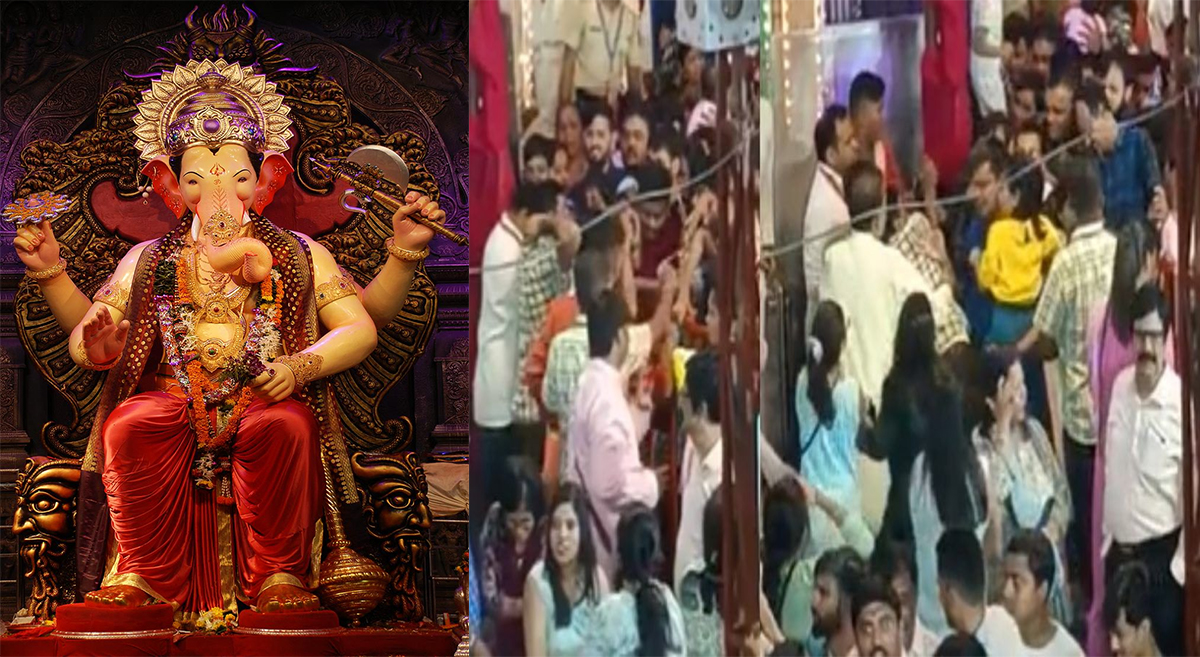 A complaint has been filed before the Mumbai Police Commissioner by Bombay High Court Advocate Ashish Rai, Pankaj Mishra about the day-to-day incidents happening with helpless children, women and elderly couples in the pandal of "Lalbaugcha Raja".
In the complaint, mainly the inhuman acts being done to the general visitors and the negligence in the constitutional security arrangements due to the irresponsible management attitude of the Maharashtra State Administration, Mumbai Police Administration and the local pandal manager have been strongly raised.
It has been demanded in the complaint that, under Article 14 of the Right to Equality of the Constitution, equal security arrangements should be provided by the police administration of Maharashtra State without any discrimination between the VIPs and ordinary visitors.
During the darshan of the king of Lalbagh, on the arrival of any special guest or person, proper arrangements should be made to allow the common visitors to have darshan without any hindrance.
Further mention that in this complaint Under Article 21 of the Constitution, strong arrangements for security and facilities should be made for helpless children, women and elderly couples so that any untoward incident can be prevented from happening in the pandal in future.
Special police administration will be arranged in the pandal to immediately lodge complaints against helpless children, women and senior citizen, use of abusive language or molestation by the volunteer and other workers of the pandal, so that the visitors can avail the special facility of filing complaints. And these facility proper management should be done to guide.
Helpless children, women and elderly couples should be provided facilities under special arrangements during arrival and departure.
Kulhad Pizza Owner Accuses YouTuber Karan Dutta Of Circulating Viral MMS Video, Says 'I'm Unable To Step Out Of House'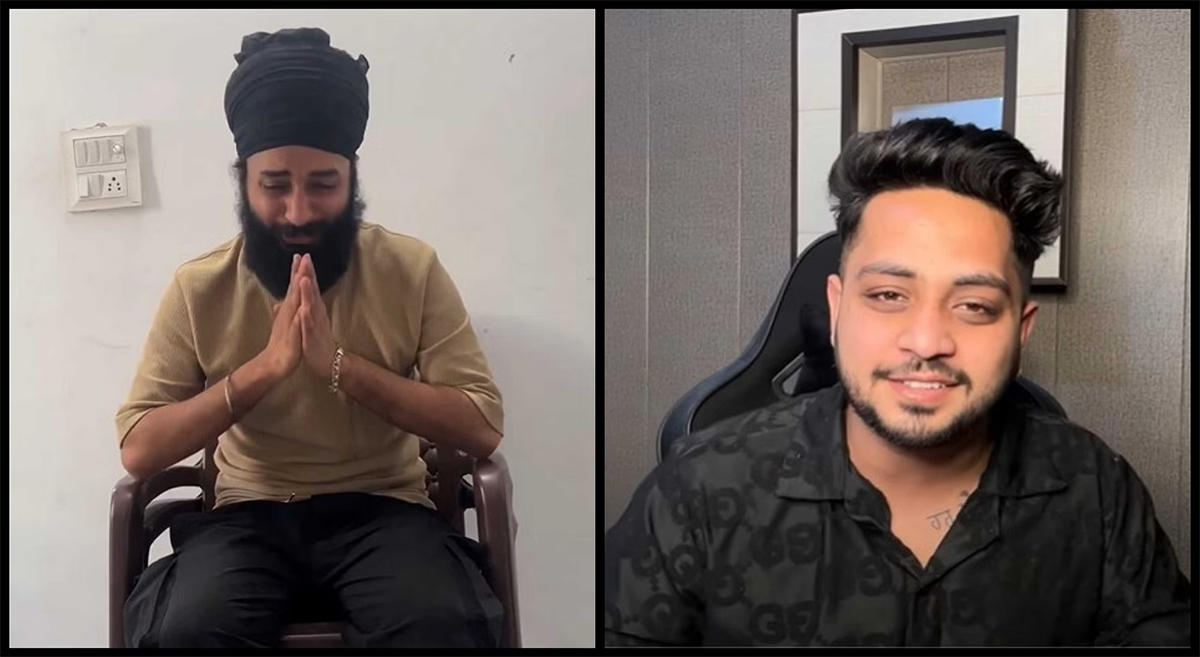 The proprietors of Kulhad Pizza in Ludhiana have found themselves at the epicenter of social media controversy following the emergence of a 'private video' depicting a couple in bed. The video in question was claimed to feature Sehaj Arora, the proprietor of the establishment, and his spouse. However, Arora has vehemently denied these allegations and has lodged a formal complaint with the police.
This pizza establishment in India is situated in Jalandhar, Punjab. The proprietor of the restaurant has asserted that he recently fell victim to blackmail by individuals posing as scammers on Instagram and blamed YouTuber Karan Dutta for masterminding the entire plan.
In an emotional video released on Instagram, Sehaj Arora broke down crying and he requested people not to forward the objectionable video.
Sehaj Arora breaks down on camera
"I won't delve into whether the video is real or not. Instead, let's focus on the dire circumstances we find ourselves in. Just two days ago, my wife underwent surgery. Our home, which should have been filled with joy, now bears an atmosphere of despair. We live in uncertainty, unsure of what the future holds," Sehaj Arora said.
Arora shared the harrowing experience of approaching the police to report an alleged case of blackmail by a woman who demanded a monetary deposit, threatening to disseminate compromising videos to You Tuber Karan Dutta. He revealed that the woman in question has since been arrested by the police.
Arora accuses YouTuber Karan Dutta
In a direct accusation, Arora pointed fingers at YouTuber Karan Dutta, asserting that Dutta was responsible for the viral spread of the video. He lamented the devastating impact it has had on his life and family, stating that he is on the brink of losing everything he has worked hard to build. The ordeal, he added, has placed his family in immense distress.
" I request all of you not to propagate the video any further. Our child was born just four days ago, and my wife is currently in a deeply distressing state, making her care incredibly challenging. What befell us is a situation that could happen to anyone. I humbly request you to imagine yourself in my shoes for a moment," Sehaj Arora said as he broke down in tears.
YouTuber responds to allegations
YouTuber Karan Dutta has made several videos in the last few days about the Kulhad Couple, the recent being on Friday morning, in which he mocked Sehaj Arora's allegations against him.
In his video response, Dutta dismissed Arora's allegations and raised a pertinent question: If Arora possessed this information when he filed a complaint 15 days ago, why did he not mention the woman or include Dutta in the complaint at that time? Dutta further queried the timing of Arora's reference to him, asserting that he has no connection to the matter.
Dutta said he was the first person to create a video addressing the situation, where he urged people not to harass the couple regarding the alleged video.
Referring to Arora as 'mentally unstable,', Dutta questioned why Arora was experiencing a series of unfortunate events despite both of them hailing from Jalandhar and sharing a similar level of fame.
"Do you have any proof? At least tell me name of one person to whom I have sent the video? If you have proof, present it. Or I am going to go file a defamation case against you," Dutta said.
The Kulhad Pizza couple
The Kulhad Pizza pair, a couple hailing from Jalandhar, initially gained fame for their unique pizza offerings. Their journey into the limelight began when a social media user's visit to their stall went viral. This sudden online attention led to an influx of customers, including well-known figures in Punjab. However, when the couple resurfaced in the trending spotlight for the second time, questions arose regarding the reasons behind their popularity.
During this resurgence in public interest, a private video featuring the couple was leaked on social media. Nevertheless, in response to this situation, Arora took to his Instagram account to address the issue. He asserted that the clip was generated by artificial intelligence (AI) and provided an update on the actions he had taken in response to the matter.