LS passes Farm Laws Repeal Bill sans debate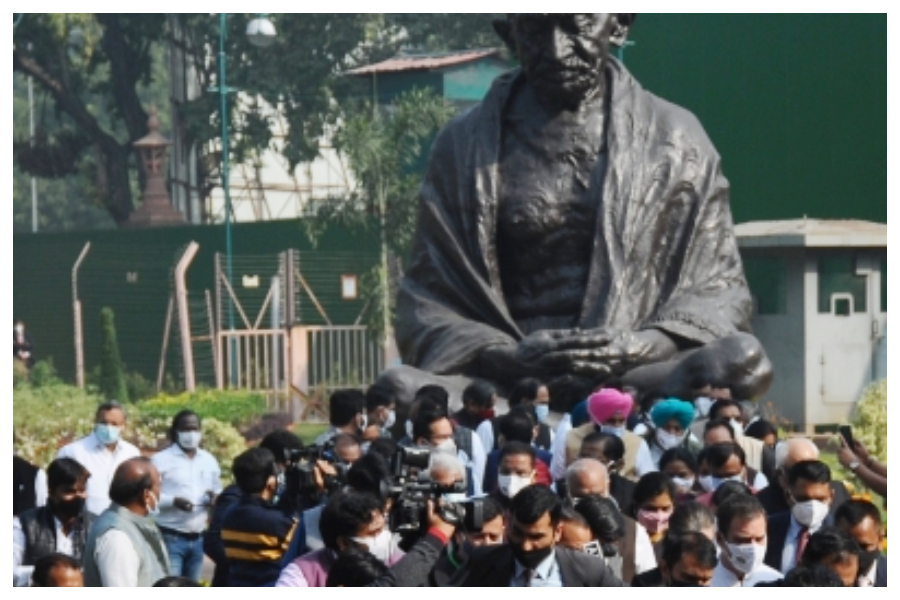 Amid sloganeering by opposition members, the Farm Laws Repeal Bill 2021 was passed by the Lok Sabha by voice vote even as the opposition kept on demanding a discussion on the same.
Immediately after the Union Agriculture Minister Narendra Singh Tomar presented the Bill, opposition members started raising slogans, some left their seats and walked down towards the well, and all demanded a discussion on the Bill.
Speaker Om Birla said the discussion will happen if only the members behaved and stopped sloganeering and sat in their respective seats. The members did not relent.
The Speaker put the Bill for voice vote and it was cleared within seconds even as the opposition continued sloganeering protesting that there was no discussion.
The Lok Sabha was then adjourned till 2 p.m.
Soon after, outside the Parliament, NCP leader Supriya Sule told mediapersons, "This is a black day for democracy. The government wants to do 'Mann Ki Baat' (own talk) but does not want to listen to the 'Jan Ki Baat' (people's talk)."
Stating that the government was afraid of the discussion, Congress Leader in the Lok Sabha, Adhir Ranjan Chowdhury said, "We wanted a discussion on the three farm laws that were repealed and also a law on the MSP. The government passed the bill without any discussion."
Rakesh Tikait, one of the prominent members of the farmers' agitation told media persons, "The government wants there should be no protests but we will not leave the site before MSP is discussed among other issues."
Coming down heavily on the fact that the three "anti-Agriculture Laws were passed in Parliament without discussion and have been repealed without discussion," Congress general secretary Randeep Singh Surjewala tweeted: "A debate would make the PM and BJP answerable for a Conspiracy to sell the farming sector at the altar of Crony Friends, Sacrifice of 700 farmers and Not giving MSP (sic)."
In counter to opposition leaders' allegations, Union Minister Pralhad Joshi said, "The Prime Minister has shown large heartedness and agreed to repeal the three laws. The farmers' organisations were demanding it; the opposition parties were demanding it. We agreed to their demand and brought in this Bill. The opposition did not cooperate and kept on sloganeering and created ruckus. We have passed it in the Lok Sabha and today itself, we want to pass it in the Rajya Sabha. We appeal to the opposition to cooperate in clearing the Bill in the Rajya Sabha."
Incidentally, former Minister and Congress leader, Jairam Ramesh had tweeted right in the morning: "Modi Sarkar wants to push through the 3 farm laws repeal Bill today in Parliament WITHOUT any debate. The passage of the laws 16 months ago was most undemocratic. The manner of repeal is even more so. The Opposition demands a discussion before repeal."
Union Minister Ashwini Choubey accused the opposition of deliberately disrupting Parliament. He said opposition is issueless.
Talking to IANS, Choubey said: "When the government is repealing all three farm laws, there is no point of creating ruckus."
He said Congress which is demanding discussion, has always run away from it. Whenever discussion was initiated, the grand old party boycotted it.
The three bills are: Farmers' Produce Trade and Commerce (Promotion and Facilitation) Bill, 2020, Farmers (Empowerment and Protection) Agreement on Price Assurance and Farm Services Bill, 2020 and Essential Commodities (Amendment) Bill 2020.
Shiv Sena MP wants Centre to bring back Netaji's remains
Shiv Sena MP Priyanka Chaturvedi has written a letter to the Centre to bring back the remains of Netaji Subhas Chandra Bose.
In her letter to Prime Minister Narendra Modi, she said: "As we celebrate 'Azadi ka Amrit Mahotsav' and pledge to take pride in our heritage as a part of the 'Panchpran', I am writing this letter to you in support of the request of Ms. Anita Bose Pfaff, daughter of Netaji Subhash Chandra Bose, to bring his last remains back to India.
"It shall be our greatest honour to commemorate Netaji's sacrifice and dedication towards independence of India by fulfilling his last wish of returning to the Indian soil.
"I request you to make a note of the request of Ms. Anita Bose Pfaff and expeditiously take all such diplomatic and other measures to bring Netaji home and duly acknowledge his insurmountable contributions in India's freedom. struggle. This shall indeed be a true tribute to our forefathers who sacrificed their lives for India's freedom."
As per the National Archives, Netaji's remains are kept at the Renkoji Temple in Tokyo.
Kejriwal launches 'Make India No. 1' mission
Delhi Chief Minister and Aam Aadmi Party National Convener Arvind Kejriwal on Wednesday launched 'Make India No. 1' mission to make the country lead on all parameters.
Kejriwal said: "We have to make India the number 1 nation in the world once again. We have to make India great again. We are beginning a national mission called 'Make India No.1' today. Every citizen of this country, 130 crore people have to be connected to this mission."
"Citizens need to come together to make India great again. It has been 75 years since we got Independence and we have achieved many things, but there is an anger among citizens that many small nations that got freedom after us have moved ahead of us," said the AAP Convener.
"Why did India lag behind? Every citizen is asking this," he added, giving example that Singapore got independence 15 years after India, and that Japan and Germany were destroyed in World War II.
Kejriwal went on to say that "If we leave this to these parties and leaders, India will go back 75 more years as some of them love the family and some love their friends." He further urged BJP, Congress, and other political parties to join AAP's national mission, saying that everyone needs to come together for it.
Delhi CM said that people of India are the best people, "yet we were left behind."
"We are not short of anything, we 130 crore people will now have to come together and take over the reins of the country," he added.
While counting the parameters, he said that we have to make arrangements for good and free education for 27 crore children. "We cannot say that schools cannot be opened in hills or tribal areas. Whatever money will be spent, we have to do it," he added.
Secondly, he said: "We have to make arrangements of free and good treatment for all."
Third, "Our youth power is the biggest strength. Employment will have to be arranged for each and every youth."
"Fourth thing, every woman should get respect. The Right to safety and equality should be given to them."
"And finally, today the farmer's son does not want to become a farmer.
Such a system will have to be made that farmers get full price for their crop and the son of the farmer must have a sense of pride to become farmers," Kejriwal said.
"Today I appeal to 130 crore people to join this national mission. We have nothing to do with any party, this is not a mission of any party", said AAP national Convener.
SC: Can access to free education, drinking water, electricity be termed freebies?
The Supreme Court on Wednesday orally observed that issues raised during the hearing of petition against freebies promised by political parties during polls is getting "increasingly complicated", and whether access to free education, drinking water, electricity can be termed freebies?
A bench headed by Chief Justice N.V. Ramana orally observed that the court cannot prevent political parties from making promises. However, it added that the question is what constitutes right promises?
The bench, also comprising Justices J.K. Maheshwari and Hima Kohli, further queried, "can we describe the promise of free education as a freebie? Can free drinking water, units of powers, etc., be described as freebies?"
The bench said whether free electronics can be described as welfare? The concern right now is what is the right way of spending public money. "Some say money is wasted; some say it is welfare. The issue is getting increasingly complicated," said the bench, asking the parties involved in the matter to give their opinions, and after debate and discussion on the matter, the court may take a decision. The bench also cited the example of schemes such as MNREGA.
Senior advocate P. Wilson, representing the DMK party, said the party has filed an application to implead itself in the case. The DMK said that the scope of a 'freebie' is very wide and there are a lot of aspects which are to be considered and a welfare scheme introduced by a state government cannot be judged to be classified as a freebie. The party said the PIL, against freebies, will frustrate the objectives of the Directive Principles of State Policy, and objected to the court's proposal to constitute an expert committee to examine the issue of freebies.
Solicitor General Tushar Mehta, representing the Centre, submitted, "If our understanding of social welfare is to distribute everything for free, then I am sorry to say…it is an immature understanding".
Senior advocate Vikas Singh, appearing for the petitioner, complained that DMK's impleadment application was not served on the petitioner, instead it was given to the media. The bench said this should not be used for publicity and it should be ensured that parties are supplied with copies of applications. The top court asked all the parties to give their suggestions by Saturday evening and scheduled the matter for further hearing next week.
In the previous hearing, the top court had suggested constituting an expert panel comprising representatives from the central and state governments, opposition political parties, Election Commission of India, Finance Commission, Reserve Bank of India, NITI Aayog, etc.,
The Aam Aadmi Party has told the Supreme Court that regulating electoral speech will amount to nothing more than a wild-goose chase, as it opposed a proposal to set up an expert body to examine the issues associated with "freebies" promised by the political parties to induce voters.
The top court is hearing a plea by advocate Ashwini Upadhyay seeking directions to the Centre and the Election Commission to take steps to regulate poll manifestos of political parties and also against irrational freebies promised by political parties to induce voters during polls.