IPL 2022 playoff scenarios: Lucknow Super Giants, Gujarat Titans in race for top-two, overall nine teams in fray for top-four, MI out
Two new teams — Lucknow Super Giants and Gujarat Titans — have performed exceedingly well in their maiden season and are in the race to finish at the top of the points table with their three league matches remaining in the ongoing IPL 2022.
Ahead of the start of the 15th edition of the league, nobody would have thought that Mumbai Indians (five-time champions), Chennai Super Kings (four-time champions) and Kolkata Knight Riders (two-times champions) would feature in the bottom three but it is a reality due to the lacklustre performances of these franchise.
On the other hand, new entrants — Lucknow and Gujarat — have played fearless cricket and are on the verge of qualification for playoffs. After the completion of the 56 matches in IPL 2022, only Mumbai Indians have been eliminated from the qualification race and nine teams are still in the fray for a playoff spot.
Before the final leg of IPL 2022's league stage, IANS takes a look at the scenarios each side needs to go through to qualify for a playoff spot.
Race for top-two finish:
The KL Rahul-led Lucknow and Hardik Pandya's Gujarat are fighting for finishing at the top of the points table.
Lucknow have 16 points from 11 games (8 win, 3 loss) and they need just one win to seal a top-four berth. If LSG win two of their remaining three games then they will be assured of a finish in the top-two. Their Net Run Rate (+0.703) is the best among all 10 teams at this stage and even if they are tied on points with other sides, Lucknow have the best chance of finishing on top.
On the other hand, Gujarat, like Lucknow, also need one more win to assure themselves of a finish in the top-four slot. GT also have 16 points from 11 games and will finish in the top-two if they win their last three games.
If they can manage to win two more matches, it will leave them in a good position as they would be on 20 points. Only Rajasthan Royals, who have 14 points from 11 games, can overtake GT by winning all three games. The Hardik Pandya-led side can even make the cut with one more win if Rajasthan Royals win only one of their last three games.
Both Lucknow Super Giants and Gujarat Titans are facing each other in the 57th match of the IPL 2022 on Tuesday in Pune and whosoever wins will officially qualify for the playoffs.
Mid-table muddle:
Rajasthan Royals (14 points) have the best NRR (+0.326) among all teams below them in the points table, and one more win could be enough to keep them in the top-four. They can also finish in the top-two if they win all three remaining games and GT win not more than two.
If GT and RR are tied on points, NRR will come into the equation (currently, Rajasthan have an NRR of +0.326 as compared to GT, who are at +0.120).
On the other hand, Faf du Plessis-led Royal Challengers Bangalore (14 points from 12 games) could reach a maximum of 18 points and they will seal a top-four spot if they win their last two games. However, if they lose one, Delhi Capitals, Sunrisers Hyderabad, and Punjab Kings all have a chance to equal RCB on 16 points and it will come down to NRR and, in that case, Bangalore's NRR (-0.115) could go against them.
And if RCB lose both their remaining games, they could also fail to qualify for playoffs as both DC and SRH have a better NRR than them.
On the other hand, Delhi Capitals (10 points from 11 games) will have to hope that RCB lose at least one game, because DC can only get to a maximum of 16 points. The Rishabh Pant-led side has a NRR of +0.150 and could edge ahead if teams are tied on points. However, Delhi can also be knocked out if RR and RCB both get to 18 points.
One more loss for DC could also be the end of the season for them as they will only be able to get 14 points. SRH, PBKS, RR, and RCB will all be in contention to get 16 points.
Meanwhile, the Kane Williamson-led Sunrisers Hyderabad have 10 points from 11 games. Like DC, SRH will also only be in the contention if RCB lose one of their last two games. If RCB lose one match and DC lose one, SRH will need to win all matches to make the cut. Their path will be easier if DC lose two of their three games.
SRH could be also knocked out if four teams get to 18 points because they can get a maximum of 16 points. If RCB are out of contention, and SRH are tied on points with DC, it will come down to NRR. Currently, SRH have an inferior run-rate (-0.031) compared to Delhi.
Punjab Kings have 10 points from 11 games, they will only be in contention if RCB lose one game. However, they have a NRR of -0.231 and will have to win their remaining matches by huge margins if they want to edge ahead if points are tied among teams.
PBKS are scheduled to play three teams (vs RCB, DC, SRH) who are directly competing with them for a playoff berth. If Punjab wins all three, they will compete with RCB to make the top four. If RCB and PBKS are tied on 16 points, RCB could make the cut if they continue to have a better net run-rate than PBKS.
Bottom Three:
Kolkata Knight Riders have eight points from 11 games and NRR of -0.304. A lot of things will have to be in their favour if they want to make the top-four and get 14 points. KKR have to win all games by big margins, RCB have to lose all games, and CSK, DC, SRH, PBKS have to lose at least one game each. However, even then, KKR's poor NRR might not be enough for them to get a playoff spot.
On the other hand, Chennai Super Kings also have eight points from 11 games and their play-off chances too depend on a lot of other results going their way plus they have to win their remaining three games to reach 14 points. They will also hope that RCB lose both their matches, and DC, SRH, and PBKS lose at least one game each by big margins. However, CSK will be eliminated if RCB win their next game.
Five times champions Mumbai have won just two out their 11 matches in the ongoing season and are already out of the tournament.
Will stand with wrestlers till justice is not delivered: Cong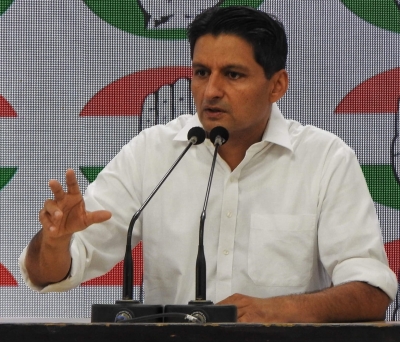 Hours after Union Sports Minister Anurag Thakur called the wrestlers for a meeting, the Congress on Wednesday took swipe at the BJP government for remaining silent on the harassment of the players, and said that the grand old party "will stand with the daughters till the time justice is not delivered".
Addressing a press conference here, Congress leader Deepender Singh Hooda, when asked about the Union Sports Minister calling wrestlers for a meeting, said, "Congress will support the daughters till justice is not delivered to them. It is unfortunate that the government is treating the daughters with step motherly treatment as the wrestlers have to knock on the Supreme Court doors for registering an FIR."
Hooda said that it's been one and half months and the government and the Delhi Police have not made any arrest.
"Isn't it the first case where the accused have not been arrested. In such an FIR with serious charges, it is the first example that no arrest has been done as one BJP MP is named as an accused. What kind of example the government is setting. What kind of standard they are laying?"
The Rajya Sabha MP said that the government remained silent when the wrestlers went to immerse their medals in the Ganga in Haridwar.
"Why was the sports Minister silent and no one from the government issued any statement urging them to stop their act of immersing their medals? And even selective leaks are being made in the media to harm their protest," he said.
"Whatever stand our daughters take after the meeting we will listen to that and will ensure that we stand with them for justice," he added.
His remarks came after Thakur on Wednesday invited the wrestlers for a meeting to have discussion.
Sakshi Malik, Bajrang Punia at Minister Anurag Thakur's residence for talks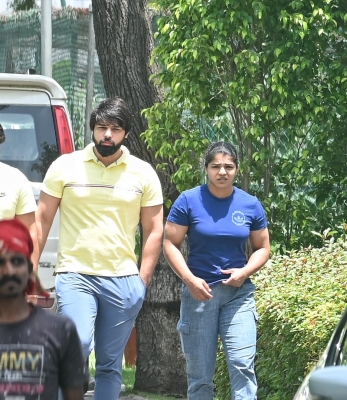 Protesting wrestlers Bajrang Punia and Sakshi Malik arrived at the residence of Sports Minister Anurag Singh Thakur on Wednesday.
Sakshi came along with her husband Satyawart Kadian, an Arjuna awardee. Olympian Vinesh Phogat was missing though her husband Somveer Rathi was seen entering the minister's residence.
The protesting wrestlers have been invited by the government for the second time days after they met Home Minister Amit Shah.
In January, too, the wrestlers met Anurag Thakur at his residence and called off their protest after a committee was formed. At that time, former wrestler and BJP leader Babita Phogat played the mediator's role.
Earlier, talking to Wednesday, Sakshi Malik said, "We will keep everything open. We won't take any decision behind closed doors. We will discuss the proposal given by the government with our seniors and supporters and only when everyone gives their consent that the proposal is fine, then will we agree."
'I'm happy here': Cristiano Ronaldo pledges to continue at Al Nassr in Saudi Pro League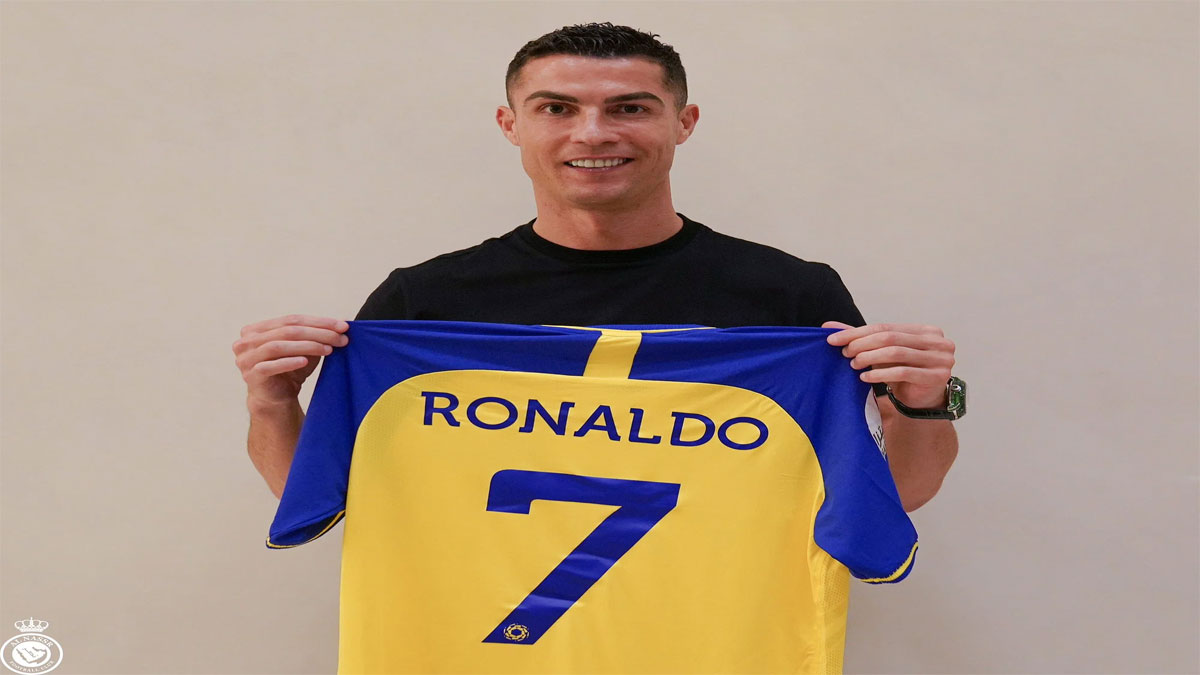 Portugese footballer Cristiano Ronaldo has vowed to continue at Al Nassr in Saudi Arabia despite walking away empty handed in this season. The 38-year-old has earmarked the tournament to be among the top five in the world.
Ronaldo, who signed a two and a half year contract with Al Nassr, scored 14 goals in 16 games in the season, with his side standing second behind Al Ittihad in the Saudi Pro league. However, there were speculations about how long will he stay as reports of swap deal with Saudi-owned Newcastle United emerged, who have now qualified for next season's Champions league.
In an official Saudi Pro League interview, the star footballer revealed:
"I'm happy here, I want to continue here, I will continue here. And in my opinion, if they continue to do the work that they want to do here, for the next five years, I think the Saudi league can be a top five league in the world. I expected to win something this year, but we didn't, but next year I'm really positive, but next year I'm really positive and confident that things will change and we go in a better way."
Cristiano Ronaldo suggests he is still adjusting to strange training timings in Saudi Arabia:
Ronaldo also revealed how contrasting the training timings in Europe and Saudi Arabia are, elaborating:
"In Europe, we train more in the morning, but here we train in the afternoon or evening and in Ramadan, we train at 10 at night. So this is strange but as I tell you, these situations are part of an experience, memories. I like to live these moments because you learn with these things."
With 837 goals in 512 games, Ronaldo is the combined highest goal scorer in history.