Aamir Khan hosts trailer preview, enjoys Panipuri at event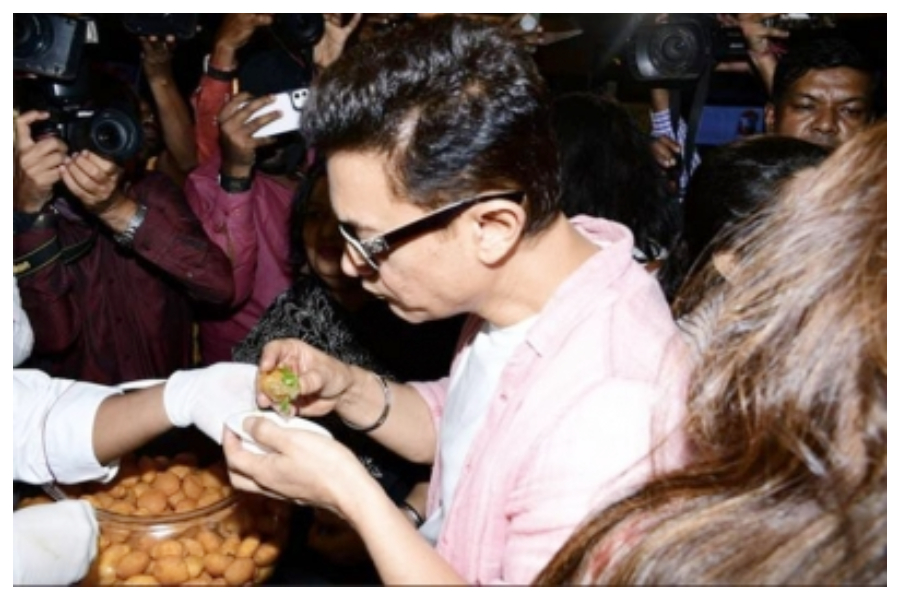 Bollywood star Aamir Khan was seen enjoying panipuri at the trailer preview of his film 'Laal Singh Chaddha' held in Mumbai. The trailer is all set to release on May 29 at the IPL 2022 final.
The actor was seen enjoying the street food and even welcomed the media at the event. The film, featuring Kareena Kapoor Khan, Aamir Khan, Naga Chaitanya and Mona Singh, is all set to release in August.
Aamir was seen clad in a white tee with harem pants and a pink shirt over it. He teamed it up with brown boots and his cool glasses.
Aamir wrote in his Instagram post: "Catch the Laal Singh Chaddha trailer live from the 1st innings, 2nd timeout of the T20 Finals tomorrow."
Aamir had announced that he will be releasing the trailer of his film during the second strategic timeout of the first innings of the IPL 2022 final match.
'Laal Singh Chaddha' is an adaptation of Tom Hanks starrer Forrest Gump. It is directed by Advait Chandan and is all set to hit the screens on August 11.
Ranbir Kapoor's Animal Enters Rs.500 Crore Club, Devours Vicky Kaushal's Sam Bahadur At The Box Office
Ranbir Kapoor's Animal was released on December 1, 2023, and clashed with Vicky Kaushal's Sam Bahadur. Despite many users calling out the film for toxic masculinity, the film has entered the Rs 500 crore club and has earned Rs 563.3 crore worldwide in the first week of its release, while its nett collection in India stands at Rs 338 crore.
However, Vicky Kaushal starrer Sam Bahadur is seeing slow growth at the box office. With Animal, the film only managed to earn ₹3.05 crore India net on its seventh day, making its total collection to ₹38.85 crore. Directed by Meghna Gulzar, Sam Bahadur also stars Sanya Malhotra and Fatima Sana Sheikh.
The film is based on the life of Sam Manekshaw, India's first field marshal
Animal is currently breaking all the records at the box office. It has already become the fourth-highest grosser of the year, after Shah Rukh Khan's Jawan, Pathaan, and Sunny Deol's Gadar 2. Directed by Sandeep Reddy Vanga, Animal also stars Anil Kapoor, Bobby Deol, Triptii Dimri, and Rashmika Mandanna, among others.
The film was released in Hindi, Telugu, Tamil, Kannada and Malayalam. Meanwhile, since Sanju (2018), the Yeh Jawaani Hai Deewani actor has not had a big hit in the cinemas.
'Suhana Khan Can't Act': Netizens Brutally Troll The Archies Actress For 'Bad Acting' 
Bollywood superstar Shah Rukh Khan's daughter Suhana Khan marked her acting debut with The Archies which released on Netflix on Friday. Directed by Zoya Akhtar, the film also stars Khushi Kapoor, Agastya Nanda, Mihir Ahuja, Vedang Raina, Dot, and Yuvraj Menda. However, as netizens took to social media to share their review, a section brutally trolled Suhana for her "bad acting."
One user wrote, "It's strictly for elite and sophisticated audiences only. All star kids including Suhana Khan can't act, I repeat can't act. Good to see Koel Puri, Aly Khan & others. There can't be a bad director, only bad actors."
"Million of gorgeous women … and TBP chose Suhana Khan to play Veronica," added another.
"Raat ko I started watching Archies, 15 mins there and I preferred to sleep. Suhana na sundar hai na uski acting achi hai," wrote one user. 
Another user commented, "15 mins into #Archies and I can't decide if Suhana Khan's acting is bad, dancing is bad, or dialogue delivery is bad."
Besides acting, Suhana announced that she has also made her singing debut with the song 'Jab Tum Na Theen' from the film. 
The Archies, a coming-of-age musical, weaves a captivating tale around the lives of Archie, Betty, Veronica, Jughead, Reggie, Ethel, and Dilton as they navigate the fictional hilly town of Riverdale. This film delves into the essence of friendship, freedom, love, heartbreak, and rebellion.
The trailer unfolds a melodic narrative, guided by the charm of seven beloved characters from the iconic Archie comics. Through the retro alleys of love, friendship, and youthful aspirations, the story resonates with a nostalgic yet timeless quality.
Concluding with a poignant message, the trailer leaves audiences with the thought: 'You are never too young to change the world.'
The makers held a special screening for the film industry. To support Suhana, her entire family including SRK, Gauri, Aryan, and baby brother AbRam were seen at the premiere.
The Archies Review: Zoya Akhtar Brings The Perfect Christmas Movie Date That Is Contemporary And Replete With Messaging
Director: Zoya Akhtar
Cast: Agastya Nanda, Aditi Saigal aka Dot. Khushi Kapoor, Mihir Ahuja, Suhana Khan, Vedang Raina, Yuvraj Menda, Santana Roach, Rudra Mahuvarkar, Alyy Khan, Luke Kenny, Vinay Pathak, Koel Purie, Tara Sharma Saluja, Sheena Khalid, Delnaz Irani
Where: Streaming now on Netflix
Rating: 4 stars
Experiencing Zoya Akhtar's sincere tribute to our cherished childhood comic feels deeply personal and, to some extent, cathartic. Having attended an Anglo-Indian institution and with my closest friends hailing from the community, Akhtar's cultural portrayal resonates with remarkable accuracy.
In the initial stages of the film, a significant character recites a quote from William Faulkner: "You cannot swim for new horizons until you have the courage to lose sight of the shore." Throughout Akhtar's promotional campaign, she was often presented with a question that implied she had the freedom to create any film with desired actors and technicians, since she is well-positioned at the top of everyone's wishlist. However, the filmmaker certainly understands how to enjoy the process and at times, prioritize art for its inherent purpose rather than solely for profit—an ethos that radiates throughout The Archies. As another character aptly notes, "to make art, you must go in, not out." This clarifies her intention to establish a captivating world, with seven new faces taking centre-stage.
It is the year 1964, and Riverdale, a picturesque town nestled in the hills of North India, bears the traces of English influences in its essence. Inhabitants of this town carry the heritage of English ancestry in their veins, yet their hearts resonate with India as their true home. The beating heart of this town is the community garden known as Green Park. It is the very spot where Archibald 'Archie' Andrews (Agastya Nanda), Ethel Muggs (Aditi Saigal aka Dot.), Betty Cooper (Khushi Kapoor), Jughead Jones (Mihir Ahuja), Veronica Lodge (Suhana Khan), Reggie Mantle (Vedang Raina), and Dilton Doiley (Yuvraj Menda) took their initial steps as infants, following their birth in 1947. The resilience of their friendship and the future of the town are put to the test when a suggestion is put forth to construct a hotel instead of the park. Amidst the challenges, they navigate matters of the heart on the threshold of adulthood.
Co-written with her collaborators Ayesha Devitre Dhillon and Reema Kagti, Zoya incorporates multiple themes and concerns, and let me tell you, it's a delicate path to navigate. Yet, it's an ingenious move to employ cinema in the form of a musical to convey a message to a new generation that appears to be lost in the pursuit of validation through meaningless reels and endless scrolling on Instagram. The fear of maturing and taking on adult responsibilities, the shared social responsibility, the need for free press and critique, conflicts between humanity and nature, and the imperative need to engage in politics seamlessly align within the narrative, without any element standing out conspicuously. Incorporating all these elements, the film takes a sweeping journey down memory lane to a time when our lives were brimming with innocence and idealism. It harks back to an era where our eyes sparkled with aspirations and ambition. The melodies crafted by Shankar-Ehsaan-Loy, Ankur Tewari and The Islanders perfectly capture the essence of The Archies. From the attire to the production design overseen by Suzanne Caplan Merwanji, to the cinematography skillfully executed by Nikos Anaritsakis, you'll find yourself irresistibly pulled into this world as it unfolds in front of you. One aspect that the film might be criticized for is its length, an aspect where editor Nitin Baid could have exercised more consideration.
Setting that aside, there isn't a single false note that can be pinpointed in the performances delivered by the film's young cast. Agastya effortlessly embodies Archie, a character that occasionally flirts, infusing idealism with his charm. Dot., as Ethel, is delightfully ambitious, and her character resonated with me the most. Vedang effectively portrays the neighborhood heartthrob Reggie, while Mihir, as Archie's bro-dude Jughead, is hilariously on point. Suhana is aptly yet unconventionally cast as Veronica, a daddy's princess with a heart. Khushi embodies the perfect girl-next-door who loves to bake. However, my favorite performance has to be Yuvraj as Dilton, the genius whose moment of truth will leave you deeply moved.
The Archies arrives on Netflix as an early Christmas gift, one that will leave you with a heartwarming feeling. It's a film that you'd cherish revisiting with your friends on lazy Sunday afternoons.