Aamir Khan hosts trailer preview, enjoys Panipuri at event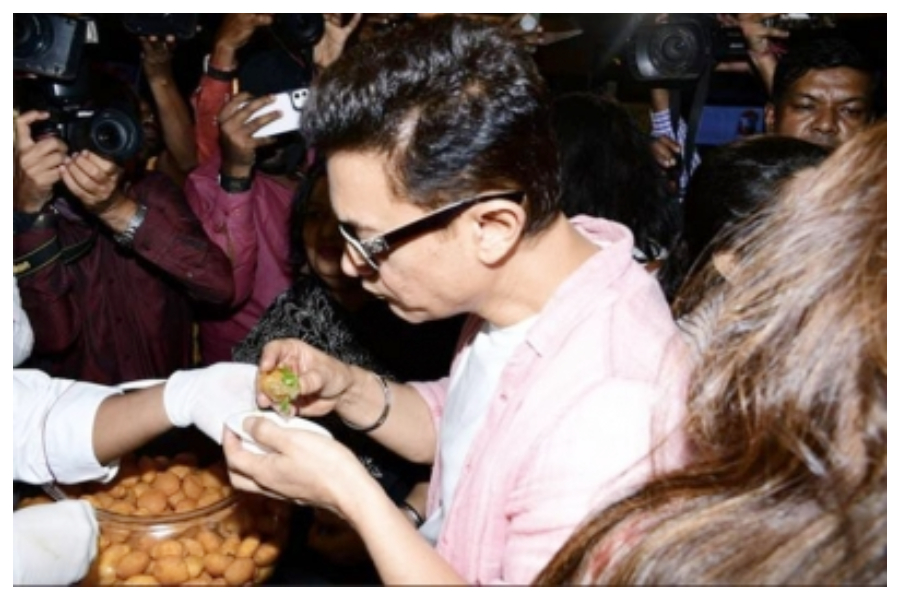 Bollywood star Aamir Khan was seen enjoying panipuri at the trailer preview of his film 'Laal Singh Chaddha' held in Mumbai. The trailer is all set to release on May 29 at the IPL 2022 final.
The actor was seen enjoying the street food and even welcomed the media at the event. The film, featuring Kareena Kapoor Khan, Aamir Khan, Naga Chaitanya and Mona Singh, is all set to release in August.
Aamir was seen clad in a white tee with harem pants and a pink shirt over it. He teamed it up with brown boots and his cool glasses.
Aamir wrote in his Instagram post: "Catch the Laal Singh Chaddha trailer live from the 1st innings, 2nd timeout of the T20 Finals tomorrow."
Aamir had announced that he will be releasing the trailer of his film during the second strategic timeout of the first innings of the IPL 2022 final match.
'Laal Singh Chaddha' is an adaptation of Tom Hanks starrer Forrest Gump. It is directed by Advait Chandan and is all set to hit the screens on August 11.
Tom Cruise 'would love to meet someone special' after three failed marriages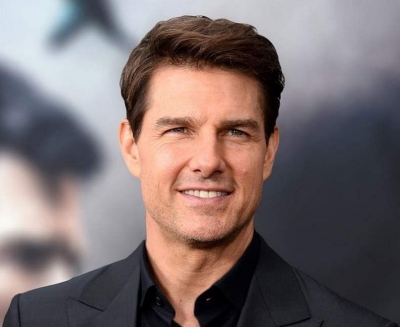 Hollywood star Tom Cruise has been married to Hollywood stars Mimi Rogers, Nicole Kidman and Katie Holmes, with the actor most recently being romantically linked to Shakira.
The unlikely pair met at the Formula 1 Grand Prix and while it seems Tom was "very interested in pursuing" the singer, she wasn't so keen, reports
A source has revealed Tom's friends have now given him some dating advice as he searches for "the one."
The comments come after it was revealed Shakira "begged" Tom to "stop flirting with her" as the situation became "too much" for her following her painful split with Gerard Pique.
The 46-year-old singer and Barcelona defender, 36, announced their shock breakup in June last year after 12 years together.
Gerard has since moved on with Clara Chia Marti, 24.
"She doesn't want to embarrass or upset him, but there's no attraction or romance on her part – she was just being friendly. She's flattered but not interested," an insider told Heat Magazine.
The insider added that Tom has been searching for the right woman for years and said he has "the highest standards" and won't settle for "second best" in a potential lover.
Yaariyan 2 director duo not paying salaries, allege film crew
Several technicians and crew working for directors Vinay Sapru and Radhika Rao have claimed that the couple has not paid them for their work on the upcoming film Yaariyaan 2. Sources at Naigaon Police Station have confirmed that they have got a complaint from a man named Sumitkumar Mishra, who has alleged that people like him who worked as technicians and workers have not been paid for almost a year. He has alleged that the director duo now avoid even talking about payments.
Villagers await payments
The filmmakers have also not paid locals at a Versova village whose boats they hired for the shoot. According to Raju Kathin, one of the fishermen, 12 to 13 people are awaiting payments.
"They rented four of our boats and used 13 people for their shoot. When we asked for money, they denied even meeting us. We are owed lakhs of rupees at this point. We are waiting for the man who connected us to Sapru and Rao. Once that happens, we will go to Versova police to register a complaint," Kathin said.
Matter to be dealt with by courts
Meanwhile, according to Naigaon police, the matter is a civil issue, which means it will be dealt with by the courts. The police did try to contact Sapru and Rao, but they did not respond to any calls or messages, an official said. "We have summoned them to be present at our police station on June 5. We will take it forward from there," the official said.
The News Agency contacted Sapru to know his side of the story. He told that he would call back, but did not do so. Meanwhile, Rao, when contacted said: "I really can't talk about it." Yaariyan 2 is produced under the banner of T-Series and will be released on October 20.
Pregnant Ileana D'Cruz enjoys 'babymoon' with mystery man; Is it Katrina Kaif's brother Sebastian Laurent Michel?
Actress Ileana D'Cruz is currently enjoying the best phase of her life as she is all set to welcome her first child. While the actress has been flaunting her baby bump on her social media, the mystery around who her partner and the father of her child is continues to remain a mystery.
At present, Ileana is enjoying her babymoon at some undisclosed location with her partner while the eagerly wait for the arrival of their little one.
For those unversed, Ileana is rumoured to be dating Sebastian Laurent Michel, who happens to be the brother of Bollywood diva Katrina Kaif.
Ileana's beachside babymoon
On Friday, the 'Barfi!' actress took to her Instagram to share a series of pictures from her babymoon, and also gave glimpses of her partner, but did not reveal his face or identity.
The actress shared a picture of the blue sea and wrote, "Babymoon". In the next picture, she can be seen enjoying a date night with her partner, and added the song, the lyrics of which said, "I wanna be alone, alone with you… Does that make sense?"
She also dropped another picture in which she can be seen holding her partner's hand while he ate. "My idea of romance clearly can't let him eat in peace".
Who is Sebastian Laurent Michel?
Ileana is reportedly in a steady relationship with Sebastian and the two have been dating for almost a year now.
Reports of the two dating went viral after the actress was seen accompanying him and other close friends and family members of Vicky Kaushal and Katrina to Maldives. The duo posed with the rest of the group for several pictures.
They were later also spotted together at the Mumbai airport, however, both of them have remained tightlipped about their equation.
Sebastian is a model based out of London.
Ileana was earlier in a relationship with photographer Andrew Kneebone, but the two went their separate ways after dating for about two years.