Invitation to K'taka Cong leaders for pro-China event triggers row
An invitation sent to state Congress leaders, including leader of opposition Siddaramaiah, by the Karnataka chapter of India-China Friendship Association for a seminar on 'US intervention in China' has triggered fresh controversy in the southern state.
Taking a dig at the Congress, BJP national general secretary and MLA C.T. Ravi said: "If anyone had doubts that Congress works for China, this will clear them. Why should the Congress side with China if America is interfering in its internal affairs?
"Is the MoU signed by Rahul Gandhi with the Chinese Communist Party the reason behind this support to China?"
Ravi also shared the invitation of the programme and alleged that a controversial photo of Sonia Gandhi and Rahul Gandhi could be seen along with Chinese President Xi Jinping.
Meanwhile, veteran Congress leader Siddaramaiah clarified that he had declined the invitation from the India-China Friendship Association (ICFA) to participate in the event to be held on Sunday.
"It is surprising to see my name on the invitation despite declining it," he said.
Siddaramaiah added that he declined the invitation to participate in the event, as his party's and his own position is against the agenda of the programme.
The invitation for the seminar on 'Interference of US imperialism in the internal affairs of People's Republic of China' claims that Siddaramaiah will be one of the chief guests along with Chinese Ambassador to India, Sun Weidong, and Consul General of China in Mumbai, Kong Xianhua.
As per the invitation, senior Congress leader H.C. Mahadevappa will be the guest of honour, while other leaders, including L. Hanumanthaiah, P.G.R. Sindhia and JD-S rebel K. Srinivas Gowda, will be the speakers at the event, among others.
Jawaharlal Nehru Death Anniversary: PM Modi, Rahul Gandhi, Kharge & others pay tribute to the former prime minister of India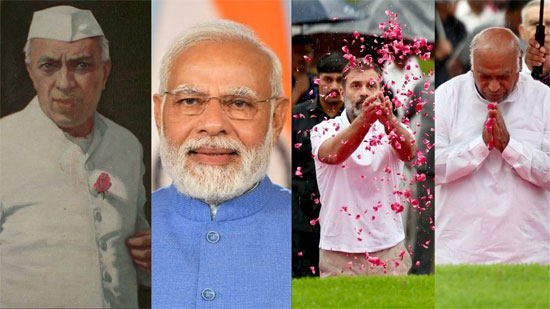 On May 27 in 1964, India's first prime minister Jawaharlal Nehru, fondly known as 'Chacha Nehru' breathed his last after suffering a cardiac arrest. On his death anniversary, several leaders paid their tributes to Nehru and offered their respects to him. While Congress leaders Rahul Gandhi and Mallikarjun Kharge offered flowers and prayed at the Shanti Van memorial in New Delhi on Saturday. Meanwhile, present PM Narendra Modi shared tweet marking the day.
PM Modi on Nehru's death anniversary
"On his death anniversary, I pay tributes to our former PM Pandit Jawaharlal Nehru," PM Modi tweeted in memory of the former leader on his 59th death anniversary.
Congress pays floral tribute
Congress President Mallikarjun Kharge and former party leader Rahul Gandhi paid floral tributes along with party treasurer Pawan Bansal, and others at the Shanti Van memorial in the national capital.
The party shared several tweets to remember Nehru on his death anniversary. After sharing visuals from the memorial, Congress on Twitter shared quote-based greetings to mark the significant day.
About the first PM of India
Nehru played a prominent role in India's freedom struggle. He also went on to become India's first Prime Minister after Independence in 1947. He was among the key leaders of the Indian National Congress (INC).
On May 27, 1964, the first Prime Minister of India took his last breath. He served for over 16 years from 1947 to 1964 till he died at the age of 74.
He had a great fondness for kids, and children use to call him Chacha Nehru and his birthday is celebrated as Children's Day every year.
CM Shinde inaugurates 2nd phase of Mumbai-Nagpur Samruddhi Expressway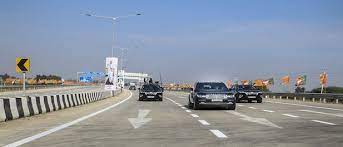 Shirdi: The second phase of Mumbai – Nagpur Expressway, between Shirdi and Bharvir (17 kms off Igatpuri) was inaugurated on Friday by Chief Minister Eknath Shinde. The stretch opened on Friday spans 80 km, of the 701 km of overall Expressway between Mumbai and Nagpur. Now, only 100 km of portion between Bharvir and Mumbai remains to be completed. The first phase was inaugurated by Prime Minister Narendra Modi in December 2022.
Cost of the 2nd phase of 80 km Rs 3,200 crore
The second phase of the Expressway has 7 major bridges, 18 minor bridges, 53 underpasses, 3 interchanges, 56 toll booths, 6 weigh bridges among others.
The cost of the second phase of 80 km is Rs 3,200 crore.
Touted as a game changer project as it connects 24 districts of Maharashtra from the regions of North Maharashtra, Marathwada and Vidarbha. This green field alignment passes through 392 villages in 26 talukas of 10 districts.
With the opening of the second phase, the travel time taken between Shirdi and Nashik will come down by half to five to six hours instead of over 12 hours, so far.
"It is proposed to set up 18 agricultural development centres along the entire Expressway stretch," said a Maharashtra State Road Development Corporation (MSRDC) official.
Weather update: India to witness normal monsoon rains in 2023, reports IMD
India Meteorological Department (IMD) on Friday predicted that the country need not worry about severe or unlikely monsoons this year. The weather agency noted that India would witness normal monsoon rains in 2023 in most regions, and thus no major warnings or alerts were issued for the upcoming rainy season.
What is El Nino?
Noting the monsoon period across Indian states and UTs, IMD stated in a release that "Normal monsoon rains are likely in 2023 despite the likely emergence of the El Nino weather phenomenon."
El Nino typically means trouble for the Pacific and a break for the Atlantic coast and the Caribbean. This climate phenomenon is highly likely to form this year.
Monsoon across India
IMD has predicted a below-normal rainfall in Northwest India i.e. less than 92% LPA whereas normal rainfall in North east India, Central India, and South Peninsular India.
Reportedly, the southwest monsoon over the Indian mainland is marked by monsoon onset over Kerala and is an important indicator characterizing the transition from a hot and dry season to a rainy season. The southwest monsoon was expected from June to September with a normal rainfall i.e. 96 to 104 percent of Long period average (LPA).
"Once the monsoon will get established strong, we are expecting the monsoon to arrive in Kerala around June 4. Before June 1, we are not expecting monsoon to arrive," the weather agency stated.