India should have made the semis with the kind of talent in the team: Mamatha Maben
As Mignon du Preez whipped Deepti Sharma on the last ball of a thrilling match at Hagley Oval on Sunday to take South Africa home, it marked the end of India's dream to enter the semifinals of the ICC Women's Cricket World Cup. It was a heartbreaking end to a campaign where India oscillated from being great on one day to going listless on the very next day.
Former India skipper Mamatha Maben feels the Mithali Raj-led side should have made the cut for the semifinals of the World Cup based on the talent in the team. "So close yet so far; basically, that's the thing. However, if you have to look at it from a deeper perspective, we had all the ingredients and kind of skill-sets required in a team to at least make it to the finals. But I think we have fallen short. Let me put it this way, we had the personnel with the required skill-sets and had talent in stock.
"In those terms, we have fallen short. We should have made the semis with the kind of talent we have in this team," said Maben in an interview with IANS.
In India's up-and-down campaign in the World Cup, one thing which Maben believes the Mithali Raj-led side lacked was having a settled combination. Despite playing a five-match ODI series against hosts New Zealand followed by two official warm-up matches as preparation for the World Cup, India came across as a team which was still trying to figure out what their best eleven was.
"What was stark was that we never had a settled combination, be it batting or bowling. When you head to a big tournament like the World Cup, 90 per cent of your core is set. One or two (changes), that happens based on form or injury. But from game one, we never had a set kind of an eleven or batting order.
"I feel this is one area where we need to look at and it is the one where we should have done better: to have a more settled eleven and batting order, especially. It could have probably helped us a lot. There are positives in lots of young and bright talent but we need all to fire together. For that to happen, we need a proper and settled (unit)."
Maben, who captained India in 19 ODIs from 2003 to 2004, expressed surprise over players like Shafali Verma, Yastika Bhatia and Deepti Sharma being rotated in the batting order during the World Cup. Verma was left out of the eleven after making a duck against Pakistan. Bhatia filled in for her at opening till Verma was brought back into the eleven for the match against Australia while Bhatia moved to number three.
Sharma batted at three in the first two matches, then at number four for the next two matches. But she was then left out for the next two matches till being included in the playing eleven against South Africa.
"Even in the bowling unit, if you see, we didn't have anything settled. Someone was coming in and (going) out. Given all these factors, what we needed was a more settled kind of approach. From day one, very surprising that Shafali and Yastika were being rotated. Deepti played up the order, then down and went in and out. Except for a few, nothing looked settled though lots of individual brilliance was there."
Maben also pointed out that Raj too being rotated in the batting order was baffling. Raj batted at number three against the West Indies and England while being slotted at number four for the rest of the matches.
"Even Mithali, truth be told, she played brilliantly but it was just not enough and she was even shuffled up and down the order. However great a batter is, it's not easy. We all know how these small dynamics matter. If at all we can get better, probably going into a big tournament like the World Cup, a settled look would have helped us."
Amidst all the shortcomings, Maben dwelled on the positives from the campaign, like Harmanpreet Kaur making 318 runs in seven innings at an average of 53 and Verma coming back into her strokeful self with 53 against South Africa.
"In pockets, we had a lot of positives like Harry (Harmanpreet) coming back to form. That was a big thing as preceding that (World Cup), she was in very patchy form for quite some time. But her coming back (into form) was one of the great positives. Shafali eventually coming back and scoring some runs. Mithali got something; Smriti also got (327 runs in seven innings at 46.71).
"In patches, we were kind of striking. The positives to take home is this, like the innings played by Shafali (against South Africa) was so brilliant. Also, the way we fought till the end and never gave up, all these things are the positives."
Violent Clash Erupts Between Rival Supporters During Argentina vs Brazil 2026 FIFA World Cup Qualifiers
The 2026 FIFA World Cup qualifiers has been marred in controversy as the match between Brazil and Argentina saw violent clashes between rival supporters before the start of it. The high-profile fixture had to be delayed by 30 minutes as the Marcana Stadium in Rio de Janeiro witnessed ugly scenes, with disturbing visuals emerging on social media.
With the Brazilian and Argentinian players lining up for national anthems, the camera turned towards the stands as a section of rival fans exchanged blows. The local police officials could be seen beating up a section of Argentinian fans with batons and it did not go well with the tourists. By pointing at the violent scenes, Messi and co. decided to walk off the pitch.
PAK vs ENG, CWC 2023: 'Broke 25 Crore People's Hopes In 5 Seconds', Netizens Troll Pakistan As England Almost Kill The Game At Toss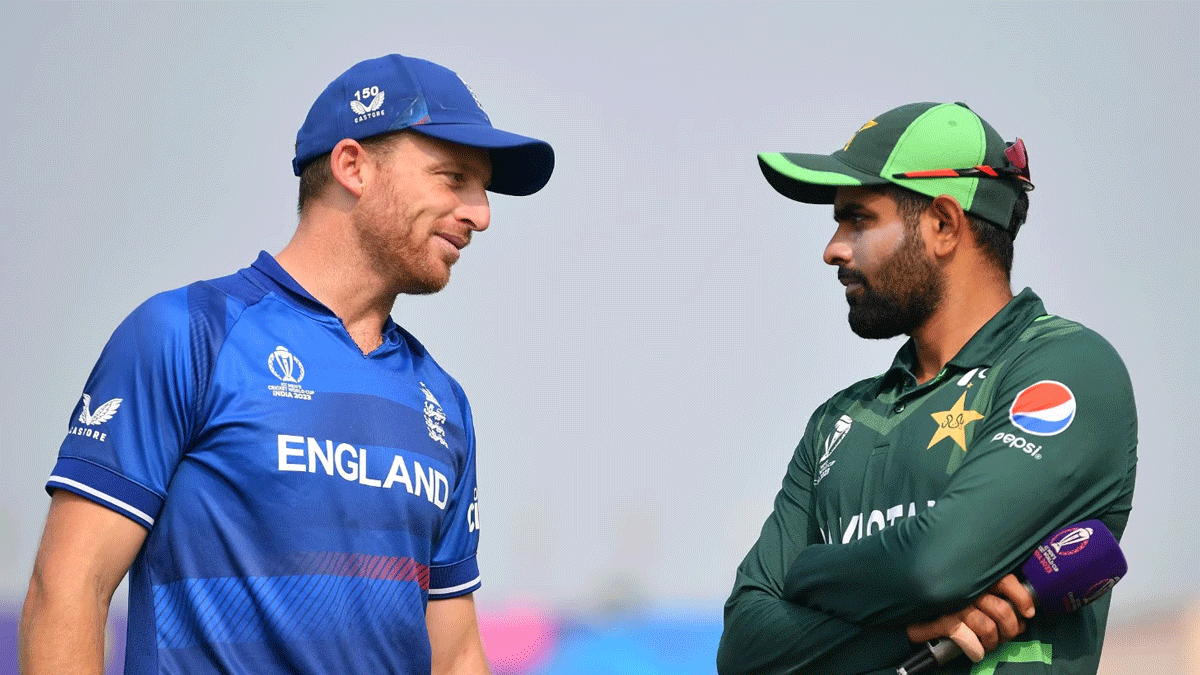 Pakistan cricket fans were left ruing their luck at the toss as it fell in England's favour at the Eden Gardens in Kolkata on Saturday. With Jos Buttler winning the toss marking the end of Pakistan's campaign at the showpiece event, netizens have relentlessly trolled Babar Azam and his men for losing the contest at the toss.
Coming into the game, Pakistan were facing a near impossible equation as winning the toss was the first priority. After winning the toss, Pakistan had to beat them by a massive 287-run margin. As things stand currently, Babar Azam and co. must do the unthinkable, bowling out for a mere 20 runs and getting those in only 1.3 overs, which would be their best-case scenario.
As things stand, the target for Pakistan will get bigger and the overs will keep diminishing. Pakistan fans were already irked as Babar was excluded among the list of captains during the light show at the Gateway of India in Mumbai on Thursday. It's worth noting that Pakistan haven't qualified for the 50-over World Cup semi-finals since the 2011 edition.
Pakistan have also made one change from their last match, benching Hassan Ali for an extra spinner in Shadab Khan. England have gone ahead with an unchanged line-up.
CWC 2023: South Africa vs Australia Semi-Final To Be Shifted To Mumbai If Pakistan Reach Knockouts, Confirm ICC Sources
The ODI World Cup semi-final between South Africa and Australia will be shifted to the Wankhede Stadium in Mumbai if Pakistan qualify for the knockouts, sources in the International Cricket Council confirmed to the Free Press Journal on Thursday.
If Pakistan manage to reach the semis then they will face arch-rivals India once again in this tournament. In that case, the semi-final will be played at the Eden Gardens in Kolkata on November 15.
But if Pakistan don't reach the semis then India will face either New Zealand or Afghanistan in Mumbai and South Africa will take on Australia in Kolkata as per the original schedule.India are scheduled to play their semifinal match in Mumbai only if they don't face Pakistan. The Men in Green have refused to play in Mumbai due to security reasons.
Pakistan qualification scenario explained
But Pakistan's qualification depends on the result of the match between New Zealand and Sri Lanka which is being played at the M Chinnaswamy stadium in Bengaluru.
If New Zealand manage to beat Sri Lanka by a comfortable margin then Pakistan's qualification will take a hit even if they defeat England in their last league game. A loss against the defending champions in Kolkata on November 11 will automatically knockout Pakistan from the race for the semis.