ED raids 11 locations in J&K in fake gun licences' scam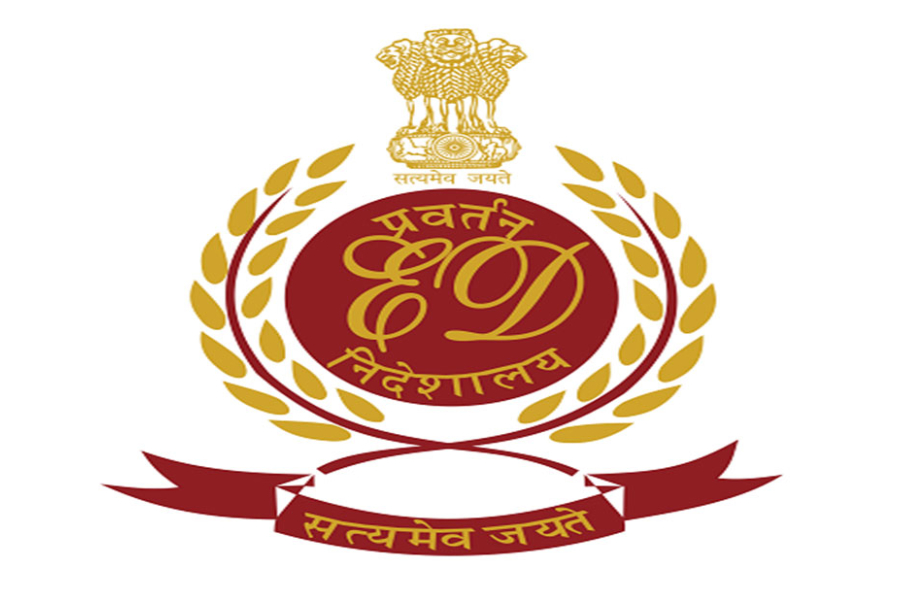 Enforcement Directorate (ED) officials carried out raids at 11 places in Jammu and Kashmir (J&K) in connection with the fake gun licences scam in which Rs 2.78 lakh were issued to non-entitled persons.
The ED carried out raids till Thursday evening.
ED sources said teams from Chandigarh, J&K and Delhi started simultaneous raids at 11 locations involving a serving IAS officer and several Jammu and Kashmir Administrative Service (JKAS) officers, who served as Deputy Commissioners (DCs) and Additional Deputy Commissioners (ADCs) of various districts between 2013 and 2016.
Searches were conducted at residences of serving and retired officers or officials, including Rajeev Ranjan, IAS, former Kupwara DC; Itrat Hussain, JKAS, former Kupwara DC; Ravinder Kumar Bhatt, JKAS, former Kupwara ADC, since dismissed from government service, Tariq Ather and Gajan Singh, former judicial clerks at the arms section in DC's office in Kupwara district.
Residences of six arms dealers were also raided from where incriminating documents were recovered which reveal that more senior bureaucrats of J&K are involved in the gun licences scam.
The Central Bureau of Investigation is already investigating the case and ED has registered a separate case in this scam to investigate the money laundering and other financial aspects of the scam.
NIA SWOOPS DOWN ON 44 LOCATIONS IN M'RASHTRA & K'NATAKA, ARRESTS 15 ISIS OPERATIVES OF ISIS MAHARASHTRA MODULE
New Delhi, 9th December 2023
In a massive crackdown on ISIS, the National Investigation Agency (NIA) on Saturday arrested 15 operatives of the banned terror outfit during multiple and widespread raids across Maharashtra and Karnataka.
NIA teams swooped down on as many as 44 locations in Padgha-Borivali, Thane, Mira Road and Pune in Maharashtra, and Bengaluru in Karnataka early this morning, and apprehended the 15 accused for promoting terror and terror related acts and activities of the proscribed organisation.
Huge amounts of unaccounted cash, firearms, sharp edged weapons, incriminating documents, smart phones and other digital devices were seized during the raids, conducted as part of NIA's ongoing efforts to disrupt and demolish the attempts of Islamic State of Iraq and Syria (ISIS) to carry out violent acts of terror and take innocent lives.
The accused, operating on the directions of their foreign handlers, had been actively involved in various terrorist activities, including fabrication of IEDs, for furthering the violent and destructive agenda of the ISIS, as per NIA investigations.
NIA investigations have further revealed that the accused, all members of ISIS Maharashtra module, were operating from Padgha-Borivali, where they had hatched the conspiracy to spread terror and carry out acts of violence across India. Pursuing the path of violent Jihad, Khilafat, ISIS etc., the accused had aimed to disturb the peace and communal harmony of the country and to wage a war against the Government of India.
Initial investigations have revealed that the arrested accused had self-declared the village of Padgha in rural Thane as a 'liberated zone' and as 'Al Sham'. They were motivating impressionable Muslim youth to relocate in Padgha from their place of residence for strengthening the Padgha base.
Saqib Nachan, the main accused and the leader and head of the ISIS module, was also administering the 'bayath' (oath of allegiance to the Khalifa of ISIS ) to the persons joining the proscribed organisation.
ISIS is a Global Terror Organisation (GTG) , also known as Islamic State (IS) / Islamic State of Iraq and Levant (ISIL) / Daish / Islamic State in Khorasan Province (ISKP) / ISIS Wilayat Khorasan/Islamic State of Iraq and the Sham Khorasan (ISIS-K)). The outfit has been spreading its terror network in India by putting in place localized ISIS modules and cells in various States of the country.
NIA has, in recent months, conducted large-scale raids and busted different ISIS modules by arresting several terror operatives in the ISIS terror conspiracy case in a bid to scuttle the organisation's heinous and violent anti-India agenda. As part of its efforts towards that end, the agency had registered a case against the ISIS Maharashtra module earlier this year and has, since then, undertaken strong and concerted actions to destroy the various ISIS modules and networks operating across the country.
UP Woman Critically Injured After Sub-Inspector Accidentally Shoots Her In Head At Aligarh Police Station
A police officer in Aligarh, Uttar Pradesh accidently shot a woman in her head from close range. A CCTV footage of the freak accident was circulated on social media on Friday.
In the video, the woman, who was accompanied by a man, was seen sitting at the police station for passport verification at the Crime and Criminal Tracking Network and Systems (CCTNS) office of Aligarh Kotwali Nagar. A police officer handed over the pistol to sub-inspector Manoj Sharma, who proceeded to load the gun. Suddenly, a bullet was fired and hit the woman's head. She was taken to Jawaharlal Nehru Medical College for urgent medical attention.
Law enforcement officials, including the Senior Superintendent of Police (SSP) and other police officers, arrived at the medical centre to inquire about the victim's condition and oversee the ongoing treatment, according to reports.
Sub-inspector Sharma reportedly fled the scene following the accidental shooting. "We are actively pursuing all necessary legal measures, including the immediate suspension of the accused inspector. The motive behind the accidental firing is currently unknown, and our priority is ensuring the victim receives the necessary medical care," said Kalanidhi Naithani, SSP, Aligarh.
Indore: 22-Year-Old Delivery Boy Ends Life After Alleged Girlfriend Forces Him To Leave Parents
Indore (Madhya Pradesh): A 22-year-old delivery man committed suicide after consuming a poisonous substance at his residence in the Banganga police station area on Thursday. The exact reason behind his extreme decision could not be established as no note was recovered from his place.
However, the family members alleged that he consumed the poisonous substance after his girlfriend forced him to leave his parents. She began living with him at his house after her family members threw her out. The police are investigating the case and recording statements from the family members.
According to the police, the deceased was identified as Sachin aka Kamal Jhala, a resident of Bhawani Nagar, who worked as a delivery boy. Sachin's father, Govind, alleged that Sachin committed suicide after a dispute with his girlfriend, who had been living at his house for the past month.
They had attempted a court marriage, but family members filed a complaint at the police station, stating that the girl is a minor, preventing the marriage.
His girlfriend lived in the same colony, and her parents had thrown her out after the incident. She began to live at Sachin's house from last one month. She was pressuring him to leave his parents and live elsewhere.
Sachin was tense over the dispute for a couple of days. He had a sister who is married in Rajasthan and he was the only son of his parents. The police have initiated an investigation to know the exact reason behind his decision to end life after sending the body for autopsy.