Disha Patani to play grey character opposite John in 'Ek Villain Returns'
All set to be seen in a negative character on the big screen, Disha Patani is enjoying one of the most interesting phases of her career. She will be seen along with John Abraham in the forthcoming film 'Ek Villain Returns'.
With 'Ek Villain Returns'. Disha will be seen playing a grey character for the first time in her career.
Switching over to a negative character called for some preparation, the actress said. "I just followed my director's advice. I also remember watching a lot of these negative movies and there was a point I was like sir I can't watch it anymore because it's making me into a different human but I just followed what he told me, Mohit sir really knows what he wants and he just makes everybody's life easier."
Disha Patani has previously been noticed for her performance in Mohit Suri's 'Malang'. This is the second time she has been roped in for a project by him.
"I got really lucky to work with Mohit sir in Malang. He inspired me to go all out. I love the genre and I would love to even more. This is my second film with him. I hope he is not bored of me because I would love to work with him again and again."
Talking about his experience working with Disha, John said: "I think with Disha, it was a fantastic experience to work with. It's only rare when you get on screen, and you feel that the chemistry is working, we felt the same with Disha."
On the work front, apart from 'Ek Villain Returns', a few months ago Disha finished shooting for Dharma production's 'Yodha' starring Sidharth Malhotra.
Mumbai: 'Don't Disrespect Our Father' Supriya Sule Warns BJP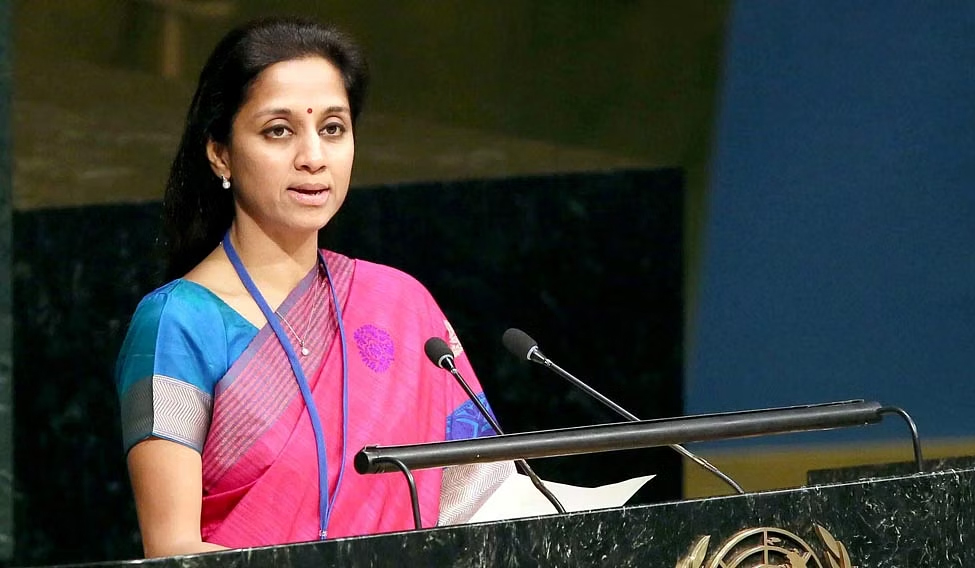 NCP Working President Supriya Sule issued a warning saying 'disrespect us, but not our father' while addressing the party gathering in Mumbai on Wednesday.

Slamming the BJP and referring to it as the most corrupt party in the country, she said, "Disrespect us, but not our father (Sharad Pawar). This fight is against the BJP government. BJP is the most corrupt party in the country."
Supriya Sule hits out at state govt
She also hit out at BJP, Ajit Pawar, and Eknath Shinde-led government and alleged that BJP is using Income Tax, CBI, and Enforcement Directorate to threaten the party MLAs. However, she claimed NCP will give an appropriate answer very soon.

Referring to Ajit Pawar's advise to Pawar Sr to retire while mentioning his age, Supriya Sule said, "Age is just a number." She also cited Ratan Tata, Amitabh Bachchan and Cyrus Punawala to prove her argument that a person can be active and work for the society if he has the will to do so.
Striking an emotional chord, Sharad Pawar's daughter also said that daughters are the best support for a father when it is required.

"Instead of asking them to sit at home and give blessings, daughters are better. They become the support system for their fathers when the house is in danger," she said.
Mumbai News: Just 32k Legal Hawkers But Over 1L Availed Loan Scheme
If there are only 32,000 legal hawkers in the city then how come Prime Minister Narendra Modi distributed loans under PM SVANidhi Yojana to more than one lakh hawkers, asked former opposition leader in BMC Ravi Raja. On January 19, 2023, PM Modi distributed a loan of ₹10,000 each to 1.10 lakh hawkers. The grant was provided based on the certificates issued by the BMC.
Ravi Raja fumes over PM Modi
The ex-Congress corporator fumed over the civic body's decision to allow 32,000 hawkers, who were termed as legal vendors after a survey, to vote in the Town Vending Committee (TVC) election. The committee, which comprises civic chief, representatives from traffic police and various BMC departments, members of hawker association and civic society, plays a crucial role in implementing the rules pertaining to hawkers as well as identifying eligible hawkers. Hence, 32,000 hawkers have been allowed to vote for TVC elections as it's a question of their livelihood.
Averring that the BMC is "messing up" with the hawkers policy, Raja further said that rules say that 2.5 per cent of the total population can do hawking business.
The BMC is in the process of sending the list of 32,000 hawkers to the labor commissioner for getting their names stamped for TVC election. However, Raja has demanded that the civic administration should wait till the election of corporators, which is long overdue.
Rescue operations continue for 2nd day to save girl stuck in borewell in MP's Sehore
Rescue operations were on to save a three-year-old girl who fell into a borewell in Madhya Pradesh's Sehore, said officials on Wednesday.
The operation has been going on for the past 18 hours after the girl fell in the borewell on Tuesday while she was playing.
"The rescue operation is still underway on the second day," the Sehore district administration officials said, without elaborating much about the current situation of the girl.
The officials said that the digging of a parallel hole/tunnel was still underway which will take some more time.
The girl, Shristi Kushwaha, was stuck at a depth of 25-30 feet in the 300-ft deep borewell.
Oxygen was being supplied to her and her movements were being monitored through a camera. An official said digging was delayed due to the presence of hard rock.
On Tuesday, Chief Minister Shivraj Singh Chouhan directed the district administration to rescue the baby girl.
Earlier, in March this year, a 7-year-old boy fell into a borewell in Vidisha district and was rescued after 24 hours operation jointly by Indian Army and SDRF team, however, by the time the boy was rescued, he had died.
Following which, the state government had ordered the officials to check all the borewells and ensure that all of them are covered. However, no heed was paid to the instruction. In the last one and a half years, nearly half a dozen such incidents were reported in different parts of Madhya Pradesh.