'Consistency, discipline go hand in hand', Sikandar Kher opens up on parents' teachings
Sikandar Kher, who is known for his work in the webseries 'Aarya', credits his parents for inculcating the required discipline and consistency towards his work in order to be successful.
As per Sikandar, discipline lies at the core of his parent's teachings and values.
Elaborating on the same, the actor said, "Being consistent and disciplined towards your work is something that I had learnt very early on in my life because of both my parents. My father always taught me the importance of respecting work, no matter how big or small and doing it to the best of your potential without giving up, while my mother made sure that I realised the value of time – she always made sure that I learnt the discipline of being punctual for everything."
"It was and still is inspiring to see my father work every day and do it with uttermost honesty and commitment. He would always tell us – 'Kaam karte raho, kaam se hi kaam milta hai.' And this line has been stuck with me ever since. I can proudly say that I am what I am today because of both my parents", he added.
On the work front, Sikandar will next be seen in the webseries called 'Chidiya Udd' with his 'Romeo Akbar Walter' co-star Jackie Shroff and the third season of Sushmita Sen's family crime thriller, 'Aarya' on Disney+ Hotstar.
Viral: Shah Rukh Khan Performs Umrah In Mecca Post Schedule Wrap Of Dunki. Fans Are Thrilled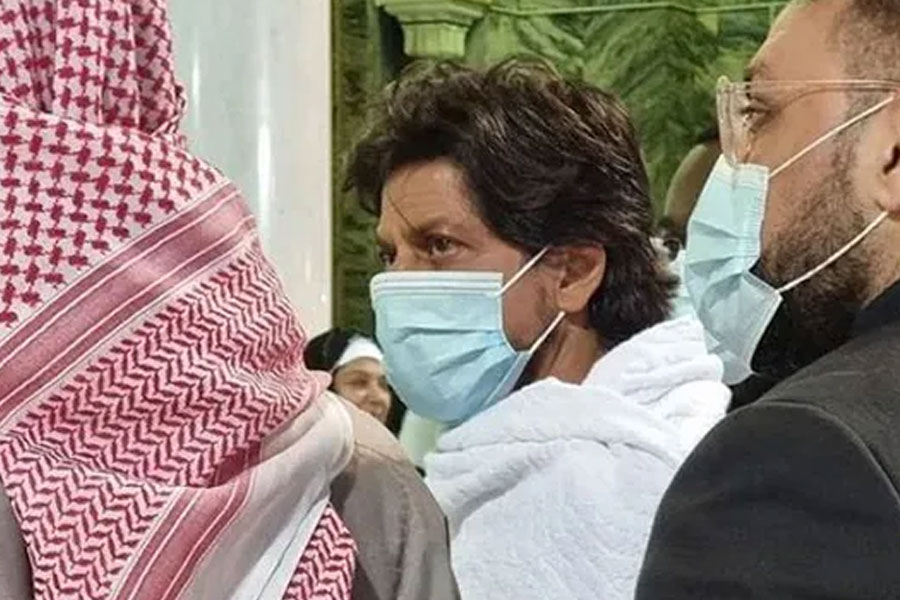 Shah Rukh Khan, who announced the Saudi Arabia wrap of Dunki, was spotted in the holy city of Mecca. Several pictures of the superstar are going viral on the Internet that shows him in a white ensemble and a mask performing Umrah (an Islamic pilgrimage to Mecca). He can be seen surrounded by people. The official Twitter account of Shah Rukh's fan club shared a picture and video and captioned the post as "[Pics]: King #ShahRukhKhan performing Umrah at Makka Sharif." Soon after the post was shared, his fans flooded the comment section. A user wrote, "Mashallah mashaallah may Allah accept each of ur dua… inshallah," while others wrote, "Mashallah (beautiful)."
On Wednesday, Shah Rukh Khan dropped a video on his Instagram handle announcing a schedule wrap in Saudi Arabia. In the video, he can be heard saying, "There is nothing more satisfying than completing a shooting schedule as is with Dunki here in Saudi. So I want to thank Raju sir and rest of the cast for making it look so lovely. Special thanks to the Ministry of Culture and Films here in Saudi for giving us such spectacular locations, amazing arrangements and the warm hospitality. So, a very big Shukran (Thank you) to all. On to the red sea festival."
Meanwhile, on Thursday, Shah Rukh Khan unveiled new posters of Pathaan, co-starring Deepika Padukone and John Abraham. The new posters featured them with guns. The movie is scheduled to release on January 25, 2023.
On the work front, Shah Rukh Khan has three films in his kitty that are scheduled to release next year – Pathaan with Deepika Padukone, Jawan with Nayanthara and Dunki, co-starring Taapsee Pannu.
Navi Mumbai: Kharghar musical group announces event to raise funds for cancer patients
Kharghar Krooners, a musical group, will soon host a charity programme to raise funds for families of cancer patients. This is the first time that the group has ticketed its programme. However, funds raised from the event will entirely go towards charity.
The group will hold the musical event in association with the 'Karun Bharat Helping Hand Foundation' to raise funds for needy patients. The 'Mega Concert' of the Kharghar Krooners will be held at Vishnudas Bhave Auditorium on Sunday, December 18 at 8:30 p.m.
Kharghar Krooners has made a humble appeal to people to come forward and support families by enjoying a lovely musical evening with the music of the Golden Era of Rafi, Kishore, Mukesh, Lata Mangeshkar, and Asha Bhosale.
According to the organiser, they have reserved seats for 50 cancer patients along with one of the relatives. "We reserved a total of 100 seats for them," said the organiser.
Sharmila's arrest, attack on convoy trigger tension
Attack on YSR Telangana Party (YSRTP) leader Y. S. Sharmila's convoy allegedly by the supporters of ruling Telangana Rashtra Samithi (TRS) and her subsequent arrest by the police triggered tension during her padyatra in Warangal district on Monday.
Police stopped Sharmila's padyatra and arrested her and YSRTP leaders and workers accompanying her in Chennaraopeta mandal.
YSRTP cadres tried to resist the arrests and raised slogans against the police and the TRS government. The police used mild force to control the situation.
Sharmila, sister of Andhra Pradesh Chief Minister Y. S. Jagan Mohan Reddy, was arrested after she allegedly made certain objectionable comments about TRS MLA P. Sudershan Reddy.
Sharmila wanted to know from police why were they taking her into custody instead of arresting those who attacked her bus.
YSRTP alleged that the bus which Sharmila is using to rest during her ongoing Praja Prasthanam padayatra was attacked and burnt down by the members of the ruling TRS party.
The mob also damaged cars belonging to YSR Telangana Party leaders. The incident happened near Lingagiri village, under Chennaraopeta mandal in Warangal district.
Sharmila was participating in the padyatra on 223rd day when a group of men chanting pro-TRS slogans and hailing KCR, reached the place where the caravan was halted and torched it.
"For the past 223 days, me and my Party leaders and representatives are holding a peaceful Padayatra to highlight the plight of various sections of people in Telangana. Our rising popularity has jolted Chief Minister KCR and his party men, who want to stop me at any cost," she said.
Daughter of former chief minister Y. S. Rajasekhara Reddy said that it is highly unfortunate that some police officers are siding with the ruling party and disrupting 'our efforts to reach the people and raise their issues.'
The Praja Prasthanam padayatra has so far crossed 3,500 kms mark, covering 75 Assembly segments in the State. She has covered 1863 villages under 208 mandals and 61 Municipalities along with 4 Municipal Corporations, so far.