CM Shinde justifies 'uprising', claims to be 'heir' to Balasaheb's legacy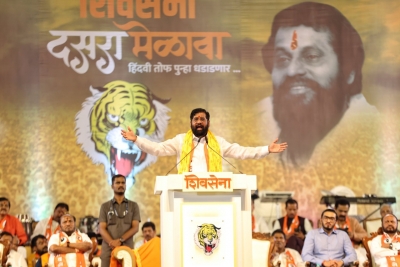 Chief Minister Eknath Shinde on Wednesday defended his rebellion against the Shiv Sena leadership, terming it as not 'treachery' but an 'uprisinig' to save the party, and proclaimed himself as the real 'inheritor' of late Balasaheb Thackerays political legacy.
Addressing a massive Dussehra rally at the Bandra Kurla Complex grounds here, Shinde – who toppled the Maha Vikas Aghadi government in June – devoted his speech largely to justify his revolt, and replying to many points raised by Shiv Sena President and ex-CM Uddhav Thackeray at his rally in Shivaji Park, and upholding his move to ally with the Bharatiya Janata Party.
Some of the surprise guests who turned up at the event were Jaidev Thackeray, the elder brother of Uddhav Thackeray, and sister-in-law Smita Thackeray and other clan members.
Countering Thackeray's attacks, Shinde accused him of 'selling off' Balasaheb's ideals, committing a 'sin' by joining hands with the Congress-Nationalist Congress Party in his greed for power, and watching the destruction of Shiv Sena with open eyes in the past two-and-half-years of the MVA regime.
"Stop talking of 'gaddaars' and 'khokhas' (a slang for crores of rupees)… We are not 'gaddaars' (traitors), what we did was a 'gadar' (uprising) to save the Shiv Sena. Look at this gathering, it shows where is the real Shiv Sena and who is the true inheritor of Balasaheb's legacy," claimed Shinde.
He countered by accusing Thackeray of 'gaddaari' (treachery) with the BJP after the October 2019 Assembly elections to form the MVA government, terming it as a 'betrayal' of Balasaheb, of Shiv Sainiks, of Hindutva, the BJP with whose support he won the polls and the people of Maharashtra', while discarding Hindutva to keep Congress-NCP in good humour.
The CM also chucked Thackeray's allegations that he (Shinde) wanted to become the CM or control the Sena, and said when NCP President Sharad Pawar insisted on Thackeray taking over as CM, he had readily supported the move as he never hankered for power.
"Is Shiv Sena your private limited company, are you our master and we are your servants? Can only persons born with the silver spoon become the CM? Can't ordinary drivers or hawkers occupy the top post? This is the Sena of Balasaheb and Sainiks can make sacrifices for the party and Hindutva," Shinde said.
The CM also lavished praise on the BJP, Prime Minister Narendra Modi and Home Minister Amit Shah, saying it was Modi who fulfilled Balasaheb's dream of abolishing Article 370 in Jammu & Kashmir and building the Ram Mandir, among other things.
Slamming Thackeray for criticising the Rashtriya Swayamsevak Sangh to please the Congress-NCP, Shinde said the RSS has contributed hugely to nation-building in the past 70 years, so demanding a ban on it was 'laughable'.
Taking a swipe at the NCP, he said it was better to join hands with the BJP than someone who had given a cabinet post to a person linked with underworld don Dawood Ibrahim Kaskar, and not speaking up in favour of the action taken by the BJP to ban the Popular Front of India (PFI), whose activists reportedly raised anti-national slogans recently.
26/11 Fallout: From coastal security upgrade to amping up anti-Pak social media war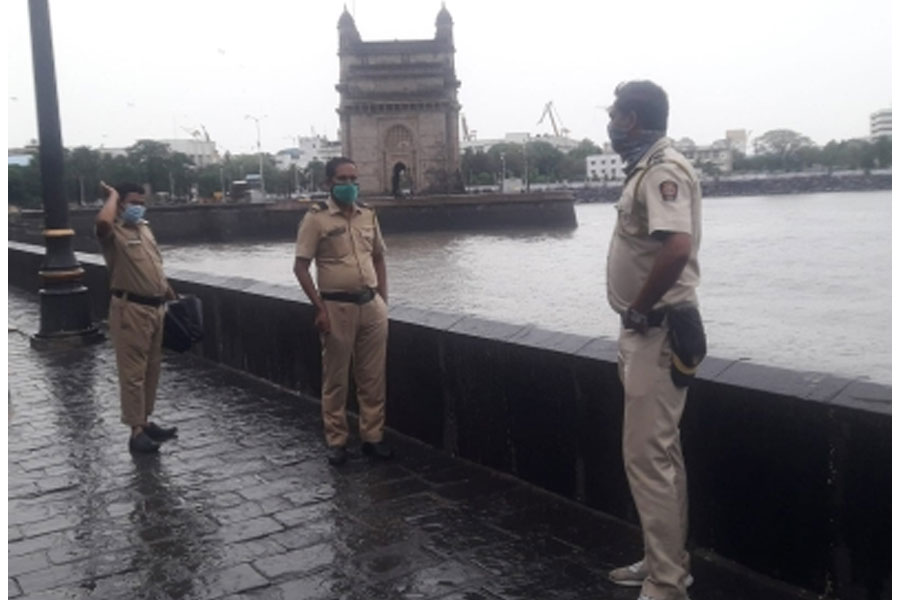 The ease with which terrorists entered the country and carried out one of the deadliest attacks on November 26, 2008, dealt a huge blow to the nation's security system, which led to steps being taken to strengthen coastal security after the 26/11 Mumbai terror attacks.
Since 2008, the victims of the terror attacks have not been able to recover from the shock completely, but the internal security of the country has seen several major changes.
Taking lessons from the terror attacks, security arrangements have been made fool proof, making it safe from rerun of the 26/11 Mumbai attacks.
Considered a failure of various intelligence agencies, the attacks also gave rise to several questions concerning the internal security of the country.
Today India has done a better job on all such diverse fronts concerning safeguarding the internal security matters of the country. Meanwhile, there has been a drastic shift regarding the changes related to the internal security of the country.
Indian Navy, Coast Guard and Marine Police have created a three-tier security system in the coastal areas of the country so that no suspicious activity can go undetected.
The Government of India constituted the Information Management and Analysis Centre in 2014 so that the Navy, Coast Guard and Marine Police could work as a three-tier integrated security unit.
Its main purpose is to ensure that an incident like 26/11 Mumbai terror attacks does not happen again. It acts as a nodal centre for the collection and dissemination of information on coastal security to multiple places.
Apart from this, the Director General of the Indian Coast Guard has been accorded the status of Commander of the Coastal Command, who acts as a coordination between the Central and state intelligence agencies.
At the same time, the strength of the Indian Navy has also increased significantly as compared to 2008. The radar system of the Indian Army has been vastly strengthened, due to which the Navy is able to keep a sharp surveillance in the sea.
The Union government has also procured several patrolling boats and surveillance equipment to beef up coastal security.
According to the Ministry of Home Affairs, after the 26/11 Mumbai attacks, the Coastal Security Scheme Phase-2 has been started in the direction of building maritime infrastructure.
Under this initiative, 121 Coastal police stations have been set up. At the same time, till 2021, 35 jetties and 10 marine operational centres have been established.
Apart from this, 131 four-wheelers and 242 motorcycles have also been purchased for patrolling. The government has also started coastal mapping through which every activity related to maritime security is being monitored with the help of mapping.
The government has also initiated a tracking system for monitoring boats of fishermen going for fishing in the sea. Under this system, one biometric card has been issued to each fisherman. This system has been implemented in many states across the country.
In such a situation, the Coast Guard or Navy can check the identity of any boat by checking its biometric card in case of any suspicion.
After the Mumbai terror attacks, the Maharashtra government formed a special team of commandos named 'Force One'. The training of Force One personnel is on the lines of training undergone by NSG personnel.
The NSG has also been made much more effective than before. After 2008, now the NSG has regional centres functioning at five places in the country, namely Mumbai, Chennai, Hyderabad, Kolkata and Gandhinagar so that the response time can be reduced in case of a terror attack anywhere in the country.
At the same time, mock drills of NSG jawans are organised from time-to-time in different parts of the country so that they are always well-prepared to handle any situation.
At the time of the Mumbai attacks, the NSG commandos were kept waiting at the airport for eight hours. Such shortcomings have also been removed. The government has given exclusive rights to the NSG, which can now take aircraft from any operator in times of emergency.
Organisations running their terrorist activities from Pakistan work to spread religious fanaticism and collect funds through social media. In view of this, Indian intelligence agencies have laid siege to these organisations on social media as well. Several teams of experts are continuously monitoring social media and taking strict action by identifying people involved in anti-national activities.
The most successful experiment after the Mumbai attacks was the creation of the National Investigation Agency (NIA). Since its inception on December 31, 2008, NIA has been successfully investigating, not only terror attacks and fake Indian currency cases, but also funding networks of terrorist organisations, anti-national organisations and Maoists in Jammu and Kashmir and northeast India effectively.
The regional offices of NIA have been opened in many states. Over the years, the NIA has been able to establish itself as an anti-terror investigative agency.
India has now started a major fight against terrorism, not only within the country but also at international fora. India has hosted three global events this year — the Interpol Annual General Assembly in Delhi, a special session of the UN Anti-Terrorism Committee in Mumbai and Delhi, and the 'No Money for Terror' conference.
In these three conferences, an important strategy was prepared on cross-border terrorism and ways to deal with it. Not only this, India has also exposed Pakistan through these global fora.
26/11 Mumbai attacks: Darkness of terror can only be cut by light of goodness, says Baby Moshe's uncle
The answer to the darkness of terror is the light of goodness and kindness, said Moshe Holtzberg, the uncle of 26/11 Mumbai terror attack survivor 'Baby Moshe', whose parents were killed by Pakistani terrorists at Nariman House here.
It has been 14 years since the terror attack rocked the city, but the Holtzberg family remains an inspiration to many for their mission of love and kindness, he said.
Baby Moshe, who was two years old at the time of the attack, was rescued by his Indian nanny Sandra Samuel when Pakistani terrorists killed his parents Rabbi Gavriel and Rivka Holtzberg and four visitors at Chhabad Lubavitch Jewish Centre in Nariman House in Colaba on November 26, 2008.
Baby Moshe, who is seen as a symbol of life amid tragedy, is now 16 years old and is studying in a school in Israeli city of Afula. He spends time with his maternal and paternal grandparents.
The teen's uncle Moshe Holtzberg, who lives in the US, spoke to PTI through social media on Friday.
Holtzberg recalls spending time with Baby Moshe in Nariman House and Colaba Market, where they pet goats.
"We see him as a symbol of unity and pray that God gives him the strength to carry forward his parents' mission," he said.
Holtzberg (33) is the younger brother of Rabbi Gavriel. "Several years have passed since the Mumbai terror attack and unfortunately, many more tragedies have occurred since. Just two days ago, a terror attack took place in Jerusalem," Holtzberg said.
"We believe that the answer to the darkness of terror is the light of goodness and kindness," he said. Holtzberg further said that although it's been 14 years since the terror attack, people still approach his parents Rabbi Nachman and Frieda Holtzberg with heartwarming stories about how they were inspired by his brother Rabbi Gavriel and Rivka.
"For Moshe, India is home. No terror attack will chase him out of his home. Nariman House is his house, Mumbai is his city and India is his country," Holtzberg said. Moshe has expressed that he would want to go back at some point and continue what his parents had started, he said.
Holtzberg said Baby Moshe's Indian nanny Samuel, who works as a social services provider in Jerusalem, frequently visits the boy she had rescued.
On November 26, 2008, 10 Lashkar-e-Taiba terrorists from Pakistan arrived by sea route and opened fire, killing 166 people, including 18 security personnel, and injuring several others during the 60-hour siege in Mumbai.
The Chhatrapati Shivaji Maharaj Terminus, the Oberoi Trident, the Taj Mahal Hotel, Leopold Cafe, Cama Hospital and the Nariman House Jewish community centre, now renamed Nariman Light House, were some of the places targeted by terrorists.
Nine terrorists were later killed by the security forces, including the NSG, the country's elite commando force. Ajmal Kasab was the only terrorist who was captured alive. He was hanged four years later on November 21, 2012.
Amruta Fadnavis jumps in to save Governor amid clamour for his ouster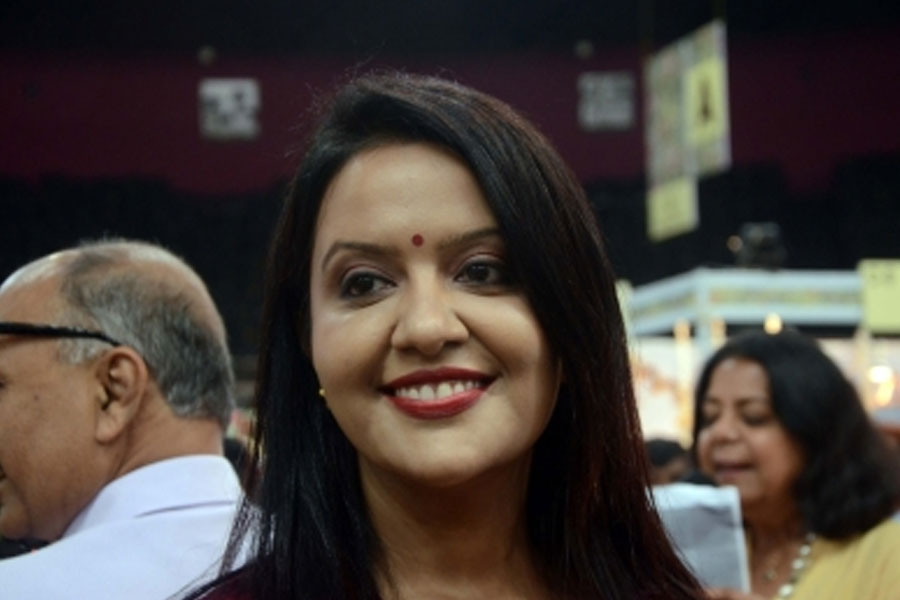 Amid a shrill clamour to sack besieged Governor Bhagat Singh Koshyari, singer Amruta Fadnavis – wife of Deputy Chief Minister Devendra Fadnavis rushed to his aid, here on Friday.
She said that Koshyari is a 'Marathi manoos' (Marathi man) at heart whose recent utterances on Chhatrapati Shivaji Maharaj were misinterpreted.
Amruta said she knows the Governor personally and he genuinely loves the Marathis in the state.
"I have experienced this myself… Though it has happened many a times that he has said something that has been wrongly interpreted" claimed Amruta, speaking to the media.
Her defence of Koshyari – who kicked up a huge row on November 19 with his statements on Chhatrapati Shivaji Maharaj – came a day after the Maha Vikas Aghadi alliance declared that the Governor has "crossed all limits".
Barring the ruling ally Bharatiya Janata Party, all political parties – Chief Minister Eknath Shinde's Balasahebanchi Shiv Sena, and the Opposition Congress, Nationalist Congress Party and Shiv Sena (UBT) – have slammed the Governor and demanded his immediate removal from the august post.
Sena (UBT) President and ex-CM Uddhav Thackeray said that the Governor has insulted Maharashtra's ideals and icons like Chhatrapati Shivaji Maharaj, Mahatma Jyotirao Phule and Saviti Phule and also the people of the state.
"After the 'Minde' government (referring to Shinde) came to power in the state, it is being continuously insulted and abused, the Governor is slighting 'Shivraya'. The Centre should recall him immediately. People who have no place even in old-age homes are being appointed as Governors," said Thackeray sharply.
NCP President Sharad Pawar said on Thursday that Koshyari has "now crossed all limits" and urged the President Draupadi Murmu and Prime Minister Narendra Modi to take a call on him.
"The post of Governor represents an institution… To maintain its dignity, we did not speak against the Governor earlier, but now he has crossed all limits. Such people don't deserve crucial posts like Governor" said Pawar sternly.
The state Congress President Nana Patole and other party leaders have also demanded the removal of the Governor for his slur against Chhatrapati Shivaji Maharaj.
The direct descendants of the legendary Maratha warrior king, Chhatrapati Udayanraje Bhosale and Chhatrapati Sambhajiraje have come down heavily on the Governor for his statements on their illustrious ancestor.
Bhosale called Koshyari 'third-class' and has shot off letters to the President, PM and Union Home Minister Amit Shah demanding his removal while warning that he would launch an agitation in the state.
However, the Governor sought to make amends by praising Chhatrapati Shivaji Maharaj at a function a couple of days ago, but the state leaders are not convinced and are firm on his ouster.