BJP dismisses Goa Congress demand to dismiss Pramod Sawant government
The ruling BJP on Wednesday ignored the accusations levelled in Congress' memorandum to Goa Governor P.S. Sreedharan Pillai, in which the Opposition has sought dismissal of the coalition government led by Pramod Sawant, citing a breakdown in the law and order machinery.
Speaking to reporters state Bharatiya Janata Party president Sadanand Shet Tanavade said that there was "nothing wrong" with the opposition making such claims before a Governor.
"It is their (Opposition's)job. They have to show their existence. Nothing wrong in that," Tanavde said.
On Tuesday, top Congress leaders including state party president Girish Chodankar and Leader of Opposition Digambar Kamat met Pillai and submitted a memorandum containing grounds for dismissal of the BJP-led coalition government in the state.
"This government has no moral right to remain in power. The Governor of Goa should take serious note of the collapse of the law and order situation in the state and dismiss the BJP Government immediately," Kamat told reporters after meeting the Governor late on Tuesday.
"There is a steep rise in criminal activities in Goa. The incidents of rapes, murders, mysterious deaths, kidnappings, gangwars happening almost on a daily basis. The BJP Government headed by Chief Minister Dr. Pramod Sawant has 'transformed' Goa and failed to provide safety and security to Goans," the memorandum stated.
The four-page memorandum detailed a series of crimes against women and shoddy police investigations as one of the important grounds for the dismissal of the state government.
"The police department is yet to come to the conclusion of the mysterious death of a young girl Siddhi Naik whose body was found at the Calangute beach on August 12. On Tuesday, there was an incident of a father raping his own 6 year old daughter in Salcete. On the same day, an attempt to abduct a girl in Ponda was reported by the parents of a teenage girl. This shows that there is no fear in the minds of the people about the police and the government. The anti-social elements feel that Goa is now a criminal destination," the memorandum said.
BJP MLA Nitesh Rane asks Maharashtra CM details on 'monsoon readiness' plans for Mumbai
Bharatiya Janata Party MLA Nitesh Rane on Monday raised the issue of water-logging that plagues Mumbai during the monsoon and sought to know the monsoon preparedness made by the state government and BrihanMumbai Municipal Corporation.
In a letter to Chief Minister Uddhav Thackeray, Nitesh Rane, the son of Union MSME Minister Narayan Rane, alleged that every year, the BMC makes claims of taking remedial measures, but nothing happens in the field.
As a result, many areas in the city are flooded and there are reports of people losing their loved ones due to water-logging, he said in his letter, sent ahead of the upcoming BMC elections.
"Shiv Sena, ruling the BMC for more than two decades now has no solution to offer to Mumbaikars who suffer from water-logging in the city during monsoons every year. You want to change the face of Mumbai by painting and beautification, but you ignore the main issues completely. This time, a good monsoon is forecast so one can imagine what is in store for Mumaikars," said Nitesh Rane.
He brought to the notice of the CM about 386 'danger spots' in Mumbai which are tagged as flooding-prone, of which the sites fall in south central Mumbai's Matunga, Wadala, and Sion which create havoc if there is continuous rainfall.
Nitesh Rane said that on an average there are 22 days when Mumbai will experience high tides in the Arabian Sea, and if it simultaneously rains heavily on those days, then the city could face havoc equivalent to the great floods of July 26, 2005 that submerged the country's commercial capital.
"Besides installing pumps at these flood-prone spots, what else have you done to provide relief to Mumbaikars," questioned the BJP MLA from Kankavli in Sindhudurg district.
He demanded from Thackeray whether the state and BMC have made any advance preparations to resolve these recurring issues and give permanent solutions, or would Mumbaikars have to again suffer and bear floods.
Meanwhile, a senior civic official said that all pre-monsoon works are proceeding at high speed since April and most of it is near completion, though certain chronic or low-lying areas continue to be at risk of water-logging or floods as in the past.
"Besides, in the past few years, the flooding problem is more noticeable owing to the ongoing work of Mumbai Metro lines at various locations, the upcoming Coastal Road Project in south Mumbai, and certain other road projects, but we are taking full counter-measures," said the officer, declining to be identified.
Congress 'exposes' BJP leaders who visited Aurangzeb grave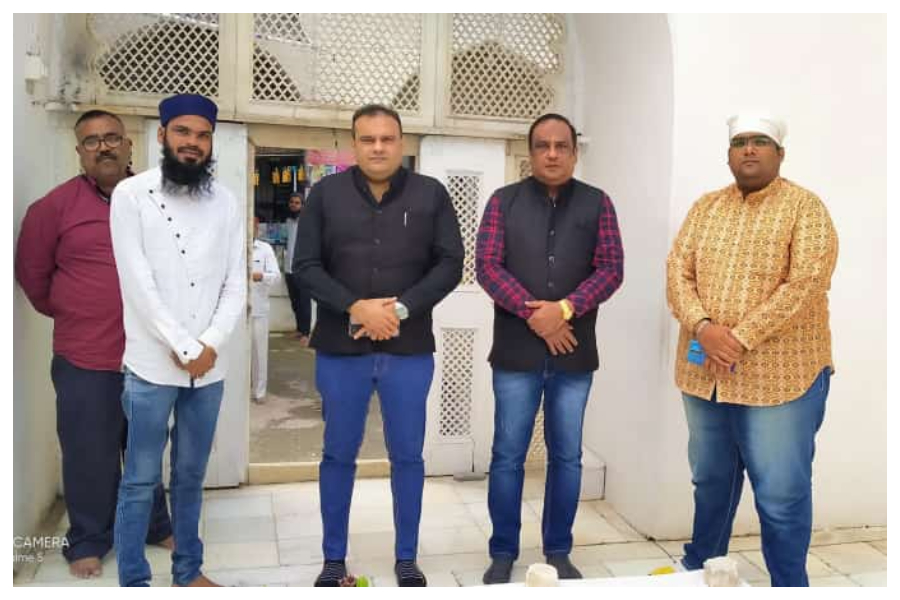 With the opposition Bharatiya Janata Party, Maharashtra Navnirman Sena and MP-MLA Rana couple hounding the Maha Vikas Aghadi government for action against AIMIM chief Akbaruddin Owaisi's visit to the Aurangzeb grave in Aurangzeb, the state Congress made a fresh expose here on Monday.
Congress General Secretary Sachin Sawant has dug out old photos and videos of several BJP leaders who had visited the burial site of the late Mughal Emperor Aurangzeb at Khuldabad and raised uncomfortable questions.
"The BJP National Executive member and Spokesperson, and Jammu & Kashmir Waqf Board President Dr. Darakshan Andrabi had gone to Aurangzeb's tomb during the Corona period," he said.
Similarly, Khalid Qureshi, the Vice-President of BJP's Minority Affairs also had gone there and in 2019, when current Leader of Opposition Devendra Fadnavis was the BJP CM even AIMIM MP Asasuddin Owaisi went to pay homage there in 2019.
"The tomb is under the jurisdiction of Archaeological Survey of India (ASI). So why can't the Central government control, restrict or even ban entry to Aurangzeb's grave?" Sawant demanded.
He wondered why Prime Minister Narendra Modi's government doesn't initiate action against the Owaisis and even the BJP leaders who have gone to Aurangzeb's final resting place in Khuldabad.
Sawant slammed the BJP, MNS and the Independent MP Navneet Kaur-Rana and her MLA husband Ravi Rana for blaming the Maha Vikas Aghadi (MVA) government for the May 12 visit to the grave by Telangana MLA Akbaruddin Owaisi.
Some BJP and MNS activists threatened "to bury" Owaisi in a grave right next to Aurangzeb's and the Rana couple challenged Maharashtra Chief Minister to take strong action against Owaisi for his trip there which sparked off a major political row.
Shiv Sena MoS Kishore Tiwari and other MVA leaders have dismissed the 'frivolous demands' from who they term as the BJP's Team B, C or D and said they should not divert from more serious issues like runaway inflation, high prices of fuel and gas, rising unemployment, etc and point at the developments in Sri Lanka.
80-hour regime: Ajit Pawar, Fadnavis 'ko gussa kyun aata hai'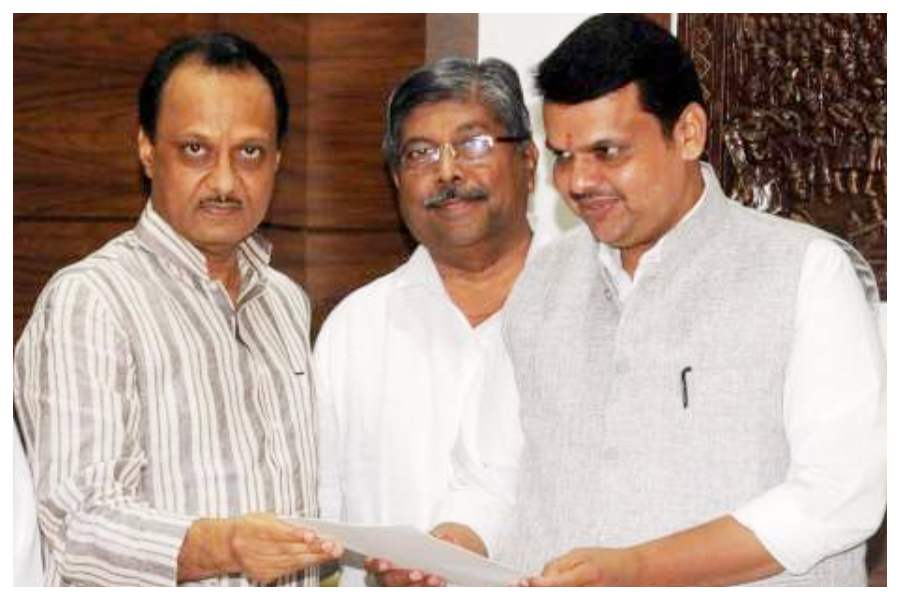 Thirty months after BJP's Devendra Fadnavis and Ajit Pawar suddenly took oath as Chief Minister and Deputy Chief Minister respectively, in the morning of November 23, 2019, that incident continues to haunt and embarrass them.
Despite their best efforts to chase away the ghost of that clandestine swearing-in ceremony at Raj Bhavan that morning, it keeps popping up frequently in the most unexpected ways — this time raked up by none other than Chief Minister Uddhav Thackeray himself at his huge rally on May 14.
Replying to the Bharatiya Janata Party's criticism, Thackeray declared that he allied with the Congress (and NCP) openly, not in an 'early morning' oath-taking ceremony of the 80-hour-long two-man regime — and his words pierced the target.
Willy-nilly, the CM also hinted at the 'real secret' behind why the Central probe agencies like the CBI, ED, NCB, I-T and the NIA keep hounding only the Shiv Sena and Nationalist Congress Party leaders for over two years.
The Shiv Sena President thundered saying if the BJP and MNS do not stop their vicious politics, hounding by the Central agencies, lodging false cases against the Maha Vikas Aghadi (MVA) government leaders or their families, then "we won't forgive or spare you".
"Tomorrow, they will go after Dawood (Ibrahim Kaskar) but if he joins them, he will be made a cabinet minister… If that (2-man govt) 'experiment' had succeeded, then people like Anil Dashmukh or Nawab Malik would have been in your good books," said Thackeray amid applause.
As the MVA government trudges to the mid-way mark in its five year term, BJP's Leader of Opposition Devendra Fadnavis continues to cry over the spilt milk, his 'birth-right' to power that he was unceremoniously deprived of after the 2019 Assembly elections.
The Ajit Pawar-Fadnavis duo has been lampooned and ridiculed since that indiscretion in Raj Bhavan, sans any trappings, but with the drapes drawn tightly to keep off peeping-toms prying at the political hustle enacted that dawn when the groggy state was engaged in its morning ablutions.
Once, displaying rare courage, Fadnavis confessed that "it should not have happened", and again hammered Thackeray for 'backstabbing BJP' to grab power with the help of the Congress-NCP.
Even the much-pilloried Ajit Pawar, painted as a 'black sheep', feebly tried to justify the swearing-in event, saying it was not in the early morning as speculated, but "at 8 a.m.", though later the NCP hugged him and rewarded him with the same post as Fadnavis did for 80 hours!
Wily Uncle and NCP President Sharad Pawar also never missed an opportunity to take a swipe at the dawn ceremony in his characteristic style.
In late-2020, when Governor Bhagat Singh Koshyari published a coffee table book, Pawar wrote to him how everything was there in his coffee table book "except a particular swearing-in ceremony".
Congress state President Nana Patole also took a potshot saying Ajit Pawar was to "explain" it at an appropriate time, but has nothing till date.
"So much water has flowed under the bridge… We 3 parties are now working together, the government is running well… Why do you keep raising it repeatedly," an irked Ajit Pawar said of that 80-hour fling, Monday.
There have been heated exchanges inside the Maharashtra legislature and outside with the MVA leaders laughing and leering at that morning venture while livid unrepentant BJP leaders shielding it.