Bharat Bandh peaceful in Maharashtra, evokes mixed response
Maharashtra witnessed a mixed response to the 10-hour-long Bharat Bandh called by Samyukta Kisan Morcha having support of all non-BJP parties, here on Monday.
While the SKM action elicited fair to good participation in the semi-rural and rural areas, the response ranged from dull to negligible in semi-urban or urban centres of the state but remained peaceful all over with tight police deployment.
Large number of farmers, labourers and political activists came out in huge numbers in districts like Thane, Palghar, Nashik, Nandurbar, Dhule, Pune, Kolhapur, Aurangabad, Solapur and others, but in most urban centres like Mumbai, Thane, Nagpur, life was near-normal.
The SKM leaders and organisers said that while the Bharat Bandh was total in Punjab, Haryana, Bihar, Kerala and others states with a complete shutdown, it got extensive support in Maharashtra, Rajasthan, Uttar Pradesh, Uttarkhand, West Bengal, Telangana, Andhra Pradesh, Tamil Nadu and Madhya Pradesh.
Farmers were supported in the nationwide agitation, trade unions, women, youth and students' organisations plus almost all major non-BJP parties across the country, with educational institutions, some government and private offices, wholesale or retail markets and other bodies remaining closed.
The SKM said that the Bharat Bandh passes off peacefully in Maharashtra and rest of India with no reports of any violence or untoward incidents, and the organisers appealed not to inconvenience the common public or disrupt essential supplies in any manner.
Top leaders like Balbir Singh Rajewal, Dr Darshan Pal, Gurnam Singh Chaduni, Hannan Mollah, Jagjit Singh Dallewal, Joginder Singh Ugrahan, Shivkumar Sharma, Yudhvir Singh, Yogendra Yadav, Dr Ashok Dhawale, Dr Ajit Nawale and others led the agitation in different parts of the country.
Maharashtra's ruling alliance partners Shiv Sena-Nationalist Congress Party-Congress leaders also came out in full support of the agitation in Mumbai, Pune, Aurangabad and other cities.
One falls to death as fire breaks out in 61-storey Mumbai building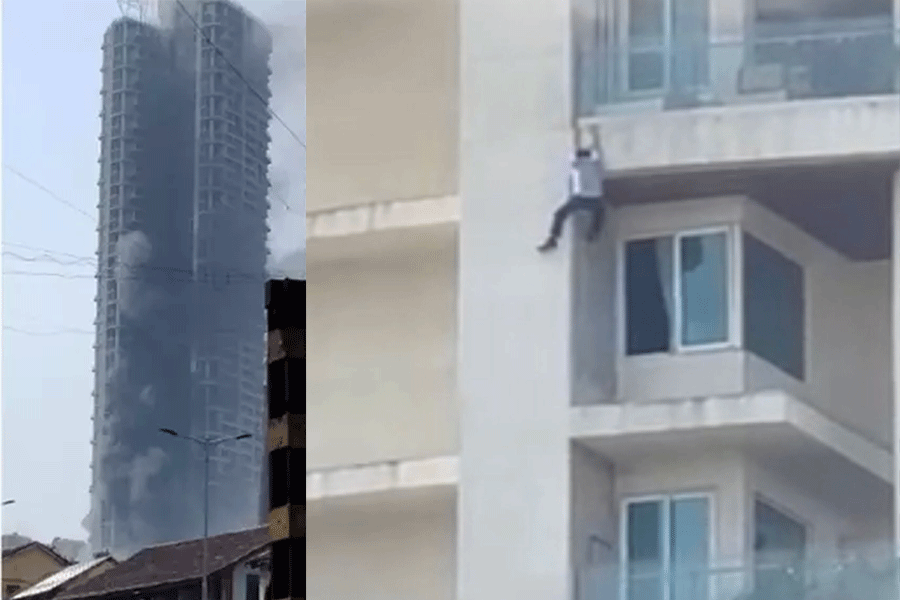 A fire erupted on the 19th floor of a 61-storey residential building in south Mumbai, sending panic waves among the residents and resulting in the death of one person, here on Friday, officials said on Friday.
The blaze broke out in the Avigna Park building in Currey Road around noon, with thick clouds of smoke billowing out, sending the residents scurrying out to safety.
One panicky man was seen coming out of the burning floor, hanging onto a ledge, losing balance and falling to his death below. He was identified as Arun Tiwari, 30, according to the BMC Disaster Control.
At least 15 fire-tenders rushed to the spot and battled the conflagration, attempting to stop the flames from spreading to the higher floors, while Mumbai Mayor Kishori Pednekar went and oversaw the rescue operations.
A majority of the residents managed to evacuate themselves, including several senior citizens and children, though two persons are feared trapped inside.
The cause of the blaze, tentatively believed to be due to a short-circuit, is being probed and the building reportedly has all fire-safety measures in place, said the residents.
India achieves major milestone of 'one billion' vaccinations
India on Thursday achieved the major milestone of 100 crore vaccination-mark, nine months after the nationwide inoculation programme was started to protect the people against Covid-19.

The CoWin portal mentioned that a total of 100 crore vaccine doses has been administered so far to the eligible population under the vaccination drive in India.

India's vaccination drive against the Covid pandemic was launched on January 16, 2021. The healthcare workers were the first ones to get ones. Later, the frontline workers were also included in the drive from February 2. The state and central police personnel, Armed Forces, Home Guards, Civil Defence and others were included in the vaccination drive.

The vaccination drive was expanded from March 1 to include people above 60 years of age and those above 45 years with associated specified comorbidities. From May 1, the vaccination drive was thrown open to all above 18 years of age.

Prime Minister Modi said in a tweet, "India scripts history. We are witnessing the triumph of Indian science, enterprise and collective spirit of 130 crore Indians. Congrats India on crossing 100 crore vaccinations. Gratitude to our doctors, nurses and all those who worked to achieve this feat.

Congratulating the nation on this historic moment, the Union Health Minister Mansukh Mandaviya said in his tweet, "Congratulation India! Under the visionary Prime Minister Narendra Modi, it has been achieved".

As India has achieved this historical landmark, the health ministry has planned several events to mark the occasion. The Health Minister will release a song and an audio visual film to celebrate the milestone of administering 100 crore Covid-19 vaccine doses. Mandaviya will release the film and song at the Red Fort later in the day. In another event, Modi will visit the centre-run Ram Manohar Lohia Hospital in Delhi.


India logs 18,454 new Covid cases, recovery rate maintained at 98.15%
India reported 18,454 fresh Covid-19 cases on Thursday, and 160 deaths in the last 24 hours, even as the recovery rate continues to be 98.15 per cent as per the Ministry of Health and Family Welfare data.

With the new 160 fatalities, the overall death toll has increased to 4,52,811.

The recovery of 17,561 patients in the last 24 hours has increased the cumulative tally of recovered patients to 3,34,95,808.

Consequently, India's recovery rate stands at 98.15 per cent, currently at its highest peak since March 2020.

The active caseload has fallen below 2 lakh-mark and is presently at 1,78,831. Active cases at present constitute less than 1 per cent of the country's total positive cases.

The testing capacity across the country continues to be expanded. India has so far conducted over 59.57 crore cumulative tests.

While testing capacity has been enhanced across the country, the weekly positivity rate at 1.34 per cent remains less than 3 per cent for the last 118 days now. The daily positivity rate stands at 1.48 per cent, below 3 per cent for the last 52 days and below 5 per cent for 135 consecutive days now.

India has achieved the landmark in vaccinating its population with over 1 billion doses.

According to the data shared by the health ministry over 10.85 crore balanced and unutilized vaccine doses are still available with the States/UTs