Bangladesh's official entry for Oscars, 'Hawa', to release on Dec 16
"Hawa" (Wind), the film that came like a new breeze to the Bangladeshi film industry, will be released on December 16 in Kolkata and the rest of West Bengal, and across India on December 30. The film, which is also Bangladesh's top grosser, has been directed by Mejbaur Rahman Sumon.
Sun Music and Motion Pictures Ltd, the film's production company, has said it will be distributed across India by the Singapore-based entity, Continental Entertainment Private Ltd (CEPL) via Reliance Entertainment.
"Hawa", the myth, fantasy and mystery-thriller film, received a huge response from its fans in Bangladesh soon after its release in theatres in that country on July 29. Even after four months of release, it is still running in theatres and raking in business and getting love.
The film has received widespread critical acclaim and has been shown at numerous cross-border festivals and diaspora events. It has been nominated for the Best International Feature Film category at the 95th Academy Awards (Oscars), which will be held next year.
Following a successful run in Singapore under CEPL, the film will now have a wide release in India through Reliance Entertainment.
In anticipation of this major milestone, Ajoy Kumar Kundu, Executive Producer of Sun Music and Motion Pictures Ltd, said: "With this release, the proud product of some creative people of Bangladesh will be able to reach many more Bengali-speaking people all over the world. Bengali films have many audiences in our neighboring country. I think 'Hawa' will play a vital role in increasing the demand for Bangladeshi films here and creating a strong market for them."
Sreyashii Sengupta, CEO (South-East Asia) of CEPL, which has acquired the distribution rights for "Hawa" in a number of countries, including India, said: "The release of 'Hawa' will open new gateways for the Bangladesh-India media business. There is already an exchange of ideas on content; this will open up newer paths for collaboration."
Sengupta added: "Language is no longer a barrier with a world keen on content and diverse stories for the big- screen experience. 'Hawa' offers that. We see a robust partner in Reliance Entertainment in India to create a milestone in such a supportive and wide release."
Mejbaur Rahman Sumon, Sukorno Shahed Dhiman and Jaheen Faruque Amin have written the screenplay of "Hawa"; the story and dialogues are by Sumon, who works under the banner of Facecard Productions. Lead roles in the movie are played by Chanchal Chowdhury, Nazifa Tushi, Sariful Islam Razz, Sumon Anowar, Nasiruddin Khan and Shohel Mondol.
Did Kamya Panjabi MOCK Sonakshi Sinha Over Her Acting In Dahaad?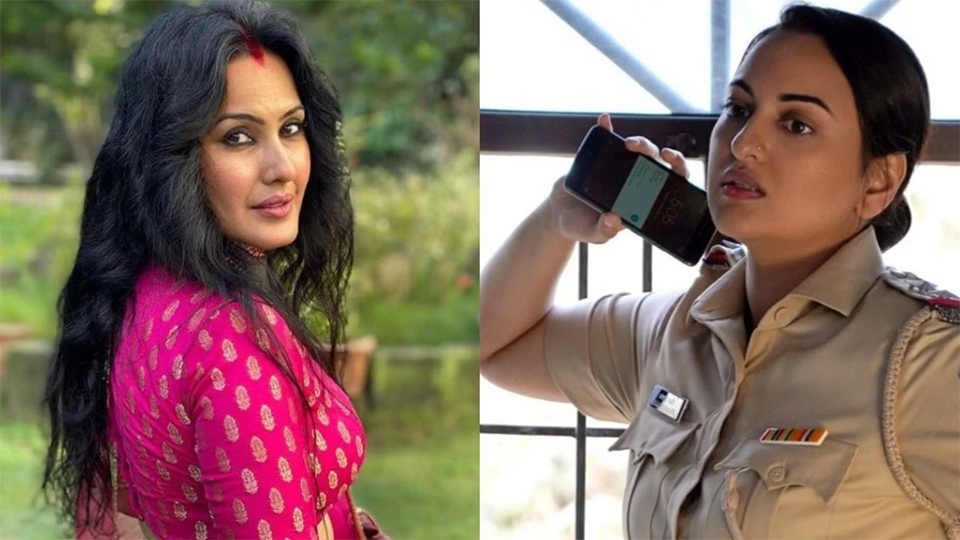 Television actress Kamya Panjabi recently voiced her opinion on the acting skills displayed in the realm of web series, taking a subtle dig at actress Sonakshi Sinha.
Panjabi, known for her roles in daily soaps like 'Dulhan', 'Sanjog', 'Piya Ka Ghar', 'Doli Armaanon Ki',, and 'Shakti Astitva Ke Ehsaas Ki', expressed her conscious decision to stay away from the OTT space explaining her love & dedication for TV.
KAMYA POINTS OUT AT SONAKSHI SINHA WITHOUT NAMING HER
Responding to fellow actor Eijaz Khan's revelation about facing bias from casting directors and the difficulties TV actors encounter when attempting to break into the web domain, Panjabi candidly shared her perspective in an interview with a news portal. She made it clear that she is not willing to sacrifice her thriving TV career to venture into OTT.
Panjabi further highlighted her concerns about the quality of acting displayed by some actors in web series, without explicitly naming anyone. She cited an example of a recent web series she watched, where the debutant daughter of a popular veteran actor had a lead role.
The acclaimed actress admitted her disappointment as she struggled to continue watching beyond the first episode, emphasizing the subpar acting skills of the veteran actor's daughter.
Raising questions about the selection process employed by casting directors and producers, Panjabi criticized the tendency to cast actors lacking proficient acting abilities.
Video: Vicky-Sara Inhaling Helium And Singing Phir Aur Kya Chahiye Will Make You ROFL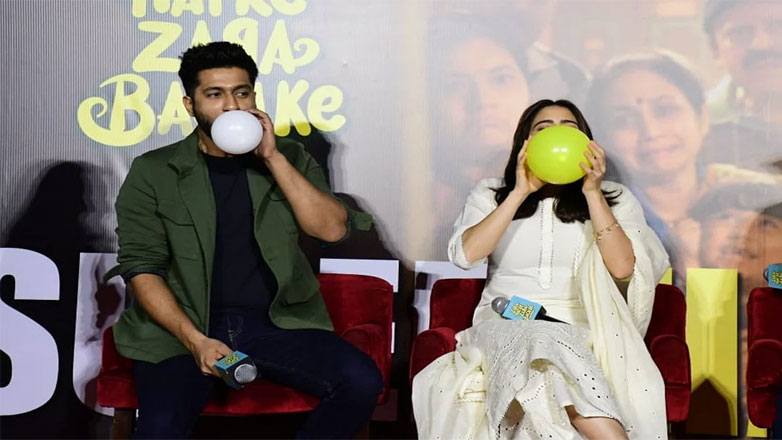 The team of Zara Hatke Zara Bachke starring Vicky Kaushal and Sara Ali Khan gathered at a suburban multiplex in Mumbai to greet and thank the media members and the audience for the overwhelming response to the film at the box office. The event saw a round of fun and games that drew enthusiastic participation from the media and the star cast.
A video shared by the paparazzi shows Vicky and Sara inhaling helium and singing a rendition of Arijit Singh's Phir Aur Kya Chahiye. Watch the clip below.
Directed by Laxman Utekar, best known for Luka Chuppi and Mimi, the film was released in theatres on June 2.
Kaushal told reporters, "The film was narrated to us right after the second wave of COVID when the situation was a lot more tense. It was like, 'What will happen to Bollywood? What kind of films are coming, not coming?' Then a simple story like this came to me. I just knew this will connect with people."
"In the last five days, we have realised that this is what we would feel in all our meetings that people will connect with it. Now, that people are loving it, for us, it's even beyond numbers…To see families coming and watching the film is the real joy. Now that the film has worked in cinema halls, we are here to thank all of you," he added.
Sara, 27, also thanked her director for giving her the opportunity to play the role of Somya and co-star Vicky Kaushal for being the "most superb partner".
"It was outstanding to work with you. I don't want to talk about how talented you are because everyone knows that. You are so humble, gracious," she said.
Co-produced by Maddock Films and Jio Studios, 'Zara Hatke Zara Bachke' also stars Inaamulhaq, Sushmita Mukherjee, Neeraj Sood, Rakesh Bedi, and Sharib Hashmi.
Al Pacino 'excited' to welcome fourth child after paternity test
Hollywood star Al Pacino is looking forward to becoming a father again at the age of 83.
The Academy Award-winning actor will welcome his fourth child into the world in just a few week's as his 29-year-old girlfriend Noor Alfallah is eight months pregnant, his spokesperson has confirmed.
Now an insider close to Al has claimed that he has "always loved" being a dad so is looking forward to the new arrival. "Al loves being a father and always has. He is excited. Being a parent is and always was an important part of Al's life," the insider told People, reports aceshowbiz.com.
Al and 29-year-old Noor, who previously dated Sir Mick Jagger and billionaire Nicolas Berggruen, have been romantically linked since April 2022 when they were pictured having dinner together.
The "Scent of a Woman" actor previously explained he "gets a lot" out of fatherhood and finds it "upsetting" not being involved in his children's lives. He told The New Yorker in 2014, "I'm responsible to them. I'm a part of their life. When I'm not, it's upsetting to me and to them. So that's part of the gestalt. And I get a lot from it. It takes you out of yourself."
Three years ago, Al's ex-girlfriend Meital Dohan admitted one of the reasons why their two-year romance came to an end was because the "Godfather" star – who is 39 years older than her – didn't want to have any more children.
She told the Daily Mail newspaper at the time, "It was one of the most incredible love stories of my life, but there was an acknowledgment that we're both at different places in our lives. Two years is a long time and I was like, 'We love each other, but where is this going?' "
"I really want to have kids. It's harder when someone's that much older than you, because IAstill have a family to build, while he already has a family," she added. "At his age, it's a rigid decision.