Assam CM urges Aamir Khan to postpone his visit to state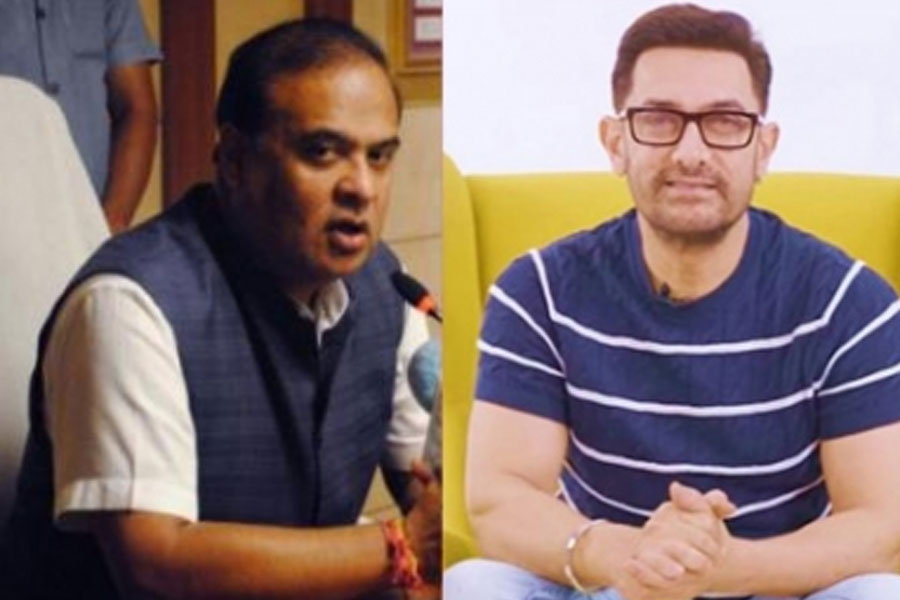 Assam Chief Minister Himanta Biswa Sarma has urged Bollywood actor Aamir Khan who expressed his willingness to visit the state on the eve of Independence Day to plan the trip after the conclusion of 'Har Ghar Tiranga' celebrations.
"Aamir Khan spoke to me and he intended to come to Assam during the Independence Day celebration. But it may shift focus from Azadi Ka Amrit Mohatsav… hence I told him to fix a date after August 15," Sarma told the mediapersons here on Friday.
The Chief Minister, however, said that he has good terms with Khan and they often speak over the telephone.
Though the intent to visit Assam is unknown, sources said Khan wanted to promote his latest release 'Laal Singh Chaddha', which is a remake of the iconic film 'Forrest Gump'.
It could not be known if the actor has agreed to come to Assam after Independence Day.
Khan's latest film has been embroiled in controversy for the last few days. Some sections were calling for a boycott of the film claiming that the Aamir Khan-starrer was disrespectful towards the Indian Army.
Notably, Khan had earlier extended a helping hand to the flood-affected people of Assam by making a contribution of Rs 25 lakh towards the CM Relief Fund.
Sarma then took to Twitter to thank the Bollywood actor.
Review: Karan Razdan's 'Hindutva Chapter 1' explores identity of being a Hindu today
Film: Hindutva Chapter One – Main Hindu Hoon (playing in theatres) Director: Karan Razdan. Cast: Aashiesh Sharrma, Sonarika Bhadoria, Ankit Raj, Govind Namdev, Anup Jalota.
IANS Rating: 3.5 stars
Writer, producer, and director Karan Razdan's film 'Hindutva Chapter One – Main Hindu Hoon' has been in the news for its title and theme. The film has been released in theatres this week. Ever since the trailer of the film and its strong title song came out and was well received by the audience, people were waiting for the picture, so when the film came out, the audience grabbed it.
The film presents the story of today's youth. The film depicts the depth of Hindutva through the main characters and dialogues. If seen, it is based on the story of friendship, love, and student politics.
Bharat Shastri played by Aashiesh Sharrma, is the son of a Hindu priest who comes to prominence after his fierce speech in response to a protest orchestrated by the college student leader. Through its lead character Bharat Shastri, the film Hindutva tells the story of Bhaarat (India).
Aashiesh Sharma has been exemplary in his performance and has beautifully carried the film on his shoulders. Bharat Shastri's character will receive a lot of love from the audience as he raises very sensitive but important questions with a tone that does make you think without being subjected to feeling opinionated. This is not an easy feat to achieve especially when the subject is so sensitive not just in India but throughout the world.
Ankit Raj plays the character of Sameer Siddiqui in the film. Sameer is a popular student leader who believes his community is discriminated against. He pretends to be a leftist, but he fights to protect his (Qaum) community. However, his parents are liberal Muslims. They love Bharat (Aashiesh Sharrma) like a son. Sameer is in love with Sapna (Sonarika Bhadoria) and Sapna is in love with his leadership at the university.
The story is kept interesting in such a way that Bharat and Sameer are childhood friends. But now they are divided due to their respective ideologies and this becomes the reason for their mammoth conflict.
Meanwhile, Bhalerao (Govind Namdev) persuades Bharat to contest the university elections against Sameer Siddiqui.
After this, the game of turns and twists begins. Sapna turns sides and Sameer becomes a loser in love. Sapna comes closer to Bharat but Bharat struggles to prove to the world what is the true meaning of Hindutva, what is the history of Hindutva. Hindutva has taught us how to approach science through meditation. The film delves into the meaning of Hindutva.
As far as the acting is concerned, Aashiesh has been flawless in his performance and embodies the true essence of Hindutva. He has been able to keep the audience gripped throughout the film. It is a treat to watch Aashiesh Sharrma in his element and has lived the character of Bharat with a vigour that is worth watching.
Ankit Raj has done full justice to his character and has given life to the role of Sameer Siddiqui in his debut film. The confrontation of both the characters and the dialogue between them builds a strong narrative for the film.
Nowadays, everyone waits for the monologue of the main character in many Bollywood movies and this time Aashiesh Sharma has delivered it perfectly. The audience is surprised when he speaks a long monologue about the definition of Hindutva, and its history. This dialogue gives the audience goosebumps. This scene is portrayed perfectly by Aashiesh Sharma with his amazing dialogue delivery.
Sonarika Bhadoria has also left her mark on the character of Sapna. Sapna has an attitude and she has adopted this approach very well. She looks very beautiful and attractive on screen. Anup Jalota has not only sung a bhajan in the film but he is also seen acting.
Produced under the banners of JAIKARA Films and Pragun Bharat, this film is well-written and directed by Karan Razdan. He has made a better cinema by doing a lot of research on a sensitive subject. He has also drawn strong performances from all the actors. The music of the film is its plus point.
The movie Hindutva is worth watching because of its theme, presentation, some amazing dialogues, and wonderful performances by the actors. The film is produced by Sachin Choudhary and Karan Razdan.
Parineeti dedicates 'Code Name: Tiranga' to unsung protectors of India
Bollywood actress Parineeti Chopra, who is currently gearing up for her first action film, 'Code Name: Tiranga', in which she stars opposite Punjabi star Harrdy Sandhu, recently shared that the film is dedicated to the unsung heroes of India, whose sacrifices protect the nation.
The actress will be seen essaying the role of a spy in the film, who is on an extremely risky mission to save India.
The actress said in a statement, "'Code Name: Tiranga' is dedicated to all the unsung protectors of India like our brave soldiers, our daredevil agents and every single person who has sacrificed everything to protect our country! I have always been fascinated by such people all my life."
She further mentioned, "So, for me, to be doing a film in which I pay tribute to these warriors of our nation is a matter of great pride and honour. Their lives have inspired us to be better human beings and we are all indebted to them for their courage and valour that has saved our country countless times."
The film has been directed by Ribhu Dasgupta, who had earlier directed the actress in the streaming movie 'The Girl on the Train'.
'Code Name: Tiranga' will release in theatres on October 14.
Parag Kansara passes away, Sunil Pal remembers the late comedian
After the demise of well-known comedian Raju Srivastava, Parag Kansara of 'The Great Indian Laughter Challenge' fame passed away on Wednesday. He was 51.
His industry friend and popular stand-up comedian, Sunil Pal took to his Instagram handle to share this sad news.
Sunil said: "Hello friends, another shocking and bad news has come out from the world of comedy. Parag Kansara ji our 'Laughter Challenge' co-contestant is no more in this world. Parag, who used to do reverse-thinking comedy and make us laugh, is no more."
He expressed his grief about the great losses in the comedy world in the past few days and said: "I don't know why the people who make everyone laugh and their families are going through this. One by one, the pillars of comedy are moving away from us."
Sunil also recalled the other comedians, who lost their lives recently including Raju Srivastava, Deepesh Bhan, Ashok Sundrani, and Anant Shrimani. He talked about these comedians and how they make everyone laugh and make them forget their pain and agony.