Amarinder announces new political outfit
ormer Punjab Chief Minister Amarinder Singh on Wednesday announced the launch of his own political party, ahead of the Assembly elections slated for early next year.
However, he said the name of the party, which could have an alliance with the BJP, would be announced later after consulting the Election Commission of India.
Amarinder Singh told the media here that he would be meeting Union Home Minister Amit Shah on Thursday regarding issues concerning the state. This would be his third meeting with him in recent days.
The former two-time Chief Minister favoured the deployment of the BSF up to 50 km of the India-Pakistan border, saying this was required for the security of the state.
On his resignation from the Congress, he replied: "I have been in the Congress for the past 52 years. If I can't resign for the next 10 days, what is the harm to it."
Earlier, responding to personal attacks by his former Congress colleagues, Amarinder Singh on Tuesday said: "From personal attacks they've now stooped to threats and harassment of my supporters in Patiala and elsewhere.
"Let me tell my rivals they can't defeat me with such low-level political games. They will neither win votes nor people's hearts with such tactics."
He added: "Those who have stood by me have done so because they believe in and want to continue working for Punjab's peace and development. They will not be scared away by such petty acts of intimidation or persecution. We will continue to fight for Punjab's future."
Formally saying goodbye to the Congress which made him the Chief Minister of Punjab twice and the state party President thrice, an "upset" Amarinder Singh last week said that he would soon announce the launch of his own political party to serve the interests of the people, including the farmers who've been fighting for their rights for over a year now.
He also said he is hopeful of a seat-sharing arrangement with the BJP for next year's Assembly elections in the state, if the farmers' issues are resolved in their interest.
He added that he would not rest until he can secure the future of his people and his state.
After his resignation, Amarinder Singh held meetings with Union Home Minister Amit Shah, triggering speculation he could join the BJP.
"Punjab needs political stability and protection from internal and external threats. I promise my people that I will do what it takes to ensure peace and security, which is today at stake," read an earlier tweet by Amarinder Singh.
Since his resignation as the Chief Minister, Amarinder Singh has been targeting state Congress President Navjot Sidhu by publically saying that he would fight his possible elevation to the Chief Ministership tooth and nail, and is ready to make any sacrifice to save the country from such a "dangerous man".
He has also claimed that the Gandhi siblings (Priyanka and Rahul) were "quite inexperienced" and "their advisors were clearly misguiding them".
After months of infighting within the Congress, Amarinder Singh had submitted his resignation as Chief Minister on September 18.
Election Results 2022: AAP becomes national party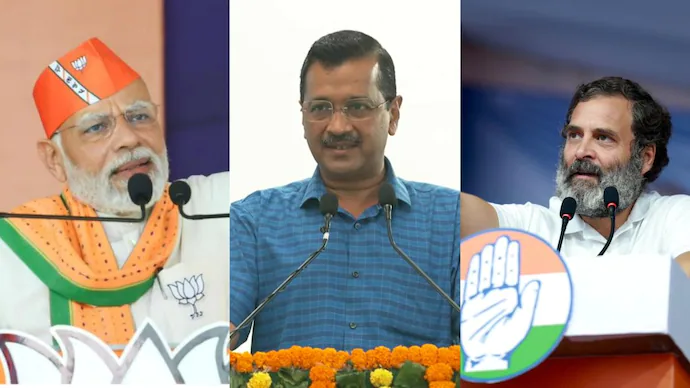 BJP is set for a record performance and a landmark victory in Gujarat and Congress was poised to form government in Himachal Pradesh according to the results and trends of the counting of votes on Thursday.
The byelection to six seats in five states also gave a mixed result with Congress and BJP leading on two seats each and BJD and RLD on one each. Samajwadi Party candidate Dimple Yadav has a massive lead in the bypoll for the Mainpuri Lok Sabha seat.
The BJP is poised to break all records of electoral performance in Gujarat, the home state of Prime Minister Narendra Modi and Home Minister Amit Shah, and is set to get the highest number of seats won by a political party in the state's history.
According to the latest information from the Election Commission, BJP is poised to win 158 seats in the 182-member Gujarat assembly having already won 79 seats and leading on 79 seats. Aam Aadmi Party has made its entry in the state assembly having won two seats and leading on two more. The party has increased its vote percentage to 12.87 per cent in an indication of its growing presence in the state.
The Congress is set to suffer its worst electoral defeat in Gujarat, having won seven seats and leading on nine.
The BJP, which has won its seventh straight election in Gujarat, is set to not only improve its own best record of 127 seats in 2002 – the first election with Narendra Modi as chief minister – but the Congress tally of 149 seats in 1985.
The Aam Aadmi Party headquarters in Delhi was decked up with colourful balloons, and music was blazing to exhibit the mood for celebrations that prevailed in the party as it will get the national status after the Gujarat Assembly election results on Thursday.
With the AAP's government in Delhi and Punjab, the party has achieved the status of a state party and the fate of becoming the national party depends on its performance in the Gujarat Assembly polls.
A political party needs to be recognised in at least four states to become the national party. To be recognised as a party in the state, it needs to win at least two seats and 6 per cent of votes.
In Himachal Pradesh, Congress is slated to win 39 of 68 seats, having won 26 and leading on 13. The BJP has won 14 seats and is leading on 12. Independents have won three seats and AAP failed to open its account in the state.
In terms of vote share in Himachal, Congress is only marginally ahead of the BJP having got 43.88 per cent of votes compared to 42.99 per cent of its rival. Others have garnered 10.4 per cent vote share in the hill state.
The Congress, which had not projected a Chief Ministerial candidate in the hill state, is planning a meeting its MLAs in Chandigarh with some of its leaders apprehending "poaching" attempts by BJP.
Celebrations began at the BJP office in Ahmedabad soon after it was clear that the party was on course to an overwhelming victory in the state. Congress workers also celebrated the party's performance in Himachal Pradesh.
Incumbent Gujarat chief minister Bhupendra Patel is set to take oath as chief minister of the state for the second time on December 12.
"The results of Gujarat elections are quite clear. People have made up their minds to further continue with the journey of development in Gujarat. We humbly accept the mandate of the people. Every worker of BJP is committed to public service," he said.
BJP president JP Nadda congratulated Bhupendra Patel, party's Gujarat chief CR Paatil and all the workers of state BJP for the party's landslide victory in the state.
Alpesh Thakor, BJP's candidate from Gandhinagar South seat said BJP has developed Gujarat.
"We will serve the people of Gujarat. It's a bumper win. We said earlier also that we will win over 150 seats," says Alpesh Thakor," he said.
Himachal Pradesh Chief Minister Jai Ram Thakur has tendered his resignation to the Governor.
"I respect people's mandate. I want to thank Prime Minister and central leadership (for their support) during last 5 yrs. We'll stand for the development of the state irrespective of politics. We'll analyse our shortcomings and improve during the next term," Thakur told media persons in Shimla.
Congress in charge of Himachal Pradesh Rajiv Shukla said the party will implement 10 guarantees in the state.
Congress leader Sukhwinder Singh Sukhu said that the party will form government in the state.
"BJP considered itself strong in Himachal Pradesh, PM Modi and Amit Shah visited the State several times. Congress is going to form the government with a full majority," he said.
Gujarat rejected those who engage in politics of empty promises and appeasement: Amit Shah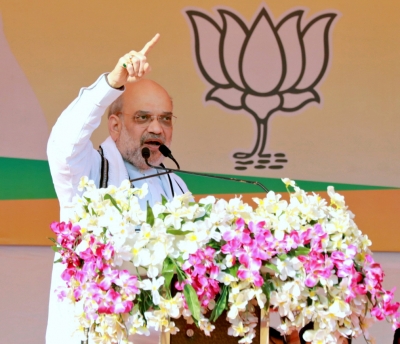 Reacting to the BJP registering a historic victory in Gujarat, Union Home Minister Amit Shah tweeted that Gujarat had rejected those who engaged in the politics of empty promises and appeasement.
Shah said that he salutes the people of Gujarat for the historic win.
He tagged Chief Minister Bhupendra Patel and state BJP president CR Patil in a tweet and congratulated them and all the BJP workers who worked tirelessly for the victory under the leadership of Prime Minister Narendra Modi and the chairmanship of JP Nadda.
Shah said that Gujarat had given an unprecedented acceptance to Modi's BJP, which worked for development and public welfare.
The Home Minister said that the massive victory showed that every section of the society, be it women, youth or farmers, was wholeheartedly with the BJP.
He said that Gujarat had always created history, adding that, the party broke the records of development in the state under Modi's leadership in the last two decades, which is why the people blessed the party.
This is the victory of the people's unwavering faith in Modi's Gujarat model, tweeted Shah.
Fake post on Shraddha Walkar-like case goes viral in Assam; police clarifies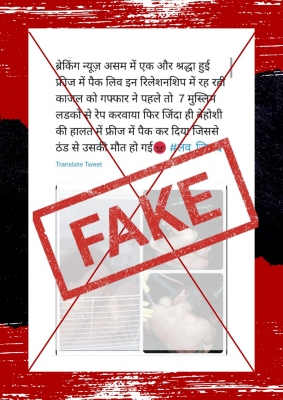 With an aim to disturb communal harmony in Assam, a group of unidentified miscreants on Wednesday shared a post on Shraddha Walkar-like case on social media.
Taking swift action, the state police termed it "fake" news and said that it was taken from a Portuguese blog.
The miscreants claimed about a Shraddha-like incident in Assam and termed it 'Love-Jihad'.
"A girl named Kajal who was in a live-in relationship was first raped by seven Muslim boys and then packed alive in a fridge where she died of hypothermia. Her live-in partner Ghaffar and his companions used to take the body out of the fridge and indulge in necrophilia daily."
The cyber cell of Assam police quickly jumped into action and found the post to be fake.
In a Twitter post, Assam police wrote, "An image from a Portuguese blog of 2010 is being shared with a completely false context on Social Media. Appropriate action will be taken against those found sharing such messages."
Meanwhile, a senior police officer urged the netizens for staying extra cautious while reacting to this kind of social media posts.
An investigation is underway.