Will not retire till Punjab rid of corrupt politicians: Amarinder
Launching yet another scathing attack on the Congress over the nomination of Charanjit Singh Channi as chief ministerial candidate even after his kin was "caught with mafia earnings", Punjab Lok Congress (PLC) chief Capt Amarinder Singh on Thursday declared that he will not retire till he will get the state rid of such corrupt people.
The former Chief Minister expressed surprise at his former party, the Congress, fielding all MLAs involved with the sand mining mafia as candidates in these Assembly polls and termed it a clear endorsement of widespread corruption in the party.
Stating that he had decided to ally with the BJP and continue to work for Punjab, in the interest of its peace and security, Amarinder expressed concern over the threat from across the border as well as the recent sacrilege incidents in the state.
"We will not let the social fabric of Punjab be destroyed," said Amarinder, terming the recent spate of sacrilege incidents in the state, including at Darbar Sahib and a Patiala temple, as unfortunate and aimed at dividing the society.
Addressing a series of public meetings in support of PLC and BJP candidates from Sanaur and Banur towns, Amarinder pointed out that Channi's nephew, arrested by the Enforcement Directorate, had reportedly admitted that the Rs 10 crore seized from his possession was earned from illegal sand minings as well as transfers and postings. "How can Channi then claim to be a poor aam aadmi!" he said.
Asserting that he planned to continue fighting for Punjab and the nation, the PLC chief said with security paramount for the border state, his party's alliance with the BJP would help fulfill their collective responsibility to make India secure.
"We have to save ourselves from our enemies from across the border and not let people like Navjot Sidhu, who had been going around the Pakistani Army chief, compromise our security," he stressed.
Punjab also needs the Central government's support for its economic revival, which the PLC-BJP-SAD Sanyukt alliance would help achieve, said Amarinder, noting that the state has no money for development, which will remain a far cry under the false promises of parties like Congress, AAP and SAD, who were not willing to work in coordination with the Centre.
In New Mohindra Colony, where he was campaigning for Sanaur PLC candidate Bikramjit Singh Chahal, Amarinder recalled his close ties with the area, pointing out that he had contested his first election from Dakala in 1980, and earlier, his father had also contested from this parliamentary constituency.
Chahal, in his address, promised all-round development of the constituency if elected and said he will continue the social work he had been engaged in for a long time.
The PLC chief later sought votes for BJP candidate from Rajpura, Jagdish Kumar Jaggar, in Banur, on the plank of development, which he said the incumbent Channi government was falsely claiming credit to under the guise of the projects he had initiated during his tenure.
Prez Murmu to address joint sitting of Parliament first time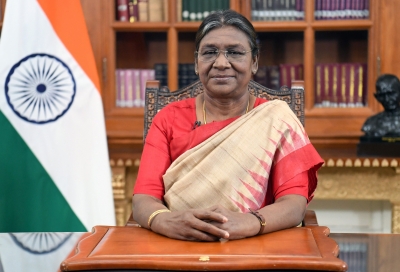 President Droupadi Murmu will address the joint sitting of Parliament for the first time since being elected to the post. She will outlay the government's vision for the current year.
The Parliament Budget session will commence from Tuesday and the Finance Minister will table the Economic survey. She will present the Union budget on Wednesday.
President Droupadi Murmu, in her first Republic Day-eve speech, hailed India's G-20 presidency, saying it is an opportunity to promote democracy and multilateralism, and also the right forum for shaping a better world and a better future.
"India holds the presidency of the Group of 20 nations. With our motto of universal brotherhood, we stand for peace and prosperity of all. Thus, the G20 presidency is an opportunity to promote democracy and multilateralism and the right forum for shaping a better world and a better future. Under India's leadership, I am sure, the G20 will be able to further enhance its efforts to build a more equitable and sustainable world order."
She said the ultimate goal is to create an environment in which all citizens can — individually and collectively, realise their true potential and prosper.
The President had also commended the roles of farmers, workers, scientists and engineers in the nation's development and also praised the armed forces and paramilitary forces.
Pawar meets LS Speaker to revoke disqualification of Lakshadweep MP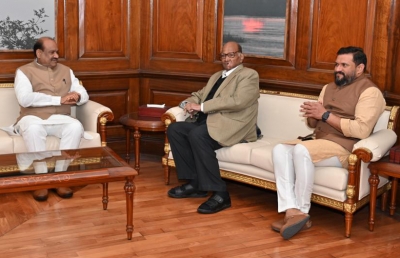 Nationalist Congress Party (NCP) leader Sharad Pawar on Monday met Lok Sabha Speaker Om Birla and urged him to revoke the disqualification of party's Lakshadweep MP Mohammed Faizal whose conviction has been suspended by the Kerala High Court.
Pawar said, "As the Kerala High Court suspended the conviction and sentence of the former Lakshadweep MP and hence we appealed to the honourable speaker to consider the matter of suspension."
He said that he met with the Lok Sabha speaker and requested him to revoke the disqualification of the NCP's MP.
The Election Commission (EC) on Friday informed the Supreme Court that it will consider the Kerala High Court order, which suspended the conviction of Lakshadweep MP Mohammed Faizal in an attempt to murder case, and take action in accordance with the law.
Advocate Kapil Sibal, appearing for Faizal, submitted before a bench headed by Justice K.M. Joseph that the by-election cannot go on as the high court has suspended the conviction of his client.
Faizal's conviction had resulted in his disqualification from the Lok Sabha. The bypoll was announced by the EC after Faizal was disqualified following his conviction in the case.
Senior advocate Maninder Singh, representing the EC, contended before the bench, also comprising B.V. Nagarathna, that the action will be taken in accordance with law against the backdrop of the high court order.
BJP govt in MP begins administrative surgery ahead of Assembly polls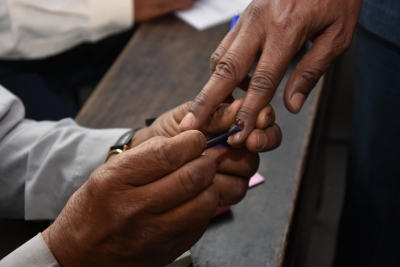 With around eight months left to the state legislative elections, the BJP-led Madhya Pradesh government has started an administrative surgery.
In a notification issued by Chief Secretary Iqbal Singh Bains late on Sunday, as many as 11 IAS officers, of them seven district collectors, have been transferred.
The transfer list issued two days before the Chief Minister Shivraj Singh Chouhan is scheduled to chair a high-level meeting with IAS and IPS officers in the state.
Gwalior collector Kaushlendra Singh has been shifted to Bhopal after being appointed as Additional Chief Secretary of Chief Minister Shivraj Singh Chouhan. Akshya Kumar Singh, 2010 batch IAS, who was serving as district collector of Shivpuri, has been appointed as new district collector of Gwalior.
Ravindra Kumar Choudhary (2011 batch IAS) will be the new district collector of Shivpuri, while Khargone collector Kumar Purusottam (2012) will be new collector of Ujjain. Notably, Kumar Purusottam was appointed Khargone collector following a communal riot in April last year. Shivraj Singh Verma (2012 batch IAS) district collector of Barwani will be replacing Kumar Purusottam.
Dr. Phatting Rahul Haridas (2012), who has been serving as collector of Shivni district, will replace Shivraj Singh Verma. Similarly, Sonia Meena, collector of Anuppur has been shifted to Bhopal and has been appointed as Additional Chief Secretary in Madhya Pradesh government.
Jabalpur Municipal Commissioner Ashish Vashishtha (2014 batch IAS) will be new collector of Anuppur district, while Kshit Singhal (2014 batch IAS), who has been serving as the CEO in Sagar Zila Panchayat, has been appointed as the new district collector of Shivni.
Sources told IANS that a major reshuffle of IPS officers, including Police Commissioner Bhopal and Indore, is likely to be announced soon. The names of SP to IG rank officers are also likely to be included in the upcoming transfer list.