Supreme Court notice on pleas against polygamy & nikah halala, hearing to begin in Oct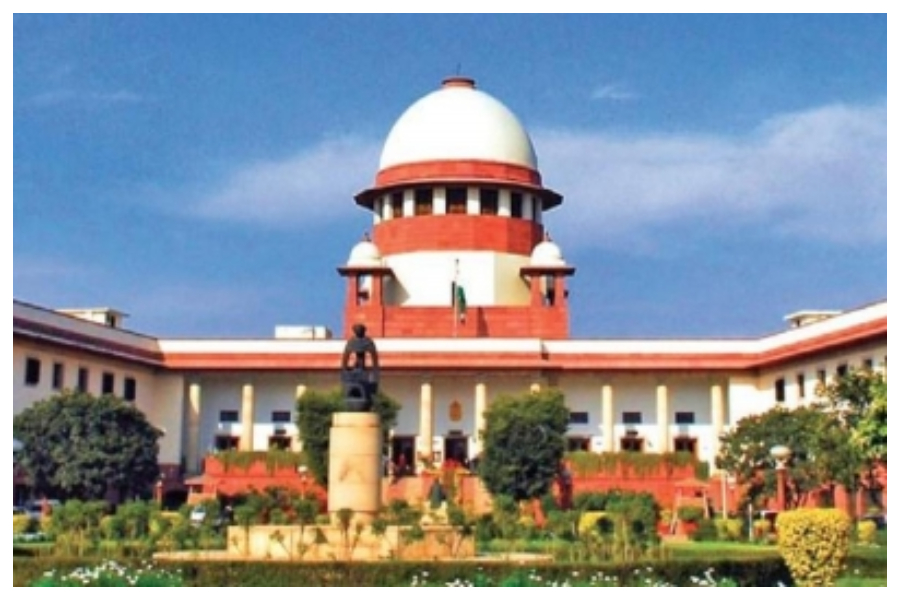 A Supreme Court Constitution bench on Tuesday issued notice on a batch of pleas for striking down practice of polygamy and nikah halala in Muslims and scheduled the hearing on petitions after the Dusshera holidays.
Nine petitions challenging these practices were listed on Tuesday for hearing before a five-judge bench comprising Justices Indira Banerjee, Hemant Gupta, Surya Kant, M.M. Sundresh and Sudhanshu Dhulia.
The petitions have been filed by Muslim women and advocate Ashwini Upadhyay has challenged the constitutional validity of the polygamy and nikah halala. These cases were referred to the 5-judge bench by a 3-judge bench in March 2018.
On Tuesday, the apex court issued notices to the Central government, National Commission for Women, National Commission for Minorities, Law Commission, etc., and scheduled the matter for hearing after Dussehra holidays.
Upadhyay's plea said the injury caused to the women as practice of triple talaq, polygamy and nikah halala is violative of Articles 14, 15 and 21 of the Constitution and injurious to public order, morality, and health. The plea sought a direction to declare Section 2 of the Muslim Personal Law (Shariat) Application Act, 1937, unconstitutional and violative of Articles 14, 15 and 21 of the Constitution, insofar as it seeks to recognise polygamy and nikah-halala.
"It is well settled that Common Law has primacy over the Personal Laws. Hence, this Hon'ble Court may declare that — Triple talaq is cruelty under Section 498A of the IPC, 1860, nikah halala is rape under Section 375 of the IPC,1860, and Polygamy is an offence under Section 494 of the IPC,1860," said Upadhyay's plea.
In August 2017, the top court held that the Muslim practice of 'triple talaq' is unconstitutional and struck it down by 3:2 majority. Polygamy allows a Muslim man to have four wives, and once a Muslim woman has been divorced, her husband is not permitted to take her back even if he had pronounced talaq under the influence of any intoxicant, unless his wife undergoes nikah halala, which involves her marriage with another man, who subsequently divorces her so that her previous husband can remarry her.
In 2017 verdict, the apex court had kept open the issue of polygamy and 'nikah halala', while quashing the practice of 'triple talaq'. "It is submitted that religious leaders and priests like imams, maulvis, etc. who propagate, support and authorize practices like Talaq-E-Bidat, nikah halala and Polygamy are grossly misusing their position, influence and power to subject the Muslim women to such gross practices which treats them as chattel, thereby violating their basic rights enshrined in Articles 14, 15 and 21 of the Constitution", said Upadhyay's plea.
BJP slams Cong for abusing PM Modi
Bharatiya Janata Party (BJP) has slammed the Congress for abusing Prime Minister Narendra Modi. Taking potshots at the Congress, party's National spokesperson Sambit Patra on Saturday said that Congress leaders have completed a century of abuses against Modi.
Addressing a press conference, Patra added, "The manner in which top leaders of the Congress party are repeatedly using language and abuses for PM Modi is being seen on TV every day. In such a situation, the Congress has established itself as a party of abusers. Congress leaders called Modi ji 'lowly', 'Yamraj' and what not. In this way, Congress leaders have completed 100 abuses. It reflects their thinking."
"A Congress leader from Karnataka has called Modi ji 'Bhasmasur'. Similarly, recently Congress President Mallikarjun Kharge called Modi ji 'Ravan'. Sonia Gandhi even called Modi ji a 'Merchant of Death'," he said.
Urging the people of the country, Sambit added, "We call upon the people of Gujarat and the country to reject such Congress party in a democratic way by adopting the cycle of democracy."
Condemning Delhi Chief Minister Arvind Kejriwal, he said, "Similarly Arvind Kejriwal tries to make a lie the truth. Just a few days back, Kejriwal said that Manish Sisodia has got a clean chit and the scam that has taken place in the Excise policy is not a scam, but he is not going to be saved."
He also added, "From Manish Sisodia to many accused have changed mobile phones dozens of times in this case. From this you can guess whether the common man changes mobile phones so quickly."
The BJP National Spokesperson said, "Large-scale destruction of digital evidence done by Ex-Excise Minister of Delhi, Manish Sisodia; 170 mobile phones destroyed by 36 accused in Delhi liquor scam including him. Manish Sisodia changed four mobile handsets in one day and 14 handsets in 2-3 months after CBI's FIR against him. He might have consulted Delhi CM Kejriwal, AAP leader Vijay Nair, liquor scam accused Amit Arora and Sunny Marwah to destroy digital evidence. Sisodia has a huge hand in Excise policy scam, investigation is going on, no one can save him."
Shraddha murder case: Aaftab's post-narco test concludes
The post-narco test of Aaftab Amin Poonawalla, the accused in the ghastly murder of his live-in partner Shraddha Walkar in Delhi's Mehrauli area, concluded on Friday. His test was conducted inside the Tihar prison by the FSL officials.
As per sources, the team from the Forensic Science Laboratory, Rohini had reached Tihar jail for the post-narco test at around 11.30 a.m.
"A four-member team had reached Tihar Jail No.-4 on Friday along with the investigating officer for a post-narco analysis session of Aaftab," said a senior FSL official.
"The test started around 12. He was again asked similar questions and his answers will be matched with the questions from the previous narco analysis session," said the sources.
If needed, the narco test will be done again, claimed the sources.
Further details were awaited.
Meanwhile, the prison authorities have also increased the security of his barrack after the police van was attacked by men, who were armed with swords.
Though his confessions in the narco test cannot be used in the court, yet it proved that the investigators were proceeding in the right direction.
Pertinent to mention here that the findings of both polygraph and narco test are not admissible in the court. These tests will only help the Delhi Police gather evidence, and thereby increase the possibility of prosecution of the guilty.
Warrants against 16 to thwart Hanuman Chalisa call at Shahi Eidgah in Mathura
To thwart a call by a Hindu outfit to recite the Hanuman Chalisa inside Shahi Eidgah mosque on December 6, the Mathura city magistrate has issued bailable warrants against 16 people connected to the outfit.
Mathura Senior Superintendent of Police (SSP) Martand Prakash Singh said that no permission has been sought by any organisation and cases have already been registered against two people so far for attempting to gather a crowd for the event.
Last month, the Akhil Bhartiya Hindu Mahasabha (ABHM) had urged all its leaders and supporters to arrive at the mosque, adjacent to Sri Krishna Janmabhoomi, which is believed to be the birthplace of Lord Krishna, on December 6 to recite the Hanuman Chalisa.
ABHM president Rajyashree Bose Chaudhary had said, "The event will take place on December 6. The peaceful recital of Hanuman Chalisa will be conducted at Sri Krishna Janmabhoomi between 12 and 12.30 p.m."
Sanjay Kumar Pandey, SHO of the Govind Nagar police station said around three dozen people have already been bound by notices. Being bound by a notice is a situation wherein an executive magistrate serves a show cause notice with a surety bond to a person on the apprehension that he/she may disturb the peace.
"Those who failed to respond and fill the required surety bond have been issued bailable warrants by the court of the city magistrate. Sixteen people have been issued warrants," he said.
Chaudhary, meanwhile, condemned the police action and said, "We have planned a peaceful event. As such, there is no reason for police to intervene because we will offer prayers at the site."
The ongoing dispute involves ownership of 13.37 acres, which the petitioners claim belongs to the Lord Shri Krishna Virajman.