Supreme Court asks MHA to seek reports from 8 states on plea alleging attacks on Christians
The Supreme Court on Thursday asked the Union Ministry of of Home Affairs to seek verification reports from Bihar, Haryana, Chhattisgarh, Jharkhand, Odisha, Karnataka, Madhya Pradesh and Uttar Pradesh on a plea alleging attacks on the Christian community.
The apex court granted two months to conduct the entire exercise, which includes registration of FIRs, arrests made, status of investigation, and the charge sheets filed.
A bench comprising Justices D.Y. Chandrachud and Hima Kohli said that it "can't form an opinion on the veracity of allegations made (in the plea) submitted to us".
The bench added that it would be better to verify the allegations made in the plea.
Senior advocate Colin Gonsalves, representing the petitioner, submitted that 700 prayer meetings of Christians were stopped and violence was used against them.
Solicitor General Tushar Mehta, representing the Centre, said the MHA on verification found that many incidents referred to in the plea as communal attacks, were found to be either false or exaggerated.
The Central government has told the Supreme Court there is no merit in the plea alleging increasing attacks on Christians in the country.
It said that such deceptive petitions, creating unrest throughout the country and perhaps for getting assistance from outside the country to meddle with internal affairs of the nation.
The MHA, in a written response, said: "It is submitted that there appears to be some hidden oblique agenda in filing such deceptive petitions, creating unrest throughout the country and perhaps for getting assistance from outside the country to meddle with internal affairs of our nation."
The Ministry said the petitioner has resorted to falsehood and self-serving documents and also cited press reports, where Christian persecution is either false or wrongfully projected.
The MHA's response came on a plea alleging rising number of attacks on Christian institutions and priests across the country and seeking the implementation of its guidelines to curb hate crimes.
The petitioners Rev. Peter Machado and others sought implementation of the guidelines issued by the apex court in the 2018 Tehseen Poonawala judgment.
Urfi Javed Gets Death Threats For Dressing Up As Rajpal Yadav's Chhota Pandit, Shares Screenshots
Actress and social media sensation Urfi Javed recently claimed that she received several death threats after she uploaded photos and videos of herself dressed up as Chhota Pandit, a character which was played by actor Rajpal Yadav in the 2007 film, Bhool Bhulaiyaa.
Urfi took to her X handle (formerly known as Twitter) to share screenshots of the messages which she received from people after she shared the post.
In one of the screenshots, a man can be seen to have mailed Urfi that it wouldn't take him long to end her life if she did not delete the post.
Another man e-mailed the actress that she will be shot dead in the middle of the road for insulting Hindu religion.
Along with the screenshots, Uorfi also shared a picture of herself dressed up as Chhota Pandit, and a photo of Rajpal Yadav himself dressed up as the character.
"I'm just shocked and appalled by this country mahn , I'm getting death threats in recreating a character from a movie where as that character didn't get any backlash," she wrote.
The actress is yet to say if she will take any action against the threats.
Police complaints against Urfi
This is not the first time that the actress has received threats or hate for her sartorial choices. Uorfi is often seen grabbing eyeballs with her quirky and out-of-the-box fashion choices.
A few days ago, she was seen visiting the Bandra police station in Mumbai after a complaint was filed against her for wearing "objectionable outfits" in public.
Earlier too, several complaints and FIRs have been lodged against the actress for clothes and for "obscene acts in public and social media".
However, Urfi remains unfazed by the hate and she has time and again stated that she will continue dressing up as she likes and that she will not be bogged down by trolls.
Mumbai Viral Video: Cop Picks Up Father And His 5-Month-Old Son In Police Vehicle Amidst Ganpati Visarjan-Led Traffic, Wins Hearts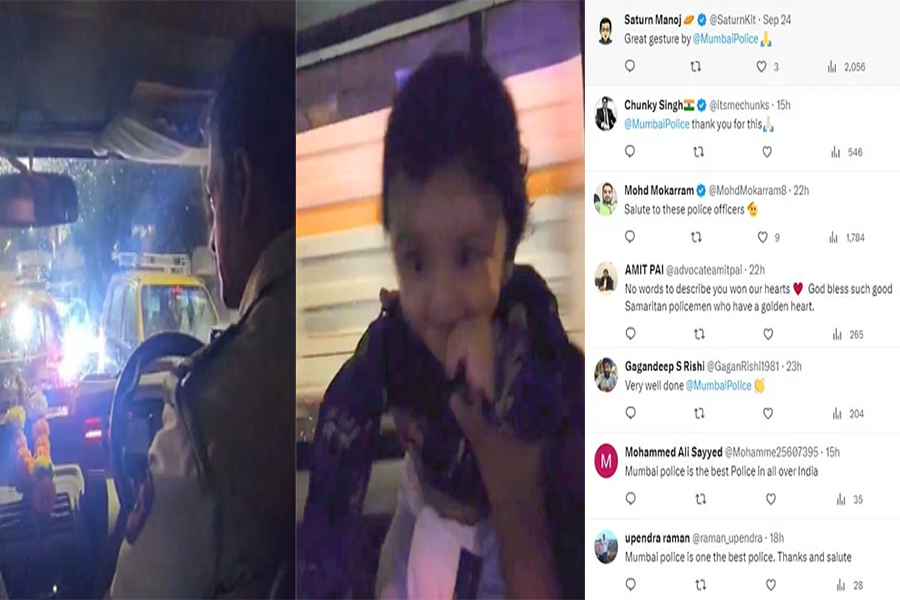 The official picked up the father-son duo in his police vehicle after they were refused a trip by several taxi drivers. It was learned that the police extended assistance after the other mode of transport refused a drive due to Ganesh Visarjan-led traffic in the area. 
Mumbai Police is known for its friendliness towards the public, not only due to their creative social media posts but also for their helping hand on the ground level. In an adorable case that has gone viral and left netizens impressed, a cop was seen providing a lift to a father and his five-month-old child in the city's Charni Road area.
Father thanks Mumbai Police
Identified as father Aman Vora shared the incident on X (formerly Twitter) and said, "We were at Charni Rd Station and it was raining. No taxi driver was ready to come because of Ganesh Visarjan and my 5 month old son was crying but @MumbaiPolice helped us to reach our destination. (sic)" He also thanked the police for the kind deed as he added, "My sincere gratitude❤️ Jay Maharashtra. Jay Hind."
Video goes viral & wins hearts
The clip was retweeted by the official X handle of Mumbai Police with a caption that read: "A child's happiness is a statement of its own. Words cannot adequately describe it." No sooner, the video caught the attention of netizens and attracted more than 340K views on the social media platform. The gesture was saluted by people as they hailed the cop for the help.
Mumbai: 'Don't Disrespect Our Father' Supriya Sule Warns BJP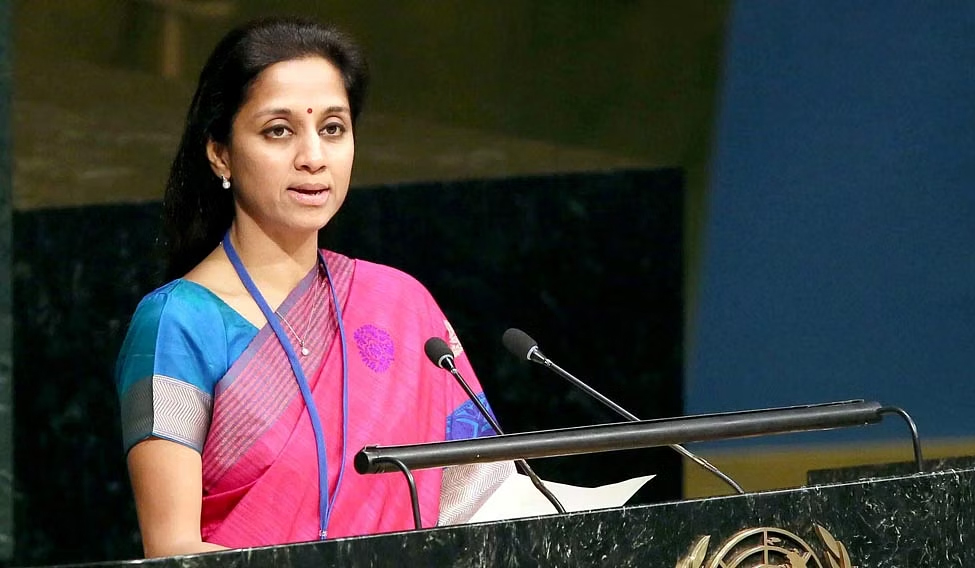 NCP Working President Supriya Sule issued a warning saying 'disrespect us, but not our father' while addressing the party gathering in Mumbai on Wednesday.

Slamming the BJP and referring to it as the most corrupt party in the country, she said, "Disrespect us, but not our father (Sharad Pawar). This fight is against the BJP government. BJP is the most corrupt party in the country."
Supriya Sule hits out at state govt
She also hit out at BJP, Ajit Pawar, and Eknath Shinde-led government and alleged that BJP is using Income Tax, CBI, and Enforcement Directorate to threaten the party MLAs. However, she claimed NCP will give an appropriate answer very soon.

Referring to Ajit Pawar's advise to Pawar Sr to retire while mentioning his age, Supriya Sule said, "Age is just a number." She also cited Ratan Tata, Amitabh Bachchan and Cyrus Punawala to prove her argument that a person can be active and work for the society if he has the will to do so.
Striking an emotional chord, Sharad Pawar's daughter also said that daughters are the best support for a father when it is required.

"Instead of asking them to sit at home and give blessings, daughters are better. They become the support system for their fathers when the house is in danger," she said.