SC issues contempt notice to SEBI on RIL plea on non-compliance of court order
The Supreme Court has issued a contempt notice to the Securities and Exchange Board of India (SEBI) on Reliance Industries (RIL) plea alleging non-compliance of the court's August 5 order, which directed the market regulator to provide access to certain documents to the company.
A bench comprising Justices M.R. Shah and M.M. Sundresh said: "Issue notice to the respondent, making it returnable on December 2, 2022. Abhishek Singh, counsel accepts service of notice on behalf of the respondent."
Senior advocate Harish N. Salve, appearing on behalf of RIL, vehemently submitted that despite the August 5 order passed by the apex court by which the respondent (SEBI) was directed to furnish a copy of the documents, the same has not been furnished till date.
Senior advocate and former Attorney General of India K.K. Venugopal, representing SEBI, submitted that the review petition preferred by the respondent is pending before this court and, therefore, no further order be passed in the present proceedings.
The bench, in its order, noted: "We have gone through the subsequent order passed by this court dated October 12, 2022 in review petition. The pendency of an appeal and/or writ petition along with stay cannot be equated with pendency of the review petition.
I"There is a final decision by this court in an appeal. Merely because the stay application is pending in review petition cannot be a ground to grant stay by the respondent on its own and not to comply with the directions issued by this court."
The bench said it is required to be noted that the State of J&K Vs. Mohd. Yaqoob Khan and others was a case where against the ex-parte order passed by the single judge, pending writ petition, the contempt proceedings were initiated.
"Therefore, this court observed that when the stay application is yet to be heard and decided and disposed of, the contempt proceedings cannot be initiated. Under the circumstances, the said decision(s) cannot be of any assistance to the respondent," said the apex court.
The bench has scheduled the matter for further hearing on December 2.
The company had sought three documents from SEBI that it had claimed would exonerate it and its promoters from criminal prosecution initiated in a case related to the alleged irregularities in acquisition of its own shares between 1994 and 2000.
On August 5, a bench led by then Chief Justice N.V. Ramana, had said: "The approach of SEBI, in failing to disclose the documents, also raises concerns of transparency and fair trial. Opaqueness only propagates prejudice and partiality. Opaqueness is antithetical to transparency."
The top court had said the market regulator should show fairness and furnish documents sought by RIL, and SEBI has a duty to act fairly, while conducting proceedings or initiating any action against the parties.
RIL filed a contempt petition as SEBI has not shared three documents — the two legal opinions by former Supreme Court judge B.N. Srikrishna and former ICAI President Y.H. Malegam's report which examined the irregularities.
The company claimed that SEBI cannot continue to resist the production of these documents and it had also sent a notice to the market regulator saying if documents were not received by August 18, then it will establish that SEBI does not want to comply with the apex court's judgment.
In 2002, Chartered Accountant S. Gurumurthy filed a complaint with SEBI alleging irregularities by RIL, its associate companies and their directors/promoters, including Mukesh Ambani and his wife, Nita; Anil Ambani and his wife, Tina; and 98 others.
The complaint cited the issue of two preferential placement of non-convertible debentures in 1994.
SEBI had alleged that RIL along with Reliance Petroleum had circuitously funded the acquisition of its own shares in violation of the Sections 77 and 77A of the Companies Act, 1956.
Wrestlers Protest: Congress takes a dig at PM Modi with 'beti rulao' picture of Vinesh Phogat crying
The Congress party on Thursday took a dig at Prime Minister Narendra Modi by using a morphed image of him standing in front of a portrait of a crying Vinesh Phogat to highlight the apathy of the wrestlers and the inaction by the BJP-led central government in the controversy.
The picture shows PM Modi looking at a portrait of wrestler Vinesh Phogat's crying face.
"Beti rulao," Congress captioned the picture. The image shared by Congress is an apparent dig at PM over his silence on the wrestlers' protest.
Security beefed up in Delhi
Security was tightened at Delhi's border points on Thursday in view of a call for nationwide demonstrations given by the Samyukt Kisan Morcha (SKM) in support of wrestlers protesting against Wrestling Federation of India chief Brij Bhushan Sharan Singh.
Security personnel are maintaining strict vigil at the border points and extra pickets have been put up to prevent any untoward incident, Delhi Police officials said.
Khap panchayat calls for nationwide protests
The SKM, an umbrella body of farmers' unions, had on Tuesday called for nationwide protests on June 1 in support of wrestlers who have been demanding the arrest of Singh for allegedly sexually harassing female grapplers, including a minor.
In a statement, the SKM had said its call for demonstrations was aimed at securing the democratic right to protest by the Indian wrestlers and all other sections of society, and to demand the arrest of Singh, who is also a BJP MP.
It said it would coordinate with platforms of trade unions, women, youth, students and all other sections, including intellectuals, to stage demonstrations.
The wrestlers, who had been protesting at Jantar Mantar since April 23 seeking the arrest of Singh, were removed from the site by the Delhi Police on Sunday after they tried to march to the new Parliament building that was inaugurated the same day. They were detained and later let off.
'Opposition will defeat BJP in 2024': Rahul Gandhi's big statement ahead of Lok Sabha elections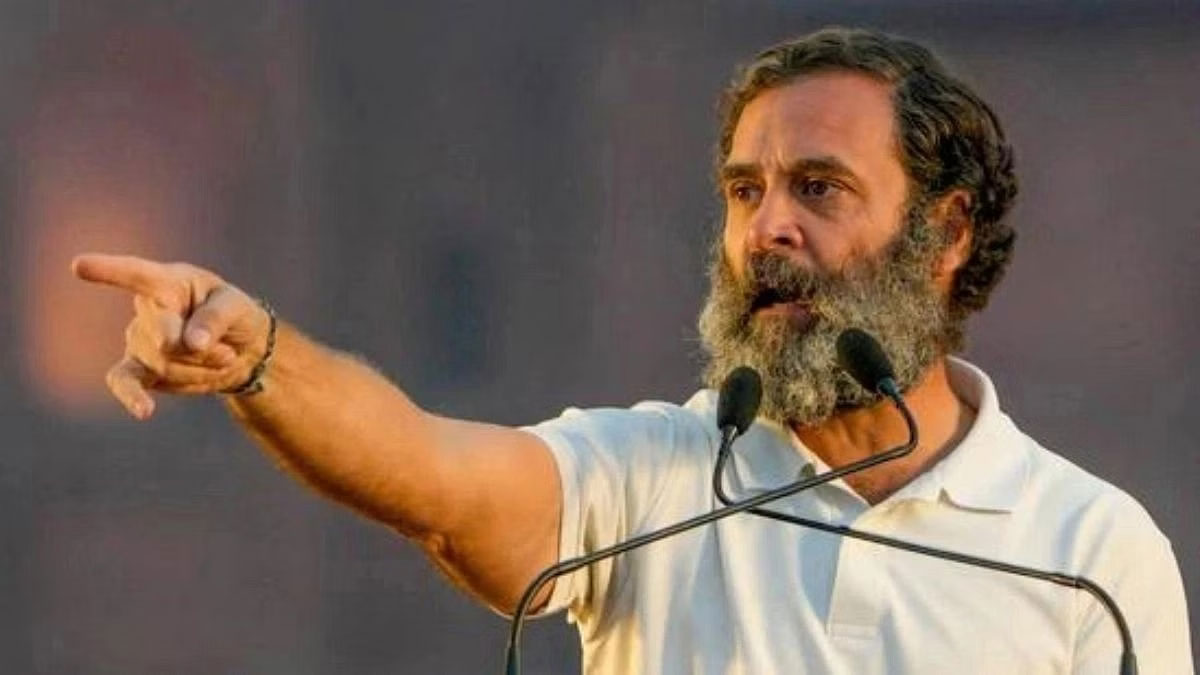 Washington: With the victory in Karnataka Assembly elections, senior Congress leader Rahul Gandhi on Thursday said that the grand old party will surprise everyone in the crucial 2024 Lok Sabha elections as there is a hidden undercurrent building within the country.
He also slammed the BJP-led Central government over the clean chit to China that not a single inch of land has been lost, saying that it is unacceptable but Prime Minister Narendra Modi thinks otherwise.
In an interaction with the media here, the former Lok Sabha MP to a query about the given strength of the BJP, will the grand old party willing to form a coalition government if it does not lead in next year's general elections, said, "These are the questions that need to be asked to Congress President."
Congress will do well in next polls
"But I think Congress will do very well in the next election and it will surprise everyone. There is a hidden undercurrent building and I think we will surprise people," Gandhi added.
"Opposition will defeat the BJP"
He said that he is not entirely convinced about this idea that Narendra Modi will win the elections, it is not simple as people make out.
"If you do the math, opposition will defeat the BJP without any electoral math," he added.
To another question about the clean chit to China on intrusion on Indian land, the Congress leader said, "The fact of the matter is that China has occupied our territory and it is a fact that 1,500 sq. km has been occupied by them. It is unacceptable and the Prime Minister thinks otherwise. May be he knows something we don't know."
To another question about the prominence of a Hindu state, he said that there is a fight on in India as there are two visions of India. He said first there is a vision BJP has, which is centralising and polarising vision.
Fight for democracy in India
"And there is a second vision which is equally powerful, in fact if you ask me much stronger but not expressing that effectively right now which is a decentralised view and embracing vision. A sensitive compassionate vision. And I am totally convinced that this is a transitional phase and true nature of India, true democracy of India will triumph," he added.
The Congress leader said that we have gone through this phase and the "party has faced exact same thing in 1930's and we have decimated and we will do that again".
Asked about the role of international community, he added that "its our job, our business and our work to fight for democracy in India and it is something we understand and we do".
"But the thing to remember is that Indian democracy is a public good. India is large enough and collapse in democracy in India will have an impact to the world. So that is on you to think about that how much you value democracy in India but for us, its an internal matter and we are going to fight and we are going to win," he said.
"Muslim League is completely a secular party"
Gandhi also added that Muslim League is completely a secular party and there is nothing non-secular about the Muslim League. He made the remarks while responding to a question on the Congress' alliance with Muslim league in Kerala, from where he was elected as a Lok Sabha MP.
International affairs
To another question if India will act as centre between Russia and the US, he said, "India has to do what is in its interest. We are committed to a democratic vision. So I myself is not entirely convinced that sort of autocratic vision and I think it is very important that democracy is protected on the planet."
"India has a role there and India has a view which should be put on the table. I don't think these things should be seen as centre of table, that's too arrogant. We understand the strengths we bring to the table democratic values," he added.
The Congress leader is scheduled to meet several people during his visit to the US in coming days in Washington D.C. and New York.
Grand celebrations in Nagpur on 350th anniversary of Chhatrapati Shivaji Maharaj's coronation
In the presence of Chief Minister Eknath Shinde, the Maharashtra government has organised grand events to mark the 350th anniversary of Chhatrapati Shivaji Maharaj's coronation atop the Raigad Fort from today until June 6. On June 6, 1674, the Maratha warrior king was crowned at the fort where he had established "Hindavi-Swaraj"—the self-rule of Hindus.
A grand celebration with Shivaji's successors
Due to conflicting perspectives on the festivities, two events with a projected attendance of tens of thousands will be staged on June 2 according to the Hindu calendar and on June 6 according to the English calendar. Many of Shivaji Maharaj's successors have also been invited to the celebrations apart from many other eminent dignitaries from the state.
Massive celebrations have been organised across the state, most notably in Nagpur where countless people can be seen on the streets showcasing various performances, waving flags, and celebrating this historic occasion. RSS Chief Mohan Bhagwat is also a part of the festivities.
Special chariots and multiple exhibits grace the occasion
Earlier, Ramesh Bais, the Governor of Maharashtra, gave the go-ahead last week for a special chariot to transport a "sahastra jal kalash" (thousand water urn) filled with water from rivers all over the nation. The water will be utilised for the fort's coronation ceremony.
Dr Tejas Garge, the Director of Maharashtra's Archaeology Department had said that it would be the first time in history that an exhibition would be held inside the Gateway of India that would showcase over 500 arms and other weapons used by the Marathas during their time apart from various live demonstrations to be held by trained persons.