Prominent Mumbai realtor Paras Porwal jumps to death from 23rd floor home
Prominent realtor, Paras S. Porwal jumped to his death from his 23rd floor flat in a Chinchpokli tower in south Mumbai, on Saturday, police said.
According to Kalachowki Police Station Senior Police Inspector Anand D. Mule, the incident occurred at 6 a.m. at his residence in Shantikamal Cooperative Housing Society.
Porwal, 57, jumped off the balcony of his home-gym and died on the spot.
The Kalachowki Police team which rushed to the spot, has recovered a purported suicide note from the deceased developer's home gym in which he has said nobody should be blamed for his death and no probe should be conducted.
Porwal was associated with various companies, including Rajyog Developers Ltd. He had completed several commercial and residential projects in the city and suburbs in the past three decades.
Realty circles claimed that he was reportedly undergoing certain financial problems that may have prompted him to take the extreme step.
Coming just ahead of Diwali, in which the realty sector experiences a boom, the Porwal incident sent shockwaves in the building construction industry even as the police initiated their probe.
Anti-hijack drill conducted at Jammu Airport
An anti-hijack drill was jointly conducted by different agencies at Jammu airport to validate the processes by inter agencies during such crisis, a defence spokesperson said in a statement on Saturday.
"A Full Fledged Anti Hijack Drill was conducted by NSG at Jammu airport on March 24 with activation of Anti Hijack committee at Air Force Station Jammu," the statement said.
"This exercise involved all key stakeholders from Indian Air Force, AAI, state government, JKP, CISF, IOC and other key players."
The drill involved entire spectrum of events including negotiations with hijackers followed by intervention and overpowering of hijackers by a potent team of NSG.
"The exercise gave a unique opportunity to validate processes by inter agencies during such crisis. An Air India aircraft which landed at Jammu in the afternoon was utilised for the realistic drill. The exercise was successfully conducted bringing valuable lessons and training for all stakeholders," the statement added.
Mumbai man goes on stabbing spree in residential building, kills 3, injures 2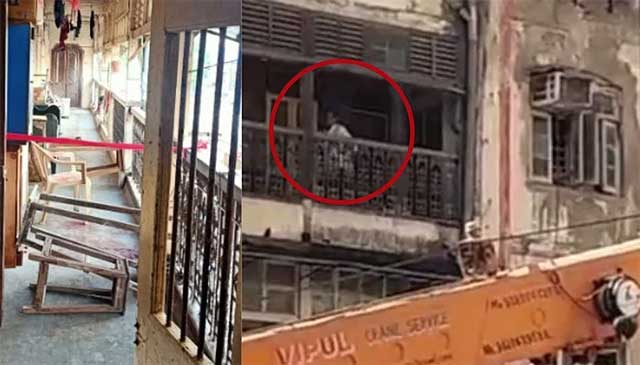 In a shocker, a middle-aged man went on a stabbing spree in a Mumbai residential building on Friday, attacking five persons, of which three have succumbed, and two others are seriously injured, police said here.
The attacker, identified as Chetan Gala, 54, has been arrested after the mayhem which occurred around 3.30 pm, sending panic waves in the locality.
According to officials of the Dr. D. B. Marg Police Station, the incident occurred at the Parvati Mansion, an old-style building with common passages in a residential neighbourhood of Grant Road
Locals who shot videos showed Gala rushing to another person on the second floor of the building and repeatedly stabbing him till he collapsed in a pool of blood.
Then he nonchalantly walked down to the first floor where another man was descending the stairs even as the crowds below warned him to run to safety as the attacker was coming behind him.
At least two other panicky residents could be seen running around with the people assembled below screaming at the attacker.
The exact motives behind the serial killing bout is not clear and the police have lodged a FIR and probing further.
The injured were rushed to the Sir H. N. Reliance Foundation Hospital and the BMC's Nair Hospital nearby where the condition of two is said to be serious.
Police said that the accused Gala suddenly stepped out brandishing a knife and started stabbing people at random around, targeting at least five, among them a husband-wife couple.
Horrified locals called up the police and a team rushed there to take control, and managed to overpower him soon.
Police are recording witnesses statements and checking the accused's relationship with his family, financial angles, and even mental health issues.
Bihar: 7-yr-old boy dies after brutal assault by teacher
A seven-year-old boy died in Bihar's Saharsa district on Friday after an alleged brutal assault by his teacher.
The victim, Aditya Kumar, was an LKG student at a private school in a village under the Sadar police station. He had been living in a hostel since the last 10 days.
His parents are residents of the adjoining Madhepura district.
According to the police, the school administration informed Aditya's parents that he became unconscious and was admitted to a private hospital.
By the time his parents arrived, the victim died.
"We sent our child to the school cum hostel in Saharsa district on March 14. We received a phone call on Friday that Aditya became unconscious and was admitted to a private hospital. When we reached the hospital, he was already dead," said Prakash Yadav, Aditya's father.
"We have sent the body for post-mortem to ascertain the actual cause of death. The family members alleged that he died due to the physical assault. We are also trying to arrest the owner of the school. He is absconding. We have lodged an FIR and efforts are on to nab him," said Brajesh Chauhan, Sub-inspector of Sadar police station.