PM Modi performs last rites of his mother Heeraben in Gandhinagar
The last rites of Heeraben Modi, mother of Prime Minister Narendra Modi, were performed at a crematorium in Gandhinagar on Friday morning.
Heeraben passed away at the U.N. Mehta hospital in Ahmedabad, where she was admitted on Wednesday for some heart-related problems.
Narendra Modi and his elder brother, Somabhai, gave the 'agnidah' to the mortal remains of Heeraben.
Former Chief Minister Shankersinh Vaghela personally condoled with the Prime Minister at the crematorium.
The Prime Minister flew down early in the morning from Delhi and paid floral tributes to his mother.
The Vadnagar town will remain shut for the day as a mark of respect to the departed soul. Vadnagar traders Association has appealed to the members to keep shutters down.
Union Surface and Transport Minister Nitin Gadkari while paying tributes said in his tweet, "May his soul rest in peace, and I pray to god to give strength to the family to endure the pain."
Congress party's president Mallikarjun Kharge paid tribute to Heeraben by saying, "Deeply saddened to hear about the demise of Heeraben Modi. My heartfelt condolences to Narendra Modi on the loss of his beloved mother. Our thoughts and prayers are with the entire family in this hour of grief.
Uttar Pradesh Chief Minister Yogi Adityanath, paying condolences, has said, "For any son's mother in the entire world, mother's demise is unbearable for any son, I am sad to hear the news."
Congress party's General Secretary Priyanka Gandhi Vadra paying tribute tweeted, "May god give strength to the Prime Minister Narendra Modi and his family to face the demise of Heeraben."
'Stretching it too much', SC on hate speech claims against Madras HC judge appointment
The Supreme Court on Tuesday said it has a fairly robust scrutiny process and petitioners may be stretching it too much, as their counsel questioned the recommendation to appoint Lekshmana Chandra Victoria Gowri as an additional judge of the Madras High Court by saying that her "views are antithetical to the values of the Constitution, it is hate speech pure and simple".
A bench comprising Justices Sanjeev Khanna and B.R. Gavai told senior advocate Raju Ramachandran, representing the petitioners, that there is a difference between eligibility and suitability, as far as suitability is concerned one can say it can be made subject matter of writ petition, and the aspect of eligibility is the only issue as required under the Constitution.
Ramachandran said a person, who is not in sync with the ideals of the Constitution or basic principles of the Constitution, is unfit to take the oath. He added that Gowri has rendered herself as incapable of taking oath by her own public utterances.
Gowri was administered the oath of office during the hearing before the top court.
The bench said there have been cases when people of political background have taken oath over here as judges of the Supreme Court and the high court. "You placed on record utterances of 2018 and we have seen it, and it must have been placed before the collegium…," it added.
Justice Gavai said when collegium takes a decision, it also takes the opinion of consultee judges who have come from that particular high court and you cannot assume that judges of the particular high court are also not aware of all these things.
Ramachandran said the consultee judges may not be aware of social media posts and cannot presume every judge reads every tweet in public domain.
Justice Gavai said, "We have also been consultee judges and when we give our opinion it is based on all the factors…I also have a political background and I have been a judge for the last 20 years. I do not think my political views at any point of time have come in the way…"
Emphasizing that he is not on the aspect of political background, Ramachandran said political background brings a totally new element into judicial discourse, and added that judges can be of conservative or radical persuasion which adds to the richness of judicial discourse. "It is hate speech, you may be a member of the party…hate speech runs antithetical to the basic tenets of the Constitution, renders you unfit to take the oath…," said Ramachandran.
The bench replied that "for us to go into all these aspects of suitability, merit or selection process would be like opening a new jurisdiction, which we have always refrained from doing."
Ramachandran said her views are antithetical to the values of the Constitution, it is hate speech pure and simple and therefore, it is a clear case of ineligibility. "That will be stretching it too much, if the facts are known to the collegium, they must have examined it…facts not known, that it is not possible you cannot say that issues, background of the person were not known," said Justice Khanna.
The bench said, "This is an aspect related to more suitability of the person, and not about the eligibility of the person…we can't direct the collegium to reconsidera."
There is a certain threshold of requirements, the collegium was stymied as certain information, we assume, were not put before it in view of an open court statement by the Chief Justice of India D.Y. Chandrachud on Monday, Raju said.
"We have a fairly robust scrutiny process…assuming collegium may have not taken into consideration…," said Justice Khanna.
Senior advocate Anand Grover, also representing the petitioners, said her views are extreme in nature making her ex facie ineligible to be judge. "We would be setting up a very wrong precedent, if we entertain the plea," the bench said.
Senior advocate Manan Kumar Mishra submitted that there has been no complaint against her by the Tamil Nadu State Bar Council.
The court also noted that she has been appointed as additional judge only and there have been instances where the candidates have not been made permanent in view of inadequacies of performance. "We are not entertaining the petitions, the reasons will follow," the bench said, after hearing detailed arguments.
The top court order came on petitions filed by Anna Mathew, R. Vaigai, and others challenging Gowri's appointment as an additional judge of the Madras High Court.
The Supreme Court collegium on January 17 had proposed the elevation of advocate Lekshmana Chandra Victoria Gowri as judge of the Madras High Court.
A group of Madras High Court lawyers have opposed Gowri's proposed appointment after reports emerged about her affiliation to the BJP and also certain alleged statements about Muslims and Christians, including 'Love Jihad' and illegal conversion.
Delhi HC grants more time to Centre to file reply on barring Professor Swain's OCI card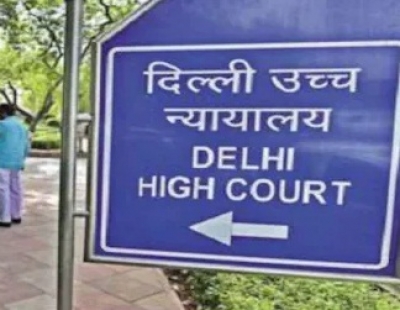 The Delhi High Court on Tuesday while granting four weeks time to the Centre to response on a plea by Sweden-based Professor of Indian origin, Ashok Swain, against barring of his Overseas Citizen of India card (OCI card), listed the matter for the next hearing on April 27.
The court granted time after the counsel for the Central government sought more time to file its reply.
On December 8, a single-judge bench of Justice Prathiba M. Singh had asked the Centre to respond within four weeks and had posted the matter for hearing on Tuesday.
Swain is a faculty member of peace and conflict research at the Department of Peace and Conflict Research at Sweden's Uppsala University.
In his plea, he has mentioned that his OCI card was cancelled in February 2022 as he criticised the current Indian government.
He states that he has not delivered any inflammatory speech.
An OCI card is issued to a foreign national of Indian origin, who is allowed to live and work in India for an indefinite period.
Swain had argued that his card was cancelled on the alleged premise that he was indulging in inflammatory speeches and anti-India activities, however, there were no specific instances or materials to prove the same.
"It is submitted that the petitioner has never engaged in any inflammatory speeches or Anti-India activities. As a scholar it is his role in society to discuss and criticise the policies of government through his work," Swain's petition read.
It added: "Being an Academician, he analyses and criticises certain policies of the present government, mere criticism of the policies of the current ruling dispensation shall not tantamount to anti-India activities under Section 7D(e) of the Citizenship Act, 1955."
RS extends condolences to earthquake victims in Turkey, Syria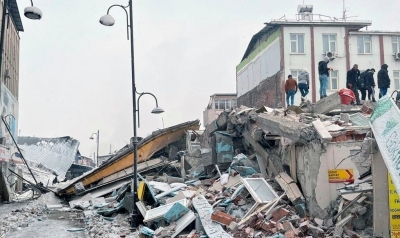 The Rajya Sabha on Tuesday paid condolences to the victims of the earthquake that struck Turkey and Syria.
Leading the house, Chairman Jagdeep Shankar said that the house wishes that those who are still in the rubbles are rescued.
On Tuesday, India dispatched the first batch of humanitarian aid along with a rescue team of the National Disaster Response Force (NDRF) to Turkey where a massive 7.8-magnitude quake has killed over 4,300 people and injured thousands others.
Taking to Twitter, External Affairs Ministry spokesman Arindam Bagchi said: "India's Humanitarian Assistance and Disaster Relief (HADR) capabilites in action."
"The 1st batch of earthquake relief material leaves for Turkey, along with NDRF Search & Rescue Team, specially trained dog squads, medical supplies, drilling machines & other necessary equipment."
The 51-member NDRF team headed by Deputy Commandant Deepak Talwar left from the Hindon Airport in Ghaziabad for Turkey on board an Indian Air Force (IAF) aircraft in the early hours of Tuesday.
Also in a tweet, the IAF said that "An IAF C-17 got airborne for Turkey. Bearing Search & Rescue teams of the @NDRFHQ."