Opposition meeting: Bengal BJP ridicules Mamata's 'futile' attempt to get national importance
At a time when West Bengal Chief Minister Mamata Banerjee is busy holding meeting with the opposition leaders in the national capital to prepare a blueprint for fielding a joint opposition candidate for the Presidential poll, top BJP leaders in Bengal ridiculed the meet as yet another failed attempt by the Trinamool Congress supremo to project herself as a national leader.
Speaking to mediapersons inside the Assembly premises here on Wednesday, leader of opposition Suvendu Adhikari said that in the last 10 years, the Chief Minister has made several failed attempts to project herself as a national leader.
"Every time she fails, and this time also she will fail. The Presidential candidate of the National Democratic Alliance (NDA) will get elected by a higher margin than last time," Adhikari said.
According to Adhikari, many leaders whom Banerjee invited for the meeting knew how fruitless the exercise is.
"The Chief Ministers of Telangana, Odisha and Delhi have decided to abstain from the meeting. The Congress has deputed some of its 'clerks' to attend the meeting. This attempt to unite the opposition would result in a big zero," Adhikari said.
He also reminded that in the recent past, Trinamool's attempts to make inroads in Goa and Tripura also ended in a big zero for the party.
BJP Lok Sabha member and actress-turned politician Locket Chatterjee also termed the meeting convened by Banerjee as a futile attempt on her part to project herself as the kingmaker ahead the Presidential poll.
"She might keep on trying, but she will never succeed," Chatterjee said.
State minister and Trinamool Congress Secretary General Partha Chatterjee said that Suvendu Adhikari says a lot of things from time to time which should not be given any importance.
Developed INDIA with efforts of every single individuals by:PM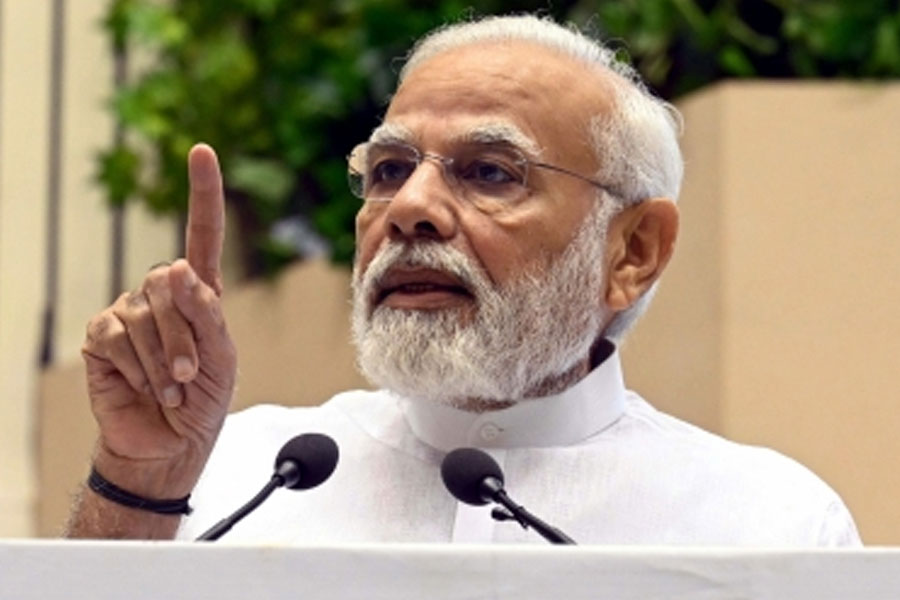 India will emerge as a "developed" nation by 2047 with efforts of every single individual, Prime Minister Narendra Modi said here on Saturday.
He was addressing a gathering after inaugurating Madhusudan Sai Medical Sciences and Research Institute of Satya Sai Ashram at Muddenahalli here.
"People ask how will India progress to become a developed nation within a short period by 2047, which marks the 100th year of independence? The answer with conviction and commitment would be "sab ka prayason se" (with the efforts of all).
The dream will turn into a reality with the hard work of every single individual of the country. The government is encouraging collective efforts. The role of social and religious institutions in this regard is also important, PM Modi stated.
There were less than 380 medical colleges in the country and after BJP took over, the number has increased to 650. Among them, 40 are located in the aspirational districts. The number of medical seats have been increased in the country considerably, PM Modi said.
Number of doctors who passed out in 75 years, will now graduate in 10 years. There are 70 medical colleges in Karnataka and a double engine government has established one in Chikkaballapur, he noted.
The previous governments were engaged in enacting games over languages. No step was taken to ensure medical and engineering education in Kannada language. No interest was shown. "Now, provision has been made to pursue medical education in all Indian languages, including Kannada," PM Modi explained.
The opposition has treated the poor as their vote bank. But, BJP made it the highest objective to uplift the poor. The BJP is providing them with medicines at a cheaper price through Pradhan Mantri Janaushad outlets. The poor did not dare to go to hospitals and the government has made arrangements to get free treatment up to Rs 5 lakh, PM Modi stated.
Anti-hijack drill conducted at Jammu Airport
An anti-hijack drill was jointly conducted by different agencies at Jammu airport to validate the processes by inter agencies during such crisis, a defence spokesperson said in a statement on Saturday.
"A Full Fledged Anti Hijack Drill was conducted by NSG at Jammu airport on March 24 with activation of Anti Hijack committee at Air Force Station Jammu," the statement said.
"This exercise involved all key stakeholders from Indian Air Force, AAI, state government, JKP, CISF, IOC and other key players."
The drill involved entire spectrum of events including negotiations with hijackers followed by intervention and overpowering of hijackers by a potent team of NSG.
"The exercise gave a unique opportunity to validate processes by inter agencies during such crisis. An Air India aircraft which landed at Jammu in the afternoon was utilised for the realistic drill. The exercise was successfully conducted bringing valuable lessons and training for all stakeholders," the statement added.
Bihar: 7-yr-old boy dies after brutal assault by teacher
A seven-year-old boy died in Bihar's Saharsa district on Friday after an alleged brutal assault by his teacher.
The victim, Aditya Kumar, was an LKG student at a private school in a village under the Sadar police station. He had been living in a hostel since the last 10 days.
His parents are residents of the adjoining Madhepura district.
According to the police, the school administration informed Aditya's parents that he became unconscious and was admitted to a private hospital.
By the time his parents arrived, the victim died.
"We sent our child to the school cum hostel in Saharsa district on March 14. We received a phone call on Friday that Aditya became unconscious and was admitted to a private hospital. When we reached the hospital, he was already dead," said Prakash Yadav, Aditya's father.
"We have sent the body for post-mortem to ascertain the actual cause of death. The family members alleged that he died due to the physical assault. We are also trying to arrest the owner of the school. He is absconding. We have lodged an FIR and efforts are on to nab him," said Brajesh Chauhan, Sub-inspector of Sadar police station.