Maharashtra: Congress leaders detained during protest near Raj Bhavan
Scores of Congress leaders and workers were detained after they attempted to stage protests outside the Raj Bhavan here on Friday to highlight the issues of inflation and unemployment.
Led by Congress state President Nana Patole and city chief Bhai Jagtap, hundreds of leaders and activists carrying banners and posters and raising anti-government slogans, were stopped by a large posse of police near Vidhan Bhavan at Nariman Point as they marched towards the gubernatorial residence in Malabar Hill.
"We are protesting democratically, peacefully and were going to Raj Bhavan to lodge our protest against the Bharatiya Janata Party-led Central government. The people are suffering under high prices and runaway inflation, the growing unemployment among the youth, the harassment due to the Goods & Services Tax, and related issue," said Patole.
Besides Patole and Jagtap, the party's top brass including Congress Legislature Party chief Balasaheb Thorat, former Chief Minister Ashok Chavan, Chandrakant Handore, Varsha Gaikwad were detained, taken forcibly to waiting police vans and whisked them off to the local police station.
Flaying the police action, Thorat said that in a democracy, "we have the right to protest" but the current BJP government is "trying to silence us".
"Even before Independence, we had the right to protest and we shall continue to raise our voice against the hardships borne by the common masses," declared Thorat.
The police also stopped vehicles sporting Congress flags and attempting to reach Raj Bhavan from different parts of Mumbai and the state as part of the all-India agitation, besides demonstrations carried out in other major cities in Maharashtra.
BJP appoints new bosses for Maharashtra, Mumbai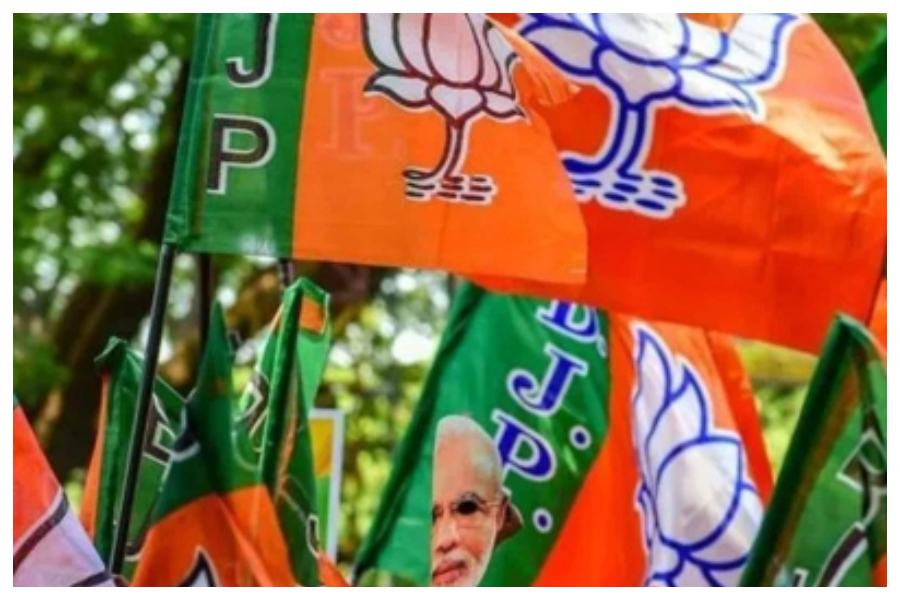 The Bharatiya Janata Party has appointed former ministers Chandrashekhar Bawankule and Ashish Shelar as the chief of the part's Maharashtra and Mumbai units, respectively, according to an announcement.
Bawankule and Shelar, both sitting legislators, replace Chandrakant Patil and Mangal Prabhat Lodha, who have been appointed as ministers in the government of Chief Minister Eknath Shinde and Deputy CM Devendra Fadnavis, earlier this week.
As per a statement by BJP President J. P. Nadda, both appointments are made with immediate effect, and come ahead of the imminent elections to various civic bodies in the state.
CM Eknath Shinde snubs Thackeray again, drops Shiv Sena from BAC meet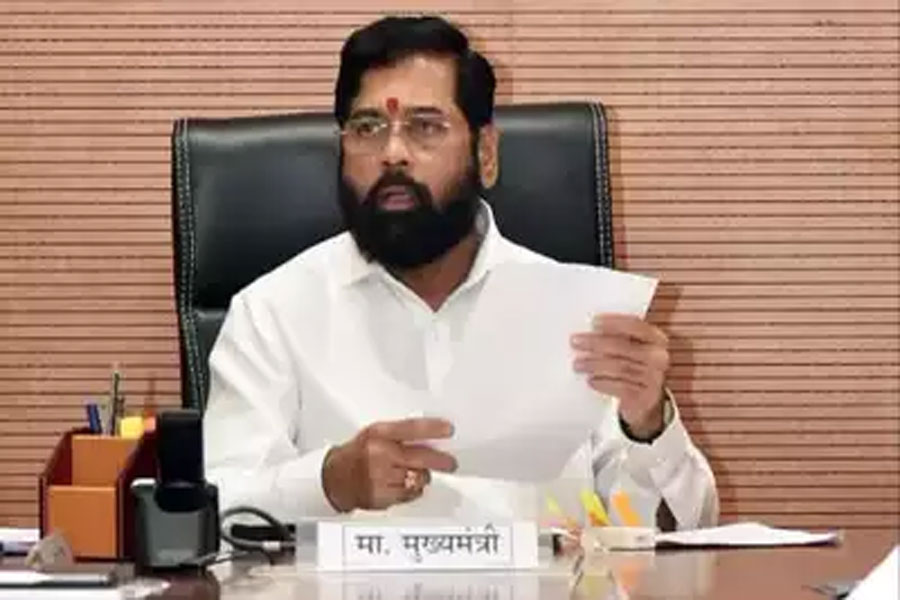 In a fresh snub to ex-CM Uddhav Thackeray, his Shiv Sena faction in the Maharashtra Assembly was dropped from the crucial Business Advisory Committee (BAC) meet to prepare for the upcoming Monsoon Session of the Legislature.
Thackeray faction leader and chief whip Ajay Chaudhari had written to Speaker Rahul Narvekar seeking representation to the BAC, but it was rejected.
However, now two ministers from the faction headed by Chief Minister Eknath Shinde have been included in the BAC — Dada Bhuse and Uday Samant.
The BAC presided over by Shinde and attended by group leaders of all parties on Thursday decided to extend the Monsoon Session by two days and now it will be held from August 17-25.
This was because the legislature will not function on August 19 (Dahi Handi celebrations) and the weekend, and the two additional days would enable discussions and decisions on various issues.
The BAC comprises Assembly members like Shinde, BJP's Deputy CM Devendra Fadnavis, Leader of Opposition Ajit Pawar, NCP's Jayant Patil, BJP's Radhakrishna Vikhe-Patil, Sudhir Mungantiwar and Chandrakant Patil, and Congress' Balasaheb Thorat and Ashok Chavan.
Besides, there are other invitees like Deputy Speaker Narhari Zirwal (NCP), Ashish Shelar (BJP), Chhagan Bhujbal (NCP) and Amin Patel (Congress) in the BAC.
From the Council, besides Deputy Chairperson Neelam Gorhe, the BAC has newly-appointed Leader of Opposition Ambadas Danve and Anil Parab, both from Shiv Sena, Pravin Darekar and Vijay Girdhar (BJP), Shashikant Shinde (NCP) and Bhai Jagtap (Congress).
The invitees from the upper house included Chandrashekhar Bawankule and Ranjitsinh Mohite-Patil (BJP), Jayant Patil (PWP), Kapil Patil (Lok Bharati) and Vikas Potnis (Shiv Sena).
After the government headed by Shinde and Fadnavis was sworn-in on June 30, the monsoon session was originally scheduled to start on July 17, but was postponed for various reasons.
Skeletons peep out of Maharashtra CM's 'mini-cabinet', 75% ministers face criminal cases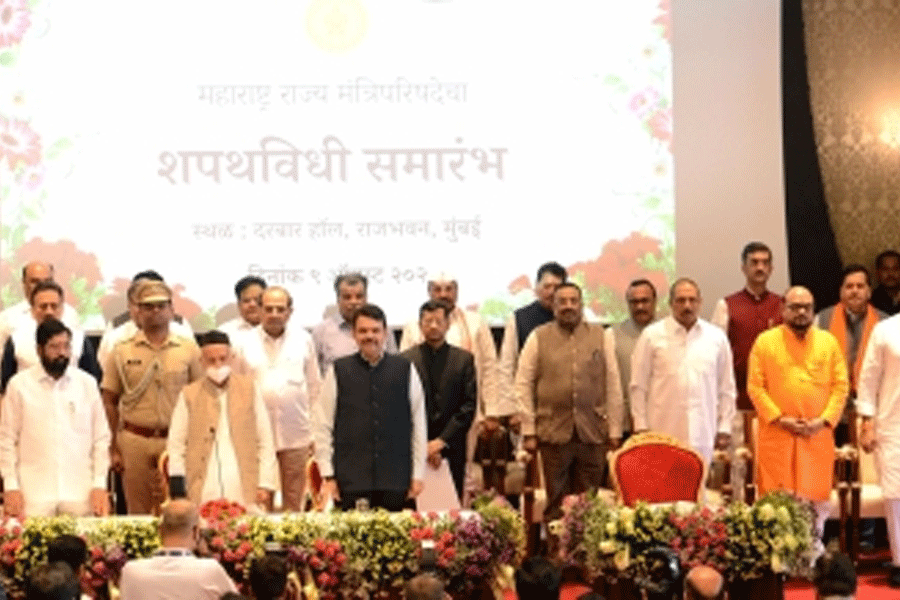 The 18-member 'mini-cabinet' expansion of Chief Minister Eknath Shinde and Bharatiya Janata Party's Deputy CM Devendra Fadnavis have thrown up many facts, including 75 per cent of the total 20 'crorepati' ministers have criminal cases lodged against them.
According to a study conducted by the Association for Democratic Reforms (ADR), a total of 15 ministers have declared criminal cases, including seven from the Shinde Group Shiv Sena and eight from the BJP, in the 'gents only cabinet'.
Of these, 65 per cent — or 13 ministers — including seven from Shinde Group and six from the BJP have serious criminal cases filed against them.
Of the 20 crorepatis, BJP's Mangal Prabhat Lodha, a reputed builder, is the richest among the ministers with assets worth Rs 441.65 crore and liabilities of Rs 283.36 crore.
Though a 'crorepati', the poorest in the lot is also BJP's Sandipanrao A. Bhumre with assets of Rs 2.92 crore in his name.
The average assets of the ministers' whose poll affidavits were analysed by ADR comes to Rs 47 crore — comprising the BJP's Rs 58 crore and Shinde Group's Rs 36 crore.
On the academic front, two ministers (or 10 per cent) have declared their educational track record as SSC pass, six (30 per cent) as HSC pass, 11 ministers (55 per cent) are higher qualified with degrees, and only one Dr. Suresh Khade of the BJP holds a doctorate from a university in Sri Lanka.
As far as the age group is concerned, 16 ministers (80 per cent) fall in the upper echelons aged between 51-70, and four (20 per cent) are between 41-50, said the ADR's Maharashtra Election Watch, coordinated by Ajit Ranade, Sharad Kumar and Satish Khot.
CM Shinde carried out his much-awaited cabinet expansion on Tuesday, inducting 18 ministers, including three allegedly 'tainted'. No women MLA could find a place in the cabinet and so could not the Independents and smaller parties.